Are you looking for an easy way to earn rewards? There's this app called ReceiptPal that promises you will be able to turn receipts into rewards. It doesn't get any easier than that, right?
Well, before you go and download the app, there are a few things you must know. The most important thing you need to verify is if this site is legit or if it is just a scam. After all, you wouldn't want to use an app that will just waste your time.
This ReceiptPal review will verify the legitimacy of this app and also show you everything else you need to know about the app so you can decide if this app is the right fit for you or not.
What is ReceiptPal and what does it offer?
First of all, let me just say right away that ReceiptPal is a legit app that will reward you for simply uploading a photo of your receipts.
It's a lot like Caddle, but the only difference is, Caddle offers other earning opportunities, whereas ReceiptPal doesn't.
Here's a short video explaining how the app works.
Now, if you want to understand how well you can earn from this app, we have to take a closer look at the earning opportunity this app offers. So, here's how you can earn from ReceiptPal.
The earning opportunity – Uploading receipts
This app is pretty straightforward because you can only earn rewards in one way and that is by uploading receipts.
The receipts you can upload can be from any retailer/store for consumer goods purchases of all types such as convenience stores, travel and entertainment, restaurants, grocery stores, clothing stores, sporting goods stores, etc.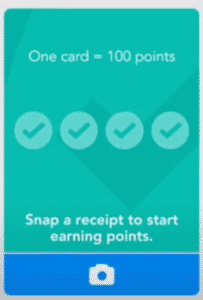 To upload a receipt, just log in to the app and you will see something like what is shown in the photo above. That is called a receipt card. To earn the 100 points stated on the card, you will have to upload 4 receipts. Simply click the camera icon to take a photo of your receipt.
Keep in mind that the photo must be clear and readable and it must include the store name, purchase date, total amount spent and either the phone number or zip code of the store. The entire receipt must be included in the photo for it to be a valid entry.
The receipts must be for items purchased for you and your family's personal use only. So, receipts for company or business related purchases won't be valid. Once you've uploaded the receipts, it will be up for verification. So, don't expect to earn the reward right away.
As soon as you've completed uploading all the required number of receipts for the receipt card to be completed and ReceiptPal finishes the verification process, you will receive the points promised and it will be credited to your ReceiptPal point balance (I will discuss what to do with your points later).
Aside from printed receipts, you can also upload e-receipts but these receipts must be from retailers/stores on their proprietary list of the top 1,000+ online merchants. The same rules for printed receipts apply.
Another thing you need to remember is, the receipts must be in English and in US dollars.
How do you get paid?
As mentioned above, every receipt card you complete will earn you points which will be credited to your ReceiptPal point balance.
You can then exchange the points you've earned for various gift cards or if you want to earn cash, you can go for a Visa prepaid card.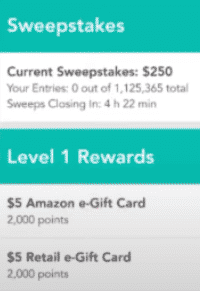 For an Amazon gift card, you will only need to earn 2000 points, which will be equivalent to $5.
Take note though that some of the rewards you can redeem are locked. You will need to unlock them.
Fortunately, locked rewards will tell you what you need to do to unlock them. So, just follow the instructions to unlock them if you want to redeem that reward.
Now, aside from points, when you are able to complete a receipt card, you will actually be automatically entered into their weekly sweepstakes. Every validated receipt will earn you one entry into their Sweepstakes program. The prize will be $250.
There will be three entry periods per week. So, all you have to do to join their sweepstakes is to submit receipts and have them validated before the entry period.
Entry Period #1: Sunday 12:00 AM and Monday 11:59 PM
Entry Period #2: Tuesday 12:00 AM and Wednesday 11:59 PM
Entry Period #3: Thursday 12:00 AM and Saturday 11:59 PM
The winner will be drawn every Monday. In the event that a Monday is a holiday, the weekly drawing will be conducted on the following Tuesday.
Their reward system is pretty straightforward as well and I like the fact that you will automatically be entered into their weekly sweepstakes. But it's not something you should count as an opportunity to earn because it will all be based on chance.
But I do like the fact that they have a low payout threshold of $5. That means you can easily redeem rewards.
If you are interested in more sites/apps that have a low payout threshold, I suggest you also check out the fastest paying sites.
How much money can you make?
Every receipt card you complete will earn you 100 points and that will require you to upload 4 receipts. To put it into perspective, 100 points is equal to $0.25. That means you will earn that amount for every 4 receipts you have.
So, even though the app has a low threshold, it actually takes a bit of time to reach. In terms of earning potential, you won't really earn a lot from it. Sure, you have the chance to earn a significant amount if you win their prize draw, but you really can't rely on it.
That being said, ReceiptPal does give out bonus rewards to help you earn more points. When you submit four valid receipts to a receipt card, you earn a bonus game. When the bonus game appears in the ReceiptPal app, just follow the on-screen instructions to win either points or sweepstakes entries.
Your bonus prize will automatically be credited to your account. Just remember that the maximum number of bonus games you can receive in one week is five.
But what I like about the opportunity ReceiptPal offers is, you actually don't have to do anything special to earn and it requires little effort. You just go about your normal spending routine.
All you really need to do is take a photo of your receipts before you throw them into the bin. So essentially, it's a passive way of earning, which is good.
Can you use it on a desktop?
ReceiptPal is a mobile-only platform. That means you will have to use a mobile device to earn. You can't log in to it from a desktop or a laptop. And honestly, you won't really need to use it from a desktop or laptop.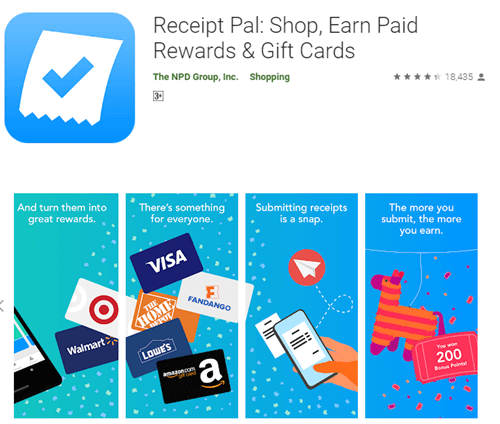 The good thing is, their app is available on both Android and iOS devices. So, you won't really face any compatibility issues (unless of course you are using a Windows phone). Their app is also very user-friendly, so you will easily get used to how it works.
A thing to note though is, ReceiptPal currently does not support iPad or other brands of tablets. And, you can also only access your ReceiptPal account on one supported device at a time.
Who can join ReceiptPal?
They don't really say this on their homepage, but if you check their terms and conditions, you will find out that the app is only available in the United States, Puerto Rico, US Virgin Islands or Guam. Hence, the receipts you can upload should only be from any of the locations mentioned.
To sign up as a member, just download the app and install it. Once it is installed, it will ask you to go through the registration process when you first open it. Simply follow the instructions to complete the registration process.
When you become a member of ReceiptPal, you have to make sure you upload at least one receipt every 90 days. Otherwise, you will lose all the points you've earned and you have to start all over again.
Can you get support?
If you have any questions about the app prior to installation, you can check out the FAQ page on their site. It is pretty comprehensive. So, any questions you have might be answered by their FAQ page. If you can't find the answer you are looking for, you can contact their support team.
To do so, you have to log in to the app and go to their Help Center or Feedback section. That's the only way you can get a hold of their support team since their site really doesn't have any contact form.
But overall, I would still say they provide decent support for their members since they provide a way for you to receive assistance.
Final Verdict
ReceiptPal is essentially a Get-Paid-To app that will reward you for uploading a photo of your receipt. It certainly has interesting features but it also has some limitations you need to take into account.
Let me finish this review with a summary of its pros and cons to give you an overview of what the app has to offer so you can decide if it is worth using or not.

Pros:
Offers a very simple way to earn rewards
Has a low payout threshold
Their app is user-friendly

Cons:
Limited earning opportunities offered
Low rewards
The thing I like about ReceiptPal the most is it offers a very simple way to earn rewards. Granted you won't earn a lot from it, but it's still a pretty nice way to earn.
Since every household will really accumulate receipts, ReceiptPal provides an opportunity to turn your trash into money, so to speak.
You just need to make sure to follow the guidelines when uploading photos of your receipts and you are golden. In my opinion, it's an app worth using. Just make sure to keep your expectations low in terms of the amount you can earn.
Now, if you are looking for a site you can a decent amount from, I would recommend you check out the top survey and GPT sites in your country instead. The sites on this list all offer good earning potential. Plus, you will definitely find a site you can join regardless of where you live.
If you have any comments, questions, or have any experiences with ReceiptPal yourself, I would love to hear from you in a comment below.