If you live in Canada and are looking for ways to earn, chances are, you've already encountered a website called Caddle. So, you might be wondering, is it worth using?
Well, to answer this question, we must first consider several things. This Caddle review will reveal all the details you need to know so you can determine if this site/app is a good fit for you or not.
We will look at its earning potential as well as other features it offers.
After you finish reading this review, you will be able to make an informed decision on whether you should become a part of their platform or not.
What is Caddle and what does it offer?
Caddle is mainly a cashback site that also offers other ways for you to earn rewards.
If you are not familiar with a cashback site, it is basically a site that will allow you to receive a percentage of the amount you spent on a purchase.
Here's a short video explaining what Caddle does:
Now, it is important that you figure out if the earning potential of this site/app is worth your time.
To do that, we have to take a closer look at how you can earn. So, here are the earning opportunities Caddle offers.
Option 1 – Paid Surveys
The first way you can earn from Caddle is by answering their paid surveys. One thing I can say about their paid survey offers is, they are pretty easy to do.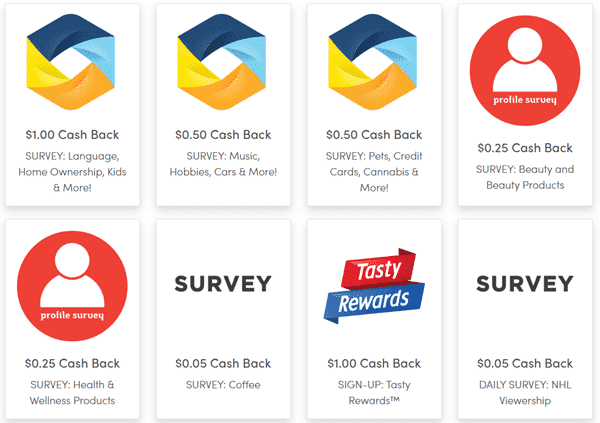 Unlike other survey sites, the surveys Caddle offers don't require you to answer pre-qualifying questions. When you click on a survey offer, you will answer the survey right away.
Once you have finished, you will receive the reward promised, which will be credited to your Caddle account. Some survey offers though will ask you to watch a video ad first before you can complete it.
So, just make sure to watch it to get your reward.
Their surveys will be listed together with their other earning opportunities but you will be able to quickly identify the survey offers because it will have its a Survey label.
Option 2 – Cashback Offers
Another way you can earn from Caddle is by availing of their cashback offers.
If you are new to this, it's basically an offer that will ask you to purchase a product. Once you've finished the purchase, you will receive a percentage or a small amount in return.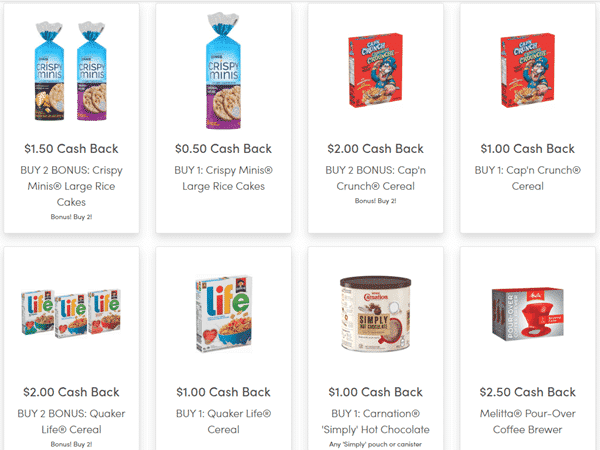 By far, these are the most common offers available on Caddle.
But I only suggest availing of these offers if the product you need to purchase is something that you are interested in. That's the best way to take advantage of a cashback offer.
If you are doing some shopping anyway, then why not get a bit of cash back for it, right?
Option 3 – Receipt Upload
This opportunity is quite unique to Caddle. You will be able to upload your receipts to their site and in exchange, you can receive certain products from a list of offers.

The process is pretty simple. Go to the Upload Receipt section of the site or app. Check the offers available. If you see any offers that are included in your receipt, take a picture of the receipt and upload it.
Then, click the offer that's found in the receipt and you will go through the process of redeeming it. You have to make sure the whole receipt is included in the photo and every item is readable.
You can take multiple photos if the receipt is long. Just ensure all the photos you've uploaded cover the whole receipt.
It's a simple process and it sort of works like a bonus for buying a product that is included in their list of offers.
Option 4 – Referral Program
Lastly, you will be able to earn by inviting other people to join the platform. Their referral program is also pretty straightforward, in my opinion.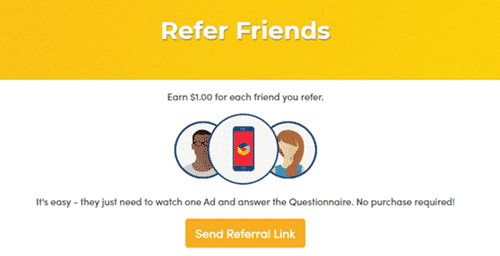 For every person you successfully invite (which means they have to sign up to the site), you will receive $1.
They just need to watch one Ad and answer the questionnaire to complete the process. They don't need to do any purchase to become your referral.
I like that the process is pretty simple because it will allow you to earn quickly. Although the reward isn't that significant, it doesn't really require too much effort.
So, I would say it is worth spending time on if you like to use Caddle yourself and know people you think will be interested in joining also.
How do you get paid?
Every offer you complete on Caddle will earn you a certain amount. It will then be credited to your Caddle account.
Once you've reached $20, you can then request for payment, which will be sent to you in the form of a check.
This, in my opinion, is the main drawback of Caddle. Since it will be sent via postal mail, you will have to wait several days to receive your earnings. Plus, you will have to go to the bank to cash your check. It's a bit inconvenient, in my opinion.
Compared to if you were able to withdraw it via PayPal or other similar platforms, it would be much more convenient and faster to receive the money you've earned.
If you are interested in sites that will allow you to withdraw your earnings quickly and conveniently, I recommend you check out the top sites that pay via PayPal.
How much money can you make?
With a site like Caddle, if you don't really like to purchase stuff online, the money you will earn won't be much.
You will have to rely on surveys to earn. And since survey offers aren't the predominant earning opportunity of the site, you really can't expect to earn a lot from it.
If you prefer to earn from surveys, I suggest you check out the top survey sites in your country instead.
The one good earning opportunity that they offer, in my opinion, is the Upload Receipt. Although you really can't earn cash from this opportunity, you will still receive products by simply buying what you would usually buy when you are doing your grocery or shopping.
But again, don't just buy stuff to get the reward because that would totally defeat the purpose of joining this platform.
Remember, you will have to spend your own money to get rewards. So, it will be counterproductive to do so if all you are after is to get the reward.
Overall, in terms of earning potential, Caddle isn't really that good.
However, it can serve as a decent secondary site to earn from. You just need to be a bit patient since the cashout threshold is quite high.
Can you use it on mobile?
Caddle works both on a desktop or a mobile device. This is what makes it a bit more user-friendly. You will be able to earn anywhere and anytime using their app.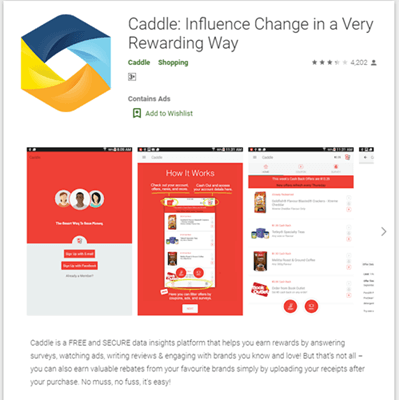 The app is available for download on both Android and Apple app stores. So, compatibility won't really be an issue. The app is also very user-friendly because the user interface is intuitive.
Having an app can also make it easier for you to upload receipts because you can just take a photo with your mobile device and upload it directly via the app.
Who can join Caddle?
Caddle is a Canada-based platform. You will only be eligible to join if you live in Canada and are at least 16 years of age. So, if you don't live in Canada, this platform is not for you.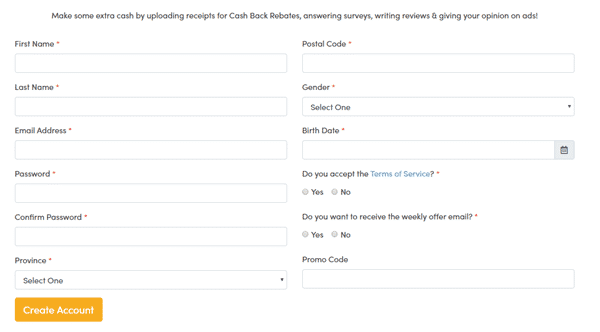 To create an account for Caddle, all you have to do is fill out the registration form.
Once you've submitted the form, check your email and open the email from Caddle. It will contain an activation link for your account. All you have to do is click the link and you are done.
You can now start earning on Caddle.
However, there are so many great survey and Get-Paid-To sites in Canada so if you want to prioritize your time, Caddle might not be the best option, in my opinion.
Can you get support?
Caddle explains how the site works quite well in its FAQ section. It covers most of the important topics.
So, if you read the FAQ first before signing up, you will have a good idea of how the site works.
They also have social media pages you can check out to see the latest updates and offers of the site.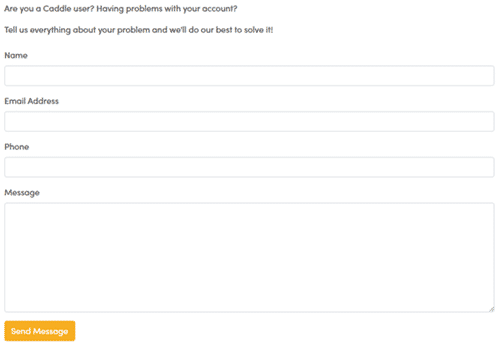 But if you need to contact their support team, you can use the contact form provided on their site. Just fill out the form with the necessary information and the inquiry you want to make.
I had a look at the comments people have left in Google Play and here it shows that the Caddle support gets back to everyone with a reply.
Some of the replies come very quickly and others take quite a while. Nonetheless, this is a good sign and shows they take support seriously.
So overall, I would say that Caddle does provide decent support for its members.
Final Verdict
Caddle is a legit cashback site that does pay you for participating in surveys and other offers. It has some good qualities and a few disadvantages too.
Here's a summary of its pros and cons to give you an overview of what the site has to offer. This should help you decide if you should join the site or not.

Pros:
Their app is user-friendly
Survey offers are pretty easy to answer
Referral program is straightforward and rewards quickly

Cons:
Limited earning opportunities
High payout threshold
Payment method is not very convenient
All in all, Caddle is a decent site to join if you live in Canada. Just don't expect to earn a lot from it and don't expect to receive your earnings quickly because of the high payout threshold.
I would say that it can serve as a decent secondary site to earn from if you are eligible to join.
Its main drawback, in my opinion, is that it doesn't offer convenient payment methods. In fact, it only offers one, and that is paid via check.
If you are looking for better ways to earn, I suggest you check out the top survey sites in your country instead.
The sites on this list all have good earning potential and offer better payment methods as well. Plus, you will be able to find a site that you can join regardless of where you live.
If you have any comments, questions, or have any experiences with Caddle yourself, I would love to hear from you in a comment below.