Quidco is a cashback site that claims it is the highest paying cashback site in the UK. So, if you shop online frequently, you might be thinking about joining this site.
But before you click the "Join" button, there are a few things you have to check first. And the most important question that needs answering is, is this site legit or is it a scam? So, let me address this question right away.
Yes, Quidco is indeed a legit cashback site. However, that doesn't really tell us if this site is really worth joining or not.
This Quidco review will explain what the site has to offer in detail and it will also show you both the pros and cons so you can decide if you should hit the sign-up button or not.
What is Quidco and what does it offer?
Quidco is a cashback site that will allow you to earn back a percentage of the purchases you make from one of their partner retailers. Here's a short video explaining what the site does.
Now, in order to fully understand how you will be able to earn and how well you can earn from this site, we have to take a closer look at the earning opportunities it offers.
So, here's how you can earn from Quidco.
Option 1 – Cashback offers
As mentioned in the video above, whatever you buy, you have to buy it from Quidco to earn cashback rewards. This is basically how their cashback offers work.
When you become a member of the site, whenever you want to shop online, you have to log in to Quidco.
You can then look for retailers you want to shop from. To make it easier for you, you can just choose the category of the retailer you want to shop from. Then, simply click the store and it will open a new browser tab.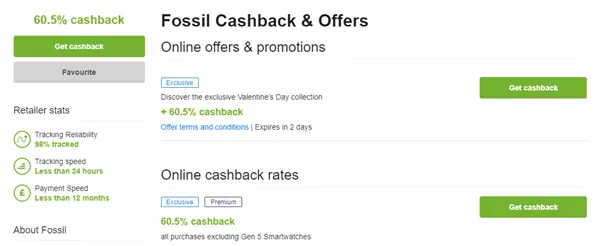 You will then see something similar to the photo shown above. The new browser tab will display all the cashback offers the store is offering. You will also see the terms and conditions you need to follow to receive the cashback reward.
I would suggest you read the terms and conditions first before you shop. When you are ready to shop, just click the "Get cashback" button beside the offer you want to avail of. It will open another browser tab and it will take you to the store so you can complete the purchase.
Just go through the normal purchasing process. Since you've already clicked the "Get cashback" button, Quidco will be able to track your purchase and award you with the appropriate cashback reward once you complete the purchase.
Your cashback reward will not be credited to your account right away. The store first has to confirm the buy. But you will see an estimated payment date on your activity page. So, you'll know more or less when to expect the reward.
If you still haven't received the reward past the date promised, you can contact their support team for clarification (I will discuss later how you can do this).
One thing I can say about Quidco though is, it really has a lot of partner retailers. If you are new to cashback sites, that's a really good thing.
That's because if there are a lot of stores to shop from, then there will be a higher chance of actually finding a cashback offer that you will want to avail of.
Option 2 – In-store cashback offers
You can also avail of cashback offers from the physical stores of some of Quidco's partner retailers. They don't have that many in-store cashback offers, but at least they offer this kind of option.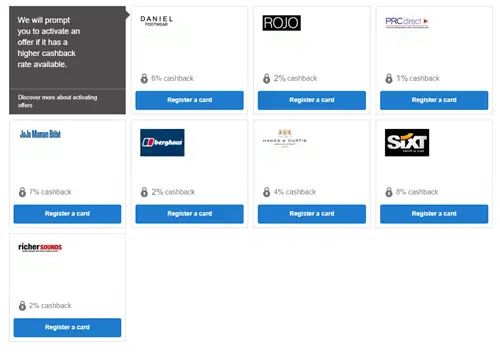 To earn cashback automatically when you shop in store, you simply need to register at least one debit/credit card (maximum of 5) in your In-store settings. Then allow, 24 hours for your card to register before you can shop as normal.
To earn cashback rewards from in-store offers, you just have to shop from your chosen store using your registered cards.
Some retailers do, however, require you to 'activate' the offer to receive cashback. To do that, you can activate the cashback offer by visiting the 'high street' option from the drop down menu on their homepage.
Option 3 – Clicksnap
Another way to earn rewards from Quidco is by availing of their Clicksnap offers.
The idea is, you can just buy a product in-store from a participating supermarket and share your receipt. Then, Quidco will automatically review your order.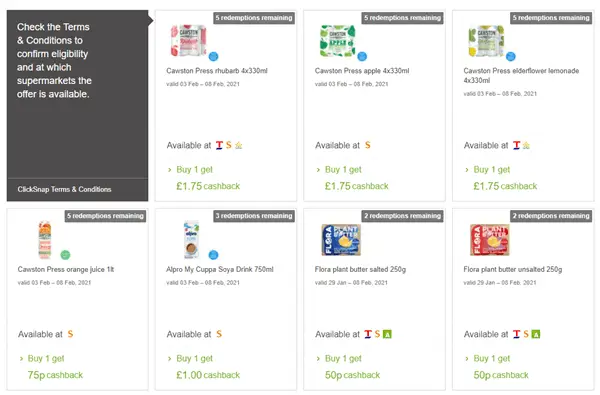 So, before you co to a supermarket, make sure to check their Clicksnap offers to see if there are products you want to buy. Once you've bought the product, just take a picture of the receipt and upload it on Quidco (there's a section in their Clicksnap area where you can upload receipts).
Quidco will then review your receipt and if everything is in order, they will credit the reward to your account. Just make sure to include the name of the supermarket, date and time of purchase, as well as the item in question in the photo of the receipt you will upload.
Also, make sure that you submit a photo that is clear and readable. Otherwise, you won't receive the Clicksnap reward.
Option 4 – Referral program
You can earn additional rewards by participating in their referral program. All you have to do is invite people to join the site using your invite link. When the person you shared your invite link with clicks it and registers as a member, they will become your referral.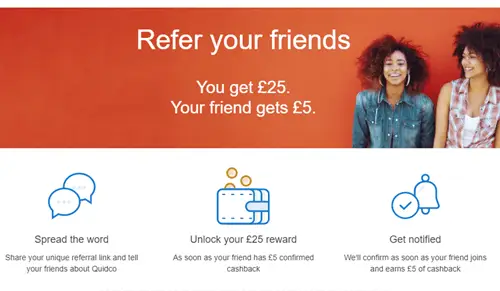 But, for you to receive a reward, your referral has to actually purchase from Quidco's partner retailers.
In other words, they also have to avail of cashback offers. As shown in the photo above, your referral must earn at least £5 cashback rewards before you will receive a referral reward.
But the good thing is, when they do hit that requirement, you will receive £25 as reward (which is quite significant) and your referral will receive a £5 bonus as well.
So, both you and your referral will stand to benefit from their referral program, which is great.
Recommended: Check Out the Top Cashback Sites
How do you get paid?
Another good thing about Quidco is, it has a lot of payment options to choose from. You can withdraw your cashback earnings via PayPal or direct bank transfer (refer to photo below).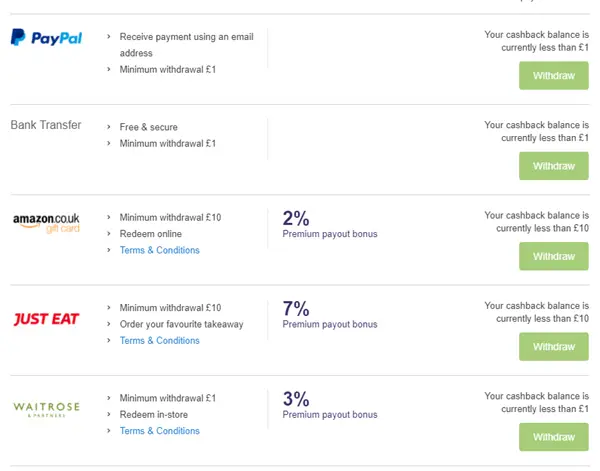 Or, you can also choose to convert your earnings to certain gift cards.
If you decide to withdraw your earnings via PayPal or direct bank transfer, you only need to earn £1 to do so. If you want to redeem gift cards instead, the amount required will vary depending on the gift card you want to claim.
Some will require you to earn at least £10, while some will only require you to earn £5. But the good thing about their gift cards is, you will receive a payout bonus if you have a premium membership level (I will discuss later how to become a premium member).
I really like how their payment system is set up. They have plenty of gift cards you can choose from plus it gives you the option to withdraw your earnings via PayPal or direct bank transfer, which are both very convenient options.
If you are interested in more sites that offer convenient payment options, I recommend you also check out the top sites that pay via direct bank transfer.
How much money can you make?
The amount of money you can earn from a cashback site will mostly depend on how often you shop from their partner retailers. But another factor that can affect your earnings is the cashback rate that these retailers offer.
In that regard, I would say the cashback rates on Quidco are actually pretty decent. You will typically earn around 5% to 10% cashback rewards. There are also some cashback offers that will reward more.
And as explained earlier, Quidco really does have a lot of partner retailers. So, you will most likely find cashback offers that you want to avail of.
In my opinion, that's what really increases the earning potential of this site. That's why overall, the earning potential of Quidco is pretty good.
Can you use it on mobile?
Quidco has a mobile app you can download so you can easily view offers on your mobile device. Just download their app and install it on your mobile device and you will be able to avail of cashback offers easily from your mobile device.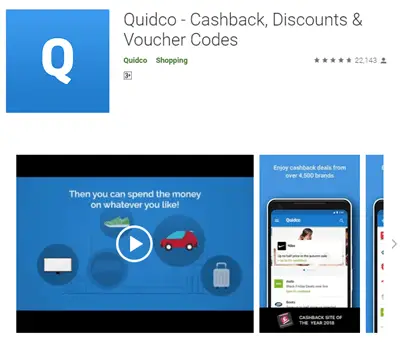 Their app is available on both Android and iOS app stores, so compatibility won't be an issue. Their app is also very user-friendly, so it won't take that long for you to get used to how it works.
Who can join Quidco?
Quidco is only available in the UK and you have to be at least 16 years old to become a member. So, if you don't live in the UK, then I would suggest you look for cashback sites that are available globally.
To become a member, all you have to do is fill out their sign-up form. Once you've done that, you can log in to the site and start buying online.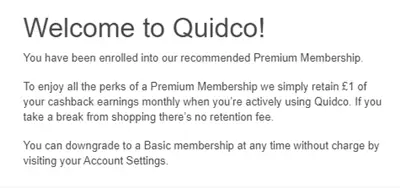 Now, as you can see in the photo above, when you actually sign up as a member, you are signing up for a premium membership. And as explained earlier, becoming a premium member has its perks (bonus rewards when redeeming gift cards).
You will also have access to more offers and you will have an ads free platform.
But, it also has a certain disadvantage. When you are a premium member, Quidco will retain £1 of your cashback earnings monthly. In other words, you always have to leave $1 on your account balance.
But you do have the option to downgrade to a basic membership if you want to always withdraw all of your earnings. Becoming a premium member, in my opinion, mainly boils down to reward preference.
Can you get support?
Another thing I like about Quidco is how good their Help Center is. Unlike some other sites, their Help Center is actually very helpful. You will find plenty of topics discussed. They have addressed, most, if not all of the possible questions you will encounter.
But if you have a complaint about their site or regarding your cashback reward, you will be able to submit your complaint by emailing them at complaints@quidco.com. Or you can submit a claim for your missing cashback reward through their Missing Cashback Claim page.
Overall, I would say they have a good support system in place for their members, which is a good sign, because you will be assured that you will receive all the help you will need.
Final Verdict
Quidco is a legit cashback site that will pay you for availing of their cashback offers. It's fairly good cashback site, in my opinion, since it has a couple of good features to offer and only a few drawbacks.
But let me wrap up this review with a summary of its pros and cons to give you an outline of what the site has to offer so you can decide if it is the right fit for you or not.

Pros:
Offers payment via PayPal
Has a user-friendly mobile app
Has plenty of cashback offers you can choose from

Cons:
Has a limited number of in-store cashback offers
You have to spend money to earn money
As you can see, I'm hard-pressed to find drawbacks from this site. It's a good cashback site, in my opinion. It properly lays out all the information you need to know, so you'll easily be able to get started.
But what makes this site a good option is, it has plenty of cashback offers to choose from. But if online shopping isn't your thing, you do have other ways to earn from this site, which is good. However, then you shouldn't expect to earn a lot from it because they don't have that many in-store cashback offers.
Overall though, if you are eligible to become a member and you frequently shop online, I would definitely suggest you join this site. But if you are looking for sites where you can earn without spending any money, I would suggest you check out the top survey and GPT sites in your country instead.
The sites on this list all have good earning potential and they all offer earning opportunities that won't require you to buy anything. Plus, you will also find a site you can join regardless of where you live.
If you have any comments, questions, or have any experiences with Quidco yourself, I would love to hear from you in a comment below.