If you frequently shop online, one good way to save and earn money is to join a cashback site.
In short, cashback sites will give you a rebate for your online purchases.
And as the saying goes, "Money saved is money earned." So, if we take that analogy, joining a cashback site will actually earn you money. One of the big cashback sites is Rakuten.
But is Rakuten legit or a scam to stay away from?
For all intents and purposes, Rakuten is a legit cashback site. But this doesn't automatically mean you should go ahead and register as a member right away.
You have to consider several things before deciding to join the site as a member. This Rakuten review will give you all the details so you will know exactly what to expect before you decide to join or not.
What is Rakuten and what does it offer?
As mentioned, Rakuten is a cashback site that will reward you for taking their cashback offers. It has been around since 1997.
It used to be called Ebates, so if you have heard about Ebates, it no longer exists but has now changed its name to Rakuten – but it is the same site just with an update and a new name.
It boasts 15+ million members in the US alone. But that really isn't a good measurement of how great this site is in terms of earning potential.
To truly gauge the earning potential of this site, we have to take a closer look at how you will be able to earn rewards from this site.
I have made a short video that gives you an inside look and shows exactly how Rakuten works. You can also read all the details below the video.
Check Out the Best Cashback Sites
Option 1 – Cashback Offers
Since it is a cashback site, then naturally, you can expect there will be cashback offers.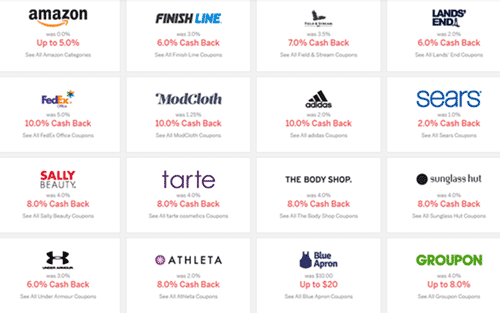 As soon as you finish the registration process (which I will talk about later), you can log in to their member dashboard and start taking advantage of their cashback offers.
I will tell you, though, it certainly has a lot of cashback offers available, which is good, in my opinion.
If you are new to cashback offers, then the premise is simple. When you click a cashback offer, it will take you to the website hosting the offer.
For example, if you click on an Amazon cashback offer, it will redirect you to Amazon, so you can start shopping.
Once you've bought an item, you will receive a percentage of the amount you've spent to purchase the product. It will be credited to your Rakuten account.
As I've mentioned, it has plenty of cashback options. It even has cashback options from hotels and booking sites. This is a good thing, especially if you frequently shop online.
One more thing that will help you avail of cashback offers conveniently is that you can actually download a Rakuten Google Chrome extension that will automatically apply the best coupons when you shop from some of their partner sites.
It's a nice bonus to have because you won't have to keep browsing the site to see if there are any available deals for the site. Simply visit the online store, and if there are any deals available, the extension will notify you.
That definitely makes it more convenient and is something other cashback sites could learn from, in my opinion.
Option 2 – Rakuten referral Program
Rakuten will also reward you for inviting people to join the site. In fact, they reward you well.

For every person you invite that becomes a member of the site, you will earn $25, which will be credited to your Rakuten account. The referral must complete one cashback offer though before you can get the $25 referral fee.
Considering the condition you need to meet to get the reward, it's not bad really. $25 is a pretty significant amount for a referral program reward.
You can invite a person to join by sharing your referral link or by sending them an invitation email.
The good thing about their referral program, in my opinion, is you can track down if the person you've invited becomes a qualified referral.
You will see a list of your referrals and if they qualify or not when you go to the referral section of the dashboard. So if you have a lot of friends that shop online frequently, it can be a nice way to make some extra cash.
Check Out the Best Cashback Sites
How do you get paid?
Now, let's get into the other important part of the site.
When you complete an offer, you will receive a percentage of the amount you've spent to purchase the product. This will be accumulated in your Rakuten account balance.

Payments are sent every three months on their payment schedule. That should definitely give you enough time to reach their payout threshold.
The payment will be made via check or via PayPal. If you choose to have the payment sent via check, don't expect to receive it right away because it will be sent via postal mail, which can take some time to arrive.
If you choose to receive payment via PayPal, you'll be asked for verification when you select this method. It will be issued to the account associated with the PayPal email address in your Account Settings. So make sure to set that properly.
What I like about Rakuten is that it has a relatively low payout threshold of $5, which, in my opinion, is very achievable. The only downside is that you will have to wait 3 months to receive the payment and even more if you choose to receive it via check.
How much money can you make?
If you expect to earn a lot from Rakuten, you might be disappointed, depending on your definition of earning.
Although they do have plenty of cashback options, you won't really be able to earn a lot from cashback websites, in my experience.
The good thing though is that since they have a lot of cashback offers, there is a good chance you will be able to avail of some of these offers, especially if you shop online frequently.
The main selling point of Rakuten, in my opinion, is not the amount of money you can earn from it but the many cashback opportunities they offer. Since they offer a lot of cashback options, you are bound to take advantage of at least one.
This can be very useful if you like to shop online because it will at least allow you to save a few bucks.
But all in all, the earning potential of Rakuten is relatively low, but it has plenty of deals you can take advantage of.
And it is one of the best cashback sites I have seen, and if you shop online anyway, why not get savings when doing it because of the many shops Rakuten works with, you will likely find the online shops you use already.
You also receive a significant sign-up bonus ($10 cash bonus), which is a pretty nice head start, in my opinion. To get this bonus, you just have to make purchases through Rakuten for at least $25 within 90 days of joining.
Can you use it on mobile?
A good thing about Rakuten is that it has its own mobile app you can download on your mobile device so you can log in to their dashboard even when you are not in front of your computer.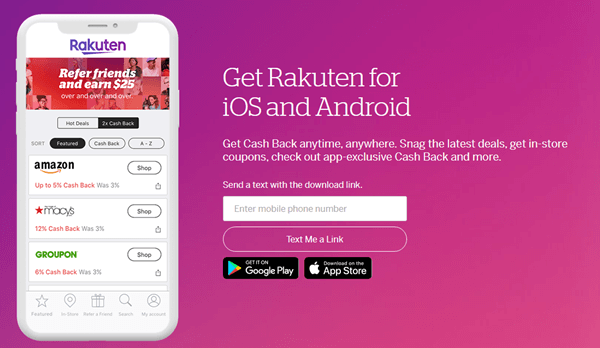 This makes it much more convenient for you since, nowadays, online shopping can be easily done on a mobile device. So you don't really have to sit in front of a computer to avail of the deals on the site.
There are also app-only deals that drop weekly, so installing the app will really benefit you because you can gain access to certain deals that are not available if you log in to the site on a computer.
The mobile app is available in both Android and iOS app stores.
Who can join Rakuten?
In theory, anybody can join Rakuten. Regardless of where you live, you will be able to register as a member (and pretty easily, I might add).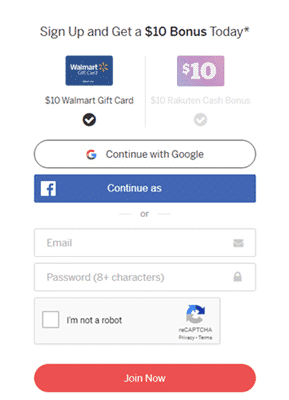 You can register as a member using your Google or Facebook account. You can also register the old-fashioned way, which is by providing your email address and password.
In reality, though, if you live outside the US or Canada, registering to the site would be pretty useless since the opportunities are more or less only for the US and Canada at the moment of writing this review.
They do hope to start operating in Europe at some point, but they have no specific time frame for it. And it has been like this for several years. So for now, Rakuten is only available to residents of the US and Canada.
Overall, it is very easy to get started if you decide to give it a go.
Can you get support?
If you want to get in touch with their support team, you can do so by using the contact form they've provided on their site.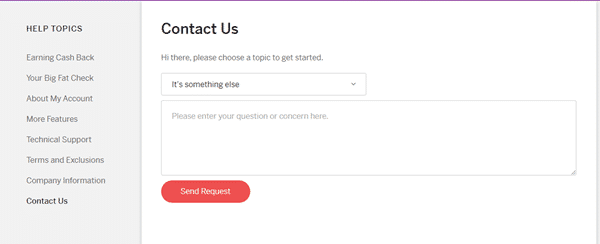 They have also provided a comprehensive set of help topics (as you can see from the photo above on the left side of the contact form) to help you if you have any questions about the site.
And if you ever need to contact them, they do reply pretty quickly (based on my experience), which is a good sign.
I have been in contact with them a few times myself with some questions I had when I first joined, and they replied very quickly and were very helpful.
This shows that they do care about their members.
All in all, they have a very good support system in place for their members.
Final Verdict
Rakuten is a legit cashback site that offers plenty of cashback opportunities for its members. It has some good qualities and a few downsides as well.
But let's finish this review with a summary of its pros and cons to give you an overview of what the site offers. Hopefully, this will be able to help you decide if you should join the site or not.

Pros:
Plenty of cashback options
Easy registration process
Excellent support provided
Offers great welcome bonus

Cons:
Low earning potential (as you save and do not as such, earn)
Only has offers for the US and Canada, even though you can join from all countries
Slow payout process
The main strength of Rakuten is the volume of cashback options they offer. There are many deals you can take advantage of. You do have to wait 3 months before you can receive payment. This makes it a little less versatile, in my opinion.
Plus, the fact that the offers are only available to residents of the US or Canada makes it a less than ideal choice if you live elsewhere. So, if you don't live in the US or Canada, I recommend you check out the top cashback sites instead.
You will be able to find a cashback site that will allow you to receive payment regardless of where you live.
If you have any questions about Rakuten or any experiences you would like to share, then feel free to leave a comment below – it would be great to hear from you.