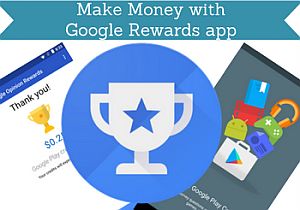 If you like to do surveys and make a bit of money on the go, Google Rewards App can be an option. But what is Google rewards app, how does it work, and what are the opportunities with it?
This article will answer these question, so you can find out, if it is a good option for you.
What is Google Rewards App?
The app is a way for you to answer surveys and earn money this way. It is created by the Google survey team and is also sometimes referred to as Google opinion rewards or just the Google panel.
As Google is behind it, it is obviously a very trustworthy way of doing surveys, and it is of course free to join and use like any other legit survey opportunities.
The surveys you will get will only take a few minutes to do, or maximum up to 5 minutes. Most of the surveys I have done through this app has taken less than 2 minutes. I think this is great, and it makes it easy to do in a little break during the day.
How much money can you make?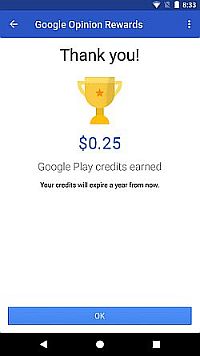 It is great that all the surveys through the app are very short compared to certain other survey opportunities. But there are however not very many surveys available. In the description of the app, it says that you can expect 1-2 surveys per week, and that is also what I have confirmed through my own experiences.
This is of course not a lot. So you should not join the google panel, if it is because you want to make a living from it. The surveys that you will get, does however pay pretty well in relation to the time spend. The reward per survey will be up to $1. It might not sound like a lot, but you also have to think about that this is for a survey that might only take a few minutes, which is a very good reward compared to what you can usually earn on surveys. In my experience, it is however not very often that you will get the surveys that pays $1. Often they pay less, but then also take less time.
The surveys are usually very easy to answer and consist of multiple choice answers. With the very few weekly options, you will however not be able to make a lot. But it might still be worth it, if you like the reward options, as it only takes so little time to participate. Every time you do a survey, you will get paid into your app account in your local currency.
If you think that the 1-2 surveys a week that you get through the Google rewards app is too little, and would like to join survey platforms that give more weekly opportunities, there are several of these available. If you join the best survey sites, you will have many daily opportunities, and many of these platforms also gives other ways of earning than only surveys.
How can you use your rewards?
As mentioned above, you will get paid in cash into your app account when you do a survey. This does however not mean that you can get the rewards paid out in cash. This is important to know, because if you are only interested in doing surveys where you can get paid in cash, the Google panel is not for you.
The money you earn can only be used for one purpose, and that is as credit for the Google play store. You can that way use your credit to buy apps, games, movie, music etc. But if you are never using the play store and are not planning to start using it, it does not really make sense to participate, unless you would just like to have your opinion heard about certain topics and do not care about being able to use the rewards.
Be aware that when you earn credits, it will expire after 1 year. So make sure to use your credit within one year.
Who can join?
The main criteria to join is that you have to have an android phone to use the Google rewards app. So if you are not using Android, you have to use other survey platforms.
The app is available in a lot of countries. I have not been able to find out exactly how many countries, and new ones are also being added to the list regularly. So if you are interested, you have to check, if the app is available in your exact country.
How do you get started?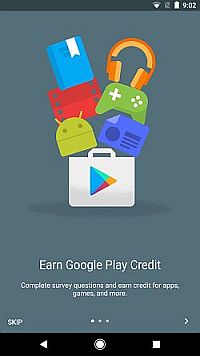 Before you can start using the app, you first need to have it on your phone. You can just open the play store and search for the Google panel and then download the app.
Once you have downloaded the app, you need to set it up. You need a Google account for this. If you do not have one, you can make one for free.
The set up itself takes around 5 minutes. You have to answer a few background questions about yourself, so you can be matched with the right surveys in the future. It is questions like age, income level, address, gender, languages you speak fluently etc. After you have done this, you will get a short test survey. It is very easy to answer and only takes a couple of minutes. You will not get paid for this test survey, but it is a test to see, if you are paying attention when answering surveys, and that way if you are able to do surveys in the future. So make sure to answer the test survey properly.
Once all is set up, there is nothing else you can do than wait. When there is a new survey available, you will get a notification on your phone. Be aware that if you wait too long to answer the survey, it might no longer be available.
Conclusion
So is it worth joining Google rewards app or not? It really depends on why you want to join. It is very easy to use, and the surveys are very short, and pay pretty well in relation to the time spent. There are however not very many weekly opportunities, so you will not be able to make a lot, and the rewards can only be used for the Google play store.
So if are using the play store and have a couple of minutes once in a while to do a survey, it can be a great app to download. If you want to have more than 1-2 surveys a week and the chance to earn more, and if you want to be able to get paid in different ways, you should instead consider joining other survey sites also or instead.
If you have any experiences with the Google panel yourself or have any questions, feel free to leave a comment below.