If you like to take surveys and make a bit of money on the go, you have maybe heard about Google Rewards App (aka Google Opinion Rewards).
But what is the Google rewards app, how does it work, what are the opportunities with it, and is it even worth it?
I have downloaded it and tested it over a long period of time myself to see exactly what it offers. I have also compared it to the hundreds of other survey apps I have tested to see if it is worth it compared to other similar opportunities.
This Google rewards app review will answer all your questions about it so you can easily find out if it is a good option for you or if you should go for alternatives instead.
What is Google Rewards App?
The app is a way for you to answer surveys and earn money this way. It is created by the Google survey team and is also sometimes referred to as Google Opinion Rewards or just the Google Panel.
As Google is behind it, it is obviously a trustworthy way of taking surveys, and it is, of course, free to join and use like any other legit survey opportunity.
But let's take a closer look at the exact earning option it has.
I have, therefore, made a video that gives you an inside look and shows exactly how you can earn from Google Opinion Rewards. You can also read all the details below the video.
Recommended: Check Out the Top Survey Sites in Your Country
The earning option – taking mobile surveys:
The surveys you will get as a member of Google Opinion Rewards will only take a few minutes to do or a maximum of up to 5 minutes.
In my experience, they even sometimes take less than 1 minute to do, so they are very short and easy to complete compared to surveys on some other platforms.
Once you have downloaded the app, you will get a notification when there is a new survey available. You can change the settings for these notifications if you do not want them to pop-up.
However, I would recommend you allow the notification to get the most out of the app as you otherwise will risk missing out when there is a survey available.
You just need to be aware that the amount of available surveys varies a lot. I have had days where I got one every day and then long periods without any survey offers. So it is not as consistent as some other survey options.
You can get access to more surveys by turning on location history inside the app.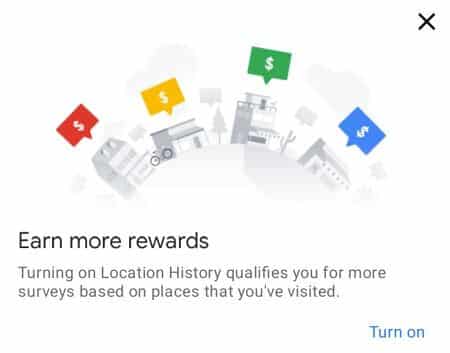 You can turn it on with just a few clicks, and as soon as you log in, you can see the option.
By turning this on, you will potentially qualify for more surveys based on the places you have visited.
Whether you feel comfortable turning this on or not is up to you, but it can be a way to get more surveys.
However, before you decide to join or not, you need to know more about what you can get out of it, so let's go more into details about this.
Recommended: Check Out the Top Survey Sites in Your Country
How much money can you make?
It is great that all the surveys through the Google survey app are very short compared to certain other survey opportunities.
But there are, however, not very many surveys available, as mentioned above.
In the description of the app, it says that you can expect 1-2 surveys per week, and that is also what I have confirmed through my own experiences.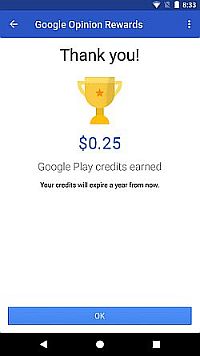 This is, of course, not a lot. So you should not join the Google panel if it is because you want to make a living from it.
The surveys that you will get do, however, pay pretty well in relation to the time spent.
The reward per survey will be up to $1. It might not sound like a lot, but you also have to think about that this is for a survey that might only take a few minutes, which is a very good reward compared to what you can usually earn on surveys.
In my experience, it is however not very often that you will get the surveys that pay $1. Often they pay less, but then also take less time. So do not get disappointed if you rarely get the higher-paying surveys – in fact, you should not expect them very often.
A good thing about the Google surveys is that they usually are very easy to answer and consist of multiple-choice answers. With the very few weekly options, you will, however, not be able to make a lot.
But it might still be worth it if you like the reward options, as it only takes so little time to participate. Every time you do a survey, you will get paid into your app account in your local currency.
If you think that the 1-2 surveys a week that you get through the Google rewards app is too little and would like to join survey platforms that give more weekly opportunities, there are several of these available.
If you join the best survey sites, you will have many daily opportunities, and many of these platforms also give other ways of earning than only surveys.
How can you use your rewards?
As mentioned above, you will get paid in cash into your app account when you do a survey.
When I first time was a member of Google Opinion, it only offered you to use the money you earned for one purpose, and that was as credit for the Google Play Store. You could that way use your credit to buy apps, games, movies, music, etc.
This option is still available, and if you use the Google Play Store regularly, this can be a good way to get free credits for it.
However, you can now also get paid via PayPal for the surveys you take. In my opinion, it is great they have introduced this option as well so you can get your earnings in a way that fits you.
It just does not seem the PayPal option is available in all countries.
Also, there are survey sites where you can get paid in cash with more opportunities, but it can be an extra app to download for a bit of extra PayPal cash.
Be aware that when you earn credits, they will expire after 1 year. So make sure to use your credit or cash out within one year.
Who can join?
Back when the Google rewards app was only offering credit to the Google Play store, you had to have an android phone to use it.
That is no longer the case. You can download it and use it on both Android and iOS devices.
The app is available quite in a lot of countries. At the time of updating this review, it is available in 30+ countries, and you can, for example, join from all the bigger English-speaking countries like the US, UK, Australia, Canada, many Asian countries, most European countries, and more.
You can see the full list of countries here as it was a bit too much to list all the countries here, and Google itself has a nice list you can just check out through the link above if you want to check if it is available in your specific country.
How do you get started?
Before you can start using the app, you first need to have it on your phone. You can just open Google Play or the App Store and search for the Google Panel and then download the app.
Once you have downloaded the app, you need to set it up. You need a Google account for this. If you do not have one, you can make one for free.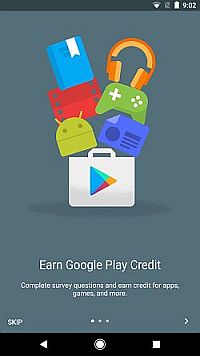 The setup itself takes around 5 minutes.
You have to answer a few background questions about yourself, so you can be matched with the right surveys in the future.
It is questions like age, income level, address, gender, languages you speak fluently, etc.
In the set-up process, you will also get the chance to activate your location on the phone – this means the app will register your location, and you can supposedly get more surveys this way by getting surveys about the places you have visited, as explained earlier.
After you have done this, you will get a short test survey. It is very easy to answer and only takes a couple of minutes. You will not get paid for this test survey, but it is a test to see if you are paying attention when answering surveys, and that way, if you are able to do surveys in the future.
So make sure to answer the test survey properly.
Once all is set up, there is nothing else you can do other than wait. When there is a new survey available, you will get a notification on your phone. Be aware that if you wait too long to answer the survey, it might no longer be available.
Final verdict
No doubt the Google Rewards App (aka Google Opinion Rewards) is legit and is a way to earn a bit of extra money.
But is it really worth joining?
It really depends on why you want to join. So to give you a better overview before deciding, let's finish this review by summing up the pros and cons.

Pros:
Free to join
Easy to use
Pays out in cash
Very short surveys

Cons:
Not a lot of available surveys
Your earnings have an expiration date
Does not offer PayPal rewards in all countries
Overall the Google survey app is very easy to use, and the surveys are very short and pay pretty well in relation to the time spent.
There are, however, not very many weekly opportunities, so you will not be able to make a lot, and this is the main problem with this app.
As an extra app and to get a few extra surveys once in a while, it can be nice and can be a great app to download.
If you want to have more than 1-2 surveys a week and the chance to earn more, and if you want to be able to get paid in different ways, you should consider also joining the top paying survey sites in your country.
No matter what, I would recommend you to also join other sites in addition to the Google Opinion app, as the app alone will really not give a lot of options.
If you have any comments, questions, or have any experiences with the Google Panel yourself, I would love to hear from you in a comment below.