QuickRewards.net is a Get-Paid-To (GPT) site that promises to pay you for completing different offers.
But is QuickRewards legit and really a way to earn or a scam to stay away from?
So, let's just get this out of the way. Yes, QuickRewards is a legit GPT site. It does pay you for completing their offers.
But this doesn't automatically mean you should sign up and become a member right away. With so many GPT sites out there, you need to make sure you choose which sites to join wisely.
This QuickRewards review will reveal all the details you need to know about the GPT site so you can decide if it is indeed worth your time or not.
So let's go ahead and examine what this GPT site has to offer.
Disclosure: Some articles on this website contain affiliate/sponsored links. Click for more info.
What is QuickRewards and what does it offer?
As already mentioned, QuickRewards is a GPT site that will pay you for completing offers and tasks. It has been around for several years now, which is a testament to the legitimacy of the site.
The full name of the site is QuickRewards Network so you will also sometimes hear it referred to as this.
But let me just say this right now. There isn't much information on their website before you join. So, if you are hoping to find out more about what it has to offer, you won't be able to do it just by exploring their website.
I have, however, joined and tested it and will go over everything it has to over step-by-step below, so you can see if it will really be worth your time.
I have created a video walkthrough of QuickRewards so you can get an inside look. You can also read all the details below the video:
Option 1 – Paid Offers
As with all GPT sites, you will be able to earn by completing paid offers.
Once you complete the registration process, you will be able to log in to their website and view all the paid offers you can complete.

The logic is pretty simple. If you see an offer you like, just click on it and follow the instructions of the offer.
Usually, the offer will either ask you to sign up to a website, perform a special trial, fill up forms or even answer surveys.
Meeting all the requirements of the offer means you have completed it. The reward promised will then be credited to your QuickRewards program within 24 hours.
What's good about these paid offers is, there will always be available offers you can do every day, unlike paid surveys (which I will discuss next).
The downside is, these offers don't usually reward much on QuickRewards.net.
Also, compared to many other GPT sites, you cannot find quite as many offers here as it only gives you access to a couple of offerwalls at the time of writing this review.
But they are continuously working on developing the site, so there might be more offers available in the future.
Option 2 – Paid Surveys
Another way to earn rewards on QuickRewards is by completing paid surveys.
Again, you just have to log in to their member dashboard to view all the available paid surveys.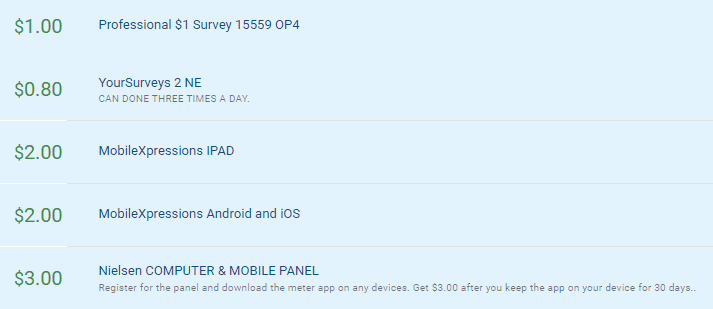 There are different types of surveys available on QuickRewards. There are, for example, surveys they offer, and there are surveys you can take from other websites.
In my opinion, the one with better rewards are the paid surveys offered by QuickRewards itself. The process is the same as what you would expect from a survey site.
When you click on a survey offer, you will have to first answer a set of pre-qualifying questions.
These questions are done to ensure you are indeed included in the demographic the survey is targeting. If you qualify for the survey, you can then proceed to the actual survey.
If you don't qualify, however, they will inform you right away so you don't have to waste your time answering a survey you won't get rewarded with. You can simply move on to the next offer.
Once you complete the actual survey, you will then receive the reward, which will be credited to your account within 24 hours as well.
QuickRewards gives a decent number of surveys but it is definitely not the one with the most compared to many other sites, but more about the overall earning opportunities later.
However, one thing you have to be aware of is that NOT all surveys on QuickRewards Network are actual surveys.
As you can see in the image with the survey examples above, they, for example, have a "survey" called Nielsen Computer & Mobile Panel. This is actually instead an offer they get paid to promote where you have to go to that particular site and sign up.
The panels I have seen promoted like this on QuickRewards are all legit so there is no risk in signing up for them. But I do not like how they place these offers so it looks like they are actual paid surveys when they are not.
So if you want to take the surveys, you just have to be aware that not all the options on the survey list are actual surveys.
Option 3 – Watch Videos
You will also be able to earn rewards simply by watching videos. You just have to click the link to the video (which is displayed in their member dashboard) and watch the video.
The section where you find the videos inside QuickRewards is called "Daily Views".
You have to watch the video completely to earn the reward.
In my experience, the reward you get from this type of earning opportunity isn't really much, but it can be entertaining because some of the videos are interesting and fun to watch.
Option 4 – Paid Emails
Reading paid emails is also another way to earn on QuickRewards. You will receive paid emails from time to time and you will earn rewards simply by clicking it. Think of it as a newsletter but with a twist.
Normally, you will have to click a link to confirm that you have read the email. You will then receive the reward which will be credited to your account after clicking the link.
It's a simple way of earning a bit of income, but it can clutter up your inbox. If you don't like receiving this kind of email, you can simply unsubscribe to it.
Also, this will not make you a lot of money, so it is not a method you should expect too much from.
Option 5 – Shopping
This is one of the more common earning opportunities on GPT sites. The premise of this type of earning opportunity is, you simply shop from a site that has partnered with QuickRewards.
Once you complete a purchase, you will then earn cashback rewards. You do have to go through QuickRewards' site first to get the reward. That means you have to click the clink to the cashback offer on their member dashboard.
If you ever shop online, this can be a great way to get savings.
However, if you are interested in sites like this, you can check out the top cashback websites instead as there, in my opinion, are many sites that give better cashback options than QuickRewards.
But you definitely can find A LOT of shops inside QuickRewards so if you become a member it definitely can be worth checking out this section.
Option 6 – Play games
If you like playing games, you can find a couple of different options inside QuickRewards.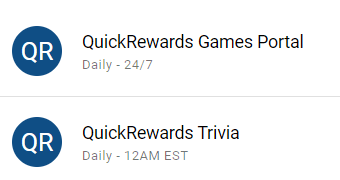 You can, for example, play trivia games. You simply go to the Trivia section of the member dashboard and click the game you want to play.
You will then receive the reward promised if you meet the score requirement of the game. It's a fun way to earn a bit of income, but in my experience, the rewards you get aren't really a lot.
There is another section where you can play all kinds of games in more or less any genre. Again, they can be fun to play but if you are on the site to earn, this is not really the most effective way.
So see it mostly as entertainment.
Option 7 – Referral Program
If you want a form of passive income on QuickRewards, you can refer friends to their website. For each referral you make, you stand to earn 5% of the income they earn.
This is a good earning opportunity because you don't have to do a lot to earn. Of course, the income you will earn will depend on how active your referral will be on the site.
The 5% you will receive will be covered by QuickRewards and won't be deducted from the income of your referral, which is good.
Just be aware that it is not as easy as it sounds. And 5% is quite low compared to many other sites.
But if you like QuickRewards yourself, then why not invite other people to it as well with the chance of earning a bit extra.
However, at the moment of updating this review, the platform is going through a bigger update (it has, however, been going through that for months now), so currently the referral program is not available.
But they write it is coming back once they are done with the updates so at some points you can expect to get access to this option again.
How do you get paid?
Probably the most redeeming factor of QuickRewards is how you will get paid and I will explain why.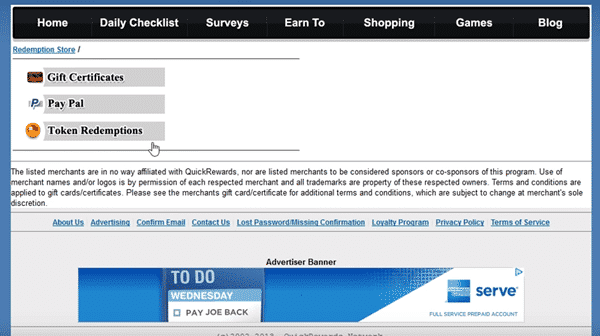 Most of the offers you can do on QuickRewards reward you with a specific amount.
You can then withdraw your earnings because QuickRewards doesn't require you to reach a minimum amount before you can withdraw your earnings if you are using PayPal. That means you can receive money pretty quickly.
Other offers like watching videos also reward you with QuickPoints. You can then convert the QuickPoints you've accumulated into real money. 100 QuickPoints is equal to $0.01. It's not much but it's a nice bonus to have.
Aside from QuickPoints, you can also earn tokens as additional rewards from offers. You can then use these tokens to redeem gift cards and magazine subscriptions.
Be aware that if you want to withdraw your earnings as gift cards, you have to earn a minimum of $5 to do so.
The nice thing about this is, QuickRewards has a wide selection of gift cards you can choose from.
As for withdrawing your income as cash, you can only do it via PayPal. They don't have any other payment gateway. But in my opinion, this is enough since PayPal is the most used payment gateway today.
So, if you want to earn real money from QuickRewards, you just have to make sure you have a verified PayPal account.
If you don't have a PayPal account, you can check out this article on how to set up a PayPal account.
How much money can you earn?
As with all GPT sites, the answer to this question will depend on how active you are on the site.
The good thing about GPT sites is, you don't have to wait for an invite in order to earn rewards, unlike survey sites.
Since QuickRewards actually has several earning opportunities, you always have something you can do every day. This means you can accumulate a significant amount of money rather easily.
Of course, you can't expect to get rich from this. As you've noticed in some of the photos above, the rewards for the offers you complete aren't really much. But if you consistently work on these offers, you can earn a decent amount of money.
Plus, the fact that you will be able to withdraw your earnings without having to reach a specific payment threshold makes it one of the better sites you can join if you want to earn quickly.
For similar sites like this, I suggest you also check out the fastest paying survey sites.
Can you use it on mobile?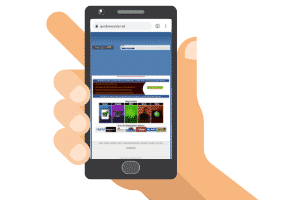 There is no mention on their website (which seems to be the main problem of the site) about a QuickRewards app you can download on your mobile device.
This means you will only be able to access their website on a mobile device using a mobile web browser.
They just recently updated their website so the inside members area is now optimized for mobile use which was a needed change.
That means you will be able to read all the content without having to zoom in and out.
Who can join QuickRewards?
The main issue with their website is, not a lot of information about what you can do on the site and who are eligible to join.

You will only be able to find out who is eligible to join their site when you click the Join button on their homepage.
As shown in the photo above, you have to be a resident of the US or Canada in order to become a member.
As for the age requirement, keep in mind that they use PayPal as their only method of payment. So, you have to meet PayPal's age requirement if you ever hope to receive payment via this payment gateway.
Can you get support?
Seeing as their site really likes important information, you will really have questions at some point. They do have a solution to this.
They have a Help section where you can find frequently asked questions. The problem is, you will only be able to access the Help section once you become a member of their site.
In my opinion, this is just poor website planning. There should always be an FAQ section readily available for visitors of the site regardless if they are a member or not. This ensures a more transparent way of presenting relevant information.

If you want to contact their support page, you can click the contact us link at the bottom of their website. However, if you are expecting a contact form you can use (which is normally the case), you will be disappointed.
But, as you can see in the photo above, you can use the email provided to contact their support team. It's not bad, but the way they handle their support could use a bit of work in my opinion.
I have contacted QuickRewards myself to ask a few questions and I did get an answer.
However, at that time I was told the whole website would soon be completely redesigned – this is now more than 1 year ago, and some changes have definitely happened since.
But as you can see from the information in this review, there are still some updates they are working on.
This is a bit confusing but at least they did answer. And you can only hope they will soon update the site so it gets a more modern look and way to navigate.
Final Verdict
QuickRewards is a legit GPT site that pays you for completing their offers and activities. But, it's not without its flaws.
So let's finish with a summary of its pros and cons to help you decide if it is indeed a good fit for you or not.

Pros:
Has several earning opportunities
No payment threshold
Payment via PayPal is available

Cons:
Lack of relevant information on their website
How they offer support needs more work
The main strength of QuickRewards is that it doesn't require any payment threshold you need to reach before you can withdraw your earnings in cash. This allows you to earn money rather quickly.
In my opinion, they do need to work on their website a bit more because there is plenty of relevant information not provided which could really incentivize visitors to become a member.
But overall, it can be a decent site to earn money from as long as you don't mind sitting in front of the computer when you work on offers and as long as you are eligible to become a member.
You can join QuickRewards here if you want to check it out for yourself.
Or if you are looking for GPT sites that have better earning potential and are more user-friendly, I recommend you check out the top GPT sites.
The GPT sites on this list are all known to provide good earning potential and most of all, their sites are optimized for mobile use. Some even have a mobile app you can download.
If you have any comments, questions, or have any experiences with QuickRewards yourself, I would love to hear from you in a comment below.