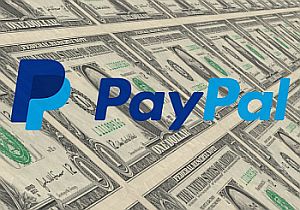 If you wish to get paid in cash for surveys, one of the easiest ways is through PayPal.
I will therefore in this post explain you step by step how to get your PayPal set up, and how to get paid for surveys through PayPal.
Be however sure to check the newest terms and conditions on PayPal's own website.
What is PayPal?
If you are not familiar with PayPal, I will first explain what it is, so you know what you are signing up for. PayPal is one of the leading companies within online payments. They make it possible to send and receive money online. Often you can receive money, just by stating your email address. Many online shops and services also have the possibilty to pay with PayPal. It is a secure, fast, and is accepted by buyers and sellers in over 200 countries.
Why use PayPal to get paid for surveys?
If you prefer getting paid in cash when you do paid surveys, PayPal is one of the easiest ways. And as it is also used in most of the world, it is also the way most survey sites offer, if they pay in cash. You can see my top 10 survey sites or reviews of survey sites to see which sites pay through PayPal.
At some survey sites you can only sign up, if you have a PayPal account, as they only pay this way.
A few survey sites do still not offer to pay electronically, but only through check. I find that too slow, as many of the sites I do surveys on are in another country than where I live. And I would also have to take the check to a bank, once I would receive it. With PayPal, once you have your account, and have it connected to a certain survey site, all you have to do is a few clicks, and then the money will automatically be transferred onto your account.
How you connect your PayPal to a survey site depends which survey site it is. Some require you to give your PayPal account info when you sign up, and then it is already set up. If that is not the case, you can usually set it up where you select how you want to get paid, or where you request a payout.
It can be good to know, that the survey companies cannot take money out of your PayPal account, because you will only have given them the email your PayPal is registered with. This is enough for them to transfer money to you, but they cannot take money out.
If any survey site says it will charge an amount on your account for signing up and therefore ask you for more information like card number etc., do not sign up. All decent survey sites are free to sign up for and will not ask for card details. If it does, it is very likely a scam, and not worth signing up for.
How to set up your PayPal account?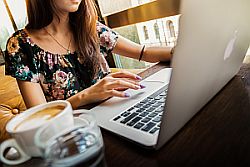 To be able to get paid through PayPal, you first need to open an account. But don't worry – it is completely free to sign up for PayPal. They do however most often charge a small commission when you make or receive a payment, so check this on the individual survey sites. For me, this small commission they charge is however worth it for the easiness of it.
To open your account only takes a few minutes. Just go to PayPal's website and click "sign up", and fill out the information they ask for.
Again, I just want to emphasize that PayPal is a worldwide trusted company that is very secure. You can do a bit of research to verify this, if you want to.
How to verify my PayPal account?
Some survey sites demands that you have a verified PayPal account, before they can pay out. To have a verified account is good to have anyway, and does not take long to do, and I will therefore also explain how you do this.
To verify your account, you first have to associate a payment card (visa, mastercard etc.) to your account. To do this and to verify your card increase the safety and trust on PayPal, and they therefore encourage people to do this. The benefits of doing this is further that the limit for how high an amount you can transfer will be removed, and you will also be able to transfer money from your PayPal account to your bank account.
You verify your account by following the steps below:
Login to your PayPal account.
Click on "E-wallet".
Click the card you have associated with the account. If you have not yet associated a card with your account, this is also where you can do that.
Click on "associate and confirm my card".
PayPal will after a couple of days withdraw a small amount on your card (around $2), but do not worry – you will get this amount back once your card has been verified. The fee will be visible in your account statement together with a 4 digit PayPal code. This is the code you need to confirm your card.
Once you have the code, you login to PayPal again, and follow the steps below to confirm your card:
Click "E-wallet".
Click the card you want to confirm.
Click on "associate and confirm my card".
Your card has now been confirmed, and the amount that was withdrawn to give you the confirmation code, will be refunded to your account within a few days.
Be aware that PayPal like any other company sometimes changes their terms and conditions. So make sure you check their newest conditions on their website. It might have changed, since I did this post.
I hope this walk through has made it clear how you set up your PayPal account and start getting paid for surveys this way, and why it can be beneficial to do.
==>Click to see the best survey sites that pay through PayPal<==.
If you have any questions, or if you find that PayPal's procedure has changed since I wrote this post, please leave a comment below.