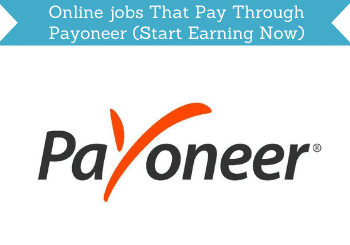 Aside from PayPal, there's one popular payment gateway that online earners often use.
This payment gateway is called Payoneer.
If this is your first time hearing about this platform, then let me explain to you what it is.
I'm sure you've heard of PayPal. Payoneer is almost exactly like PayPal. The only difference between the two is their popularity. There are more merchants that accept PayPal compared to Payoneer.
The one advantage Payoneer has over PayPal is it has lower service fees. So you will get more of your money through money transfer when you use Payoneer.
Now, this guide will show you the best online jobs that pay through Payoneer. I'll show you 9 different examples so you'll know where to start. Simply pick which ones suit you best and sign up.
All the sites I will include in this guide are legit and free to join.
So, let's get started.
How much money can you make from these jobs?
Before we talk about the jobs you can do, it is important we first discuss the earning potential of these jobs. That way, you go into it with the proper expectations, so you won't get disappointed in the end.
The money you can earn from these types of online jobs will depend on the jobs you choose. There are definitely jobs that pay through Payoneer where you can potentially earn a full-time income. But there are also options where this is not possible at all.
In general, the jobs that can earn you the most are also the ones that take the most effort, and in some cases, it will also take time before you can build up to earn any real income.
But overall, it's really hard to put an exact figure on how much you can earn as it depends on several things like, for example, the country you live in, your skills, and then, of course, the effort you put in.
But below, you can read more about the different jobs and then choose the ones that fit you the best.
10 online jobs that pay through Payoneer
Now that you know what to expect in terms of earning potential, it's time we talk about the actual online jobs that pay through Payoneer, which makes it easy to get started.
I have personally tested all these options myself, so everything I will mention is based on my own personal experience.
I will be providing options no matter your skill level, so you will be able to find options that will suit you best.
#1 – ySense
If you are looking for a more versatile way of earning extra cash online, you can check out ySense. This site is one of the more popular Get-Paid-To (GPT) sites around today and one of the fastest ways to earn some extra cash via Payoneer I have come across.
You can earn by answering surveys, completing paid offers and micro-tasks, watching videos, and inviting other people to join the site. So, you'll be able to earn on a regular basis, which is a good thing.
The payout threshold to take out your earnings via Payoneer is $52, which is a bit high, but the jobs you need to do are very easy, so you won't really have a hard time reaching that amount.
You can join ySense from more or less all countries, but how many tasks you will get access to will vary from country to country.
#2 – Swagbucks
Swagbucks is one of the biggest GPT sites around. The reason why it is very popular is it offers plenty of easy ways to earn. You can join Swagbucks from any country, but I can't guarantee that Payoneer is available in all countries.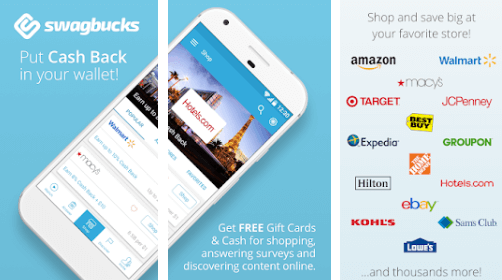 The same goes for the earning opportunities offered by this site. The number of opportunities made available for you will depend on which country you live in. If you live in the US, Canada, Australia, France, Germany, Spain, Ireland, or the UK, then you'll have access to more opportunities.
But if you live in other countries, the opportunities will be fewer. So, just be aware of that one slight thing before you sign up as a member.
#3 – PerkWiz
PerkWiz is one example of an app that offers freelance job opportunities. You will typically hear the term "freelance" associated with Payoneer because freelancers typically use this payment method.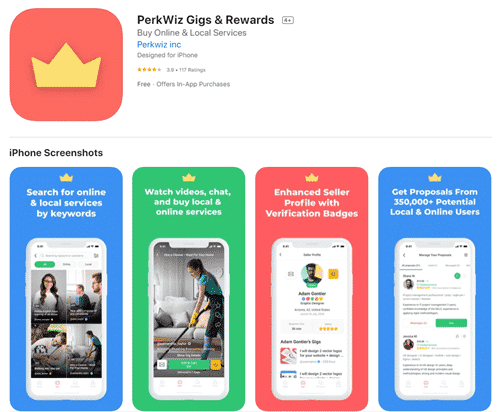 Now, as for the PerkWiz app, as mentioned above, this app will give you access to freelance jobs. The freelance jobs posted on this app are pretty varied. You will find high-skilled jobs or even low-skilled jobs. So, there's something for everyone.
And you can find both online jobs and jobs in your local area. Plus, you can join PerkWiz from more or less all countries.
You can withdraw your earnings via Payoneer anytime you want, but you can also choose to convert your earnings to various gift cards, which they have a decent catalog of.
#4 – Teemwork
Teemwork.ai is a platform that will pay you for completing tasks.  You will find plenty of crowdsourcing tasks from Teemwork.
So, these tasks aren't like the usual tasks you will encounter from GPT sites. They are a bit more complicated. But the good thing is, they pay better since they require more effort.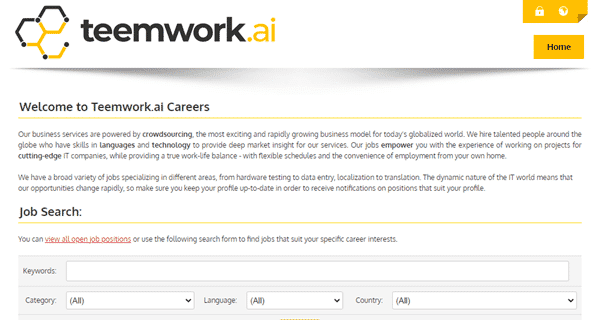 To start earning, you have to look for tasks that are available in your country. Then, you have to apply for the job/task you are interested in.
Usually, these tasks will require you to annotate and transcribe videos, do data entry tasks, collect data using search engines, and more.
In order to withdraw your earnings, you will need to earn at least $20, which is a relatively high payout threshold, in my opinion. So, you will have to be very patient because it can take quite some time to earn that amount.
#5 – UpWork
UpWork is a website that's specifically for freelancers looking for jobs. There are plenty of companies and individuals outsourcing their jobs on this platform, so you will definitely find a freelance job you can take on.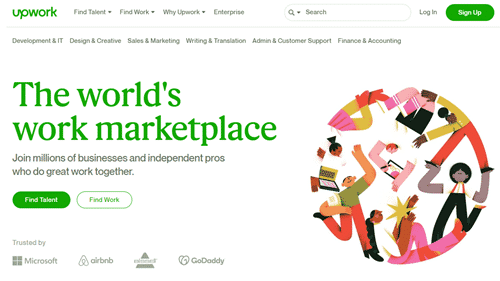 However, in the beginning, it can be hard to find a job you can do. But if you have patience and perseverance, you will eventually find many jobs you can earn from. The thing with UpWork is once you get started, finding a job becomes easier. So, you really just need to be patient with this site.
Also, the tasks you can do on this platform will be much more complicated than the tasks found on GPT and survey sites. So, expect to have your work cut out for you when you join UpWork.
#6 – Audio Bee
If you have good transcribing skills, then Audio Bee can be a decent source of extra income.
But, if that is something you are not good at or you are not comfortable doing, then the other options on this list will be a better fit for you.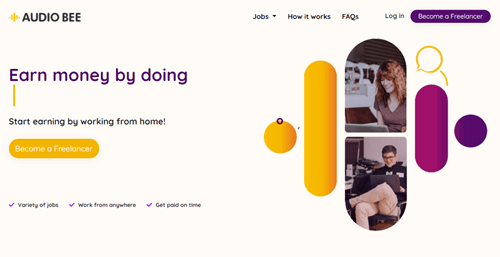 Aside from audio transcription, you can also do voice recording, translation, and segmentation jobs to earn from this site. It's a unique way to earn, and it will definitely require a bit more effort and time compared to other GPT sites. But the pay is decent.
The threshold to withdraw your earnings via Payoneer is $50, which is quite high, but as I've mentioned, the tasks pay a decent amount. So you won't have a hard time reaching it. You can also get paid via PayPal or direct bank transfer.
#7 – uTest
uTest is a way to earn testing sites, where you can earn Payoneer money by testing software and websites.
It can be a fun and interesting way to earn, but you need to be aware that there are limited projects available, and when you first join, it will take some time to build up your profile to get access to more projects.
The payments are automatically processed once per month as long as you have earned a minimum of $2.
#8 – GoTranscript
GoTranscript offers transcription jobs that pay through Payoneer.
As with all transcription jobs, it requires some skills to get the work. But if you have transcription skills, you can find plenty of work here and earn a decent amount.
And you can find several different types of transcription jobs.

You will get your earnings paid out every week, so you do not have to wait long to get your money.
#9 – 99designs
If you are a great designer, 99designs can be an interesting way to earn. You can find different design projects, but what makes it a bit special is that to get access to more regular jobs, you need to also participate in their design contests.
These contests can potentially give great earnings, BUT there is no guarantee you will win, and thereby you can end up wasting time. So it only makes sense to join if you are confident in your skills.
Once you have earned at least $25, you can withdraw your earnings via Payoneer.
#10 – Appen
Appen is a crowdsourcing platform where you can find different online micro-jobs. Most of the tasks will be data entry work.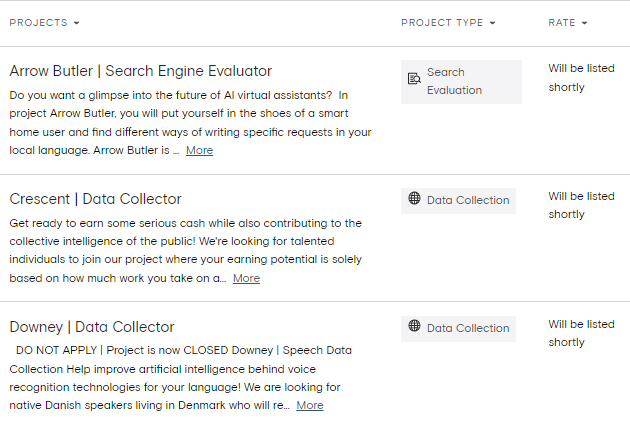 You can join from all countries, and you can find a decent number of tasks here, but you need to be aware that you will not qualify for all projects that are published, so it can take patience to find work here.
Once you have earned $10, you can get paid via Payoneer. This is the only payout method Appen offers.
Final thoughts
So that wraps up this list of the best online jobs that pay through Payoneer. Overall, there aren't a lot of sites that pay via Payoneer compared to PayPal, but the ones mentioned above are the best that I've tested.
Now, if you want to maximize your earnings from this kind of earning opportunity, I would recommend you join several of the platforms provided above. By doing so, you will gain access to more opportunities to earn but still have enough time to do other stuff.
However, how many you should join, of course, depends on your skills and preferences.
Later on, you can just join more if you feel like you can handle more workload. I will keep updating this list if I find new ways, so make sure to bookmark this page and come back to it from time to time.
If you have any comments, questions, or know of other online jobs that pay through Payoneer that are not on the list, I would love to hear from you in a comment below.