Teemwork.ai is a micro job site that claims you can earn by completing IT related jobs and tasks.
But is Teemwork a scam or really a legit opportunity to earn extra cash?
This Teemwork.ai review will address that concern and it will also examine a few other things.
It will give you an inside look so you'll know exactly what to expect before you even sign up. That way, you can determine if this site is truly worth joining or not. So, let's go ahead and examine what this site has to offer.
What is Teemwork and what does it offer?
Teemwork.ai is a micro job site that will pay you for completing tasks. It is indeed a legit site that will pay you for the tasks you have completed.
It's a bit different from many other micro jobs available online. And to get a clear picture of how it works, we have to examine the earning opportunity it offers.
This will also give you an idea of the earning potential of the site so you can see if it is the right opportunity for you or not.
Therefore, I have made a short video that gives you an inside look and shows exactly how you can earn from Teemwork.ai. You can also read all the details below the video:
The earning opportunity – Crowdsourcing tasks
Once you become a member of Teemwork, you will be given access to crowdsourcing tasks.
However, these tasks have to be accessed from a different website called UHRS (Universal Human Relevance System).
You see, what happens is, when you become a member of Teemwork, the site will create a unique UHRS account for you to access the crowdsourcing tasks. All the tasks that will be made available for you will be related to the job position you applied for when you registered for Teemwork (I will discuss later how to do this).
To access the tasks, you have to log in to the UHRS site using the account Teemwork created for you (Teemwork will send you the login details once you get accepted for the job you applied for). When you've logged in to the UHRS site, you will see all the available tasks in the Marketplace section.

Usually, these tasks will require you to annotate and transcribe videos, do data entry tasks, collect data using search engines, and more. Every task will tell you how much you will earn from it. And as shown in the photo above, each task will also have its own set of guidelines you need to follow.
So, before you take on any task, make sure you have read and understood the guidelines. Some tasks will require you to undergo a training session. Once you've read the task guidelines and you've done the training, you will then have to take the Qualification test.
Each task will have a different number of maximum attempts to take the qualification test with a different number of qualification hits. To verify that you have passed the qualification process, click the "Start Judging" button. If it is not enabled, you have failed the qualification test.
If you failed all attempts to pass the qualification test, you will be removed from the task. If you qualify, you get to do the task. Once you've completed the task, your work will have to be reviewed before you get paid. This usually takes a bit of time and unfortunately, they don't really specify how long it will take. But don't expect to receive the payment right away.
You can view the status of the tasks on the "My Report" page of the UHRS dashboard. Once you are done with the task, you can work on it again as long as it still has available hits (shown in the upper right corner). You will, however, have to go through the same process again.
Recommended: Check Out the Top GPT Sites
How do you get paid?
The payment system of Teemwork.ai is a bit different from other micro task sites. You see, the site has a payment schedule it adheres to. The site creates an invoice for you once a month. That is if you reach their payout threshold of $20, which is relatively high, in my opinion.
The service period starts from the 1st day of the month and ends on the last day of the month, e.g. December 1st to December 31st. If, during that month, you were able to reach the threshold, Teemwork will then send the invoice via email with instructions asking you to review and confirm your invoice.
You will need to confirm the invoice within 48 hours after receiving that email. Failure to do so means you have waived the payment for the month. You will then have to wait for the next invoice period (the next month) before you can withdraw your earnings.

The payment options they offer are through PayPal or Payoneer. This is available across all countries. But if you live in the US, direct bank transfer is another payment option you can use. The site typically pays within 15 working days after you confirm the invoice. But sometimes, it can take longer.
I like the fact that the site processes payments automatically. However, you have to remember to check your email regularly so you won't miss the confirmation email for the payment.
I also like the fact that they offer convenient payment methods. But their payout threshold is quite high. If you prefer sites that have a low payout threshold, I would suggest you check out the fastest paying sites instead.
How much money can you make?
The amount you can earn from Teemwork.ai will depend on how many tasks you can complete and how well the tasks pay. As for the latter, the amount you can earn for each task will range from $0.1 to $0.2 but this can vary depending on the task and depending on the country you live in.
No matter what, you should, however, not expect a high salary for the tasks.
As for the number of tasks you can complete, it is something that you really have no control over. The best thing you can do is to improve your chances of receiving more tasks.

To do that, you have to always take all the iTests offered to you (refer to photo above). iTests are exams that will measure your competency of a certain skill.
You can view all the iTests in Teemwork's dashboard. If there is an available test you can do, I would suggest you take it right away because it will impact the number of tasks you will receive in the future, provided of course you pass the test.
But overall, Teemwork.ai has a low earning potential mainly because they don't pay that well for each task you complete. And considering that they have a high payout threshold, it will take some time and a lot of effort before you can reach their threshold.
Can you use it on mobile?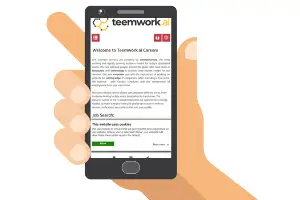 While you are able to login to UHRS' and Teemwork's site from a mobile device using a mobile web browser, in my opinion, the tasks this site offers are best done on a laptop or desktop. This is due to the nature of the tasks they offer.
Most, if not all, of the tasks they offer can only be conveniently done on a computer. It's a bit hard to gather data, transcribe videos, etc. from a mobile device. So, if you are planning to sign up, you will definitely need a laptop or desktop.
Who can join Teemwork?
Teemwork.ai is available globally. However, their registration process is a bit more complicated than other micro job sites.
In order to join, you will have to view all the available jobs listed. You have to check which job positions are available in your country.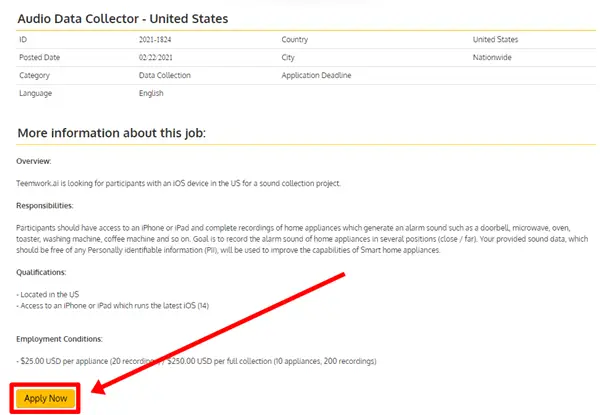 Once you see a job position for your country, click it to view the details. If you feel like this is something you can do, click the apply button. This is the part where you can provide your login details. Just follow what the form is asking you to do.
You will have to read a bunch of documents and you will have to sign a contract at the end. I would suggest you read everything that is presented to you and make sure you understand it.

During the registration process, you will have to provide your Microsoft Live ID. If you don't have one, you won't be able to complete the registration. If you are using an Apple computer, it will ask you for your Apple ID.
Once you've completed everything, you can now log in to Teemwork.ai's dashboard. However, this doesn't mean you can start earning right away. You have to wait for your application to be approved before you can start earning.
Now, if you see another job position in your country that you want to apply for, you can also submit your application, but this time around, you won't have to go through the registration process. You only have to go through it the first time you apply for a job.
When your application is approved, as mentioned earlier, Teemwork.ai will then create a UHRS account for you and the details will be sent to your email.
Can you get support?
If you have any questions about the site or your account, you can check out their FAQ page first. It discusses all the basic information you need to know about the site. If you can't find what you are looking for, then you have to get in touch with their support team.
Unfortunately, their site doesn't have a contact form you can use, but you will be able to send them an email at the following email addresses: crowd@teemwork.ai and crowdpay@teemwork.ai. The first email address is for general inquiries, while the second one is for payment concerns.
Overall, I would say they have a decent support system in place for their members since they have a comprehensive FAQ page and they offer a way for you to contact their support team.
Final Verdict
Teemwork.ai is a legit micro job site that will pay you for completing tasks. It has a couple of good features but it also has some glaring disadvantages.
To conclude this review, here's a summary of its pros and cons to give you an overview of what the site has to offer so you can decide if it is a good fit for you or not.

Pros:
Available globally
Offers convenient payment methods

Cons:
Limited earning opportunities offered
Low rewards
Relatively high payout threshold
Registering as a member can take some time
Teemwork.ai is not a bad site, in my opinion. However, it isn't that good either. There are simply better choices out there if you are just looking to earn extra cash. While it offers convenient payment methods, the rewards offered per task are quite low.
It will take a significant amount of time and a lot of effort before you will reach their relatively high payout threshold. It also doesn't help that their registration process is a bit more complicated than that of other online rewards sites.
That's why I would suggest that you check out the top survey and GPT sites in your country instead if you are looking for great ways to earn extra cash online. The sites on this list all have good earning potential because they pay a decent amount for every task you complete.
If you have any comments, questions, or have any experiences with Teemwork.ai yourself, I would love to hear from you in a comment below.