If you're looking for a way to earn extra cash at the comfort of your own home, there's a site called uTest that claims you can earn money testing for the brands you love.
If this sounds interesting to you, I would recommend you read this uTest review first before you pull the trigger (so to speak).
It's important to read up on the site you are planning to join before you actually join. That way, you can verify if the site is really legit or if it is just another scam you need to stay away from. This is what this review is for.
It will provide you with everything you need to know about uTest so you can determine if it is worth your time or not. So, let's begin, shall we?
What is uTest and what does it offer?
uTest is a software testing site that will pay you for testing out software or websites (depending on the demand). It is indeed a legit site since it will really pay you for doing tests.
Now, the question is, is it worth it or not? Well, to answer that, we first have to take a look at the earning opportunities it offers so you can understand how the site works. Then, you can gauge if this is something worth investing your time into or not.
I have, therefore, made a video that gives you an inside look and shows exactly how you can earn from uTest. You can also read all the details below the video.
Option 1 – Testing projects
The main way of earning from uTest is by testing software. But in order to do that, you actually have to complete a few steps first.
As shown in the photo above, you will have to go through a kind of tutorial called the uTest Academy. This will basically teach you the ins and outs of earning from uTest.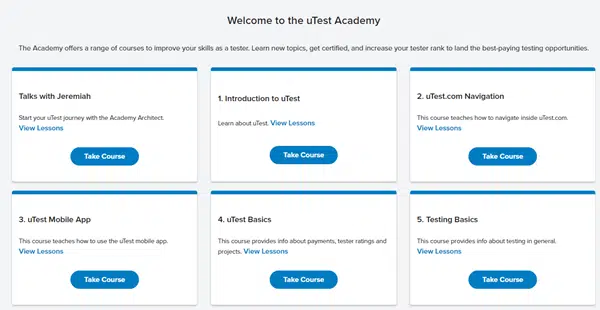 The uTest Academy has more or less 24 courses. I would suggest you complete each course first before you attempt to do any testing projects. By doing so, you will gain access to more high-paying testing projects.
If you've completed all the courses, you will also have an increased chance of being invited to a testing project. So, while it's a bit time-consuming and you won't get rewarded for completing each course, it is still in your best interest to complete every course available.
Once you've completed the courses, the next step you need to do is to complete your profile. When you've completed your profile, you will start receiving testing project invites.
When you decide to participate in a testing project, you just have to apply for it. When you get accepted, you will receive all the instructions and guidelines you need to follow.
The things you need to do when testing will depend on what you are testing. Normally, you will be asked to provide feedback regarding the software you are testing. And the most common type of testing you will be doing is "Functional Testing".
This kind of testing will involve taking note of a few things which can be categorized as:
Functional – Work flow failures
Visual – Layout and user interface distortions or mistakes
Content – Typos, grammatical issues and localization errors in text
Performance – Problematic slowness, hanging, or sluggish interface
Crash – The application quits unexpectedly
Most kinds of tests revolve around these categories, so this can serve as your baseline for every testing project you work on. Just make sure that you always follow the guideless of the project you are working on. Because if you miss one, it's either they won't accept your work and you won't get paid, or you will have to redo the testing process which is really a waste of time.
If you've completed all the courses of the uTest Academy, you will not have a hard time performing the tests uTest will ask you to do. And when you've completed the test, you will be asked to submit your deliverables.
When you've done that before the deadline passes, then you are good to go. All you have to do is wait for uTest to verify your work to receive the payment (I will discuss later how you can get paid). It usually takes a day or two for uTest to finish the verification process.
When it is completed and everything is in order, you will be awarded the compensation promised.
Keep in mind though that you will be paid for every bug/issue you find when testing (I will explain later what this entails). It will be reflected in your uTest account balance.
Option 2 – Referral program
uTest also has a referral program in place for its members. However, their referral program is a bit different compared to other referral programs. The reason why I say this is, you actually won't get paid to invite people to join uTest.
Instead, you get paid to find people who will be able to work on a specific uTest project. So, you won't be looking for a person who just wants to join the platform. You have to look for people who are a perfect fit for any of uTest's ongoing testing projects.
That's the condition that needs to be met for you to earn from your referrals. That's why I said it's a bit different from other referral programs since most referral programs will just ask you to invite other people to join the site.
Now, in order to get paid, your referral must pass at least two uTest Academy courses. When that happens, you will be paid 25% of your referral's commission. If your referral submits approved work in the projects in uTest, you will receive the remaining 75% of the referral commission.
The referral commission will change depending on the type of referral campaign that is currently running. So, it's hard to determine the exact amount. All I can say is, the referral commission is pretty decent money. So, it can be worth it to spend some time inviting others.
Recommended: Check Out the Best Product Testing Opportunities
How do you get paid?
For every testing project you successfully complete, you will earn a certain amount and it will be credited to your uTest account balance. But before you can get paid, you have to set up your preferred payment method first.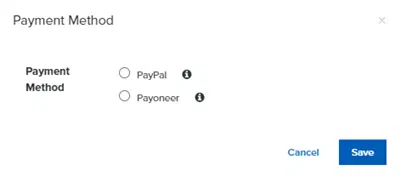 As shown in the photo above, there are two payment methods you can choose from. You can either get paid via PayPal or Payoneer. When you're done setting it up, then all you have to do is wait for the pay period.
uTest has two pay periods every month. Payments are generated on the 15th and the last day of every month. If you've earned at least $2 every pay period, your earnings will be sent automatically to your payment method of choice.
So, for example, you've earned $30 for completing a project on the 11th of the month. That will be included in the pay period for the 15th. So, expect to see your $30 on your PayPal or Payoneer account (whichever one you selected) in a couple of days after the 15th.
If you haven't earned the required threshold to withdraw your earnings, uTest will not process the payment until you reach it.
Overall, their payment system is relatively easy and I like the fact that they process it automatically. So, all you really need to focus on is their tests since their payment is done automatically.
If you are looking for more sites that offer a convenient payment method like uTest, I would recommend you also check out the top sites that pay via PayPal.
How much money can you make?
As mentioned earlier, you will get paid for every bug/issue you find. So, if you aren't meticulous or you are not good at identifying bugs and issues, then you won't earn a lot from this site. And believe me, spotting bugs and issues is a skill that needs to be developed.
So, if you are new to product/software testing, it will take time before you can maximize your earnings. Most projects will pay you around $10 to $50 when it is completed, which, in my opinion, is a pretty good rate.
However, the availability of projects is really something that you can't rely upon. The one thing I can say though is, if you've been a long time uTester, then you will have more testing invitations because uTest will see you as a trusted tester.
And it is important to build up your reputation as a tester. If you keep submitting high-quality work, you will be invited to testing projects more frequently. So, if you really want to maximize your earnings from uTest, you need to make it a habit to always submit high-quality work.
Overall, I would say uTest has good earning potential, but you need to be very patient with it because early on, you won't earn a lot. You need to build up your reputation as a good tester to get invited to more projects and therefore earn more.
Can you use it on mobile?
With uTest, you won't only get to test computer software. From time to time, you will also be asked to test mobile apps. So, being able to use uTest on a mobile device will actually be more of a necessity rather than an option.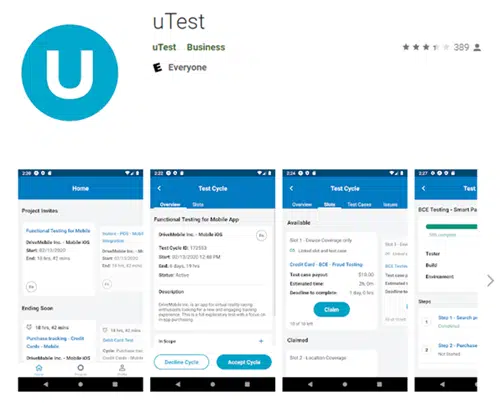 So, to answer the question above, yes, you can. uTest has a mobile app you can download from the Android or iOS app store. Their mobile app is also user-friendly, so you will easily get used to how to use it.
And the fact that it is user-friendly also improves the overall usability of uTest. After all, for a platform that looks for bugs and issues of other apps or software, it is of utmost importance that their own platform doesn't have any bugs or issues.
So, I'm glad uTest at least, made sure their app is working properly.
Who can join uTest?
uTest is available globally. So, you can register as a member regardless of where you live. But, you do have to be at least 18 years of age to sign up.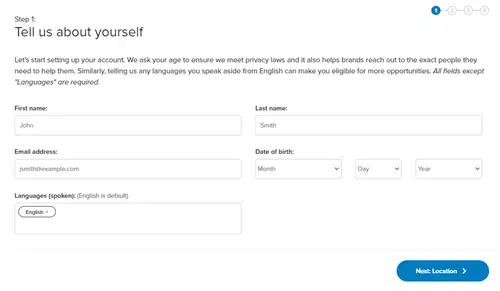 To sign up as a member, you just have to fill out their registration form. When you are done with the registration, as mentioned earlier, you will have to go through a few steps before you can start earning.
So, you can't really expect to earn immediately after signing up, which is one of the downsides of uTest, in my opinion. You will have to spend a significant amount of time completing their Academy courses. You also have to complete your profile, which is quite simple really.
So, the hurdle you need to pass is really just their Academy courses. When you finish that, you can then consider yourself a tester and you can start earning.
Can you get support?
If you have any questions about the testing process, your account, or the platform in general, you can refer to their FAQ section on their Help page. It discusses most of the important topics you need to know about uTest. In fact, I would even say their FAQ page is quite comprehensive, so you will most definitely find the answers you are looking for.
But in the event their FAQ section is of no help, you can contact their support team by clicking the "Contact Support" link in the upper right-hand corner of the page. You will then be taken to their contact form. Just fill it out with the necessary info and submit it.
Their contact form is also accessible from their app. So, you can contact their support team either way. That's why overall, I would say uTest has a decent support system in place for their members since they offer a convenient way for you to get in touch with their support team.
Final Verdict
uTest is a legit testing platform that will pay you for participating in their testing projects. It has a couple of good features to offer, but it also has some limitations you may want to consider.
Let me finish this review by summarizing its pros and cons to give you an overview of what uTest has to offer. Then, you can decide if you should give this a go or not.

Pros:
Has a low payout threshold
Offers payment via PayPal
Processes payments automatically

Cons:
Limited earning opportunities offered
Takes a bit of time before you can start earning
If you have good testing skills, then I would suggest you join this site. Just don't expect to earn a lot from it when starting out because there won't be a lot of projects for you to earn from at first.
But it can serve as a nice long-term option because you will start to earn a decent amount when you keep submitting high-quality work.
That's really the key thing you need to remember. You have to be patient with uTest because you won't earn a lot in the beginning. And you have to complete a bunch of training courses first which will take some time. But it has good potential if you stick with it.
Now, if you are just looking for an easy way to earn extra cash online, I would instead recommend you check out the top survey and GPT sites in your country. The sites on this list all have good earning potential and you won't have to wait that long before you can start earning.
If you have any comments, questions, or have any experiences with uTest yourself, I would love to hear from you in a comment below.