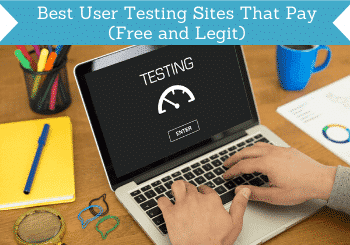 If you are good at paying attention to details or simply looking for an interesting way to earn extra cash, one option you can consider is joining a user testing site.
However, there are many platforms where you can supposedly get paid to test apps and websites and many of them are just a complete waste of time.
So, the question now is, which paid user testing sites should you join to make it worth your time?
It certainly is very inefficient to do it the trial and error way. Doing proper research is much more efficient way to go about it. And this is where this guide comes in.
I have tested hundreds of free ways to earn some extra money online, and have tested MANY user testing platforms, and I have made this guide to help you pick the best user testing sites that pay.
You will learn what each of the user testing sites has to offer so you don't have to waste your time trying them out for yourself. You can simply get a quick overview and choose which ones you like. All these sites are legit and free to join too.
How do user testing sites work?
As mentioned above, paid user testing sites will ask you to test websites and mobile apps and will pay you in return for your time. This is done so that the owner of the said websites and apps will know which part they can improve.
If this is your first time hearing about this kind of site, then let me explain to you how this, in general, works.
User testing sites will ask you to test (hence the name) websites or mobile apps. So, right off the bat, you need to do more to earn compared to if you just join a survey or Get-Paid-To site.
Many companies avail of this type of service to figure out which features of their website or app works and which ones don't. Usually, when you are asked to test an app or a website, you will be asked to record your screen using a certain software which will be provided by them.
You will also be asked to record your voice and sometimes, even your face. So, don't be alarmed if the user testing site will require you to use a webcam and/or microphone during testing. Most user testing sites will ask you to speak out your thoughts.
So, if you aren't really comfortable doing that, then this is, in most cases, not an opportunity suited for you. And since testing usually requires you to record audio, you have to make sure you work in a quiet room so they can clearly hear your voice.
How much can you earn by testing websites and apps?
The beauty of user testing sites is, since they know their tasks require more work, they usually pay you a decent amount, provided your work passes requirements (at least the good ones do).
So it definitely is possible to earn money for user testing.
Plus, you usually don't actually have to reach a certain payout threshold to withdraw your earnings. You usually get paid after each test as soon as your work has been approved. So, you don't have to wait too long to get paid.
The downside is, the availability of tests usually isn't that frequent. So, even though you get paid rather well, the overall earning potential of user testing jobs isn't that high. That's why you shouldn't expect your earnings to be comparable to a full-time job.
But, with that being said, you can still earn a decent amount from these sites. And you can join as many of them as you want to and thereby increase your chances of getting invited to paid tests.
Many of the sites will also be available worldwide but how many tests and how high rewards you will get depends a lot on the country you live in.
11 best user testing sites
I won't be listing down all the user testing sites that exist but instead, I will list down what I think are the best sites you can join to get the most value out of your time. Quality over quantity as they say.
I will keep updating this list if there are any new good sites to join. So make sure to bookmark this page.