Do you have the skills to identify errors on a website or mobile app? If so, there's a site called Userpeek that claims you can earn by becoming one of their testers.
This kind of earning opportunity has become quite common over the past few years but it's not without its disadvantages. That's why I've decided to take a look at what Userpeek has to offer to see what kind of advantages and disadvantages the site has.
I will share everything I have learned about it in this Userpeek review and I will also include my recommendations at the end to help you come to a decision about whether you should give this site a shot or not.
What is Userpeek and what does it offer?
Userpeek, as mentioned above, is a user testing site that will pay you to find errors, bugs, and other inconsistencies on a site or mobile app. But at the time of writing this review, the user testing aspect of Userpeek is still under development and there's no exact date for when it will launch. So, don't expect to earn right away.
Nevertheless, let's take a closer look at how you will be able to earn from this site so you will understand how it works and if it will be worth it.
The earning opportunity – Testing projects
The only way to earn from Userpeek as of the time of this writing is through the testing projects it offers.
The way this kind of opportunity works is pretty much the same as how other user testing sites work. But if this is your first time encountering a user testing site, then let me explain to you how the process works.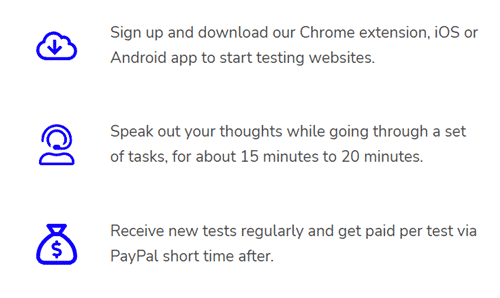 Once you become a member of Userpeek, you will be able to log in to the member dashboard to view all the available projects you can work on. You will also be notified via email if there are available testing projects for you.
All you have to do is choose the project you want to work on and click on it to view the details. If the project will ask you to test a website, you'll have to do the testing on a laptop or a desktop. If that is the case, then make sure you have installed the Userpeek Chrome browser extension.
This also means you have to use Google Chrome when doing the test. The browser extension is needed to record your screen, so you have to install it before anything else.
The important thing you need to keep in mind when testing websites and apps are that you have to explain what you are doing. That means you have to be good at speaking out your thoughts. It also means you will need a microphone to record what you are saying as well as a quiet room you can work in so that your voice can be heard clearly.
Every testing project will have a set of instructions you need to follow and a set of deliverables you need to submit. After you've finished the test, you have to submit the recorded video as well as other deliverables to Userpeek.
Then, they will have to review your work (which can typically take a couple of days to be completed). Once everything is in order and they've approved your submission, you will receive the compensation promised which will be indicated in the project details.
That's all there is to it. As I've explained, you need to be comfortable with speaking your thoughts out loud. Otherwise, this kind of earning opportunity will not be suitable for you.
For projects that will ask you to test a mobile app, the same process applies. The only difference is, you will have to use a separate mobile app to record your screen. This app is also still currently under development at the time of writing this review. They do say that the app will be compatible with Android and iOS devices when it will be ready.
Recommended: Check Out the Top User Testing Sites
How do you get paid?
Every time you complete a testing project and it is approved by Userpeek, you will receive a certain compensation. Now, the question is, how will you get paid?

The good news is, that Userpeek will use a convenient payment method. As shown in the photo above, you will get paid via PayPal. However, it's still not clear though if you have to reach a certain threshold to withdraw your earnings or if you get paid immediately.
But from what I can gather, it will be more on the latter, so you potentially don't have to wait a long time to receive your earnings. But whether it has a threshold or not, I still personally like how their payment system works because it uses a convenient payment method like PayPal.
If you are interested in more sites that use a convenient payment method, I would recommend you check out the top sites that pay via PayPal.
How much money can you make?
The site claims you can earn $10 US for every 15 to 20 minutes of website testing video that is approved. In my experience, this is a decent rate considering 20 minutes isn't that long.
But there are other user testing sites that offer higher rewards, so the earning potential of Userpeek will depend on how many testing opportunities will be made available. If there is a steady supply of opportunities to earn, then I would say the earning potential of Userpeek will be quite decent.
But if it will be the same as other user testing sites where there aren't a lot of opportunities to earn, then the earning potential will be significantly low.
Again, I still can't say which is which because the earning opportunity still hasn't been deployed at the time of writing this review.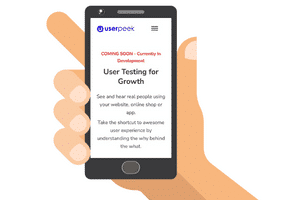 Can you use it on mobile?
As explained above, there will be opportunities for you to test mobile apps by using the Userpeek mobile app which will be available for Android and iOS devices. But since it hasn't been released yet, I can't say much about it.
But it's good that they accommodate mobile testing since that makes it very convenient to earn and it should increase the chances of earning.
Who can join Userpeek?
At the time of writing this review, Userpeek is still in its preregistration phase. They do say on their website that anyone can register as a tester regardless of where they live.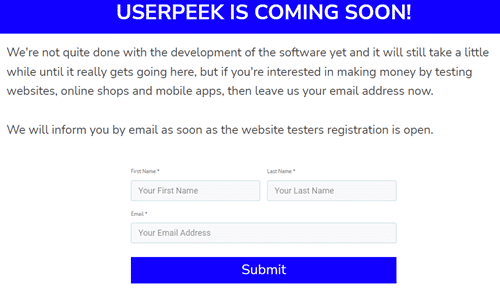 You just have to be at least 18 years of age and must have a PayPal account in order to join. If you are interested in becoming a tester, all you have to do is fill out the preregistration form and when Userpeek fully launches its testing program, you will be notified via email so you can register as a tester.
Take note, you have to go through the registration again. Preregistration doesn't mean you automatically become a Userpeek tester.
Can you get support?
If you have any questions about Userpeek and what it does, you can check out the FAQ section of the website. It discusses some of the essential topics you need to know about the site. Right now though, all the information is still just an overview of what the site has to offer.
But I do expect their FAQ page to be more comprehensive once the site launches its earning opportunity. At least, that's what I'm hoping. If you have any questions, you can use the contact form provided on the website.
As of the writing of this review, I still can't say if the site has a good support system because there's really still no opportunity to test if getting in touch with their support team will be easy or not. But, in my opinion, all factors suggest you won't have a hard time communicating with their support team.
Final Verdict
Userpeek is a user testing site that will allow you to earn by taking on testing projects. It has a couple of decent features, but it still has some limitations you need to be aware of.
Let me end this review by summarizing its pros and cons to give you an overview of what the site has to offer. Then, you can decide if you should become a tester or not once the earning opportunity launches.

Pros:
Offers payment via PayPal
Pays decently per test

Cons:
Limited earning opportunities offered
Earning option not launched yet
In my opinion, it's still quite hard to determine if Userpeek is worth it or not since the earning opportunity isn't really available yet. But once it becomes available and if there are a decent number of projects to work on, then I would say go for it.
Just don't expect to earn a lot from it because the rewards it offers aren't that high.
Now, if you are looking to earn right away, I would suggest you check out the top survey and GPT sites in your country instead. The sites on this list all have good earning potential and you will be able to start earning as soon as you finish signing up.
If you have any comments, questions, or have any experiences with Userpeek yourself, I would love to hear from you in a comment below.