Joining an online survey panel or a Get-Paid-To (GPT) site is a good way to earn extra cash. But aside from those sites, there's also one type of site you can earn from and that's called a testing site.
TestingTime is one such site. It promises to pay you to test out new products, answer surveys or join studies. The first question you need to ask if you are interested in joining this site is, is it legit?
Let me answer this question right away so we can discuss other important aspects of the site. Yes, it is a legit site that does pay you for participating in the activities they offer. However, this doesn't ensure that you will be able to earn a good amount from this site.
This TestingTime review will take a look at what the site really offers so you can figure out if it does offer good earning potential so you can easily decide if you should join or not.
What is TestingTime and what does it offer?
As mentioned above, TestingTime is a testing site that offers to pay you for testing digital products. You can participate in a guided usability test, either with the client in-person or via Skype.
But for the purposes of this review, we will be talking more about the online method which is via Skype.
Now, in order to fully understand how well you can earn from this site, we have to take a closer look at the earning opportunity it offers.
So, here's how you can earn from TestingTime.
I have made a video that will give show you exactly how it works. You can all read all the details below the video:
Option 1 – Usability Testing
TestingTime only offers one main method of earning and that is through usability testing. As mentioned, there are two ways you can participate. You can either do the in-person testing or do it online via Skype.

Once you become a member of the site, you will be eligible to receive test invites. The invite will be sent via email, so you will have to check your email regularly. Each test offer is on a first-come, first-served basis.
However, they do also sometimes post available tests on their Facebook page so that can be worth keeping an eye on as well once you become a member.
So, it is important to get to the offer as quickly as you can. When you receive an offer, you will have to select a time to do the test. So, make sure to choose the best time that fits your schedule.
They emphasize the importance of being on time and if you do not show up on the agreed time, you should not expect more jobs from TestingTime.
Once you have been accepted for a job, you will be given the instructions you need to follow.
You will also need a Skype account, a webcam and a microphone (but usually, webcams have built-in microphones already, so you don't need to worry about that if you are using a newer webcam) in order to participate in the tests.
You will also need a quiet room to do the test in. So, before you register, make sure you've got that covered. Each test will require around 30 minutes to an hour to complete.

Most of the companies that will ask you to test out digital products are listed in the photo above.
So as you can see, you might get to test for some big and famous companies.
When you become a tester, the most important thing you need to do is to be on time when you agree to participate in a study. If you do have to cancel for any reason, just make sure to let them know as soon as possible.
And lastly, it is very important that you always answer all questions truthfully. During the testing process, a moderator will guide you through each step of the test. So, try to answer his or her questions spontaneously.
What the moderator is looking for is to understand your thought process. That's why it's important that you always think out loud and voice out your thoughts.
Option 2 – Invite others to join
There is one way you can potentially earn a bit extra on TestingTime.
You do not see this right away when you go to the website. But once you have signed up and confirmed your email, you will get to a screen that shows you a link you can share with others if you want to invite them.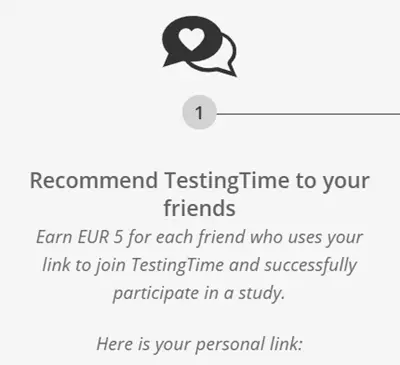 If someone you invite ends up joining, you will earn 5€ when they complete their first test.
Be aware that you will only get this bonus if they complete a test. It is not enough to just get them to join.
But if you know someone in the areas where TestingTime offers the most options (more about this below), it can be a way to earn a bit extra.
How do you get paid?
Every test you complete will earn you a certain amount in Euro. The good thing about TestingTime is, unlike survey and GPT sites, it doesn't have a payout threshold you need to reach in order to withdraw your earnings. You will always be paid right away.
Once you have successfully completed your first test, you will be asked to provide your preferred payment method. You only actually have two options. You can either choose to be paid via PayPal or direct bank transfer.
From then on, the money you will earn from succeeding tests will always be transferred to your PayPal or bank account of choice within 10 business days.
I do like the fact that they do pay you right away. You don't have to wait that long to receive your money.
If you are interested in other sites that will pay you quickly, I suggest you also check out the fastest paying sites.
How much money can you make?
They mention that you can earn up to €50 per hour for every test you complete. That, in my opinion, is a pretty significant amount.
However, it will still all depend on whether you will receive a test invite or not and they do say that there is no guarantee you will receive test invites regularly.
In my experience, you will be lucky to receive 1 invite per month and you have to keep in mind that each test is on a first-come-first-served basis. So, you will be competing with other members of the site for slots on the test.
So, even though it does pay you a significant amount, you still can't expect to earn a lot from this site. That's why I would say that its earning potential isn't really that good.
Can you use it on mobile?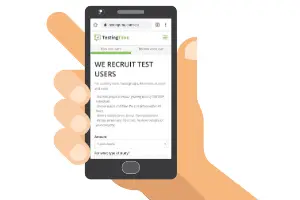 TestingTime doesn't have a mobile app you can download so you can do tests using your mobile device.
However, it is possible to use a mobile device when doing tests since you will only need Skype and a webcam to perform the test.
But I don't really recommend doing it on a mobile device because the audio quality won't be as clear compared to when you are doing it on a computer with a high-quality webcam with a built-in microphone.
Who can join TestingTime?
TestingTime doesn't really mention who can join the site. When you go through the registration process, it will appear that you can sign-up regardless of where you live.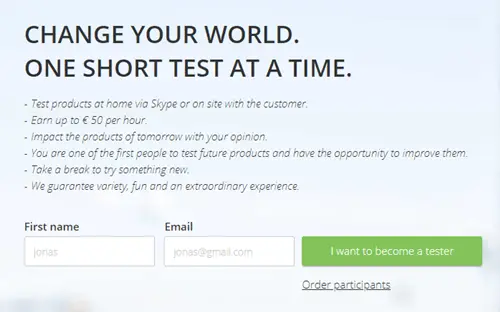 But, this site really is only intended for people living in certain countries in Europe. That's because the companies they are partnered with are mostly based in Austria, Germany, and Switzerland. So, they will mostly be interested in customers living in that region.
Plus, there will only be a decent number of offers in German-speaking countries.
So, if you don't live in that region and do not speak German, this site isn't really for you. This, in my opinion, is the one major limitation of the site.
If you are eligible to join, all you have to do is fill out the registration form and wait for their confirmation email.
Now, if you are looking for sites you can join regardless of where you live, I suggest you check out the top survey sites in your country instead.
Can you get support?
If you have a question that needs to be answered, I suggest you first check out their FAQ page. It covers most of the basic topics about the site.
Unfortunately, the answers they provide in their FAQ page aren't as detailed as you would hope, in my opinion.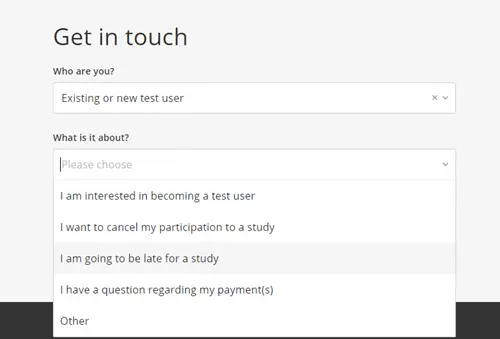 Now, if you can't find the answers you are looking for, you can send your inquiry through their contact form (refer to photo above). To access their contact form, just scroll all the way down to the bottom of their website and click on the "Get In Touch" link.
Then, all you have to do is choose the right heading for the inquiry you want to send.
Overall, I would say that they do provide a decent way for their members to receive support. But they could stand to benefit more if they only made a more comprehensive FAQ page, in my opinion.
Final Verdict
TestingTime is a legit testing site that does pay you for participating in their usability tests.
It has a couple of good qualities but there are just a couple of limitations that make it a less than ideal option, in my opinion.
But let's finish this review with a summary of its pros and cons so you can get a better overview before deciding if you should join or not.

Pros:
Payment via PayPal is available
Significant reward offered per test completed
No payout threshold

Cons:
Limited earning opportunities offered
Requires a significant amount of time to complete one test
Each test is on a first-come, first-served basis
Limited to German-speaking countries
When you first look at what TestingTime offers, it can be very tempting to join. That's because you will get paid a significant amount of money for each test you complete.
However, the test invites are few and far between. In my experience, with sites like this, you will be lucky to receive 1 or 2 invites in a month. Plus, you'd have to consider that you won't always get to the test offer first.
So, there's no real guarantee you will be able to earn from this site on a regular basis. The regional limitation also doesn't help. If you don't live in the region where it is available, this site will be useless.
But if you do live in the relevant regions, it can be worth signing up for as an extra site – just do not expect to get a lot of tasks there.
That's why if you are looking for sites that will allow you to earn with less effort and on a regular basis, I recommend you check out the top GPT sites instead.
The sites on this list all have good earning potential and will allow you to earn a decent amount regularly. Plus, you will be able to find sites you can join regardless of where you live.
If you have any comments, questions, or have any experiences with TestingTime yourself, I would love to hear from you in a comment below.