If you have a knack for knowing how a website is supposed to work or look, you will actually be able to make money from it. At least that's what Userfeel claims it can help you with.
If this is your first time hearing about Userfeel, it is a site that specializes in providing its partner companies feedback about their site. They conduct usability tests on their partners' websites to find out which areas need improvement.
But they have crowdsourced this method by allowing other people apart from them to test the sites. This is where earning a few bucks comes in for you.
So, if you are wondering if Userfeel is a scam or if it is a legit site that does pay you for becoming a tester, then you are on the right track. So, let me just answer this question right away.
No, Userfeel is not a scam. It does what it claims to do, which is to pay you for becoming a tester. But this doesn't necessarily mean that joining this site will allow you to earn a decent amount of money.
There are several things that factor into that. This Userfeel review will show you all you need to know about the site so you can decide if you should really join this site or not.
What is Userfeel and what does it offer?
Userfeel is actually a company that specializes in website optimization. They are able to provide this type of service by allowing you to register to their site to become a tester.
You, in turn, will test their partner sites and provide feedback. In exchange, you will receive compensation for completing the test. So it is in some ways similar to IntelliZoom if you have heard about this.
In order to fully gauge the earning potential of this site, we have to take a closer look at how you will be able to earn from this site. So, here's Userfeel's earning opportunity.
The earning opportunity – Test Sites
There's really only one way for you to earn on Userfeel and that's through testing sites. Before you can do that though, you will have to download a program.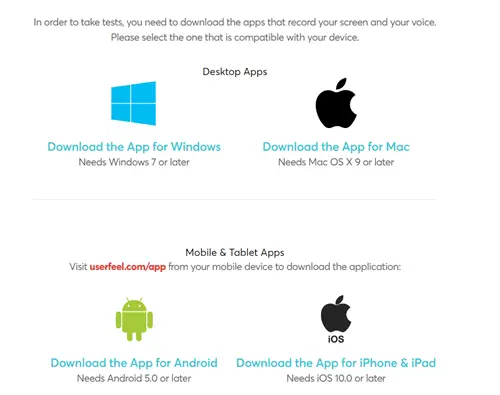 The link for the program you need to download will only appear once you've finished registering for the site. Specifically, you will be given the link to download the program once you verify your account.
Once you have the link, you will be taken to the page you see in the photo above. Simply click on the appropriate link.
If you are using a Windows computer, use the Windows link. If you are using a Mac, click the Mac link.
If you want to install it on your mobile device, click on the appropriate link as well. Once you've installed it, you will need to provide your login details.
Once you're logged in to the platform, you will then see all the available test you can do.
Take note that before you can take any tests, you have to finish the sample test first. Userfeel will use it as a sort of evaluation to see if you are indeed qualified to become a tester.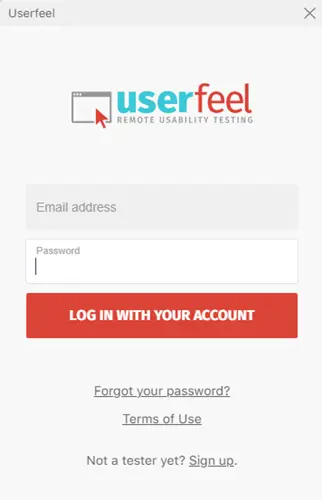 You will also get to see how the testing process works.
Just to let you know though, in order to use the program, you will need to have a microphone because the test will involve you recording audio. This will be the same on the actual tests you need to do.
So, if you are not comfortable talking on a microphone while recording, this site is not for you.
When you are testing a site, some questions will ask you to talk about what you think about the site. Some tests will also ask you to do certain things like making a sample purchase.
Of course, it won't ask you to complete the purchase. You just have to try and make a purchase and provide feedback on how the purchasing experience went. These are the most common things you will have to do when testing a site.
And remember, all of this will be done via the program you installed. Once you've finished the test, you will have to upload the results using the program as well.
After you've finished uploading the results of your test, you will have to wait a few days for Userfeel to review your work.
Once they deem your work has provided useful information for them, you will receive the compensation, which I will talk about next.
How do you get paid?
Every test you complete and get verified, you will be paid $10 for. So it is pretty decent pay for the time.
Now, it will be up to you how you will receive that payment.

You actually have two options to choose from. You can either receive the payment via PayPal or convert the $10 into Amazon gift cards. In my experience, payment via PayPal is mostly the option members often choose.
This is because this is the most convenient payment method available today. Plus, it is the most used too.
The good thing about their payment system is that you don't have to wait to reach a certain threshold in order to receive the payment.
Once Userfeel finishes reviewing your work, they will pay you right away. This will usually take about a week.
So, don't expect to receive payment as soon as you finish the test. If you decide to receive Amazon gift cards instead, they will email you the digital version of the gift card.
All in all, their payment method is very convenient, in my opinion. And if you are interested in more sites that pay via PayPal, I recommend you also check out the top survey sites that pay via PayPal.
How much money can you make?
Seeing as the compensation for each test you complete is fixed, the amount of money you will earn from Userfeel will mostly depend on many test offers you will receive.
Basically, the more tests you are invited to take, the more money you will earn.
Of course, you have to make sure you submit quality work in order to get paid. And in order to ensure your work gets approved, you have to perform the required tasks according to the test scenario.
You also have to speak loudly and clearly into the microphone and make sure you perform the test in a quiet place.
And lastly, you have to make sure you leave useful comments about the site you are testing. That will be the barometer on whether or not your work will be approved or not.
All in all though, since the only earning opportunity available on this site is through site testing, the earning potential isn't really that high, in my opinion.
They do pay you well once your work is approved. At least, you have that going for you.
You just need to be aware that you will usually not get access to tests very often so it can take some patience to find tasks there.
Can you use it on mobile?
As already explained earlier, you will be able to use Userfeel on a mobile device if you install the app on your mobile device.
The good news is, their app is available for download on both Android and iOS devices.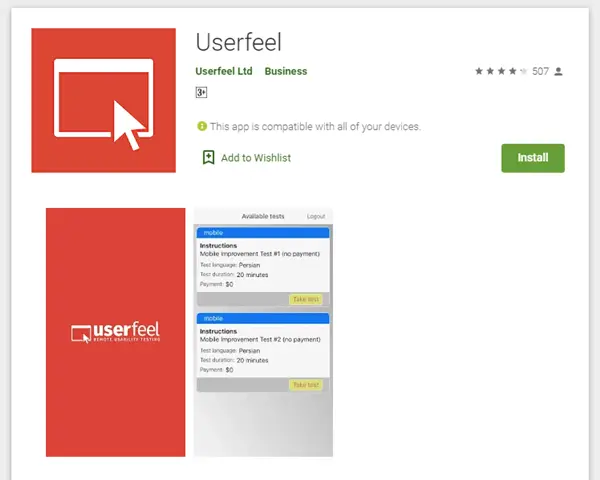 To download the app, you have to visit userfeel.com/app from your mobile device, then click the right download link. It will then take you to the Android or iOS app store to download the app you need to install.
Using your mobile device is a good alternative if you don't have a microphone on your computer.
That's because your mobile device already has a built-in microphone you can use. So, you don't have to run to the store and buy an external microphone.
Who can join Userfeel?
Userfeel is available globally. That means anybody can join the site.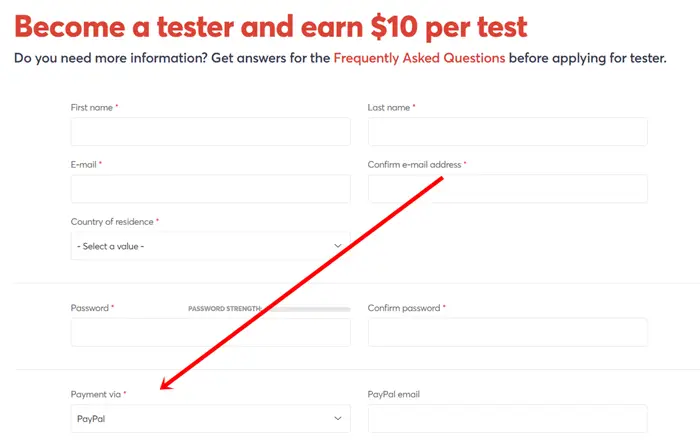 To become a tester, simply fill out the registration form and submit it. You will then have to activate your membership by clicking the activation link in the email you will receive from them.
You do have to be at least 18 years of age in order to become a tester.
The registration form will also ask you to specify the payment method you want. So, make sure to set that to whichever one you prefer.
Their registration process is fairly easy in my opinion.
What will take longer than expected will be the sample test that you need to do. You will have to complete this first before you can hope to receive any testing offers in the future.
The good thing about this sample test is, it will give you a feel of what to expect when doing actual tests.
The downside is, you won't get any compensation for doing the sample test. So, just be patient and complete the sample test if you want a chance to earn on Userfeel.
Can you get support?
If you need to send an inquiry or you need help with the technical aspects of the site, you can contact their support using their contact form.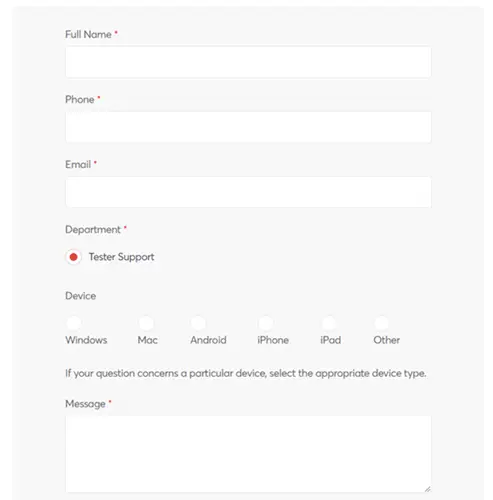 You can access their contact form by clicking the Contact Us tab on their website. They do also have an FAQ page that tackles most of the basic topics about the site.
Plus, it has a video showing what you will have to do in order to earn on the site. One thing I can say about their FAQ page though is, it is quite detailed, which is good.
It at least gives you a clear idea of what you need to do to earn.
Final Verdict
Userfeel is a legit online rewards site that will pay you for testing the websites of their partner companies. It has some fairly good qualities and some drawbacks as well.
Let me list down its pros and cons to better help you make a decision on whether you should become a tester or not.

Pros:
Payment via PayPal is available
High rewards per task
You don't need to reach a threshold to get paid

Cons:
Limited earning opportunities
Takes quite some time to get paid
Involves a decent amount of work to get paid
What is mainly off-putting about the site, in my opinion, is that you will actually have to do a lot of work in order to earn, since it will involve testing sites.
Unlike Get-Paid-To and survey sites, the work you need to do is a bit more complicated. Plus, there is no guarantee you will receive compensation (in the event they reject your work).
But if you are good at evaluating sites, this can be a decent site to join because it pays relatively well and it can be a fun way to earn. Just don't expect to earn a lot from it quickly.
However, if you are looking for sites that will allow you to earn by doing simple tasks, I suggest you check out the top survey sites in your country.
The sites on this list all have good earning potential. Plus, the tasks you need to complete won't be as complicated as what you need to do on Userfeel.
If you have any comments, questions, or have any experiences with Userfeel yourself, I would love to hear from you in a comment below.