IntelliZoom is an online rewards site that promises to pay you for participating in studies.
But is IntelliZoom legit and really worth joining or should you go for other options instead if you are looking for ways to earn extra income online?
This is a very important question to ask before joining any survey site or reward portal as there, unfortunately, are many scams you need to avoid.
Let me reveal right away that IntelliZoom is legit – but whether it will then be worth it or not is a different question.
To answer this question, we have to consider several factors. This IntelliZoom review will take a thorough look at everything the site has to offer so you will know exactly what to expect and can decide if this is a platform you want to join or not.
What is IntelliZoom and what does it offer?
At first glance, IntelliZoom looks a lot like a survey site. But it is really more of a product testing site that will allow you to get paid to share your experiences and make an impact on products you love and care about.
And in order to truly gauge the earning potential of IntelliZoom, we have to take a closer look at how you will be able to earn from this site. This is the best way to gauge if you can really earn a decent amount of money.
I have made a video tutorial so you can see how you can earn from IntelliZoom. You can also read all the details below the video if you prefer reading:
The earning opportunity – Paid Studies
Paid studies are basically offers that will ask you to evaluate a product or a service.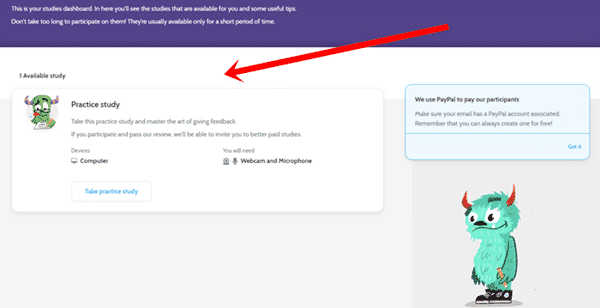 When you log in to the member dashboard, you will see right away all the available paid studies you can take. You will also receive an email notifying you that there are paid studies available.
When you click an offer, it will display all the details you will need to know. It will tell you what you need to do, what devices you will need (microphone, webcam, etc) and what you will get out of it.
Normally, a study will require you to record a video about your review of a product or item. So if you do not like being on video, this site is not for you.
This will be where you will share your feedback about the product or item. It usually takes around 10 to 20 minutes to complete, which isn't that long in my opinion.
Once you finish the study, you will have to submit your work for IntelliZoom to review. Once they've confirmed your work is good, you will then receive compensation.
Normally, paid studies that require you to make a video will pay around $10 or more, while the simpler ones will pay around $5. That's not a bad amount, in my opinion.
One thing you need to remember though is to make sure not to take too long to participate in a paid study offer.
This is because they're usually available only for a short period of time. So, if there's one available, complete it as soon as possible.
How do you get paid?
For every paid study you complete, you will be compensated with a certain amount, which will be paid via PayPal.
You won't need to reach a certain threshold in order to receive the payment. Once you complete a study, you will be paid right away.
It does take time before the payment will be credited to your PayPal account. It usually takes 21 business days before it will be credited to your PayPal account. So, don't worry if you don't see the payment right away.
All in all, I do like the idea of being able to receive the payment right away. It's a much more convenient method compared to having to reach a certain amount before you can withdraw your earnings.
But having to wait 21 days is not that great though. If you are interested in sites that pay via PayPal faster, I suggest you check out the top survey sites that pay via PayPal.
How much money can you make?
With IntelliZoom, the amount of money you will be able to earn will mostly depend on the number of paid studies that will be made available to you.

And in order to maximize your chances of receiving paid study offers, you have to complete your profile first.
The information you provide on your profile will be used by IntelliZoom so that they will know which paid studies to send your way.
As you can see, the main downside of IntelliZoom is really the lack of earning opportunities offered.
There is really only one way for you to earn on this site, and that is by doing paid studies. So, make sure to complete your profile first before anything else.
On the flip side though, it does pay you relatively well for every study you complete. So, if you receive a fairly good number of paid study offers, you stand to earn a decent amount from this site.
Can you use it on mobile?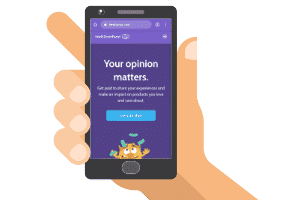 IntelliZoom doesn't have an exclusive mobile app you can download so you can work on paid studies on your mobile device. However, you will be able to access their website using a mobile web browser.
And the good news is, their site is mobile-friendly. That means you will be able to see all the content properly without having to zoom in and out or scroll left and right.
There will also be times when paid studies will require you use a mobile device to complete the study.
So, using a mobile device will be necessary at some point when you become a member of IntelliZoom.
Who can join IntelliZoom?
And speaking of becoming a member of IntelliZoom, in order to become a member of the site, you have to be a resident of the US, UK, Spain or Germany.
You also have to be at least 18 years of age (in the US you have to be 21) in order to become a participant and must speak fluent English or Spanish. This is quite important because all of the studies you will do will involve speaking in front of the camera.
So, you have to be willing to have your face and voice recorded. You also need to make sure you have a webcam and microphone you can use to film your videos.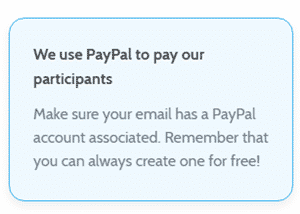 When registering as a member, you have to make sure the email address you use is the same email address for your PayPal account.
If you failed to do that though, don't worry because you can add the email address you used to your PayPal account.
The registration process is pretty straightforward. You simply have to provide your login details, as well as a couple of personal information, like your birthdate.
Overall, you won't have a hard time registering as a member if you are eligible to join.
Can you get support?
If you need help with your account or if you have a question you want to ask their support team, you can submit your inquiry by going to their support page.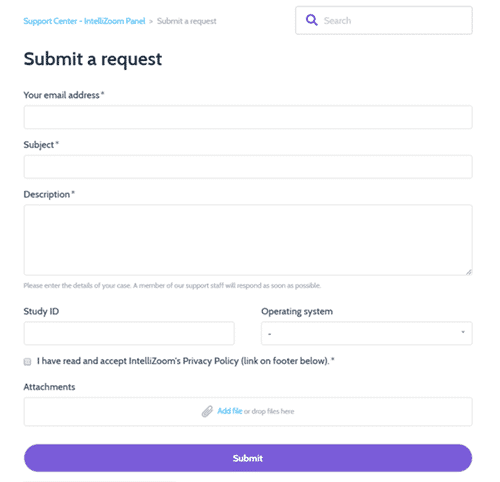 You can then use the contact form they've provided on their support page. You can access the contact form by clicking the "Send us an email" link at the bottom of the dashboard.
They also have an FAQ section that covers most of the basic topics about the site. And they do have a Facebook page you can visit. The problem is, it hasn't been active for quite some time now.
That's why if you have any inquiries, I suggest you use the contact form instead of heading over to their Facebook page.
But all in all, they do provide a decent way to give support to their members, in my opinion.
Final Verdict
IntelliZoom is a legit online rewards site that does pay you for participating in their paid studies.
It does have a specific appeal to those who want to earn a few extra bucks. But it does have some disadvantages too.
Here's a summary of its pros and cons to give you an overview of what the site has to offer.

Pros:
High rewards
Payment is done via PayPal
You don't need to reach the payout threshold to receive payment

Cons:
Limited earning opportunities
Will require several things to complete a study
Takes quite some time for the payment to be reflected in your PayPal account
The best thing about IntelliZoom, in my opinion, is that it pays relatively well. You will be able to earn a decent amount by simply making a video. Plus, you will be able to make an impact on the products you love and care about.
And the fact that you will receive the payment without having to reach a certain amount makes it a much more ideal site to earn a few extra bucks.
Just don't expect to receive the payment right away because it will take around 21 business for the payment to be credited to your PayPal account.
Overall, it is a decent site to earn a few extra bucks. It can be a good supplement to the income you will earn from other sites if you do not mind being on camera.
If you are looking for sites that will also allow you to earn a decent amount on a regular basis, I suggest you check out the top survey sites in your country.
The sites on this list all have good earning potential. Plus, they also offer several earning opportunities, which will help you earn more – even if you do not want to be on camera.
If you have any comments, questions, or have any experiences with IntelliZoom yourself, I would love to hear from you in a comment below.