Sure, joining an online survey site or a Get-Paid-To (GPT) site is a decent way to earn extra cash. But the work can sometimes be monotonous – especially if you've been doing it for quite some time now.
If you are bored with this kind of earning opportunity, why not try a different type of site to earn extra cash? I'm talking about a user-testing site. This type of site will allow you to earn a bit of cash by testing certain websites.
One such site that offers this kind of opportunity is called Userlytics. But before you sign up to this website, we have to discuss several things first like if Userlytics is legit?
Fortunately, yes, this site is a legit user-testing site that does pay you for providing feedback and testing websites.
The question though is, is it worth your time? To answer that question, we have to take a lot at everything the site has to offer. This Userlytics review will examine all that so you can decide if you should sign up or not.
What is Userlytics and what does it offer?
As mentioned above, Userlytics is a user-testing site that will pay you for testing specific websites and providing your feedback. It has been around since 2009. It's a fairly straightforward site so it won't be very hard to get used to how you can earn.
Now, to truly understand what this site has to offer and how well you can earn from it, we have to take a look at the earning opportunities it offers. So, here's how you can earn from Userlytics.
Option 1 – Usability tests
When you become a tester, from time to time, you will be invited to participate in tests. These tests will ask you to try out a certain website or mobile app and then provide feedback.
When you finish registering to the site, you can log in to the member dashboard to check if there are available tests you can take. You will also be emailed if there are available tests. So, make sure to check your email regularly.
Now, before we proceed, it is important to note that to participate in a test, you must have a webcam and microphone installed on your computer. You will also need to install their screen recorder software.
Here's a short video explaining how to take a test:
As explained in the video, there will be two types of tests you can take. One is where you will be invited to participate right away. The other type will have to verify if you are qualified to take the test. With the latter, before you can take the test, you will have to answer a simple survey.
Each test will have a set of instructions you need to follow. So make sure to read the instructions carefully. As a general guideline, every test will be geared towards testing the usability of a site or an app.
Now, when taking the test it is important that you speak your thoughts loudly and clearly. You also need to make sure you are doing the test in a well-lit and quiet room. This is important because the owner of the usability test will appreciate it more when they can see your facial expressions clearly.
When you are done with the test, you will have to submit it for review. If you log in to the member dashboard, you will see the status of the test you submitted. You can see which ones are under review and which ones are still pending or approved.
When your test is approved, you will receive the compensation promised in the test invite.
One thing you need to remember though is, each test has a limited number of participants. So, if you really want to earn, make sure to get to the tests as quickly as possible.
Option 2 – In-Depth interview
From time to time, there will also be live testing or in-depth interviews conducted by site owners.
For this earning opportunity, you get to chat with the owner of the site (or a representative) and provide feedback about their site/app in real-time.
This earning opportunity isn't very common but it's still a good way to earn rewards because it does pay you a decent amount. So, if you see an opening, I suggest you grab it right away.
How do you get paid?
Once Userlytics' client has reviewed and positively rated your test feedback, your test will be marked as "approved".
Then, the payments for approved tests will be made within 15 days. So, you don't need to reach a certain threshold to withdraw your earnings.
You will be paid via PayPal, which, in my opinion, is a very good thing because it is one of the most convenient payment options available today. During sign-up, you will be asked to provide your PayPal email. So make sure to input a verified PayPal account.
I really like that you don't need to reach a certain threshold in order to cash out your earnings. This makes withdrawing your earnings a lot easier and faster.
If you are interested in other sites that will allow you to withdraw your earnings quickly, I recommend you also check out the fastest paying sites.
How much money can you make?
In my experience, user-testing sites usually pay a decent amount. So, you will be able to earn a significant amount. Long-term members say that you will usually get paid around $5 to $20 per test that lasts 20 to 40 minutes.
If it takes longer, then you will be paid more. Of course, all of this will depend on whether you will be able to complete a test regularly and Userlytics doesn't guarantee though that you will receive test invites on a regular basis.
This pay is decent but it is not quite as high on a site like, for example, UserTribe.
The best thing you can do to improve your chances of receiving test invites is to complete your profile. When you do that, you will have a higher chance of getting qualified for tests.
So overall, I would say that Userlytics has decent earning potential. Even though you don't get to earn regularly, it balances out because you will earn a significant amount when you do.
Can you use it on mobile?
As mentioned earlier in this review, you can also test mobile apps. To do so would require the use of your mobile device and since you will need to record what you are doing, you will need an app that will record your screen. This will be the only time you can use the site on a mobile device.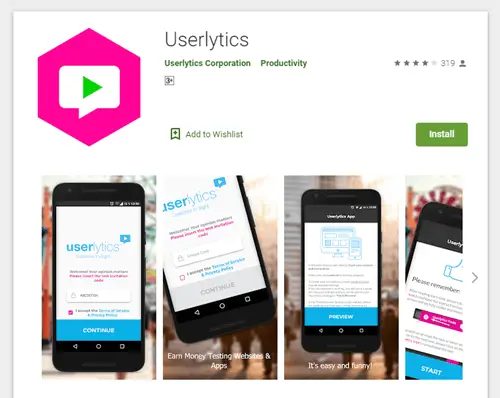 This is where Userlytics' app comes in. You can download their screen recording app from Google Play or Apple App Store. This app will let you start the test and record your screen as well as your voice. The app will also use the front camera of your mobile device.
But of course, the process will always start from their website. As you can recall in the video shown earlier, you will need to input a code to start a test. The same process applies when using the mobile app. You will still have to get the code from the site (or your email).
Who can join Userlytics?
The site is available more or less globally. So, you will be able to register as a tester regardless of where you live. You also have to be at least 16 years old or older to join the site.
Just be aware that in some countries it will take a lot of patience to find a test you can participate in.
Here's a short video explaining how to become a tester:
When you finish signing up as a tester, the next thing you will need to do is install their screen recording software. The software will work with both Mac and Windows computers but each will have a different download link.
Just make sure you download the appropriate one for your computer. As explained earlier, to participate in tests, you will need to have a webcam installed on your computer.
Userlytics strongly suggests you use a webcam with a built-in microphone because the use of external microphones usually causes recording issues with their software.
This definitely limits who can join the site and it is a bit strange the software does not work with an external microphone, in my opinion.
But then again, most webcams nowadays have built-in microphones so you don't have to worry about that.
The next thing you need to make sure is you have a good place to do your testing, preferably a well-lit and quiet place. That way, the client will be able to discern your feedback and reactions clearly.
This goes a long way into getting your tests approved. So, before you sign up as a tester, make sure you got these things covered.
Can you get support?
Userlytics has a FAQ page you can refer to for any questions you have. It covers most of the basic instructions on what to do as a tester and what to expect.
If, for example, you have a question that wasn't answered by their FAQ page, you can email them at support@userlytics.com. Then, just check your email from time to time for their reply.
You can also visit their YouTube channel if you want to learn more about how the site works. They have plenty of videos uploaded and you may be able to learn a thing or two from those videos.
Final Verdict
Userlytics is a legit user-testing site that does pay you for participating in usability tests from their clients. It offers a couple of good features and it also has certain drawbacks.
Let's end this review with a summary of its pros and cons so you can get a better overview before deciding if you should become a tester or not.

Pros:
User-friendly site
Pays automatically via PayPal
No payout threshold
High rewards

Cons:
Limited earning opportunities offered
Tests usually take a significant amount of time to complete
Their screen recording software for desktops isn't very versatile when recording audio
The thing I like the most about Userlytics is they pay rather well for each test you complete even though it is not quite as high as some other similar sites.
Also, you can't really expect to earn from this site on a regular basis because tests won't always be available plus your work will still be reviewed before you get paid.
So, there's no guarantee you will get paid when you do a usability test. Plus, the tests will involve you having to talk while you are working.
If you are not comfortable doing that or you are not that good at articulating your thoughts, then this site is not for you because chances are, your tests will be rejected and you won't earn anything. That's why I would say that this site is not for everybody.
If you are comfortable with how to work this site though, it can serve as a decent secondary site to earn from. Just don't expect to earn from it on a regular basis.
If you want a more stable way of earning extra cash, I suggest you check out the top survey sites in your country instead. The sites on this list all offer daily opportunities to help you earn regularly.
Plus, you will certainly find a site you can join regardless of where you live.
If you have any comments, questions, or have any experiences with Userlytics yourself, I would love to hear from you in a comment below.