Testing websites is one way to earn a decent amount of extra cash provided you have the skills. If you think you can do this, there's a site called Conversion Crimes that offers user testing opportunities.
Now, the question is, is it legit or is it a scam?
Based on my personal experience, I have seldom encountered a user testing site that is not legit, but we'll see. I've personally tested the site so I can share with you what I've learned about the site.
In this Conversion Crimes review, you will learn about everything the site has to offer so you will know exactly what to expect. Then, you can decide if this site is a good fit for you or not.
What is Conversion Crimes and what does it offer?
As mentioned above, Conversion Crimes is a user testing site that offers user testing opportunities for you to earn extra cash. It is indeed a legit site since you will really get paid to do user testing projects.
But is it worth it?
Well, that remains to be seen. You first have to understand how the site works before you can properly gauge the site's worth, so let's go ahead and take a closer look at the earning opportunity this site offers.
The earning opportunity – User testing projects
The only way to earn from this site is to take on user testing projects. When you become a user tester for Conversion Crimes, you can log in to the member dashboard to see if there are available projects you can work on.

As you can see in the photo above, you will see the approximate time it takes to complete a test, so you should be able to easily choose which projects to take on if you are strapped for time.
The tests in the photo above are just practice tests you have to take so that Conversion Crimes can evaluate your skills.
You need to take these tests before you can actually take on paid testing projects. They are very straightforward and all you have to do is follow the instructions.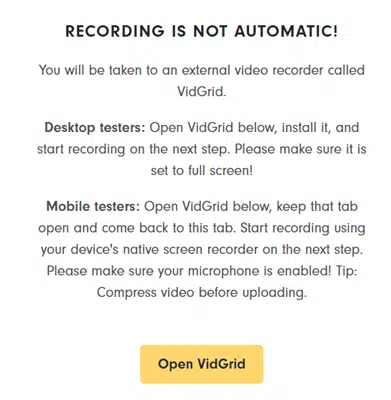 When you take the practice tests, you will be asked to install a program called VidGrid which is what you will use to record your screen. You need to install this program because you will use this in the future when you take on paid testing projects.
When taking a test, the program will record your screen, but you also have to explain what you are doing. Therefore, you will also need to use a microphone or just a headset.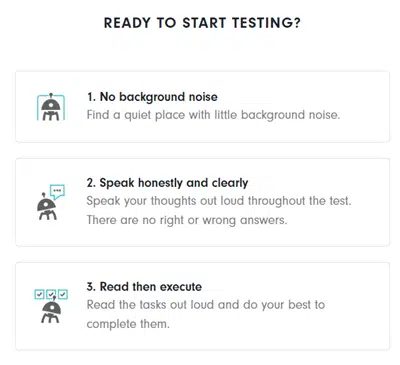 The above photo shows what you need before you can take on any testing project. As shown in the photo, you need to be in a quiet place to avoid background noise when performing the test. And as mentioned, you have to speak your thoughts out loud throughout the test.
There is no way around this, so if you are not confident with your ability to explain what you are doing while recording, then this is not the right earning opportunity for you. If you fail the practice tests the first time, you will have a second chance, but you cannot take the same tests immediately.
Conversion Crimes will give you a different set of tests at a later date to make sure they are able to test your spontaneity and your ability to understand instructions.
The practice test will also give you a taste of what it is really like to do a testing project. The only difference between the practice and actual test is, you will get paid for the latter.
When doing a paid testing project, you will need to submit the video you recorded and wait for the client to rate it. If it passes their standard, then you will get paid. That's how the process goes.
Here are the things you need to do when working on tests:
Provide valuable feedback
Pronunciation/sound should be clear enough so the moderators can understand what you are saying
Speak your thoughts out loud so the evaluator can follow your thought process, which is the main aspect of usability testing
Able to set up the technology (VidGrid) by the final training test
Follow instructions properly and answer all questions asked in the tasks
If you follow these five requirements every time you do a test, you should have no trouble getting paid.
Recommended: Check Out the Top User Testing Sites
How do you get paid?
Every time you successfully complete a user testing project, you will earn a certain amount and it will be credited to your Conversion Crimes account balance.

Then, you will be able to withdraw your earnings via PayPal. As shown in the photo above, payments will be processed every week. Conversion Crimes will process the payments every Monday evening (EST). Whatever you've earned from Tuesday of the previous week until before the payment is processed will be deposited to your PayPal account.
You don't need to earn a specific amount for Conversion Crimes to process the payment. That means the site practically doesn't have a payout threshold you need to reach to withdraw your earnings.
Overall, the payment system of Conversion Crimes is very simple to understand. I also like the fact that it offers a very convenient payment method. If you are interested in more sites that offer a convenient payment method, you can check out the top sites that pay via PayPal.
How much money can you make?
The photo below shows the breakdown of how Conversion Crimes will pay you per user testing project.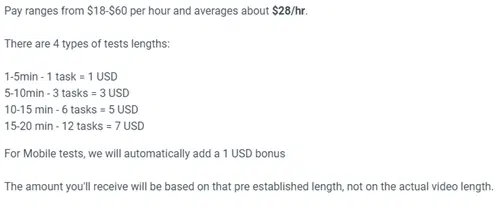 As you can see, the amount you can earn from each testing project will depend on the number of tasks you need to complete. The highest paying projects are those that have 12 tasks or possibly more. Plus, if you do the test on a mobile device, you will earn $1 more.
And as the photo indicates, the amount you'll receive will be based on that pre-established length of the testing project and not on the actual video length you record. So, it doesn't matter whether you finish the test quickly or slowly. You will still earn the same amount. That is why it is in your best interest not to be in a hurry when doing the testing.
Now, the one thing that is not accounted for when you think about how much you can earn is the actual availability of test projects. And unfortunately, you don't have control over how often you get offered a testing project.
Sometimes, you will be offered a couple of projects in one week and sometimes, you won't get any. In my experience though, consider yourself lucky if you get one user testing project every week. That's just how it is with user testing sites. There won't be a lot of opportunities to earn.
Their reward rate is also not that great, in my opinion. There are plenty of other user testing sites that pay better. That is why I would say the earning potential of Conversion Crimes is not that good. You will have to wait a long time before you can earn a significant amount.
Can you use it on mobile?
From time to time, you will be asked to perform usability tests of mobile apps. When this happens, you can still do so from your mobile device because the screen recording program that Conversion Crimes uses has a mobile version.
But as for Conversion Crimes itself, it doesn't have a mobile app you can download, so you'll have to log in to the website using a mobile web browser. Fortunately, the site is optimized for mobile use, so you should have a hard time navigating the site on a mobile device.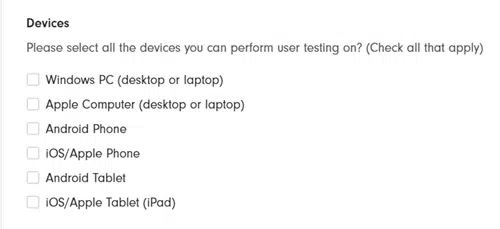 It also didn't come as a surprise for me because, during the registration process, you will be asked which devices you can perform usability tests in. And as you can see in the photo above, it already hints that you can perform tests on a mobile device.
It's a welcome addition too since you will earn an additional $1 for every mobile test you perform.
Who can join Conversion Crimes?
You shouldn't have any trouble joining Conversion Crimes since it is available worldwide. You can register as a member regardless of which country you live in.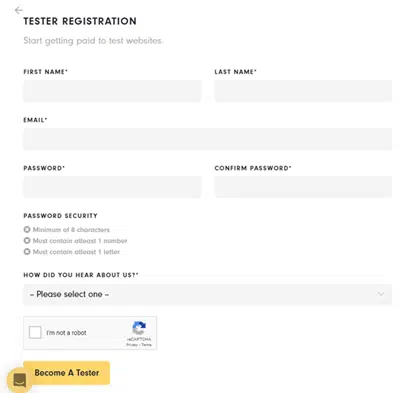 To sign up, you just have to fill out the registration form and the site will send a confirmation email. Simply click the link in the email to complete your registration.
However, based on my experience with other user testing sites, your location will actually affect how often you get invited to participate in test projects. You see, there will be times when clients will be looking for people who live in specific countries to test their sites or apps.
This happens more often than not. In my experience, people who live in the US, UK, and Canada get more opportunities to earn compared to other countries. That's just the way it works.
Can you get support?
If you have any questions about the site or your account, you can check out the Tester Help Center. This page discusses most of the topics you need to know about the site. They also have a video tutorial you can watch to learn more about how to do testing projects.
But if you can't find the answers you are looking for, or if you encountered a technical issue you need help with, you can click the message icon found on the lower right-hand corner of the website. It will open the messaging form. You can just start a conversation with their support team and submit your inquiry.
Overall, I would say the site has a decent support system in place for its members since it offers a convenient way for you to get in touch with their support team.
Final Verdict
Conversion Crimes is a legit user testing site that will pay you to do usability tests. It has a couple of good features, but it also has some limitations you need to be aware of.
Let me end this review with a summary of its pros and cons so you can get an overview of what the site has to offer. Then, you can decide if this site is a good fit for you or not.

Pros:
Offers payment via PayPal
No payout threshold
Processes payments automatically

Cons:
Limited earning opportunities offered
Low rewards
Conversion Crimes is not a bad user testing site. However, it pays a relatively small amount compared to other user testing sites. Plus, the opportunities to earn are quite limited, so it will take quite a long time before you will be able to earn a significant amount from this site.
I would recommend you only join this site if you need another user testing site to earn from. Otherwise, you are better off joining other sites that offer better earning potential.
And speaking of sites that offer a better earning potential, I would recommend you check out the top survey and GPT sites in your country. The sites on this list will allow you to earn a decent amount in no time. Plus, you will definitely find sites where you can earn on a regular basis.
If you have any comments, questions, or have any experiences with Conversion Crimes yourself, I would love to hear from you in a comment below.