If you are good at paying attention to detail, there are actually websites you can join to earn some cash. One website is called Validately. This site promises to pay you for testing other websites.
Now, the first thing that is running through your mind may well be, is Validately a scam? Or is it legit? You are actually correct in trying to verify the legitimacy of a website before you join. You want to make sure you join a site that will actually pay you.
So, let me just answer that question right away. Yes, Validately is a legit site that does pay you for testing sites and providing feedback. However, that doesn't automatically mean this site offers a good way for you to earn cash.
This Validately review will take an inside look at what the site has to offer so you will know what to expect before you decide if this site is a good fit for you or not.
What is Validately and what does it offer?
As mentioned above, Validately is a unique website that will ask you to test other websites and provide feedback. In return, you will receive compensation for doing so.
Now, in order to properly gauge how well you can earn from this site, we have to examine the earning opportunity it offers.
So, here's how you can earn from Validately.
The earning opportunity – Testing Websites
Validately offers the opportunity for you to earn by testing the usability of certain sites. These sites have partnered with Validately so they can get feedback for how user-friendly their sites are.
It is very similar to UserTesting if you know that platform.
First things first, what do you need to have to test websites?
Well, you will need to use Google Chrome. You can't use other browsers because you will need a certain Chrome extension to do the tests.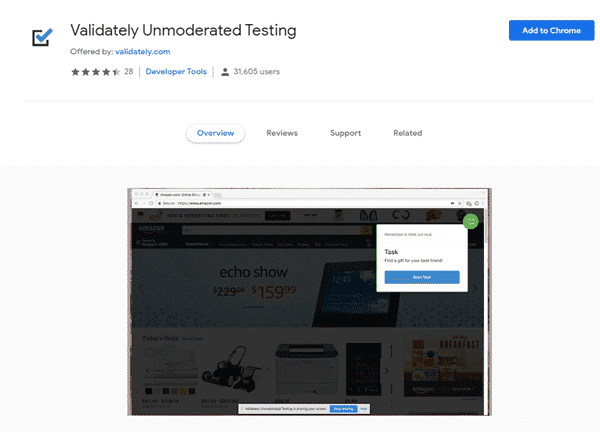 When you test a website, you will need to record what you're doing and the Validately extension will help you do that. You can't use other screen recording programs.
So, it is of utmost importance that you use the extension. You actually don't have a choice because you will be forced to use it since you won't be able to register without doing so (I will talk about the registration process later).
Once you become a tester, you will receive an email if there is a site you can test. So, make sure to check your email regularly.
To start the testing process, just click the link in the email. You will then be taken to a new Chrome window that will display what you need to do.
One thing to take note of with the tests is, most of them are on a first-come, first-serve basis. So, it's pretty important to get to the offer right away because remember, there are other members who will qualify for it.
Another important thing to remember is, you will need to use a microphone when doing the testing because you will essentially be recording a video of your testing process. You will need to explain what you are doing and give feedback as well.
So, make sure to do the tests in a quiet room and speak your thoughts aloud. That's one important factor to get your test approved.
Once you complete the test and it is approved by Validately, you will then receive the compensation.
How do you get paid?
One good thing about Validately is, you don't have to reach a certain threshold in order to get paid.
Unlike many other Get-Paid-To (GPT) sites and survey sites, you will actually get paid after every test you complete.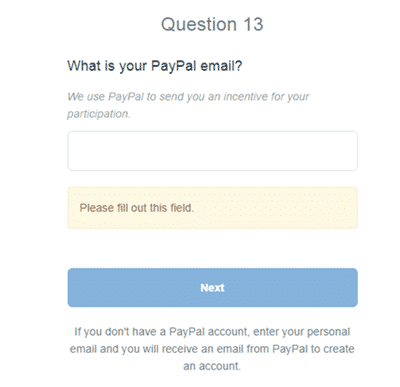 You will be paid via PayPal. So, if you ever decide to become a tester, it is important to have a PayPal account because that's the only way you will get paid.
You will be asked to provide your PayPal address during the registration process. So, I suggest you create your PayPal account first (if you don't have one) before you sign up.
All payments are processed through PayPal within 7 business days of completing your test. So, don't worry if you don't get the payment right away. It's quite a long wait, but since they do have to verify your work, it is quite understandable.
If you are interested in other sites that pay via PayPal, I suggest you also check out the top sites that pay via PayPal.
How much money can you make?
The amount of money you can make will mostly depend on how many tests you can complete.
Tests are available daily but not every tester will match the criteria for every test. So, don't expect to get notified about available tests frequently.
Also, there are a lot of testers and they only need limited numbers of testers for each test.
And, in my opinion, one of the biggest hurdles of Validately is that you very often will not be able to get in even if you click the invitation link very quickly.
So it can take some patience to find the tests you are actually able to take.
In terms of how well they pay, Validately will often pay you around $5 to $25 per test depending on the length of the test. Of course, the longer the test is, the more it will pay. There are some tests that pay more.
In my opinion, they do pay quite well. But it's no surprise considering the amount of work you need to do.
Overall though, the earning potential of Validately is decent. That is, of course, if you ever manage to complete tests.
Can you use it on mobile?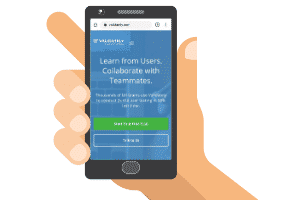 Considering the nature of the earning opportunity it offers, don't expect to be able to use this site on a mobile device.
Remember, each test will require that you use the Chrome extension. So, using a mobile device will really be out of the question.
That being said, their website is mobile-friendly, so you will be able to read all the content properly. That's about the only benefit you have with Validately in terms of mobile use.
Who can join Validately?
Validately is available globally. You can join the site regardless of where you live. As long as you are at least 18 years of age, you can register as a tester. There aren't as such any language requirements, but you'll have to make sure you speak good English before you join.
And as mentioned above, you will need to have a PayPal account in order to join. So, make sure you have one before you sign up as a tester.
When you sign up as a member, you will first have to answer a series of questions (mostly for building your profile). Once you are done with that, you will then be asked to make a screener test (shown in the photo above).
Think of this as a way to show Validately that you are a competent tester. The screener is actually a short test that will involve you having to test a site and speak out your feedback about the site you are testing. So, you will need to use a microphone when doing this.
This is also the part where Validately explains why you need to install their Chrome extension.
Now, when doing this screener, I suggest you do it inside a quiet room and make sure to speak loud enough so that Validately can evaluate your skills properly.
After you've completed the screener, it will take several days to hear back from them. This is the one downside of Validately, in my opinion. There is no guarantee that you will become a tester when you sign up for the site.
You could say that their registration process is quite stringent. So, if you are really determined to become a tester, make sure you do well on the screener.
Can you get support?
In terms of support provided, Validately does have a pretty good FAQ section, in my opinion.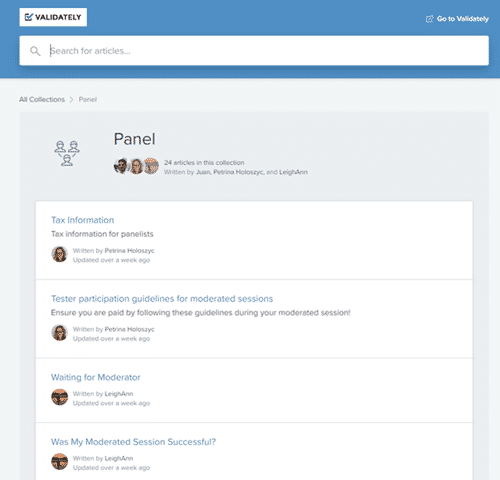 There are lots of discussions about what you will encounter on the site. So, you will surely find something that will help you with the issue you are encountering with the site.
In case you can't find the answer you are looking for, you will be able to get in touch with their support team through email.
You can email them at support@validately.com since they don't have a contact form on their website. But overall though, I would say that they do provide decent support for their members, which is a good sign.
Final Verdict
As you can see from this review, Validately is a legit site-testing platform that will pay you for providing feedback on the sites you are testing. It definitely has some good qualities and some drawbacks as well.
Let's take a look at its pros and cons so you can decide if this site is really a good fit for you or not.

Pros:
Pays relatively well
No payout threshold and payment is processed automatically every time you complete a test
Payment is done via PayPal

Cons:
The registration process requires a lot of work and you are not guaranteed to become a member if you sign up
Requires significant time investment and effort to earn
It can be difficult to get a spot for the tests
Overall, Validately is a good site to join if you don't mind the work that needs to be done.
So, in this aspect, I would say that this site is not for everyone. If you are not comfortable speaking while doing the test, then, this site is definitely not for you.
But if you don't mind doing that, then this site is a good site to join since they pay relatively well and they do offer a convenient payment method.
You just have to be a bit patient because the payment processing requires a significant amount of time and it can often be difficult to get to take a test as they fill up quickly.
Now, if you prefer to join a site that has less complicated and easier earning opportunities offered, I suggest you check out the top GPT sites instead. The sites on this list will allow you to earn without having to invest a lot of time and effort.
And, you will be able to sign up as a member easily regardless of where you live.
If you have any comments, questions, or have any experiences with Validately yourself, I would love to hear from you in a comment below.