If you are good at identifying the ins and outs of how a website is supposed to work and look, you can actually earn from this skill.
There are a lot of platforms that offer you to earn this way.
One such site is called Trymata (formerly TryMyUI).
Trymata promises to pay you for testing the user interface of websites. In essence, you will act as a quality assurance specialist and get paid to give feedback about websites and apps.
Now, if you are wondering if Trymata is legit, then let me just validate it for you. Yes, Trymata is legit. It does pay you for testing their partner sites and apps.
However, this doesn't necessarily mean that this site offers a good opportunity for you to earn extra cash. To answer that question, this Trymata review will explain all the site offers, so you'll know exactly what to expect before you even join the site.
That way, you can figure out if you should join this site or not.
What is Trymata and what does it offer?
Let's start by going over the name to avoid any confusion.
Trymata used to be called TryMyUI but has been rebranded.
But you will still find some info about TryMyUI out there, but no matter whether you are looking for a TryMyUI review or info about Trymata, this review will give all the details.
The official name of the platform is just now Trymata even though not much else than the name and design have changed since it was called TryMyUI. But in the rest of this review, I will call it Trymata, as that is now the official name.
Trymata is a usability-testing site that offers compensation for testing the user interface of a website or app and giving feedback about this. It's a lot like Userfeel in terms of the earning opportunity it offers.
Now, to fully comprehend how well you can earn from this website, we have to take a closer look at the earning opportunity it offers.
So, I made a video that gives you an inside look a show exactly how it works. You can also read all the details below the video.
Recommended: Check Out the Top Survey Sites in Your Country
The earning opportunity – Site Testing
Once you become a member of the site, you will be given access to the member dashboard, where you can see all the available offers for testing.
When you click on a test offer, you will then be asked to download the test file.
This test file will contain the instructions and tasks you will need to do for the test.
Each test will require you to perform specific tasks. To take the test, you will have to download and install their screen recorder.
This is absolutely needed to earn from this site. So, don't think about not downloading it because that's the only way you can earn.
The good thing about their screen recorder is that it will work with Windows, Mac, and even Linux computers (refer to photo below). So, compatibility won't really be an issue.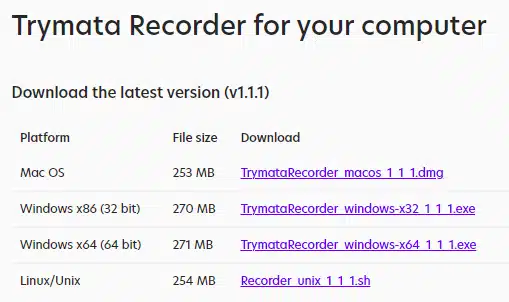 Now that we've got that covered let's talk about the testing process.
As shown in the video, when testing a site, you will have to explain what you're doing. So, you'll have to talk while testing. That means you will need a microphone as well.
It is important that you explain what you are doing and not just comment that the task is confusing or there's something wrong with it. You will have to elaborate on what you are doing. So, if you are not comfortable doing that, then, unfortunately, this site is not for you.
Once you've completed all the tasks, you will then have to answer a sort of post-test survey. Usually, the survey will contain four questions or fewer. You will have to answer those questions as thoroughly as possible.
Once you've finished the post-test survey, you can then submit your work for review. Once Trymata sees your work passes its standard, you will receive the reward, which I will talk about next.
They say a typical test lasts approximately 20 minutes. But it usually can take around 40 minutes to an hour to complete one if you want to be thorough.
You might also sometimes be invited to live interviews. This means you would have to be in front of your computer at a specific time, so it is not quite as flexible, but you will usually also earn more for tasks like this.
Recommended: Check Out the Top Survey Sites in Your Country
How do you get paid?
Every test you complete and pass will earn you at least $10. That is the most normal reward you will get, but you might sometimes be invited to tests that pay more.
You will then get paid via PayPal. So, it is important to have a verified PayPal account before you sign up as a member.
The payment will be processed every weekday morning. It will be automated, so you don't actually have to manually request payment. It can a couple of days before it will be reflected in your PayPal account, though. So, don't expect to receive your earnings right away.
Also, be aware that the task needs to be approved before you will get paid, and this can also take a few days.
I do like the fact that they offer payment via PayPal because, in my opinion, this is the most convenient payment method available.
If you are interested in more sites that pay via PayPal, I recommend you also check out the top sites that pay via PayPal.
How much money can you make?
As you can see, Trymata pays a minimum of $10 per test. In my opinion, this is a decent amount. But you have to keep in mind that there is no guarantee you will be paid for every test you take.
Remember that you have to submit your work for review. If they see that your work doesn't pass their standards, you won't get paid. So, it is important not to rush the testing process.

To maximize your earnings from this site, you will have to exercise the best practices. As you can see in the photo above, you need to follow the instructions properly. You also need to say exactly what you are thinking as you are thinking about it.
You also need to write a clear and detailed answer to every question in their post-test survey. Those are the best ways you can ensure that your work will be approved so you can get paid.
Overall, I would say that the earning potential of TryMyUI is decent. It's not that great, but it's not that bad either. It will all boil down to you being comfortable with their testing process.
And one thing to remember is that even though the tests you get pay decently, you will not get tests you can complete very often.
So do not expect to necessarily be able to earn from it every week.
Can you use it on mobile?
The good thing about Trymata is that you can use your mobile device to do tests.
You can see inside the platform if there are any app tests available. If there are, you just follow the instructions to start taking the test.
If you have access to both a computer and a mobile phone, you can potentially earn more because you will get access to more different tests then.
Who can join Trymata?
Trymata is available globally. That means you can sign up as a member regardless of where you live. The registration process is fairly straightforward.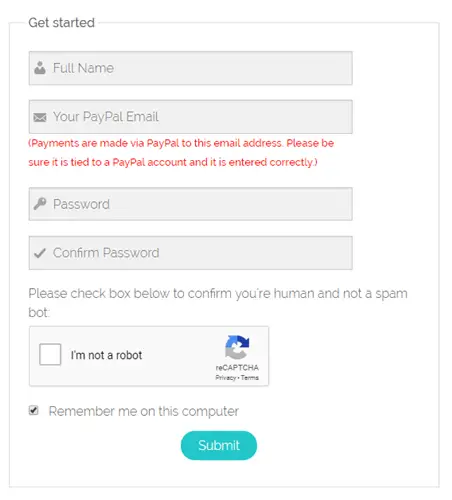 All you have to do is fill out the registration form and verify your membership by clicking the verification link in the email that you will receive from them. Once you've done that, you will be automatically logged in to their dashboard.
But, to start earning from this site though, you will have to take a qualification test. The test will ask you to record a sample test to demonstrate that you understand the requirements to be a good tester.
Think of it as a dry-run for the actual test you will be doing on the site, and be aware that you will not get paid for this qualification test – it is to prove you got what it takes to be a member.
It's a fairly simple test, in my opinion. Just make sure to follow the instructions carefully. Once you are finished with the qualification test, you are now a bonafide member of Trymata.
Can you get support?
If you have a question you want to ask their support team, the first thing you can do is check their FAQ page.
You can find this inside the member area. The page talks about the basic functions of the site and what it has to offer. It is fairly comprehensive, so you might find the answers you are looking for.
Just be aware that at the time of update g this review, the FAQ page is still located on the TryMyUi website, so this can be a bit confusing.
If you can't find what you are looking for, you can send them a message using the contact form on the website.
Overall, I would say that they do provide a decent way for you to get support in case you need it.
Final Verdict
Trymata (formerly TryMyUI) is a legit user-testing site that does pay you for completing site tests and user impression tests.
It has a couple of good qualities to offer as a site you can earn from, but it also has several drawbacks.
So, let me finish this review by listing down the pros and cons to give you a better overview of what it has to offer to help you decide if you should join or not.

Pros:
Payment is done automatically via PayPal
Available globally
You can earn from your phone

Cons:
Limited earning opportunities
You are not guaranteed to earn for every test you take
Some tests do not pay as much as tests on similar platforms
Trymata can be a good site to earn extra cash if you are comfortable expressing your thoughts. You will have to do a lot of talking because you will have to explain the task you are doing and what you think about what it is asking you to do. If you are not comfortable with that, this site is not for you.
It does pay decently for the tasks. That is, of course, if your work is approved, which, in my opinion, is the most glaring drawback of this site. You are not guaranteed to earn from each test you take.
That wouldn't have been a problem if the test didn't take up a significant amount of your time. If your work doesn't get approved, then you potentially waste almost an hour of your time, which can be better spent working on sites that will allow you to earn for everything you do.
But as an extra site, it can be a fun and different way to earn by giving feedback – just do not expect to be able to earn very often.
If you prefer to earn that way and more frequently, I recommend you check out the top survey sites in your country instead.
The sites on this list all have good earning potential, and you are guaranteed to earn something for the time you spend on it. Plus, you will definitely find a site you can join regardless of where you live.
If you have any comments, questions, or have any experiences with TryMyUI yourself, I would love to hear from you in a comment below.