There's a website that claims you will be able to earn extra cash by simply testing unreleased games. This site is called PlaytestCloud. So, if you love playing video games or if you are a skilled tester, you might want to consider joining this site.
But before you hit the sign-up button, there are a few things you need to know. First, you have to figure out if this site legit or if it is just another scam that won't pay you. This is a very important piece of information you need to know beforehand.
So, let me address this concern right away. Yes, it is indeed a legit site that will really pay you for testing unreleased games. But is it really worth your time? That's a whole another story. And to answer that question, we need to factor in a few things.
This PlaytestCloud review will reveal the full details so you will know exactly what to expect and can decide if you should join this site or not. So, let's go ahead and get started.
What is PlaytestCloud and what does it offer?
PlaytestCloud is essentially a product testing site that will pay you for testing unreleased games and providing feedback. It is designed to provide usability playtesting tools for game studios. And the way they provide that service is to pay playtesters (potentially you) to test the games of their clients.
Now, to truly understand how this site works, we have to take a closer look at the earning opportunities it offers. This way, you can also get a clearer picture of how well you can earn from this site.
I have, therefore, made a video that explains and show all ted details so you can see exactly how to earn from PlaytestCloud. You can also read all the details below the video:
Option 1 – Playtests
One way you will be able to earn from this site is to become a tester. And when you become a tester (I will talk more about how you can become one later), you will be invited to test games for their clients.
Here's how it works. You will receive test invites via email (refer to the photo below). If you take a look at their website, you will see a "Login" button. That login button isn't actually for testers. It is meant for their clients. So, there isn't actually a tester dashboard you can log in to.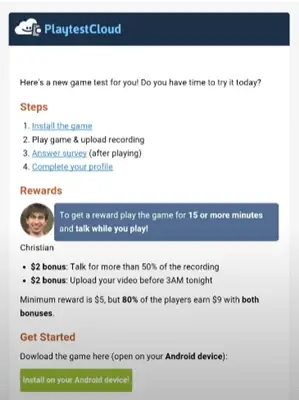 That's why when you become a tester, you will have to check your email inbox regularly for invites. As you can see in the photo above, you will know immediately how much you will earn for every test you complete.
To start the test, you have to download the game the site wants you to test. You will then have to agree to their Non-Disclosure Agreement before you can begin testing. Now, when I did my testing, I was actually a bit confused as to how to test the game.
Typically, in my experience, sites like this usually have an app or program you need to install to record your screen. That's why I was surprised that you didn't have to download one to test the game. It comes packaged with the game you have to install. It's actually a good thing because it saves space on your mobile device.
Here's a video detailing the whole testing experience.
Once you install the game, you have to follow the guidelines provided in the email. Their tests typically last for 15 minutes and during this time, you have to think out loud. That means you have to talk while you are testing. That also means you have to do your testing in a quiet room where there isn't any ambient noise.
So, if you are not comfortable with speaking out your thoughts, then this is not the right fit for you. After you finish testing the game, you will then have to answer a survey. The survey will usually be about adding additional feedback about the game, so it's relatively straightforward.
One unique thing I was surprised about when it comes to their testing process is, while you are recording the video, it is also simultaneously uploading parts of the video to their survey so that once you finish everything, you won't have to wait that long for the upload to complete.
It's a more streamlined process, which is good. Once you have finished uploading your test, PlaytestCloud will then review your work, and if everything is in order, you will receive the payment in a few days (I will talk more about their payment system later).
Option 2 – Standalone surveys
Another way you can earn from PlaytestCloud is through their standalone surveys. Not a lot of information is posted on their site about their standalone surveys but I figured to just include it in this review since they do say it's a way for you to earn extra rewards.
I personally didn't receive any survey invites during my testing so I can't really speak much about it. But I do know one thing – their standalone surveys are different from the surveys you will have to answer during playtesting.
So, I would say these surveys are more like the paid surveys you will usually encounter on survey sites where you will first have to answer a set of qualifying questions. If you qualify, you will then get to answer the actual survey. And when you complete the survey, you will receive the reward.
But if you fail to qualify, you will just have to move on to the next available survey (if there are any). That's usually how paid surveys work, in my experience.
Recommended: Check Out the Top Sites To Earn Money By Playing Games Online
How do you get paid?
For every playtest or survey you complete, you will be paid a certain amount which will be indicated in the email you will receive. The good thing about PlaytestCloud is, you don't actually have to reach a threshold to withdraw your earnings. The site will pay you right away for every test/survey you complete.
The payment will be done through PayPal. And since they don't really have a member dashboard for their testers where you can set up your payment details, you have to make sure the email address you use to sign up is the same email address for your PayPal account.
This is because they process payments automatically. I personally like how they pay you because it is a very convenient system and they pay rather quickly compared to many other sites.
If you are interested in more sites that offer a convenient payment method, I would recommend you also check out the top sites that pay via PayPal.
How much money can you make?
You will typically earn around $9 for a 15 minute playtest. That's actually a decent rate, in my opinion. Of course, if a playtest takes longer to complete, you will earn more.
So, to answer the question above, the amount you can earn will mostly depend on how often you get invited to test games. And that is something you don't really have any control over. It will all depend on whether your profile matches with any of their clients.
The best thing you can do to improve your earnings is to make sure you follow the guidelines provided for their playtests. In the photo shown earlier, you will actually earn bonus rewards by doing a couple of things like making sure you talk during your testing.
This is an integral part of their process, so you have to make sure you are good at thinking out loud. It's the one skill you need to have when working on this site. And as I've said earlier, if this is something you are not comfortable doing, then this site is not for you.
But overall, I would say the earning potential of this site is pretty decent. They pay rather well for their tests. But there aren't a lot of testing opportunities, so you can't really expect to earn a lot from this site.
Can you use it on mobile?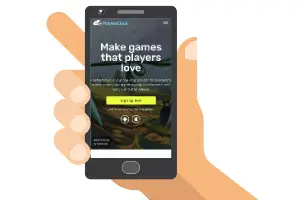 During registration, they hint that you can test games for PC. But in reality, you will only have to test mobile games. So, to answer the question above, yes, you actually have to use it on your mobile device since you will have to test mobile games.
The good thing is, you can playtest using an Android or iOS device. So, compatibility won't really be an issue. For Android devices, your device must use Android 5 Lollipop or better. For iOS, it needs to be iOS 12 or iOS 13.
Who can join PlaytestCloud?
You can join PlaytestCloud from more or less all countries. However, they are currently only looking for testers in the US, UK, or Canada. So if you live in other countries they will likely not be any tests for you. But they say they will contact you if they get tests for other countries.
To become a tester, simply click the "Become a tester" link in the upper right-hand corner of their home page.
You will then have to fill out their registration form. Once you are done with that, you will receive an email with instructions on what to do next. In the email you will receive, it will tell you to take a qualification test to determine if you are fit to become one of their testers.
Here's a video explaining what to do with the qualification test.
There's no way around this, so you really need to take it if you want to become a tester. The test will only last for 5 minutes and it isn't paid. If you pass the test, you will be one of their testers.
Think of this test as a primer to what you need to do to earn from this site. So, it's actually a good snapshot of how to earn from this site. If you fail the test, they will give you feedback as to what you did wrong in the test.
That way, when you take the test again, you will have a higher chance of passing.
Can you get support?
Their site really doesn't talk much about how you can earn from it. The information you will find on their site is mostly geared towards explaining what their service is to their potential clients. But they do have a FAQ section on their "Becoming a tester" page you can refer to.
It discusses most of the basic topics you need to know about the site. If you can't find the answers you are looking for, you can go to their "Contact Us" page to chat with a support representative. They typically reply within a few hours.
You can also send your inquiries to help@playtestcloud.com. Overall, I would say they have a decent support system in place for their testers since they provide a couple of ways for you to get in touch with their support team.
Final Verdict
PlaytestCloud is a legit game testing site that will pay you for testing unreleased mobile games. It has a couple of good features, but it also has a few limitations you need to consider.
Let's wrap up this review with a summary of its pros and cons to give you an overview of what the site has to offer so you can decide if this site is a good fit for you or not.

Pros:
Offers payment via PayPal
Offers a fun and interesting way to earn extra cash
Offers decent rewards
Doesn't have a payout threshold you need to reach to withdraw your earnings

Cons:
Limited earning opportunities offered
Their site doesn't have a lot of relevant information for their testers
You will need to take an unpaid test to become a tester
PlaytestCloud is one of the better game testing sites, in my opinion. The reason for this is, it pays relatively well and you don't have to reach a threshold to withdraw your earnings. They pay you every time you complete a test. It also doesn't take that long for the payment to be credited to your account.
The only downside to this site is, it doesn't offer a lot of tests. So, you can't really expect to earn from it regularly. That's why I would say it is only a good secondary source of extra cash. But if you are eligible to join, and you like testing games and have good communication skills, I would recommend you join this site.
If you are looking for ways to earn regularly though, I would instead recommend you check out the top survey and GPT sites in your country. The sites on this list all have good earning potential and will allow you to earn a decent amount on a regular basis.
Plus, you will definitely find a site you can join regardless of where you live.
If you have any comments, questions, or have any experiences with PlaytestCloud yourself, I would love to hear from you in a comment below.