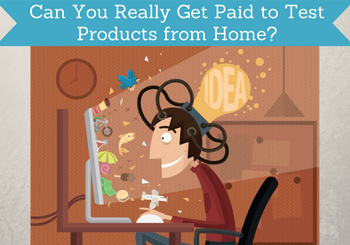 Usually, I write about paid surveys and GPT sites, but there are also other easy ways to make a bit extra online.
One of the ways is product testing that is also sometimes offered by survey sites. Maybe you have you heard about product testing or seen the option on survey sites, and are wondering if you can really get paid to test products from home?
It is true to a certain extent, and product tests can be great to participate in. It is however not for everyone.
In this article, you will learn exactly how it works, what kinds of products you can test, what you will be able to earn from it, and get some examples of sites that offer this option.
So if you want to know if it is for you, you will get all the answers below.
What is product testing?
Let us first go over the basics of product testing. It is also sometimes called consumer testing and it is actually quite simple.
Companies often have new products that they want to test before releasing them or have products they continuously want to improve. The reason for this is to make sure that the needs of the consumers are met.
Sometimes an idea might sound great during the development of a product, but then it does not work in real-life situations, or consumers simply do not like it as much as expected.
It can save companies A LOT of money to get feedback about things like this before starting to promote and produce products. That is why they are willing to spend money on having products tested.
There are however also other reasons for companies to offer product tests. Sometimes it is a way to create buzz around a certain product. If they can get people to try it and share their experiences with family and friends, it can be a cheap way to get attention.
Later in this article, you will see some examples of sites you can sign up for to become a product tester. There are sites that are meant for both of the purposes mentioned above. So it is good to know the difference and to know what is expected if you decide to sign up for any of them.
What kind of products do you have to test and how does it work?
Different sites offer different products. So what products you have to test depends very much on the sites you sign up for as a tester.
You can always also choose yourself if you want to test a certain product or not, and you will never be forced to test a product you do not want to test, just because you are a member.
In that way, product testing is very flexible.
Most sites that offer product tests have many different products you can choose from. But there are also some sites that only have a certain brand.
So if you have a certain brand you are a big fan of, it is worth looking into whether it might have its own test panel. You can usually find out by visiting the main website or google the product name + product testing.
Usually, after signing up for a product testing site, you can select from a range of products you would like to test. Then the product will be sent to you, so you can test it in your own time. After having tested it, you then have to give feedback about your experience.
How much can you make by testing products?
So how much can you earn by doing product tests and giving feedback?
It depends a lot on the sites you join. In general, you will however not be paid in cash.
The majority of opportunities will give you the product you are testing for free, and that will be your salary. That can also in some cases be very nice and save you are a lot of money and is a way to get the newest products for free.
But it will not as such be a way for you to make money in most cases. It is also important to know that on some sites (usually the ones with the best and most popular products to test), you will not necessarily get to test the products you apply to test.
In many cases, there are a lot of people that want to test the popular products, and there is usually only a limited amount of products available. Therefore, there will be a draw, and if you are one of the selected people, you will get the product. So there is no guarantee that you get the products you want.
7 Product testing opportunities
Now you know a bit more about what product testing is, and what you can expect from it. So here are some examples of sites where you can sign up as a product tester.
The above are a few examples. There are more sites where you can sign up to test products.
If none of the examples on the list are available in your country, I suggest to google "product testing" + your country and see what comes up. Also, if there are particular brands you would like to test, try to check out their website. This is however mostly available for the big brands.
Final thoughts – Is it worth joining product testing panels?
In my opinion, it can be worth signing up for product testing panels. It can be a great way to get some new products for free.
Personally, I do not really like the sites where I have to share on social media as a part of the deal, but that is, of course, a matter of personal preferences.
Also, remember to read the conditions before signing up so you know exactly what you are agreeing to.
You should however not sign up at product testing sites if your main goal is to earn money. As you can see, the majority of sites will not pay you in cash, but in products (sometimes very nice products). And you will not always be able to get the products as there are often many people that are interested.
If you are interested in making money online by giving your opinion, I personally really like the option of paid surveys, as you probably know, if you have read any of my other articles.
Like testing products, it is also very easy and takes no training at all and no investment. It will not make you rich but can give some nice money on the side if you select the right sites to join. You can check out the best survey sites in your country if you are interested in this option.
If you have any experience with testing products yourself, or are a member of any of the sites mentioned and would like to share your experience, I would love to hear from you in a comment below.