Are you looking to earn extra cash? If so, there's a site called GoTranscript that claims you can earn money by transcribing audio files.
The question is, is GoTranscript legit or is it a scam?
Well, you're about to find out. I've taken a closer look at this site to see if it is indeed a legit site and if it is really worth joining. In this GoTranscript review, I will explain how the site works and what it offers.
That way, you will know exactly what to expect, so you can make an informed decision on whether this opportunity is the right fit for you or not.
What is GoTranscript and what does it offer?
GoTranscript is a website that offers transcription services to its clients. To earn from it, you need to become one of their transcribers.
To figure out if it is the right opportunity for you, the first step is to understand how the site works. And to do that, we must examine the earning opportunity it offers, so you can gauge the amount of time and effort required to earn from this site.
So, here's how to earn from GoTranscript.
The earning opportunity – Transcription projects
The only way to earn from GoTranscript is to take on transcription projects. Once you are accepted as a GoTranscript transcriber, you can log in to the member dashboard and look for a project you can work on.
The video below explains the workflow process of the site.
Now, take note that GoTranscript has certain guidelines you need to follow when transcribing audio files. They are very strict with this, so it's a must to study and follow the guidelines. They will be provided to you during sign-up.
Each project will indicate how long the audio file is and how much you will earn for transcribing it. Take note that you will get paid per audio minute and not for the time it takes for you to complete the transcription.
The rate per audio minute will depend on your rating as a transcriber. When you start as a GoTranscript transcriber, you will be assigned a rating depending on how well you did with the transcription test during sign-up.
You can improve your rating as you go along because every time you complete a project, a GoTranscript editor will rate your work. Once you choose a project to work on, all you have to do is submit your work before the deadline. Then, as mentioned above, a GoTranscript editor will review your work.
It won't take more than a couple of days for GoTranscript to finish reviewing your work. GoTranscript will recommend the software you can use to transcribe the files. The software will work with a foot pedal, so it will make the transcription process a lot easier.
There are a decent number of transcription projects you can work on at any given time, but you have to remember that projects are on a first-come-first-serve basis. So, you have to figure out when would be the best time to check for available projects to ensure you find one to work on.
Recommended: Check Out the Top Freelance Sites You Can Join
How do you get paid?
Every time you complete a project, you will get paid a certain amount. As explained above, you will be paid per audio minute and not for the time it will take you to complete a project.
Then, GoTranscript will send your earnings for the whole week to your PayPal or Payoneer account (depending on the option you choose) every Friday. You don't need to earn a certain amount to receive your earnings.
GoTranscript will automatically transfer your earnings using the payment method of your choice. Overall, the payment system of GoTranscript is quite straightforward. I like the fact that it offers convenient payment methods like PayPal or Payoneer.
If you are interested in more sites that offer a convenient payment method, I recommend you check out the top sites that pay via PayPal as well.
How much money can you make?
GoTranscript claims you can get paid up to $0.60 per audio minute you transcribe. This, in my opinion, is not a bad rate. But you have to keep in mind that the amount you can earn from this site will depend on how often you can complete projects.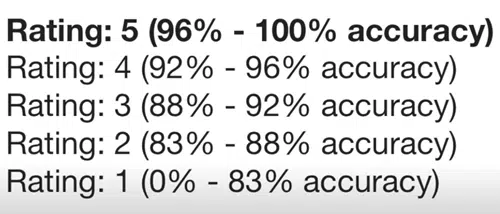 This is where your rating as a transcriber comes into play. GoTranscript has five ratings (1, 2, 3, 4, and 5). As shown in the photo above, the lowest rating you can get is 1 (when your accuracy is 83% and below). That's a very steep percentage, in my opinion.
This is why accuracy is the most crucial factor when working for GoTranscript. You see, if your rating is low, you will be offered fewer projects. That's why if you want to maximize your earnings from this site, you need to make sure you get a rating of at least 4 (with 5 being the ideal rating).
Having a rating of 4 or 5 means you have access to most (if not all) of the projects GoTranscript offers. This will lead to more opportunities to earn. And if you have a rating of 5 consistently, there's a chance you will be invited to become one of their editors.
As explained in the video above, working as an editor means you will earn more than transcribers. So, your goal is maximizing your earnings, you have to set your sights on becoming an editor for GoTranscript. Just keep in mind that there's no guarantee you will ever be invited to work as an editor.
Overall, I would say the earning potential of GoTranscript is relatively decent as long as you don't fall into the lowest rating. If you have a rating of 1, you will have to work your way up and improve your rating to also increase your earnings. And this process will take a lot of time and patience.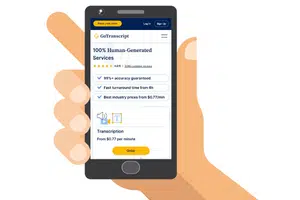 Can you use it on mobile?
GoTranscript has a mobile app, but it is only for their clients and not for their transcribers. So, as a transcriber, you will have to use a laptop or desktop to perform the work needed conveniently.
Sure, you can still use your mobile device to transcribe files, but that will be very inefficient and inconvenient, in my opinion. The only time you should access the site from a mobile device is when you want to claim a project.
For the work that needs to be done, as mentioned above, you should use your computer so you can efficiently and accurately transcribe audio files.
Who can join GoTranscript?
GoTranscript is available worldwide. However, I do have to say that the application process involves several steps.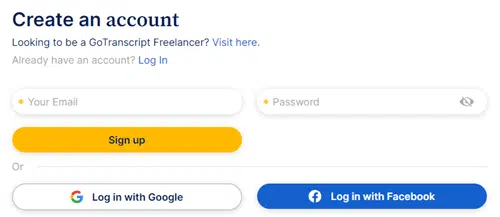 The first step is to sign up. As you can see in the photo above, you can use your own login details during sign-up, or you can use your Facebook or Google account. I personally chose to use my Google account because it was more convenient.
Then, you will have to go to the transcription jobs page and click the "Apply Now" button. This will take you to their quiz, which contains 10 questions. You will need to answer all the questions correctly before you can proceed to the next step.
During this phase, you will have to read and understand their guidelines. The good thing is that you can take this test as many times as needed, so there is no need to worry. Just make sure you read the guidelines.
Once you pass the quiz, you will have to take the transcription test. During this step, you will be asked to transcribe a 3-minute file. This is the part where your rating will be determined, so don't take this step lightly. Make sure to follow the guidelines and review your work once you are done.
When you are sure everything is correct, you just have to submit your work and wait for confirmation from GoTranscript. The waiting period can take 30 to 60 days, which is quite a long time, in my opinion.
So, if you are looking to earn right away, GoTranscript is not an ideal choice. If you get accepted, GoTranscript will send you an SMS with a verification code. You will need to take a photo of yourself together with the verification code written on paper to complete your registration.
Once you've done this step, you will now be able to start earning from the site. If you plan to become one of their transcribers, you have to be very patient because it will take some time before you will hear back from them.
Can you get support?
In my opinion, GoTranscript does have decent support because it has a FAQ page you can check out if you have any questions about the site. It will also provide you with the resources you need to perform your job properly.
And as I've mentioned earlier, you will be given the guidelines on what you need to do to perform the job well. In short, it will show you all you need to know to become a successful transcriber.
Plus, you will be able to communicate with their support team easily since the website provides a contact form as well as a number you can call if you really need to talk to a representative immediately.
Final Verdict
GoTranscript is a legit site where you can earn extra cash by completing transcription projects. It has a couple of good features, but it also has some limitations you need to be aware of.
Let me end this review with a summary of its pros and cons so you can see an overview of what it has to offer. Then, you can decide if you should pursue being a GoTranscript transcriber or not.

Pros:
Offers payment via PayPal
Processes payments automatically
Available worldwide
Offers decent rate

Cons:
Very lengthy application process
In my opinion, GoTranscript is a decent site to earn extra cash from, provided you are really a good transcriber. As explained earlier, accuracy is a must if you want to earn from this site. So, I would only recommend you join this site if you are confident with your transcription skills.
Just be aware that the application process can take some time, so you need to be very patient. But once you get past this step and you get a high rating as a transcriber, you will be able to earn a decent amount for completing transcription projects.
Now, if you are looking to earn immediately, I suggest you check out the top survey and GPT sites in your country instead. The sites on this list all have good earning potential, so you can earn a decent amount regularly.
Plus, all the sites/apps on this list will allow you to earn immediately after sign-up.
Now, if you are looking to earn a full-time income but are unsure how to do it, I suggest you check out the best and fastest way to earn a full-time income online instead. This will show you how you can set up your own online business so you can earn a full-time income.
If you have any comments, questions, or have any experience with GoTranscript yourself, I would love to hear from you in a comment below.