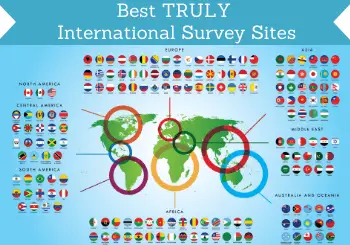 Paid surveys and other micro-tasks online can be a great way to earn some extra money.
But in some countries, there are not many sites available, and I often get asked about sites that are available worldwide.
I have, therefore, put together a list of the 19 best international survey sites.
They are, of course, all 100% free to join, and all of them are legit and do actually pay.
These sites are TRULY international, as you can join them and start earning no matter where you live.
Disclosure: Some articles on this website contain affiliate/sponsored links. Click for more info.
What are international survey sites?
I just want to start by making it clear what I mean about a list of international survey sites as I have seen many lists of this online, but many of them are not really what I would call international.
On the list below, you will find sites that are worldwide survey sites which means you can truly join no matter where you live.
There are many great sites that are available in, for example, only 10+ countries or but as long as they are not available worldwide, I have not put them on the list below.
The reason for this is that I also have lists of the best sites for specific countries – these lists will show you the exact best options for many countries as the opportunities will vary from country to country.
So those lists are a good place to start. But if your country is not on the list, I have instead put together this list where you for sure can find a lot of legit and great sites you can join no matter where you live.
There can be a few countries where some of the sites on the list below do not accept members from as some sites sometimes have to block certain countries to avoid fraud.
But no matter the country you live in, there definitely will be some sites on the list you can join to earn some extra cash online.
How much can you earn?
I also want to make it clear how much you can expect to earn from international survey sites because it is very important to go into it with the right expectations.
Survey sites are a great and 100% free to make some extra money on the side and, at the same time, have your opinion heard. So in that sense, it is quite a unique opportunity.
There are many of the sites below that offer several ways to earn in addition to paid surveys – the sites that offer extra earning methods are called GPT (Get-Paid-To) sites.
Often you can do small micro-tasks, take offers, watch videos, click ads, and more. Using some of these other methods can be a great way to boost your earnings.
In some countries, it will likely be difficult to find a lot of paid surveys, and that is why you should make sure to also use some of the other ways of earning on some of the sites below offer.
However, no matter how many sites you join and how many opportunities you use, you need to know that it will not be a way to make a living.
Sometimes people think they can get an international survey job and make really good money by just answering a few questions – this is, unfortunately, not the reality.
The legit survey and GPT sites are a really great way to make a bit extra and one of the few ways to earn online without any investment at all – but it just needs to be done with the right expectations.
19 Best International Survey & GPT sites
Below I have listed the best sites where you can take international surveys for money as well as do other small online micro-tasks.
If you are new to these types of sites, it is best to join 5-7 sites to get enough opportunities without it becoming too overwhelming.
The list is also regularly updated, so make sure to bookmark this page and come back and check for new opportunities once in a while.