According to the site itself, Qmee offers you to search, shop and share your opinion to earn real cash.
But is Qmee a scam, or is it legit and a real way to earn online?
If you want to know this and find out exactly what the site offers, then this Qmee review will give you what you are looking for.
After reading this review, you will know what to expect, if you can really earn, and how much you can potentially earn by using Qmee, so you can easily see if it will be worth your time or not.
What is QMEE and what does the site offer?
Qmee was founded in 2012 and is co-headquartered in London and New York.
Let me just reveal right away that Qmee is legit as you can actually earn as a member. This does, however, not mean it will necessarily be the best option for you.
It offers several ways to earn some extra cash online. So let's go over how you can earn on the site and how good the opportunities are, so you can see if it will be for you are not.
Option 1 – Qmee surveys:
Qmee is, first of all, a paid survey site, and the main way to earn here is by sharing your opinion by taking online surveys.
The surveys you find there are from third-party providers, so this means that you will find access to them on Qmee, but once you click the available surveys, you will be taken to another site to take them.
This is a way many survey sites offer surveys, and the advantage of it is that it will give you access to quite a lot of survey opportunities.
The disadvantage is that it sometimes can take some patience to find the surveys you qualify for. So if you do not qualify for a survey right away, it is very normal. But there should be a good amount you qualify for.
From what I have seen, the surveys pay decent in relation to the time spent, but not as high rewards as the top paying survey sites.
Option 2 – Paid for searching online:
Qmee has an interesting way to earn that I have not seen in the same way on other survey sites.
You can earn by using a regular search engine like Google.
For this to work, you need to install the Qmee extension for your browser. Once you have done this, you can, for example, earn by just using Google.
When you search, you might see some ads show up after you have done a search.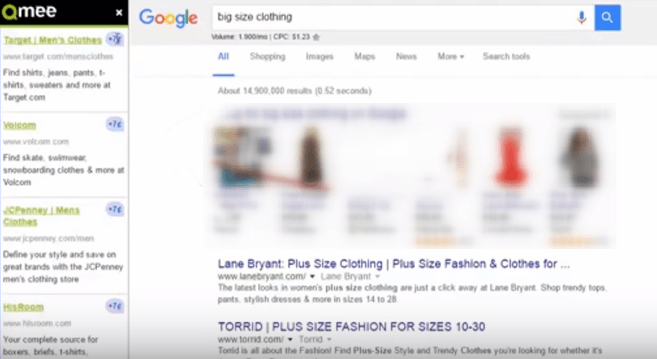 You can see how much you will get to click these ads, and it is a nice easy way to earn a little extra. It will, however, only be a little extra as most ads will give you a few cents.
Many people wonder if there is a Qmee cheat or a list of the best Qmee search words to get the highest paying ads you can click.
I would, however, suggest not to worry about this. There is NO Qmee cheat sheet that you can use for the search engines.
If you search naturally and click ads when there is something you are interested in, you will eventually get the best chances of earning.
The Qmee toolbar/extension will notice if you try to manipulate and have unnatural searches, so it does not pay in the long run.
So just search naturally and accept that it can be a great way to make a little extra, but there is no way to bypass the system and make loads of money with the search function.
Option 3 – Save money when shopping online:
This is another feature that you need to have the browser extension to use.
When you search online and have the Qmee extension on, you will sometimes see coupons and savings for the items you are shopping for.
This is of course not as such a way to earn money, as you have to spend money to get anything out of this feature.
But if you like shopping online, it can be a great way to get some savings on items you are going to buy anyways. If you like this feature, you should also check out Swagbucks, as it has amazing cashback options when shopping online.
Option 4 – Invite friends:
You can earn a little extra by inviting your friends to join Qmee.
The referral program is a bit unusual compared to other survey sites' referral program. Qmee offers you three different links you can share with your friends, and which link you share will determine your potential reward.
Link 1 – You get £1/$1 the first time the friend you invited gets paid out through PayPal.
Link 2 – Your reward gets shared equally, so you and your friend both get 50p/50c.
Link 3 – You give all the reward to your friend.
Be aware that you do not get the reward until your friend cash out the first time, as Qmee wants to make sure it is a real person you have invited – so it only makes sense to invite friends that actually might be interested.
This is obviously not a way to make big money. You need to know A LOT of people to earn real money here, but a little extra is of course also nice.
Option 5 – Free contests:
Qmee regularly runs free contests on their social media channels. From what I have seen, it will be approximately once per week.
The competitions are usually easy to participate in and just requires you to for example leave a comment below a Facebook post.
Usually the prize for these contests will be around $10. A nice little extra reward, but you, of course, have to be quite lucky to get it. But it also does not take long to participate in, if you are using social media regularly anyways.
How do you get paid?
In the beginning, I mentioned that Qmee claims you will get paid in real cash – not product or points.
This is why the main way to get paid on Qmee is through PayPal. The statement on the top of their website almost makes it sound like they are one of the few sites that offer cash payment.
There are however a lot of great survey sites that pay through PayPal, so Qmee is not offering anything special compared to other legit survey sites.
But one thing that is quite unique about Qmee is that there is no minimum payout limit.
You can, in theory, get paid already when you have earned $0.10 – it would not make much sense in my opinion, unless it is your first payout and you just want to confirm that you will actually get your money before spending any more time.
It is however great to be able to get your money when you want, and I personally prefer PayPal, so glad to see Qmee offer this as a reward.
You can also choose to donate your earnings to charity, and at times you can also choose to get your rewards paid out in gift cards.
How much money can you make?
As you can see, Qmee offers several ways to earn, and you have some good payout options.
But how much money can you then make?
The main way to earn is by taking the surveys, and with a little patience to find the surveys you qualify for, you can definitely make some extra cash.
But do not expect it to make you rich or a full-time income – then you will be disappointed. It can be a way to earn a little extra cash, but you should not expect more than this.
If you combine joining Qmee with joining some of the best survey sites in your country, you can however increase your chances of earning, and earn a lot extra.
Again, you should in general not take surveys to make a full-time income, but it is an easy and great way to make some extra cash by sharing your opinion, if you do it with the right expectations.
Can you use it on mobile?
Being able to use a survey site on mobile is a great way to earn on the go.
Qmee makes this very easy, as it has its own app.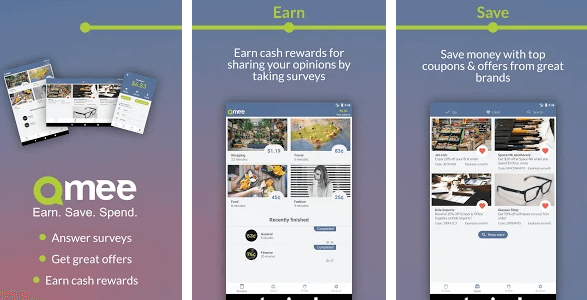 You can download it both on Google Play and in the App Store.
The disadvantage of using an app is of course that you need to have the available space on your phone, and if you are a member of many survey sites with an app, this might be an issue.
But overall it is a great opportunity in my opinion, and it makes it very user-friendly to use on mobile.
Who can join Qmee?
You can unfortunately not join Qmee from all countries. At the moment it is only available in the US, UK, Canada, and Australia.
You can however sign up for email notifications on the website, if you want to be told, if they at some point become available in other countries.
But do not expect it to happen soon – I have seen this statement on their website for several years and they have still not opened up for more countries so it does not really seem like they are working on this.
If you do not live in one of these countries, or if you want to make sure to only join the absolute best sites in the countries mentioned above, you can check out the list of the best survey and get-paid-to sites in your country here.
Can you get support?
If you can get quick support or not, says a lot about a paid survey site.
Qmee seems to have a very responsive support. One way to see this is how they respond when people complain and give negative reviews.
Below you can see an example of a user that posted a review on Trustpilot.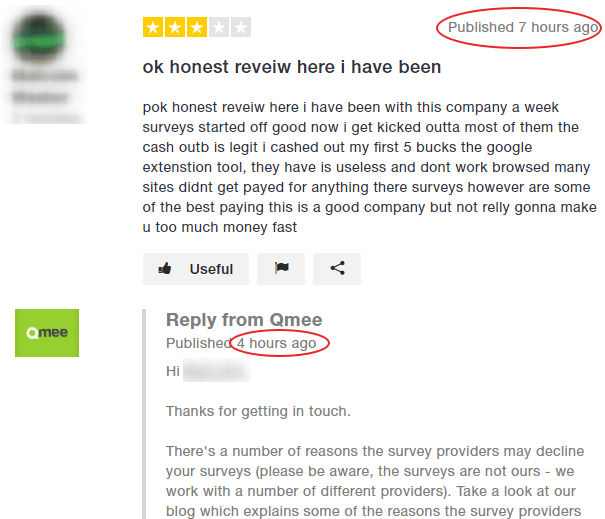 He was unhappy about a few things. At the time I took the screenshot above, it had been 7 hours since he posted the review. Qmee gave an answer and explanation around 3 hours after he posted the review.
This is a very quick response, and they actually left a long explanation – I did not include all of it above, as it will take up the whole page:-)
However, my one experience with Qmee's support has been a bit mixed. I have once needed to get in contact with them, and I got a response quite quickly. However, I have also tried to contact them without ever hearing back from them.
But if you end up joining and at some point need support, it seems like you can expect an answer in most cases but sometimes you might need to write them several times.
Final verdict – legit or scam?
Qmee is definitely a legit survey site, where you can actually earn some extra cash.
This does however not mean it will be the best option for you. So let's finish this review by summing up the pros and cons so you can get a better overview before deciding if it will be worth joining or not.

Pros:
Free to join
No minimum payout
Pays out in cash

Cons:
Only available in some countries
Can take patience to find the surveys you qualify for
Some rewards are a bit low
Overall, Qmee is a decent survey site to join, and it will give you the chance to earn some extra cash. It is especially unique in the way that it does not have a minimum payout threshold.
Like on most other sites, you will however not qualify for all the surveys you are offered, and sometimes it can take some patience to find the surveys you qualify for on Qmee.
But it can definitely be worth considering if you live in one of the countries where it is available.
No matter what, it can, however, be a good idea to also join some of the best paying survey sites, as it will give you more chances of earning if you join more sites.
If you have any comments, questions, or have any experiences with Qmee yourself, I would love to hear from you in a comment below.