Answering online surveys has become a good way to earn extra cash over the years. That is, of course, if you join a legit survey site and provided the site offers good earning potential.
One supposed survey site is called Global Survey Group. This survey site promises to reward you for participating in online surveys.
So, the big question is, is this site legit? Let me answer this right away so we can discuss other important aspects of the site.
Yes, it is a legit survey site that does reward you for answering surveys. BUT it is not like most other survey sites and it has some big disadvantages so to truly gauge the worth of joining it you need to know exactly what to expect.
This Global Survey Group review will examine everything the site has to offer so you can figure out if it is a site worth joining or not.
What is Global Survey Group and what does it offer?
As explained above, the Global Survey Group is a survey site that will allow you to earn rewards by answering surveys.
As mentioned, there are, however, some unusual things about Global Survey Group and in order to fully understand how well you can earn from this survey site, we have to take a closer look at the earning opportunities it offers.
So, here's how you can earn from Global Survey Group.
I have made a short video that gives you an inside look and shows exactly how it works. You can also read all the details below the video:
The earning opportunity – Paid Surveys
There's only one way you can earn from this site and that is by answering paid surveys. When you join Global Survey Group, you will be given access to their member dashboard.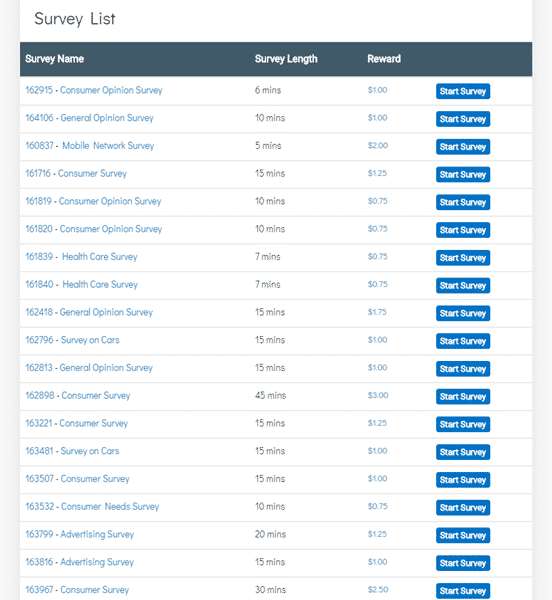 When you log in to their site, you can view all the available surveys offered by other sites that have partnered with Global Survey Group. Every offer will indicate how much you will earn when you complete it.
When you click an offer, a new window will pop up. This new window is where you will start to complete the paid survey offer. The first thing you have to do is answer a set of qualifying questions so they can determine if you belong to the demographic the survey is intended for.
If you qualify, you get to answer the actual survey. If you don't, you simply move on to the next offer. Once you've completed the survey, you will receive the reward indicated for the offer (you can see the reward on the list).
One thing you need to take note of is, if you are currently in a different country that you indicated during the registration process, you won't be given access to these survey offers. I will talk about the registration process later.
Also, the surveys offered inside Global Survey Group is a standard solution meaning the exact same surveys are offered on many other sites.
This does not mean you cannot earn from them but just that you cannot really find any exclusive surveys here as you can on many other survey sites.
There is also a section inside Global Survey Group called "More Surveys" – you probably think this will give you some great extra opportunities.
When you first go there, you have to answer several profile questions to see if you qualify for more surveys – however, this is one of the most annoying processes I have tried on survey sites.
Every time you answer a question an ad pops up and you have to scroll to get to the next question. This is very tedious and seems mostly like a way to try to get you to click ads so they can earn from this.
And when you finally get to the end of the qualifying questions, all you get is just a screen with a few promotional offers or ads (at least that was what happened to me).
So that section is a waste of time, in my experience.
How do you get paid?
Every survey you complete will earn you a certain amount which will be deposited into your Global Survey Group account. This will serve as your reward balance.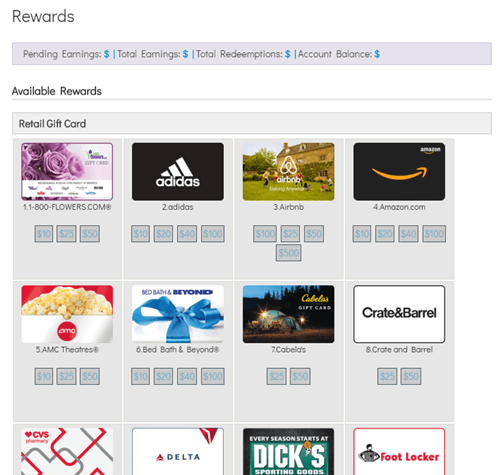 You can then redeem the corresponding gift card you like from their rewards catalog. The minimum amount you need to earn to redeem a gift card is $10.
They do have a decent number of gift cards to choose from, which is quite good, in my opinion.
They mention on their website that you will have different options to choose from (like PayPal, check, etc.) with regards to compensation for completing surveys. This is actually quite misleading. The reward options on their site are only for gift cards and charity donations.
There's no option to redeem cash via PayPal or even check. What this statement is alluding to, in my opinion, are the payment options that the survey sites they recommend you join during the sign-up process are offering.
So, they aren't really offering those types of payment options. All you can earn from this site are gift cards.
If you are more interested in sites that will allow you to earn cash, I recommend you check out the top sites that pay via PayPal instead.
How much money can you make?
Global Survey Group, as you can see, has limited earning opportunities offered. You will only be able to earn by answering surveys.
You can't even earn from inviting other people to join because they don't have a referral program, which is usually common in online rewards sites.
And as you already know, in order to receive the reward for the survey offer, you actually have to qualify. And in my experience, you won't always qualify for the survey offers. You'd be lucky to qualify for 50% of the survey offers provided during that day.
Also, there are a lot of ads that are disturbing on the website which means you have to spend more time than you have to on many other survey sites.
So, overall, you can't really expect to earn a lot from this site and I would say that it has a low earning potential.
Can you use it on mobile?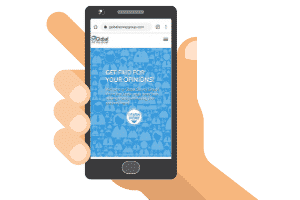 Global Survey Group doesn't have a mobile app you can download. So, the only way you can access it on a mobile device is by using a web browser. Fortunately, their site is optimized for mobile use.
That means you will be able to read all the content without having to zoom in. However, it's not really very convenient to use a mobile device when answering surveys on this site.
As explained, when you answer a survey offer, it will open a new window. It's will be fine for the first couple of surveys you attempt to answer. But it can get quite troublesome the more offers you try to complete.
Again, here the many ads they have on the site also becomes a problem. On desktop, they make the user-experience quite bad, in my opinion, but on mobile, it is even worse.
So, I don't really recommend you use your mobile device for answering surveys. In my opinion, this site is best used on a desktop or a laptop.
Who can join Global Survey Group?
Here's the kicker to this survey site. If you base it on their name, you would think that this site is available globally.
But surprisingly, this site is only available in the US. So, if you live outside the US, this site will be of no value to you.
And compared to the best survey sites in the US, it really has a lot of work to do to catch up, in my opinion.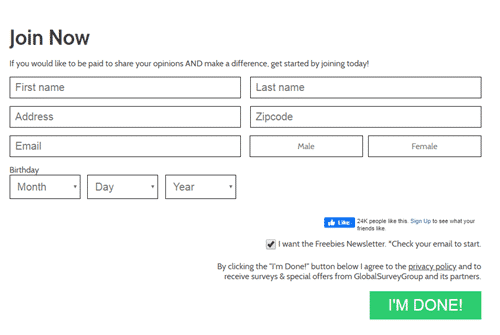 You have to be at least 18 years of age in order to join. To register as a member, you have to fill out the registration form. As you can see in the photo above, there's no field for you to enter your password.
That's because they will provide you with a password you can use to log in to the dashboard. Once you complete the form, you will then receive an email with your login details. Make sure to keep this email because you don't have a way to edit your login details once you are on their site.
This, in my opinion, is a bit weird. Normally, you will be able to edit your account settings once you log in to the site. But in Global Survey Group's case, you don't have that option. So, this just makes it less user-friendly than you would hope it would be.

Also, after you complete the registration form, you will be presented with several promotional offers. Most of the offers will ask you to join a certain survey site. You don't usually encounter this during the registration process of survey sites.
It's like they're promoting these market research companies to get a cut for every referral they make.
That, in my opinion, seems to almost be the real purpose of their website – especially when you also look at the number of ads they have everywhere on the site.
It's not really something bad, but it also isn't very beneficial on your end.
It just prolongs the registration process and it is quite frankly, a bit of a turnoff, in my opinion.
Can you get support?
The one thing they didn't get wrong, in my opinion, is that they provide a decent way for you to get support.
However, don't expect to learn a lot about their site from their FAQ page since some of the answers are quite vague, in my opinion.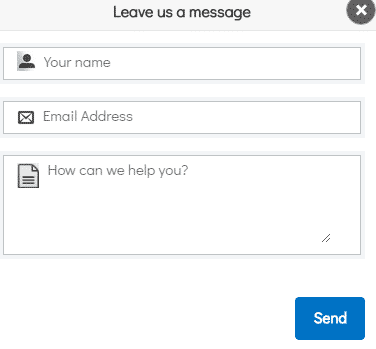 You will have to truly test the website in order to fully comprehend what the site is all about. But you will be able to send in your inquiries through their support page. When you click the Support link when you are in their member dashboard, you will see the contact form (refer to the photo above).
You can use this form to send in your questions. Then, just check your email from time to time for their reply. All in all, I would say the way they provide support is pretty decent, but their FAQ page could use more work.
Final Verdict
Global Survey Group is a survey site that rewards you for participating in survey offers mostly from other sites. It has a couple of good qualities but it also has several disadvantages.
Let me finish this review by summing up its pros and cons to help you decide if it is a site worth joining or not.

Pros:
Relatively low payout threshold
Offers a decent number of gift cards to choose from

Cons:
Limited earning opportunities offered
No cash rewards offered
Their site is not very user-friendly
The registration process will have a lot of promotional offers which can be quite annoying
There are a lot of distracting ads inside the members' area
Overall, I wouldn't really recommend you join Global Survey Group. It's not a site worthy of your time, in my opinion. The only thing going for it is it has a relatively low payout threshold.
But aside from that, there are simply better survey sites out there you can spend your time on. These sites will pay better. In fact, you will encounter some of these sites if you register to Global Survey Group, which I find a bit ironic.
To put it simply, you are better off joining other survey sites that have better earning potential. For a list of those sites, I recommend you check out the top survey sites in your country.
The sites on this list all offer way better earning potential and you will be able to earn on a regular basis. Plus, you will definitely find a site you can join regardless of where you live.
If you have any comments, questions, or have any experiences with Global Survey Group yourself, I would love to hear from you in a comment below.