If you want to make some extra cash by taking surveys online, it is likely you've heard the name Rakuten.
But is Rakuten Insight legit and really a way to make money or is it a scam?
This is clearly very important to know before joining any survey site. So let me just reveal right away that Rakuten Insight is legit and you can actually earn here.
However, this does not necessarily mean it will be worth your time and that is just as important to know. Well, to answer that question, there are a few things you have to consider.
This Rakuten Insight review will reveal the full details of what the site exactly has to offer so you can determine if it is for you or not. So, let's get started.
What is Rakuten Insight and what does it offer?
As explained above, Rakuten Insight is a survey site that will pay you for answering surveys. It is owned by Rakuten, which is a Japanese electronic commerce and online retailing company based in Tokyo.
Rakuten offers many different services in addition to their survey site, including the Rakuten cashback platform.
Rakuten Insight used to be called AIP Online Surveys but has since been rebranded when Rakuten bought the company.
As you can see, it has a reputable company behind it and has proven itself for many years and Rakuten Insight is definitely legit.
However, to fully understand how it works and how well you can earn from it, we have to take a closer look at the earning opportunities it offers.
Therefore, I have made a short video that gives you an inside look and shows exactly how you can earn from Rakuten Insight. You can also read all the details below the video:
Option 1 – Paid surveys
The main earning opportunity this site offers is their paid surveys. Once you become a member of their panel, you will receive invites to answer surveys from time to time.
Their paid surveys work like paid surveys on other survey sites. This means when you answer a survey, you will have to go through a set of qualifying questions first. If you qualify for the survey, you get to proceed to answering the actual survey.
If you fail to qualify, the process stops there and you just have to move on to the next survey available. If you are able to complete the survey, you will earn the reward promised.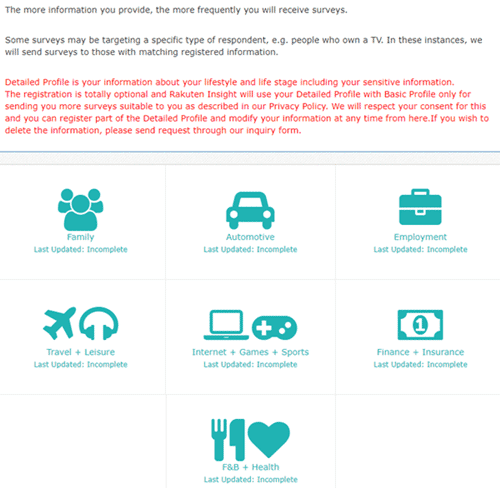 However, before you can expect to receive survey invites, you have to complete your profile first. That's why I suggest you complete your profile when you first log in to their site (refer to the photo above).
Your profile is divided into seven sections, so you'll have to set aside maybe an hour at most, to complete your profile. But once you're done with your profile, then you can expect to receive survey invites in the future.
Take note that you won't get paid to complete your profile. But as you can see, it is a very important part that you don't want to skip. So, make sure to set aside a bit of time to do this.
Option 2 – Referral program
Rakuten Insight also has a referral program where you can earn additional rewards for inviting other people to join the site.
However, whether this opportunity is available or not will depend on the country you live in (I will discuss later which countries Rakuten Insight is available in).
But the idea is pretty simple. You invite people to join the site using your invite link. When they click on that link and sign up as a member, they will then become your referral.
The exact reward you get for this also varies from country to country, so you have to check for your specific country if you are interested in using this opportunity.
Recommended: Check Out the Top Survey Sites in Your Country
How do you get paid?
Every survey you complete will earn you a certain number of Epoints. This is the currency Rakuten Insight is using. Basically, you convert the Epoints you've earned to cash so you can withdraw your earnings.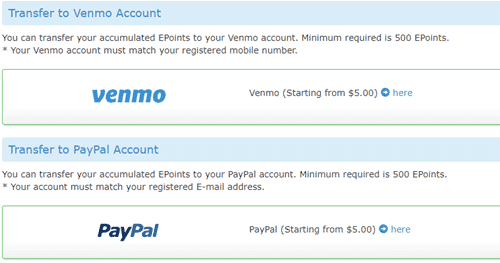 You have the option to withdraw your earnings via PayPal or Venmo. But in some countries, you can also redeem gift cards. If you want to withdraw your earnings via PayPal or Venmo, you will need to earn at least $5, which is a relatively low payout threshold, in my opinion.
Their conversion rate is 100 Epoints = $1. Overall, their payment system is pretty straightforward. I like the fact that it has a low payout threshold because you don't have to wait a long time to withdraw your earnings.
If you are interested in more sites that have a low payout threshold, I suggest you check out the fastest paying sites.
How much money can you make?
In my opinion, the earning potential of Rakuten Insight isn't really that great. It's also not bad either. The problem with Rakuten Insight is, if there are no surveys available, then you really can't earn any Epoints unless you invite people to join the site.
And you already know that their referral program isn't available in all countries. So, the earning opportunities of this site is pretty limited. They pay a decent amount for their surveys though. So, it's really not that bad.
But overall, the earning potential of Rakuten Insight is right in the middle. It's not that bad, but it's not that good either. So, don't expect to earn a lot from this site.
Can you use it on mobile?
Rakuten Insight does have a mobile app you can download, but it is only available in certain countries and it is only for Android devices.
The best way to figure out if it is available in your country is to search it on Google Play. If you are able to install it, then it is available in your country.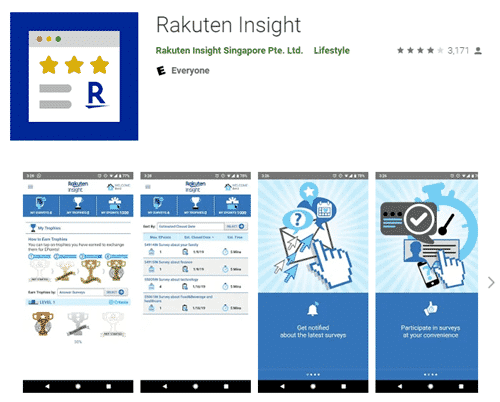 If the app isn't available in your country, or you are using an iOS device, you can still access their site from a mobile device using a mobile web browser. Their site is mobile-friendly, so you won't have a hard time using it on a mobile device.
You can easily navigate through the site and read all the content without zooming in. This will help you become a more efficient earner because you can get to the surveys as soon as possible since you can answer it even when you are not in front of a computer.
This can increase your chances of qualifying for a survey since most surveys have a maximum number of respondents allowed. So, if you are able to answer the survey as soon as you receive the invite notification, then there's a higher chance of qualifying since you are among the first members to answer it.
Who can join Rakuten Insight?
Rakuten Insight is available in 15 countries where it has a specific panel in the local language. The countries are:
China
Hong Kong
India
Indonesia
Japan
Malaysia
Philippines
Singapore
Korea
Taiwan
Thailand
Vietnam
USA
France
United Kingdom
You have to be at least 16 years old or older to join any of the panels. To become a member, simply fill out their registration form. They will then send a confirmation link to your email address. Just click the link to complete the registration.
Once you've completed the registration, you will have to complete your basic profile. Once you are done with your profile, you can start receiving surveys.
Can you get support?
If you have any questions about the site or your account, you can first refer to their FAQ page. It covers most of the basic topics you need to know about the site.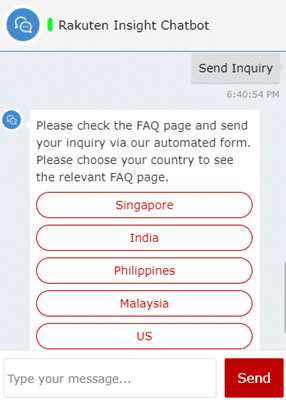 If you can't find the answers you are looking for, you can use their Rakuten Insight Chatbot (refer to photo above). Their chatbot works like an automated messaging system where you can ask questions.
If their chatbot can't answer your question, then you can send your inquiry to their support team. There's an option on their chatbot to do that.
Overall, I would say Rakuten Insight has a decent support system in place for its members because they ensure you will be able to get in touch with their support team if you need help.
Final Verdict
Rakuten Insight is a legit survey site that will pay you for answering surveys. It has a couple of good features to offer but it also has some limitations you need to consider.
So, let's conclude this review with a summary of its pros and cons to give you a better overview of what the site has to offer so you can decide if you should join this panel or not.

Pros:
Low payout threshold
Offers payment via PayPal
Their site is mobile-friendly

Cons:
Limited earning opportunities offered
Completing your profile takes a bit of time and you won't get paid for it
In my opinion, Rakuten Insight can be a decent secondary site to earn from. This is mainly because it offers a fairly simple way of earning rewards. Plus, it has a low payout threshold and it offers a convenient payment method.
However, don't expect to earn a lot from this site because it offers fairly limited earning opportunities. If there aren't any surveys available, then you won't earn anything from it.
The good thing about this site is, you don't actually have to spend a lot of time on it. You can just log in if there are available surveys you can answer.
But if you are looking for a site where you can earn on a consistent basis, I would suggest you check out the top survey and GPT sites in your country instead. The sites on this list all offer good earning potential and also offer convenient payment options.
Plus, you will definitely find a site you can join regardless of where you live.
If you have any comments, questions, or have any experiences with Rakuten Insight yourself, I would love to hear from you in a comment below.