Even in the comfort of your home, there are ways to earn money.
CreationsRewards is supposedly one of these money-earning opportunities, where you can earn money while sitting on your couch, clicking on your computer mouse, or your phone.
But is CreationsRewards legit and really a way to earn, or is it a scam?
Let me just reveal right away that it offers lots of options to earn. Yet, from the time it was established up to this date, there have been numerous complaints against the platform.
In this CreationsRewards review, I will give you an inside look and all the details, so you know exactly what to expect and can easily find out if it will be worth it for you or not.
What is CreationsRewards, and what does the site offer?
CreationsRewards is a money-earning platform that offers rewards to its members in return for the completion of various tasks which are listed on their site.
It is deemed to be a reputable Get-Paid-To (GPT) website that started in the USA.
The company has been in existence since 2000 and has grown a considerable membership base in North America.
However, what is most important for you to find out if it will be worth your time or not is how good the earning opportunities are.
So let's go over each of the options it has below and look at how good they really are.
I have created a video tutorial so you can get an inside look and see exactly how it works for yourself. You can also read all the details below the video:
Recommended: See the Best Paying GPT Sites
Option 1 – CreationsRewards Surveys
CreationRewards provides quite a lot of paid surveys where you can get paid to share your opinion.
The process of taking these surveys involves providing market research feedback by answering questions about various products and services.

You will get access to several survey routers as a member of CreationsRewards which means you will be able to take surveys from several providers but get paid into your CreationsRewards account.
However, even though you can get access to many surveys, you have to be aware that you will definitely not qualify for all of them. But that is normal on GPT sites.
But when I look at the rewards you get for taking surveys on CreationsRewards, they are just not nearly as high as on many other sites.
In the image above, you can, for example, see that you will get 100 points for taking surveys from YourSurveys. This is the equivalent of $0.50.
The exact same surveys can, for example, be taken on a site like PrizeRebel for around $0.80. And that is a general tendency for the CreationsRewards surveys – they just give too low rewards compared to other sites.
So if you like taking surveys, I would clearly recommend you to check out the best survey sites in your country instead as there are several sites where you can take the exact same surveys but for higher rewards.
Option 2 – Watch & explore option
The watch & explore option on CreationsRewards is a section where you can get paid to watch videos or visit websites.
This might sound like easy money at first, but the rewards here are also not very high. However, you can find a very big amount of options here.

Above you can see a couple of examples of options you have in this section.
One of them shows you will get 2 points to watch videos – just make sure to read the conditions because in this case, you have to watch 20 minutes of video to earn 2 points (equivalent to around $0.01).
This means you would have to watch around 33 hours of video to earn $1. Now it is starting to make sense why I, in the headline of this review, mention it will take patience, right?
The other example you can see in the image above is where you can earn to visit a website. You can visit a coupon website and you then have to clip and print a minimum of 25 coupons to get 17 points (equivalent to around 8 cents).
It is, of course, great that you almost can find unlimited options in this section, but as you can see, the rewards are not great.
I just want to make it clear that the examples above are just examples – new tasks come and go all the time, so you will likely not find the exact same options if you decide to join but then there will be plenty of other options.
But some of the other methods on CreationsRewards are better and I would clearly recommend focussing on the other options if you decide to join.
Option 3 – Offer Walls
In the CreationsRewards offer walls section, you can find many different online offers. You can, first of all, get access to many of the most well-known offer walls that it has partnered with.
Here you can, for example, get rewards for signing up for free trials, participating in contests, downloading apps, and more. Some of the offers are good, and some are not so good.
So make sure to read the exact conditions for each offer.
Also, in this section, you can find some special offers CreationsRewards has in cooperation with its partners. Again, just make sure to read the exact conditions before taking any offer – if you do, you can find some good offers here.
Just be aware that most of the offer walls are also available through other GPT sites. So if you prefer other sites, then you can very likely just take the offers through them.
Option 4 – Cashback Shopping
Another way to earn using CreationsRewards is by getting cash rebates by shopping online.
Popular stores available on this platform include Home Depot, Old Navy, Starbucks, Best Buy, Walmart, PETCO, and more.

You can visit their official website to check the full list of stores. It actually has quite a lot. So if you like shopping online, this can be a way to save some money.
Again, compared to many other sites, I am, however, not impressed with the options on CreationsRewards.
So if you ever shop online, I would suggest you check out the best cashback sites here to get the best opportunities and the most earnings.
Option 5 – Invite friends to join
If you refer your friends and family to join and they sign up, you will receive a 10% commission on any points they make. It will not be taken from them but will be paid by CreationsRewards.
However, before starting to invite people just make sure you really think it is a platform worth inviting people to. If you do not like earning there yourself, it is likely your friends also will not like it.
Then you would not earn commissions anyway, and your friends might get annoyed you invited them to a platform they do not like.
But if you truly like the platform, then inviting friends to join can be a way to earn a bit extra.
Option 6 – Sign-up Bonus
If you decide to join and sign up with Creations Rewards, you will receive a five-dollar sign-up bonus. You can see this advertised everywhere on their website.

Just be aware that you will not get this money into your account right away as you, for example, do on InboxDollars which also offers a $5 joining bonus.
You only get this bonus if you earn 5,000 points ($25) on CreationsRewards within your first 60 days as a member.
Option 7 – Win free points
CreationsRewards has three ways where you can win or get what it calls free points.
Daily trivia game
Daily goal bonus
Promo codes
The daily trivia game is a very short question. If you answer it correctly, you will earn 1 point. There is only one question per day, so it is very limited what you can earn this way, but it also does not take long to participate.
The daily goal bonus is a bonus you get if you earn a certain amount of points that day.
You can get a quick bonus once you have earned 75 points (will earn you 8 points) or a full bonus, which you can get when you have earned 218 points (you will then earn 21 points).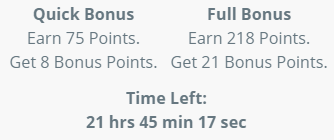 So again not a way to make big or fast money but a nice bonus if you are active anyway. Just be aware that points for shopping do NOT count towards the daily goal, which is a bit cheap if you ask me.
The final option is the promo codes. In theory, you can find these on the social media platforms of CreationsRewards.
However, at the time of writing the review, there has not been any activity on their social media pages for more than 1 year. So you should not expect much from the promo code option, in my opinion.
Recommended: See the Best Paying GPT Sites
How do you get paid?
Now you know how you can earn by using CreationsRewards. As you can probably see, I am not impressed by the options it has compared to other similar sites.
But when it comes to the payout options, your patience is needed even more.
The payout options themselves are actually great. You can get paid in cash through PayPal or get gift cards from popular brands such as Starbucks, Staples, Amazon, Disneystore, Michaels, Walmart and Dunkin Donuts, and a lot more.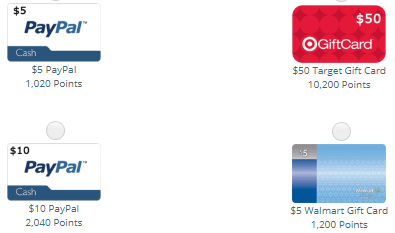 You earn CR points (CreationsRewards points) for participating.
The payout starts at 1,000 CR points. In most cases, this is the equivalent to $5.
However, that depends on your chosen reward. If you want $5 in PayPal cash, you have to pay 1,020 points, 1,000 for a $5 Amazon gift card, and 1,200 points for a $5 Target gift card.
This is quite confusing and makes it difficult to figure out exactly what your points are worth. But I could potentially live with this as it is a matter of getting used to it.
The big problem is, however, their processing of the rewards.
First of all, it takes them 7-14 days to process your request, which is quite slow.
In addition to this, it used to take 8 to 12 weeks before you will actually get your rewards. However, since I first reviewed and tested CreationsRewards.com they have made some changes, and now it will "only" take the 7-14 days before you will get your earnings.
It is still quite slow compared to the fastest sites that are able to do it within hours or a few days.
So overall, the payout conditions for CreationsRewards is something that is a bit of a minus, in my opinion.
How much money can you make?
CreationsRewards offers quite a lot of ways to earn.
But honestly, you should not expect to make a lot of money when looking at the overall options on the site.
It can make a bit of side cash, but the rewards are not as big as on many other sites. In addition to this, it will take a lot of patience to get your money out.
So yes, it looks like you can earn some extra cash on the side, but you should not expect too much.
Can you use it on mobile?
Being able to use a GPT site on mobile is a great way to be able to earn when it fits into your daily schedule.
This is an aspect where CreationsRewards has an advantage, and since I first tested it, they have launched an app.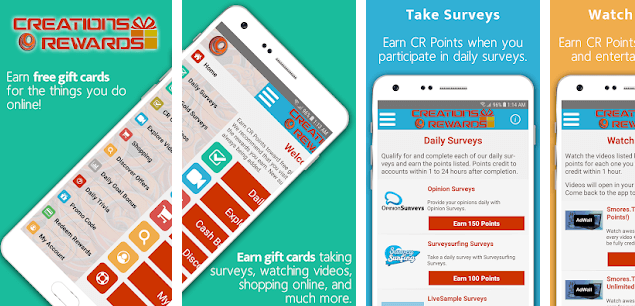 You can download the CreationsRewards app through Google Play or the App Store so you can use it both for iOS and Android.
So if you want to earn on the go, CreatinonsRewards got this covered, and you can easily do this through their app.
You can also just use it through the browser on your mobile and it works fine here.
Who can join Creations Rewards?
You must be a resident of the USA, the UK, Australia, or Canada to join CreationsRewards, and you must be 18 years or above to participate. Though above 13 years can also join with parental consent.
If you live in one of these countries, you, however, have some of the best GPT and survey sites available, so there will be many you can join that will give you better options.
You can check out the best sites for your specific country by clicking the link below:
So, in short, even though you live in one of the countries where CreationsRewards is available, it can really not compete with the best sites you can find there, in my opinion.
Can you get support?
Being able to get support is important. I have not tried to contact CreationsRewards myself, but there is a support option on their website.
At the time of writing this review, they say on the website that they are working on improving the support system, so in the future, you can expect to get an answer within 24 hours.
It is definitely great they are focusing on this, as fast support is an important aspect, in my opinion.
Final verdict
Overall, CreationsRewards is a way to earn some extra cash, and it offers legit payout methods.
There are, however, also some big minuses about this platform you need to consider before joining.
So let's finish this review by summing up the pros and cons so you can get a better overview before deciding if it is for you or not.

Pros:
Free to join
Offers many ways to earn
Good payout methods

Cons:
Low rewards compared to other sites
Fairly slow payment processing
Confusing point system
Even though CreationsRewards offers a lot of ways to earn and good payout methods, I can honestly not recommend it as a primary site.
The rewards are just too low compared to other similar sites, and the payout processing is quite slow. As an extra site, it can be one to consider as it does give a lot of options.
But when you look at the platform compared to other sites, I clearly recommend you to check out the best sites in your country instead – CreationsRewards cannot quite live up to these sites, in my opinion.
If you have any comments, questions, or have any experiences with CreationsRewards yourself, I would love to hear from you in a comment below.