Acumen Panel is a site that claims you will get paid for sharing your opinion. So, if you are looking to earn extra cash, you might be contemplating about joining this site.
But before you hit the sign up button, it is best to read up on this site first so you'll know what to expect. You also have to make sure if this site is a scam or if it is really legit. After all, you wouldn't want to waste your time joining a site that in the end, won't really pay you.
That's why I've decided to make this Acumen Panel review to answer all the questions you have about the site. This review will give you an honest look at everything the site has to offer so you will know exactly what to expect and can decide if it is really worth joining or not.
So, let's go ahead and start, shall we?
What is Acumen Panel and what does it offer?
Acumen Panel is a survey site that will reward you for answering surveys and participating in other consumer research activities. It is indeed a legit survey since it will really reward you for participating.
But to truly understand how the site works and if it really will be worth your time, we have to take a closer look at the earning opportunities it offers. So, here's how to earn from Acumen Panel.
Option 1 – Paid surveys
The main earning opportunity Acumen Panel offers is paid surveys. Once you become a member of their panel, you will be invited to participate in surveys from time to time.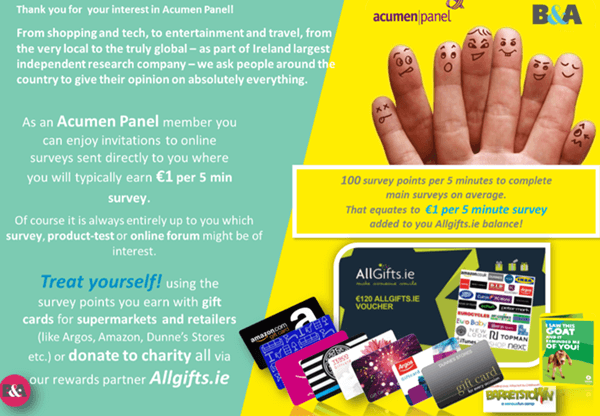 As you can see in the photo above, you will earn €1 for every 5 minute survey you successfully complete, which is actually a pretty nice reward compared to many other survey sites.
Let me explain how the process of answering their surveys work.
Acumen Panel will send you an email inviting you to participate in a survey. You just have to click the link and it will take you to the survey. You will then have to answer a set of qualifying questions first. Survey sites do this to ensure the respondents for their surveys are those that are really included in the target demographic.
It's a way to ensure they receive answers that they can really use. Now, if you qualify, you get to answer the actual survey. If you don't qualify, the process stops there and you simply move on to the next survey (if there are any).
But the good thing about Acumen Panel is, it will still reward you even if you don't qualify. You will receive 10 Sharepoints (the currency they are using) if you don't qualify. It's a very small amount, but at least you get something for spending a bit of time answering their qualifying questions. Most survey sites don't do that.
If you are able to complete the actual survey, you will earn a certain number of points depending on how long it took you to finish the survey (I will explain later how much you can overall earn).
Option 2 – Research activities
Acumen Panel doesn't really explain much about the other research activities it offers. But basically, you will be invited to participate in product testing or focus group activities from time to time. The invitation will also be sent via email just like their paid surveys.
The instructions on what you need to do will also be included in the email. I personally haven't been invited to participate in these activities, so I can't really tell you exactly how it works. But based on my experience with other sites that offer the same kind of opportunity, you just have to follow the instructions given.
For product testing, you will usually be sent a product to try out. Then, you'll have to provide feedback based on the questionnaire they sent you.
As for focus groups, it usually works the same way as any other focus group. You interact with other members of the group and provide feedback. You basically just have to follow the leader of the focus group (there will always be someone who will facilitate the discussion).
As for the reward you will get for these activities, it will be sent once the activity is completed. One thing I can tell you for sure is, these activities pay significantly higher than their paid surveys because it involves more effort and time.
Recommended: Check Out the Top Survey Sites in Your Country
How do you get paid?
As explained above, every earning opportunity you complete on Acumen Panel will earn you a certain number of Sharepoints. This is the currency they are using.
Now, here's the unusual part. Acumen Panel doesn't have its own reward options. Instead, it uses a partner provider called AllGift.ie for the rewards you can redeem.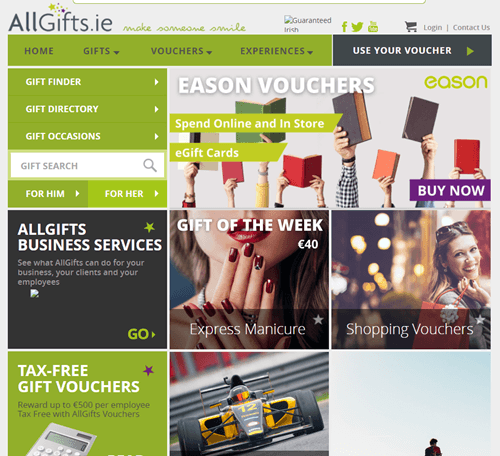 Once you've earned a minimum of 1,000 Sharepoints, you can redeem them. At this point, you will have a new option available within your Acumen Panel member dashboard.
When you've earned enough Sharepoints, you will now have a "redeem my points" button on the right hand side of the member dashboard. Just click the button and then specify the amount (100 Sharepoints is equivalent to €1) of the voucher you want to redeem. You will then receive a voucher code.
Afterwards, go to Allgift.ie and click on Redeem your Voucher on the top right hand side of. Open an account (if it is your first time using the site) and enter the voucher code. Once you've redeemed your voucher code, you can then order any product, service or gift card for delivery that Allgifts.ie offers.
The process is a bit longer than the most survey sites offer but once you get the hang of it, it will become relatively straightforward. However, this does mean that you won't be able to earn cash since all you can really get from Allgift.ie are gift cards.
If you prefer to earn cash, I would suggest you check out the top sites that pay via PayPal instead.
How much money can you make?
As mentioned earlier, you will earn €1 for a 5-minute survey. That's a relatively decent rate, in my opinion. Technically speaking, you will earn 20 Sharepoints for each estimated minute that you take to complete these surveys.
So, if the survey takes 6 minutes to complete (estimated time, not the actual time it took for you to finish the survey), you'll receive 120 Sharepoints.
As for their product testing and focus group activities, you will earn around €10 up to €200, which is actually a great rate. The only problem is, this kind of opportunity isn't very common. So, you can't really expect to receive an invite regularly.
If you get invited to participate in one, consider yourself lucky. As for their surveys, they don't really offer that many surveys compared to the top survey sites.
That's why even though the site pays rather well, Acumen Panel's earning potential is still relatively low since there aren't a lot of surveys you can answer. In other words, it doesn't offer enough surveys for you to fully capitalize on their decent reward rate.
And keep in mind, you won't always qualify for a survey. So, it will definitely take a bit of patience to earn a decent amount from this site.
Can you use it on mobile?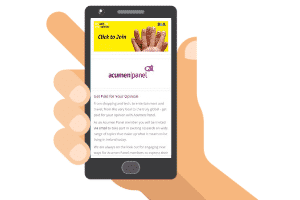 Acumen Panel doesn't have a mobile app you can download, but you can still access their website from a mobile device using a mobile web browser. The good thing is, their site is mobile-friendly. So, you can expect that the surveys will also be mobile-friendly.
This bodes well for the overall usability of the site since you can still answer surveys even when you are not in front of the computer.
I'm only talking about their paid surveys here since the other research activities they offer usually involve a bit more than just answering a survey.
Who can join Acumen Panel?
Here's the important thing you need to remember about Acumen Panel. This is one of the survey sites that are only for Ireland. If you live somewhere else, then this site is not for you. (Pic of registration)
If you are eligible to join though, all you have to do is fill out their sign-up form and confirm your registration by clicking on the activation link that will be sent to the email address you used during sign-up.
Once you've done that, you can now log in to their site. But keep in mind that survey invites (and other activities) will be sent via email. So, make sure to check your email inbox regularly. Otherwise, you might miss out on opportunities to earn rewards.
Can you get support?
If you have any questions about the site or your account, you can check out their Q&A page first. It discusses most of the basic topics you need to know.
But if you can't find what you are looking for, you can get in touch with their support team by emailing them at conor@acumenpanel.ie. They say you can also connect with them through their Facebook or Twitter page.
But I clicked on their Facebook link and it doesn't show up anymore. Their Twitter page is still working though but it hasn't posted any tweet for a couple of years. So, I would say your best bet is to just email them.
Overall, I would still say they have a decent support system in place for their members since they do offer a way for you to conveniently get in touch with their support team.
Final Verdict
Acumen Panel is a legit survey site that will really reward you for answering surveys and participating in other research activities. It has couple of good features but it is quite a limited survey site, in my opinion.
Let me wrap up this review with a summary of its pros and cons to give you a better overview of what the site has to offer. That way, you can better decide if it is really a site worth joining or not.

Pros:
Offers a decent reward rate
Their site is mobile-friendly and user-friendly as well

Cons:
Limited earning opportunities offered
Doesn't offer cash rewards
Acumen Panel is a decent survey site provided you set your expectations properly. First of all, you won't earn cash from this site since it only offers gift cards as rewards. Secondly, it doesn't offer a lot of ways for you to earn. So, you can't expect to earn regularly from it.
So, if you are mainly looking for a primary site to earn from, then Acumen Panel is not an ideal option. At best, it can only serve as a decent secondary site to earn from. I would only suggest you join this site if you need another survey site to join (that is if you are eligible to join, of course).
Otherwise, I would strongly recommend you check out the top survey and GPT sites in your countryinstead. The sites on this list also pay rather well, but most importantly, these sites will allow you to earn regularly, something that Acumen Panel can't really offer.
Plus, you will also find a site you can join regardless of where you live.
If you have any comments, questions, or have any experiences with Acumen Panel yourself, I would love to hear from you in a comment below.