Opinion City claims to help you supplement your income with paid survey opportunities.
But is Opinion City legit or a scam site to stay away from?
I joined and tested the site myself and let me just reveal right away that I was NOT impressed.
This does not mean it is a scam, but just that I think there are some important things you NEED to know before joining.
In this Opinion City review, I will show you what you really get and show you 6 red flags I found, so you know what you are really getting if you decide to join.
What is Opinion City and what does the site offer?
There really was not a lot of background info I could find about OpinionCity.com.
The only thing you can really see before joining is that it claims to help connect you with the highest paying survey sites.

As I have joined hundreds of survey sites, I kind of right away knew what this means. But this might not be clear if you have not used survey sites a lot.
This means it is a survey aggregator where all you can usually find are links to actual survey sites. These aggregators get paid a commission to send people to survey sites and they, therefore, promote these links.
There are many of these survey aggregators. A site like Survey Voices is another example.
The problem I usually have with most of these type of sites is the low quality. Often they just promote whatever they get paid to promote and are not really about helping you find the best opportunities as they claim.
And often it is not very clear this is what you get before signing up, and most of the times the info you can find on the sites is also just very superficial.
So after seeing the statement on the front page of Opinion City, I did not have high expectations.
But I still decided to join to find out exactly what Opinion City offers and if it maybe is one of the aggregators of high quality.
I was, however, not impressed with what I found.
This does not mean it does not have any opportunities at all. But there are some serious red flags, in my opinion, that you definitely need to know about before joining so you know what you are getting.
I have created a video to give you an inside look and show you exactly what you get. You can also read all the details below the video:
Red flags revealed
After you join Opinion City, all you get is a list of some survey sites you can join. There are not very many of them, but I also just want to make it clear that some of the sites it recommends are good sites.
But there are also some important things you need to be aware of before you give your email to sign up. I will show you these red flags below so you know exactly what you are getting into if you decide to sign up for Opinion City.
Red flag #1 – The terms when signing up
When you sign up for Opinion City, you have to agree to their terms and conditions.

There is nothing strange about that. You always have to agree to this to sign up for anything.
However, since I did not have a good feeling about Opinion City, I decided to take a look at the privacy policy you have to agree to.
Here I found something that you need to be aware of.

You are giving Opinion City permission to share your email with their mailing partner for the purpose of sending you relevant third-party emails.
This worried me a bit because it does not say anything about who this partner is, how they decide what relevant third-party emails is, or how many emails you can suddenly end up receiving.
So just be aware of this before giving your email – it will be shared with the purpose of sending you third-party emails, but you will not know how many and who it will be shared with from what I could see.
Red flag #2 – You cannot earn on the site
The way survey aggregators like Opinion City works is that you cannot earn on the sites themselves.
They are just showing you promotional links to earn commissions.
I just want to make this completely clear. You can find some links to survey sites you can join and then earn on those survey sites, but you can NOT earn by taking surveys on Opinion City itself.
Opinion City does, however, mention on the website that by signing up you will participate in the weekly $50 prize draw on Facebook.

Since I first wrote this review, this statement has, however, been removed so there is no longer any way to earn on Opinion City itself.
Also, they do not even have their Facebook page anymore. In fact, if you try to share a link to Opinio City, Facebook blocks it.

As you can see in the image above, it says that links to Opinion City have been found abusive and are therefore blocked.
Facebook sometimes blocks good websites also so it cannot be used as a definite proof of anything. But when you put it all together, it gives you an indication of the quality of Opinion City and if it will really be worth it and it is therefore important to take into consideration.
Red flag#3 – You do not know who the owner is
On the front page on Opinion City, you see an image of the supposed owner Alyssa.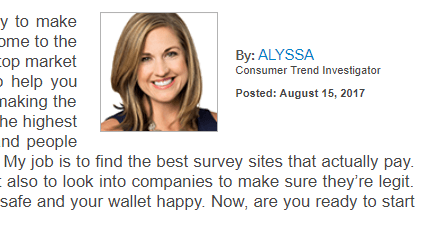 It says that she is the one that will help you find the best survey opportunities that actually pay.
The problem is just that this does not seem to be Alyssa.
When doing an image search on Google the exact same image comes up on a lot of other websites where she has different names.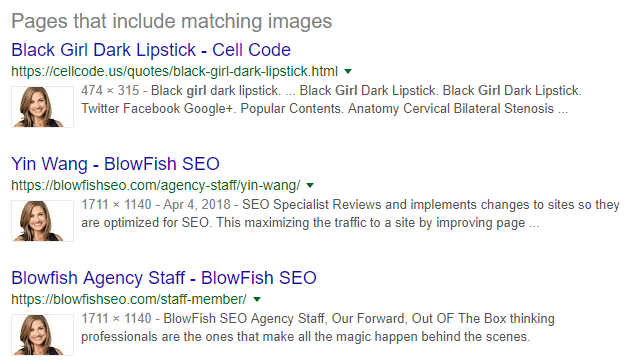 So it seems that either the picture of "Alyssa" is a stock photo or taken from some random website. Or a lot of other sites have re-used Alyssa's image.
No matter what, it is definitely not a good sign that you are told that this is the woman going to show you the best options and then it is likely not really the owner.
Who the owner is, says a lot about the credibility of a site and when you are not able to find out who it is, it is a big red flag, in my opinion.
Red flag #4 – Puts pressure on you to sign up quickly
After you join, you can see several offers and survey sites you can sign up for.
What I do not like is that Opinion City uses pushy sales techniques to get you to sign up quickly so they can earn commissions.
They do this by giving you the impression that there are only a few spots available for all the offers they have.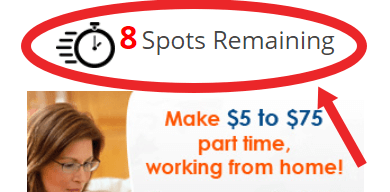 But if you come back the next day, it will still be the same numbers. It is not dynamic numbers that change but just random small numbers to make it look like you have to hurry to sign up.
I have joined hundreds of survey sites and have been in contact with many survey panels because I have PaidFromSurveys.com.
There are definitely times when some panels are not actively recruiting new members. A site like PineCone Research, for example, only accepts a limited number of new members every month.
But Opinion City claims this is the case for every single panel they are promoting. That is simply just a way to get you to sign up quickly.
Red flag #5 – Exaggerated earning claims
Below each of Opinion City's recommendations for survey sites, you can see a small description of the income potential.

Some of them are, in my experience, fair enough but there are also MANY that are exaggerated.
In the image above you can, for example, see you can make up to $75 for a single survey on Panda Research.
In theory, this could maybe happen on Panda Research but that is definitely NOT the average and not something you should expect, as it is actually not a very good site, in my opinion.
So just be aware that these income claims are NOT averages.
Red flag #6 – Superficial reviews
You can click to read a bit more about each of the recommended survey sites on Opinion City and read so-called reviews of each of them.
This is one of the main problems I have with most survey aggregators – the info you can get is usually VERY superficial and that is also the case on Opinion City, in my opinion.
You can just read a generic description and Opinion City even gives more or less all the survey sites 5 stars.

There are definitely a lot of great survey sites out there and Opinion City is also recommending a few good ones. It, for example, recommends a platform like Nielsen which is very trustworthy.
But the reviews are not at all about giving you in-depth information to help you find the best options for YOU. It seems more about promoting what pays Opinion City commissions.
That it, for example, gives Panda Research 5 stars is definitely a little strange, in my opinion. Ratings are, of course, subjective and we can all have different opinions.
But superficial reviews where more or less all sites get 5 stars is just not what I would call to really help people find good opportunities as "Alyssa" claims she wants to.
Who can join Opinion City?
If you still feel like giving Opinion City a chance, the good news is that you can join no matter where you live.
All countries are welcome to join.
Just be aware that some of the survey sites you are sent to might not be available in all countries and most of them are mostly for the USA.
Can you get support?
After you have joined Opinion City and have access to the list with their recommendations, you cannot find a support option.
But before you join, there is a contact option in the footer of the website.
Here you can find a contact form you can submit. It says you should hear back from them within 24-48 hours.
I have not tested this myself, as I honestly do not have anything to ask them and it is quite clear to me after testing it that it is not a site where I am going to spend more time.
Final verdict – legit or scam?
Opinion City is legit in the sense that the sites I have seen it recommends are legit. It might, however, not be completely clear what you get before joining, and there are some big red flags you, in my opinion, need to consider before joining.
So to give you a better overview before deciding to join or not, let's finish this review by summing up the pros and cons.

Pros:

Cons:
You do not know who the owner is
You give them permission to share your email
Has superficial reviews
Some sites it promotes are poor
You cannot earn on the site itself
Uses pushy sales tricks to get you to sign up quickly
I can honestly not see any reason to join Opinion City. It does not offer you any ways to earn, and some of the recommendations it gives are for poor options.
In addition to this, it is very big red flags that you give them permission to share your email and that you do not even know who the owner is, even though they make it look like it is "Alyssa".
For these reasons, it is NOT a site I recommend. There are so many great survey sites where you can actually earn on the sites themselves. You should instead check out the real and best survey sites in your country.
All of these sites give actual earning opportunities and are completely transparent about what they offer.
If you have any comments, questions, or have any experiences with Opinion City yourself, I would love to hear from you in a comment below.