If you live in New Zealand and are looking for paid surveys, you have maybe come across Opinion Compare.
But is Opinion Compare legit and really a way to get paid for your opinion or a scam to stay away from?
Well, let me just reveal right away that it is a legit site and you will get paid for participating. This does, however, not mean it will necessarily be worth your time.
So to help you find out if it is the right survey panel for you to join or not, this Opinion Compare review will give you an inside look and reveal all the details so you know exactly what to expect before signing up.
What is Opinion Compare and what does it offer?
Opinion Compare is a very straightforward survey site and very easy to use.
As already mentioned, it is a legit panel so you will get paid for participating. However, to find out exactly if it will be worth it or not, we have to look more into how it works and what it offers.
So let's start by going over the earning opportunity it offers before going over how you can get paid and how much you can earn.
The earning opportunity – paid surveys
Opinion Compare only offers one way to earn and that is by taking paid surveys. The advantage of this is that it is very easy to use and there are no distractions on their website.
However, it works a bit differently than most other survey sites.
When you join Opinion Compare, you do not get to a member area. This can be a bit confusing at first, but once you know how it works, it is quite user-friendly.
How it works is that you sign up and give your email and then you will start receiving email invitations when there are new surveys available.

So you do not need to log in to a member area to check for new surveys – in fact, there is no members area to log in, as mentioned.
Therefore, you just need to keep an eye out for the survey invitations from Opinion Compare in your inbox.
As you can see in the image above, you will be able to see how much you get for the survey and approximately how long it takes before you start a survey.
The first survey you get will be a profile survey and you will get it shortly after joining and you will get $1 just for completing it.
In general, the surveys you get from Opinion Compare pay quite decently compared to other survey sites.
It does not have a huge number of surveys, but you will get one at least once per week.
Also, once per week, they send a newsletter and here they also make you aware of how the results from the surveys they have conducted have been featured in media.
I find this quite interesting and it is a great way to see how your opinion actually matters and how it can make a difference to take surveys.
Not a lot of other survey sites show you this, so it is definitely a nice extra feature, in my opinion.
Click to Check Out the Best Survey Sites in Your Country
How do you get paid?
When you take surveys on Opinion Compare, you get paid in points. These points can then be exchanged into different rewards.
The payout threshold is $10 so that is relatively low. However, you might be wondering how to keep an eye on your earnings when there is no members area you can log in to?
Well, on their website, you can go to the reward section. If you scroll to the bottom here, you can find a button that says "Check Points Balance".
But clicking that and typing in your email, you will get to a page showing your current balance.

Once you have reached the 1000 points threshold (worth $10), you can redeem it for gift cards.
Opinion Compare offers quite a lot of different gift cards as gift cards to, for example, JB Hi-Fi, Magshop, Apple App Store and iTunes, Domino's pizza, Farms, Liquorland, Whitcoulls, Event Cinemas, Farmers, Foot Locker, Mighty Ape, and more.
So if you like getting gift cards it has great opportunities, but if you want to get paid in cash via PayPal, it is not the right site for you.
You need to email Opinion Compare to get your chosen reward so also here it is a bit different than many other survey sites.
It is not quite as convenient as when you can just redeem directly inside the platform, in my opinion, but once you get used to it, it is quite easy.
You can redeem as soon as you have earned $10 or you can wait and accumulate more if you prefer getting a bigger reward.
How much money can you make?
As with any other survey site, you need to join with the right expectations. It is not a way to make a full-time income or anything like that.
On Opinion Compare you will usually get a maximum of a couple of surveys per week. They pay quite decently but you should not expect to earn more than a few extra bucks per week. But at times, you might get higher paying surveys.
Also, it is completely free to join and it is easy to use. And it is a real way to have your voice heard.
So if you do it with the right expectations to earn a bit of extra cash for free online and to have your opinion heard, it offers great opportunities.
But do not quit your day job after joining.
Can you use it on mobile?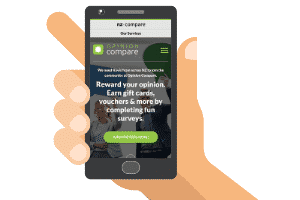 Being able to take surveys on mobile is very convenient as you can then do it from anywhere and whenever it fits into your schedule.
That also means you have a better chance of completing the surveys you get invited to before they fill up (often surveys have a maximum number of participants needed).
Opinion Compare does not have an app you can download. But since you get the survey invitations via email, as long as you can access your email on your phone or tablet, you can get access to them.
And most of the surveys are possible to complete on mobile.
Who can join Opinion Compare?
As you can probably guess from looking at the URL of OpinionCompare.co.nz, it is a platform exclusively for you if you live in New Zealand.
They also say this very clearly on the front page of the website as they write "We need Kiwis from across NZ to join the community at Opinion Compare".
So as long as you live in New Zealand, you can join.
In fact, it is, in my opinion, one of the best paid survey sites in New Zealand. I do not think you should join it as the only option if you live there as it does not have that many surveys but it is definitely one of the sites worth checking out.
Can you get support?
Being able to get support is important on any survey site. Hopefully, you will never need it, but you need to know the option is there.
In Opinion Compare's case, it is even more important as you need to write them to redeem your rewards so you need to know you can get in touch with them.
Luckily they very clearly show their contact details on their website. And on the page where you can see your accumulated earnings, you can also clearly see the email you need to write to reach them.
In my opinion, it would have been great if they also had an FAQ section, but you can find most of the necessary info on their website and it is easy to see how to contact them.
Also, I have been in contact with them and they give quite quick replies (typically within one day) so, in my opinion, they provide pretty good support which is a big plus.
Final verdict
As you can see, Opinion Compare is a legit paid survey site with both some great sides and some minor flaws.
So let's finish this review by summing up the pros and cons so you can get a better overview before deciding if this is the right survey panel for you or not.

Pros:
Decent rewards per survey
Easy to use
Good support

Cons:
Not a lot of available surveys
You have to write them to redeem rewards
Not so easy to get an overview of what you have earned
Overall, I think the cons of Opinion Compare are minor disadvantages and something that is possible to live with as long as you join with the right expectations.
It does not have a huge number of available surveys but you will get at least one per week and they give decent rewards. It is also very easy to use, so it does not take much extra effort to be a member.
So if you live in New Zealand, it can be worth considering even though it is not one of the absolute best sites in New Zealand.
If you do not live in New Zealand or want to see more options in NZ, you can check out the best survey sites in your country here.
If you have any comments, questions, or have any experiences with Opinion Compare yourself, I would love to hear from you in a comment below.