E-Poll Surveys is a survey site that offers to pay you for sharing your opinions.
But is this E-Poll surveys legit? Let me just get it out of the way and say that yes, it is definitely a legit survey site.
That does, however, not necessarily mean it will be worth your time. So the question now is, should you become a member?
This E-Poll Surveys review will answer that question and provide you with all the information you need in order to make an informed decision about joining their website.
So let's get the ball rolling
Disclosure: Some articles on this website contain affiliate/sponsored links. Click for more info.
What is E-Poll Surveys and what does it offer?
As already mentioned above, E-Poll Surveys is a survey site that will reward you for answering the surveys they provide.
It was founded in May 1997. That means that they have been around for quite a long time now.
Previously, the URL of their website was set to www.epoll.com but was then later changed to what it is now, which is www.epollsurveys.com.
So, if you've already signed up as a member of epoll.com, you don't have to sign up for epollsurveys.com because they are one and the same.
What is unique about this survey site is that its surveys are mostly focused on entertainment-focused market research.
E-Poll Surveys does not have a lot of earning options but there are a few ways you can earn as a member.
So let's take a look at how you can earn from this survey site.
Option 1 – Paid surveys
Since it is a survey site, the main opportunity for you to earn is through paid surveys.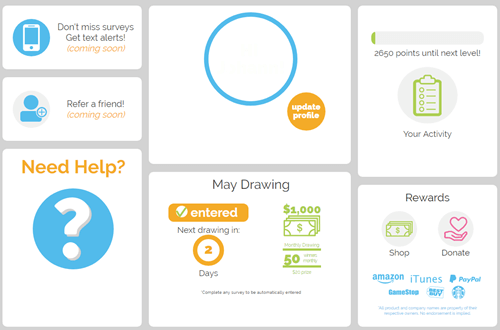 As was stated above, E-Poll Surveys is mainly focused on entertainment-based market research.
So expect the surveys to be more about TV watching habits or anything TV-related, like TV commercials, TV networks and the like.
You will receive an email for all the available surveys you can take. Just click the link in the email and it will take you to the survey. So make sure to check your email regularly.
After you complete the survey, you will then receive the reward.
One thing to note about their paid surveys is that most of these have a maximum number of respondents. If you submitted it quite late and the maximum number of respondents has already been reached, you will not receive the reward.
That's why it is best to answer the surveys as soon as possible.
In my opinion, this is a bit of a let-down because this reduces your income significantly if you fail to complete the survey in time.
But that is just how it is, and if you are fast at clicking the links after you get an invite it still gives some decent opportunities.
Unlike on some other survey sites where you still receive a small reward even if you don't qualify for the survey or the maximum respondents has been reached, there is no mention on E-Poll Surveys about receiving that small reward for that kind of situation.
But usually, you will find out quickly if you do not qualify or if it has reached its maximum participants so you won't waste too much time.
Another form of their paid survey is done by asking you to watch a video or television show. Once you've finished watching the show, they will then send you the survey or ask you to write a review about it.
Overall, some interesting survey options, in my opinion. And if you like TV shows and the entertainment industry in general, E-Poll Surveys offers something not many other survey sites do even though you might not get the most survey invitations.
Option 2 – Monthly Prize Draw
E-Poll Surveys also holds a monthly prize that you can join.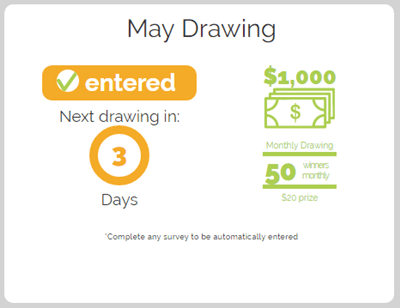 In order to join this prize draw, you just have to complete any survey. Once you've completed a survey, you will automatically receive an entry into their prize draw.
So as long as you are an active member, you will automatically get a chance to win an extra prize in addition to the rewards you get for the surveys you take.
Each month, they will draw 50 winners of a $20 prize, which isn't really something to be excited about.
In my opinion, prizes for the monthly draw should be higher in order for it to be interesting but $20 is, of course, also a nice extra touch since you not have to do anything extra to get them if you are lucky.
But you can't really rely on this kind of earning opportunity since it will all rely on luck. You'd be very lucky to win once in a year.
Overall, the prize for their monthly draws and even for their paid surveys are quite underwhelming for that matter.
There are plenty of other survey sites that offer better rewards and prizes, in my opinion.
But if you are interested in the topics E-Poll Surveys offers surveys about, then this is one of the only platforms I have seen that offer these specifically.
How do you get paid?
A redeeming quality of E-Poll Surveys is that it offers several different payment methods.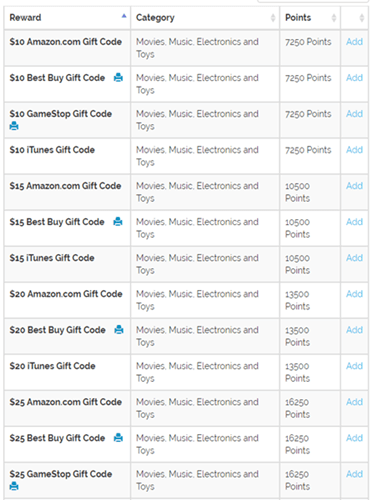 You can exchange the reward points you've accumulated for vouchers and gift cards from various online shops like Amazon, GameStop, iTunes, and BestBuy.
These rewards will be electronically delivered to you via email.
However, just be aware that even though these are sent electronically you will not receive them right away as they still need 4-6 weeks to process your order which is quite slow.
If you want your reward points to be converted into money, you also have the option to do that. You can request for payment via PayPal.
You can start requesting payments in general as soon as you reach 3750 points. That will be equivalent to $5.
Take note though that you can only request for payment in $5 increments. Also, you won't receive the payment instantly. It will take 4 to 6 weeks before the payment will reflect in your PayPal account.
As mentioned, the same goes for redeeming rewards through vouchers and gift cards.
So even though the payout threshold on E-Poll is quite low, it will still take quite a long time before you actually get your earnings after you request a payout.
Also, be aware that your points never expire as long as you take at least 1 survey every 12 months.
How much money can you make?
The amount of money you can make with E-Poll Surveys will actually depend on how many surveys you can complete.
Seeing as you can only start requesting for payment once you reach 3750 points, it might take some time. That's because the frequency of the survey invitations you will receive will vary from time to time.
Sometimes, you will receive one to two surveys a day and sometimes, you will only receive survey invitations once or twice a month.
So if you are hoping to receive a steady amount of survey invitations daily, unfortunately, that won't happen.
Plus, you also have to consider the fact that sometimes, you will miss the window of successfully completing the survey because a lot of members have already submitted their answers before you.
So, even though they have a low payment threshold, it might still take quite some time to accumulate enough reward points to earn a significant amount of money.
That's because each survey will only average around 500-1000 rewards points upon completion.
If you are looking for survey sites that will allow you to earn money a lot quicker, I suggest you check out the quickest paying survey sites.
Can you use it on mobile?
If you are looking for an app that you can download and install in your mobile device, unfortunately, E-Poll Surveys doesn't have that.
But, you can still use their website from a mobile device. All you have to do is open a mobile browser and type their URL and you will be able to log in to the dashboard just like how you would in a desktop browser.
Fortunately, the mobile version of their site is optimized for mobile use. That means you will be able to view all the content properly without having to scroll to the left or right.
As for answering their surveys, you will need to log in to your email on your mobile device in order to see the survey invitation.
It is important you are able to do this on E-Poll because you have a greater chance of taking the surveys before they fill up. So it's good that the option to use it on mobile is there.
Who can join E-Poll Surveys?
If you want to become a member of E-Poll Surveys, you have to be a resident of the United States in order to register.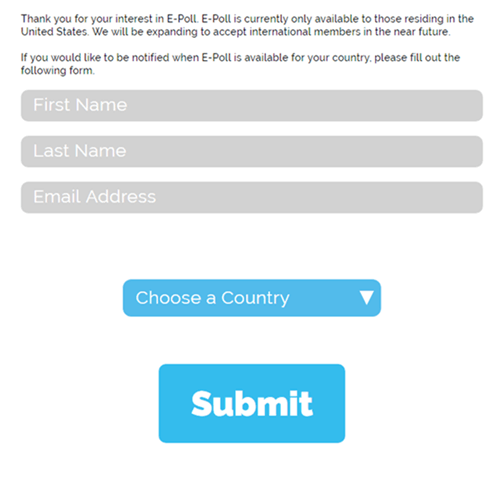 But according to their FAQs section, they will be accepting international members in the near future. So that's a good sign.
You do have to be at least 13 years of age in order to sign up. Plus, only one member is allowed to register per household and residence.
They do this to make sure the results of their research will be unbiased. That is how survey sites work.
Once you complete your registration, you will be emailed a link to confirm your registration. That link will also take you to your first survey, which when completed, will earn you 100 points. Think of it as a sign-up bonus.
Not as high a sign-up bonus as you, for example, get on Swagbucks where you get $5, but still nice to get some points into your account right away.
Can you get support?
E-Poll Surveys does provide a Frequently Asked Questions page that will cover most of your questions.
It is, however, not the most thorough FAQ section I have seen, so you might still have a question after going through it.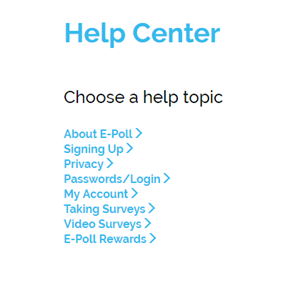 Unfortunately, they don't really have a contact form that you can use in case you have any further questions.
But upon closer inspection of their website, I was able to find the email address that you can use to email them for any inquiries you might have. You can email them at feedback-epoll@epoll.com.
I took a look at their social media pages and found that they are fairly active on Facebook and Twitter. The typical posts you see will be about the winners of their monthly draws.
However, you can message them if you have any questions or issues that you are facing with your account. They typically reply within a day. In my opinion, that is a good average time.
At the very least, that's one avenue to contact them and get a reply.
Final Verdict
E-Poll Surveys is definitely a legit survey site that offers you cash or gift cards as a reward for sharing your opinions.
Although they have a low payment threshold, it can take quite some time to earn a significant amount of money due to the fact that you won't always get a survey invite.
If you are still not clear on joining their site, let's finish this review by summing up the pros and cons to help you decide.

Pros:
Low payment threshold
You can request payment via PayPal
Specialized in surveys about entertainment

Cons:
Low frequency of survey invites
Slow payout processing
As you can see, there are both cons and pros when it comes to E-Poll Surveys.
In my opinion, even though they have a very low payment threshold, it would still not be enough for you to earn a significant amount of money.
The low frequency of survey invites makes it an inefficient income generator.
There are better opportunities for you to earn money, in my opinion. That's why I recommend you check out the best survey sites in your country.
There are plenty of good sites to choose from even if you don't live in the U.S.
However, as an extra site, if you live in the US, it might still be worth considering. Especially if you are interested in the entertainment industry as you can then find surveys here you cannot find on other survey sites.
How to join E-Poll Surveys?
If you want to join E-Poll Surveys, it is very easy. Just click the button below and it will take you to the sign-up page. It will only take a minute.
Then confirm your email and you will be taken to your first survey and earn your first points right away.
If you have any comments, questions, or have any experiences with E-Poll Surveys yourself, I would love to hear from you in a comment below.