Wondough is a paid survey site that looks like most other similar sites when you first visit it.
But I have learned that you have to look deeper than just the front page to find out how good a survey site is.
So is Wondough then a scam or really a great way to earn by sharing your opinion online?
I have been a member for a while and tested it over a long period and in this Wondough review, I will give you an inside look so you can find out if it is the right platform for you or nor.
And let me just reveal right away that there are some important things you need to consider before investing too much time.
What is Wondough and what does the site offer?
Wondough is a site I heard about a while ago when I was approached by a representative from the company that asked, if I wanted to write a review about the site.
I always find it interesting to test new survey and GPT (Get-Paid-To) sites and share my experiences, so others can find out which sites they should join, and which sites they should stay away from. I, therefore, decided to look more into Wondough.
To be completely clear – I have not received any payment for writing this review. I was offered that, but I said no, as I want to write independent reviews that are based on my experiences and opinions and that does not have to be approved by the companies behind.
Anyways, I decided to join Wondough and check it out to see what it has to offer. To be honest, I am not impressed, but that might very well be because of the country I live in, as the number of opportunities will depend on that – but I will get to that later.
For now, let's now go into what kind of opportunities Wondough has so you can see and judge for yourself.
I have created a video that gives you an inside look. You can also read all the details below the video:
Option 1 – Paid surveys:
Wondough offers you to earn on paid surveys. Usually, I like this option, as you probably know, if you have read any of my other articles here on PaidFromSurveys.com. It can be a great way to earn some extra cash while giving your opinion and having your voice heard.
But I am honestly not impressed with the surveys on Wondough. They are mostly offered through survey routers which is quite normal for GPT sites. But they do not offer that many and the rewards for the surveys are lower than on many other similar sites.

In addition to this, some of the offers you can find in the survey section or not even surveys but offers where you can sign up for contests – and some of these contests are really not worth it, in my opinion as you will agree to receive a lot of promotional emails when you sign up.
So you have to be a bit aware when trying to take surveys on Wondough if you decide to use this option.
Option 2 – Coupons:
Wondough has a pretty big section with what it calls coupons. Many survey and GPT (get-paid-to) sites have sections like this, but usually, they are called offer walls or paid offers.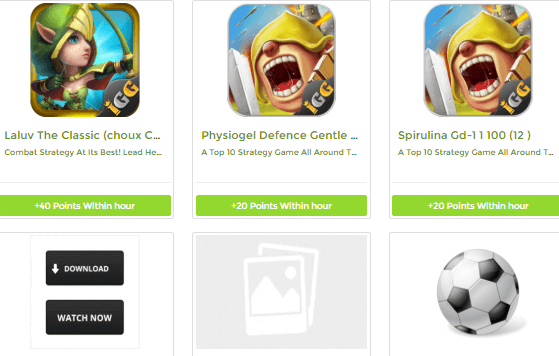 I do not know why the section is called coupons on Wondough. To me, coupons are usually something you can use to get discounts on certain products or get something for free.
Usually, these paid offer sections can have some good deals. I have made some nice extra cash from using some of them on other platforms.
I am however not impressed by the offers on Wondough. Yes, it is definitely possible to get some good bonuses for some offers. You just have to be aware that for most of them, you have to buy something to get the bonus.
That is often how it is with these paid offers, and there can still be some great offers. You just need to make sure you know the conditions, before taking any offers.
And that is what I think is lacking on Wondough – there is not really any info about the conditions for each offer. It is just a link to a site, where you can buy a certain product or service.
However, if you need the products they are promoting anyway, it can be worth using these coupons and looking into this option.
Option 3 – Invite friends to join
As on many other GPT and survey sites, you can earn by inviting friends to join the platform. You can earn 50 Wondough points (more about what this is worth later) for every person you invite.

They mention that you will get this reward when the person you invite has some activity on the website – that is all you are told.
So they do not say anything precise about when you can expect to get your reward. This is a general issue with Wondough, in my opinion. There is not a lot of in-depth information which makes it a lot less user-friendly than many other sites.
Option 4 – Joining bonus:
I love when survey and GPT sites give a joining bonus, as it is a great way to get started. Wondough offers a joining bonus of 80 Wondough ePoints as they call them.
I must, however, say that I did not receive that bonus when I first joined, but it could be because they only give it to certain countries. Or because it is something they have just introduced, and therefore there might be a glitch in the system.
Either way, it is of course not satisfactory when a site says in the FAQ section that you will get a joining bonus and you then do not. I hope this is something Wondough will get cleared up as soon as possible.
How do you get paid?
Whenever you take a survey, watch a video, or take an offer on Wondough, you get paid in Wondough points.
100 Wondough ePoints are worth $1.
When I first joined, you could get differnt rewards, but now it seems like the only reward you can get is Amazon gift cards.
This can be a great reward, but it is not very versatile and has its limitations in some countries.
And if you like Amazon, there are, in my experience, many sites that offer Amazon gift cards as rewards with better opportunities.
But what I like is that you can get a payout already when you have earned 300 points, which is equivalent of $3.
This is a very nice low payout threshold for a survey site, and definitely a big plus, as that means you can quickly earn enough to get a payout.
How much money can you make?
It looks like you can make a bit of extra pocket money on Wondough. It however very much depends on the country you live in.
Like with any other similar site, you just have to remember that it will not make you rich or a full-time income. In my experience, there are however survey sites with better and more opportunities to earn than Wondough, in my opinion.
But it is possible to earn a bit extra on Wondough so it is a legit site.
Can you use it on mobile?
I prefer using survey sites that you can use on your mobile. It is a great way to take a few surveys during the day, whenever you have a small break.
According to Wondough's website, it looks like it is supposed to have an app. I have however not been able to find this. But I have checked how the website is to use on a mobile phone.
It is a fully responsive website, and it can easily by used mobile devices, which is great.
Who can join?
I have mentioned several times that the amount of opportunities, you will find on Wondough, depends a lot on the country you live in.
You can join no matter where you live, but in most countries, it will not be worth it. The surveys, videos, and most of the offers are only for people living in the US and Canada. So if you do not live in one of these countries, you will only have access to a few offers/coupons.
If you decide to join, it is very easy and fast to do. You just do to Wondough.com and fill out the form. Or you can choose to sign up with your Twitter, Facebook, or Google account.
Beware of the testimonials
I wanted to include this section, as there was a testimonial section on Wondough's website when I first heard about it.
From working many years with online marketing, I know that such testimonial sections are sometimes not entirely true, and I, therefore, decided to test Wondough's, as I thought the pictures of the people that gave the testimonials looked a little strange.
I, therefore, used an image recognition tool to check, if the pictures are used somewhere else online, and they definitely are. Below you can see a few of the results that came up when searching for the guy with the big goggles: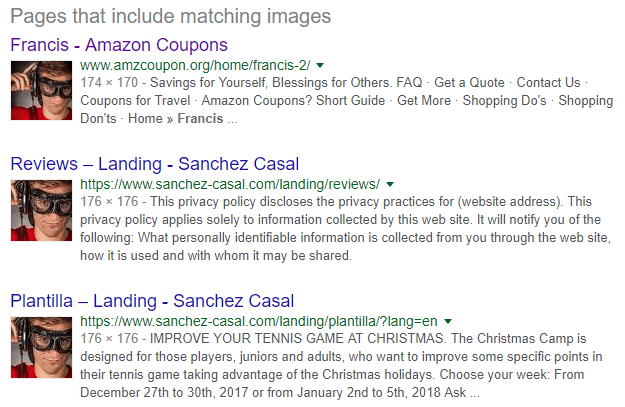 All the images used for testimonials back when I first joined are on many other websites – some places for testimonials with another name or on stock photo platforms. This does not necessarily mean that the testimonials are not true, but it seems like it is not the right pictures that are used.
I know that many companies, unfortunately, use this method and use random testimonials and pictures to create trust.
I do not like this approach, as I think it is dishonest, and that is also why I want to point this out. This does not mean that Wondough is not a legit site, but it just means that you should not rely on the testimonials on the site to decide, whether you want to join or not, in my opinion.
Can you get support?
If you need to get in touch with Wondough, there used to be several ways you could contact them. But as of doing the update of this review, it seems to be very difficult to find a way to get support.
You can not find a support option inside the members area and the support link from their website does not work.
So it seems your best bet is to reply to one of the many promotional emails you will get from them after signing up and hope they will get back to you if you need help.
Definitely not the ideal way of giving support and not very user-friendly.
Final verdict
I have now explained the different opportunities on Wondough, and my opinion about the platform in general.
But let's finish this review by summing up the pros and cons, to give you a better overview before deciding if it is for you or not.

Pros:
Low payout threshold
Free to join

Cons:
Limited opportunities in most countries
Poor support options
Offer section is not very good compared to similar sites
Rewards are lower than on many other sites
Wondough does not seem like a scam to me. It has some decent options, but it also seems like it is not quite developed yet even though it has existed for a few years as of writing this.
It needs some more work, and they need to clear up the little errors in descriptions and in general provide more information on their website.
If they manage to do this, maybe it will eventually be a very good survey site, as I can see it has some potential. At the moment, it is however not a survey site I will spend much time on.
If you want to earn by taking surveys and offers, I would suggest you check out the top paying survey and GPT sites in your country instead. All of these sites give more opportunities and better rewards, in my experience.
If you have any comments, questions, or have any experiences about Wondough yourself, feel free to leave a comment below. I would love to hear from you.