ClickWorker is an online micro job website that promises to pay you for completing what they call micro tasks.
But is ClickWorker legit and a great way to earn, or is it a scam?
I have tested it thoroughly myself and have been a member for a few years, and let me just reveal right away that yes, ClickWorker is legit, and you can potentially earn as a member. But this does not necessarily mean it will be worth your time.
This ClickWorker review will give you an inside look and will cover everything you need to know, so you know exactly what you can really expect if you become a member, so you can easily see if it is the right option for you or if you should go for alternatives instead.
Now let's get started.
What is ClickWorker, and what does it offer?
ClickWorker is a micro jobs website that combines the opportunities that survey sites offer and reward opportunities like what ySense offers, as well as other small microtasks.
On ClickWorker, you can actually register as a "worker" or as an "employer". But in this review, we will tackle the "worker" side since it is where you can earn money.
I have made a video that shows exactly how you can earn on ClickWorker so you can see if it is for you or not. You can also read all the details below the video:
Recommended: Click To See The Top Survey Sites In Your Country
Option 1 – Paid Surveys
As mentioned above, one way for you to earn on ClickWorker is through paid surveys. This works like how it normally does on survey sites.
You get an offer to answer a survey. Once you complete the survey, you receive the reward.
Take note, though, that you will have to answer a screening test before you can proceed with the actual survey.
They do this because they are actually targeting a specific demographic for the surveys they offer. The screening test will determine if you belong to the target demographic.
This will save you time because you won't have to answer a survey and then later find out that you weren't qualified and, in turn, won't receive a reward.
You can find the survey offers once you log in to the member dashboard. But keep in mind that the survey offers will be listed together with the other tasks on the site.

It's unlike most survey sites where you find an exclusive section just for paid surveys. And don't be alarmed if you can't see any paid survey offers the first time you will log in. I'll explain later why.
The image above shows a couple of survey offers inside the dashboard. But unlike most other reviews here on PaidFromSurveys.com, you can see a lot of the info is blocked out.
That is because ClickWorker does not allow any info about the task names or rewards to be shown to non-members.
So after I first posted them to give you an inside look, I was told I had to remove them. In my opinion, a bit strange, but that is their rule.
So to be able to see the actual rewards and examples of surveys and tasks, you would have to become a member. After reading this review, you will find out if that will even be worth it.
Just be aware that there will not be many surveys as ClickWorker is not specialized in this. Instead, the main way to earn is through micro-tasks, which we will go over next.
Option 2 – Micro Tasks
Now, this is the bread and butter of ClickWorker.
Once you log in to the dashboard, you will quickly see all the available tasks you can take.
You do have to complete your profile before you will be offered tasks. So don't be alarmed the first time you log in and don't see available micro tasks.
Once you complete your profile, you will then see all the available micro tasks you can do.
The tasks available will depend on the data you provided in your profile.

Again I cannot show you a photo of actual tasks as ClickWorker does not allow this according to their terms. But the image above shows a few examples of the types of tasks you can find once you are inside.
Each micro task offer will tell you what you can earn for completing it. In my opinion, this is a good bit of information to help you strategize how best to spend your time.
It will also tell you when the task will be paid.
Once you click the start button, it will redirect you to the job order. You will see all the requirements you need to complete and the steps you need to take in order to claim the reward that was offered.
You have to be very particular about the instructions provided because one missed step will not allow you to complete the task. So, this is also about being able to follow the instructions properly.
As to how many micro-tasks will be available for you to do every day, that will actually depend on your profile. But there is a way for you to expand your qualifications, though.
There is a section on their dashboard called Assessments where you can take some sort of test that will allow you to be qualified for additional jobs.
There are two types of assessments available for you: the base and project-specific assessments.
The base assessment will check your basic qualifications for various current and future jobs, while the project-specific assessments will check if you meet the special prerequisites for specific jobs that are currently available.
You will need to complete the tests in order to get access to those jobs. Also, sometimes there are assessments that you can take that are repeatable.
That means even if you failed it the first time, you can still retake it so you can improve your rating on that specific assessment.
So make sure to check the Assessments section from time to time to see if there are any available tests you can take to expand your job qualifications.
Overall, you can find quite a lot of micro-tasks on ClickWorker, and some of them are quite interesting/different as well compared to what you can find on most other similar sites.
Option 3 – Offers and Promotions
Clickworker's partners sometimes post offers and promotions you can complete in order to receive more rewards.
You will see the available offers on the dashboard as well. Just click the Offers and Promotions tab beside the All Jobs tab.
They did place a disclaimer that even though they check their partner offers carefully, they will still not be held liable for the service offerings provided.
As to what those offers are, unfortunately, I couldn't find any more information about it on their website, and I do not really have any available in my area.
I guess it will really depend on which partner posted the offer, but I think it will be similar to paid offer walls on other sites, which means you can sometimes find some good deals here if you just make sure to read the conditions for the offers.
Option 4 – UHRS tasks
These tasks are similar to the micro-tasks explained earlier.
However, this is an option to get access to further tasks through the UHRS platform.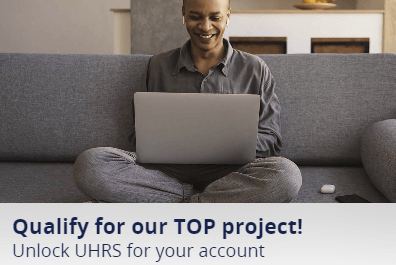 This is short for Universal Human Relevance System and will give you access to further tasks like image annotation, video annotation, speech transcription, and more.
You cannot sign up on this platform alone, so you have to go through ClickWorker to get access to the UHRS tasks (read a full UHRS tutorial here).
Inside ClickWorker, you can follow the steps to do this, and you have to go through several questions and instructions to be able to get connected to the UHRS platform.
It is a bit of a hassle, but it can give you access to more work, so if you like ClickWorker, this can be a way to boost your earnings.
Recommended: Click To See The Top Survey Sites In Your Country
How do you get paid?
First things first. The currency ClickWorker uses is the Euro. So everything you will earn on this website will be in Euro – and that will be the case even if you sign up from a country that does not use Euro.
As to whether or not that is a good thing, I will leave it to you to decide.
Payment will be made via PayPal, SEPA, or Payoneer. It used to offer Wise as a payout option, but this has changed to Payoneer.
But just be aware that not all payment options are available in all countries, in my experience. But PayPal should at least be available in all countries.
In my opinion, this is actually a good option because PayPal is a more convenient way for you to collect your earnings. Plus, it is the most used payment method in the world today. But I also like they give you other options to get paid in cash.
As to how much money is needed before you can withdraw your earnings, you have to reach the minimum requirement of $10. That would be around €9, give or take.
Although it isn't one of the fastest paying survey sites, the payment threshold is actually pretty decent, in my opinion.
How much money can you make?
On their website, they say you can earn well over $10 an hour. But they do backtrack and tell you that, on average, you will most likely earn an average of $9 an hour.
Well, that can certainly be possible. That, of course, will really depend on how many paid surveys, micro tasks, and partner offers you qualify for.
It will also depend on how quickly you can finish a job offer. There will be times when you will get to earn more because there are more jobs available for you (assuming that you complete them).
Plus, I also noticed they sometimes offer general micro tasks like referring a friend. This can be a good way for you to earn additional income.
Just DON'T go thinking that you can go ahead and quit your job and start working full time on this website, thinking the income you can earn will somehow be on par with your job.
That just won't be the case. That's because the rewards offered for tasks will not be consistent. Some rewards will offer €5, while some offer as low as €0.15 or so. So, it's definitely a case-to-case basis.
But Clickworker is also very transparent about this in their FAQ section, which I like. They clearly say that this is not a way to make a living.
I have also heard feedback from members from other parts of the world than where I am located that job opportunities will be limited depending on your location. So even though the hourly rate might sound decent, you will not be able to just decide how much you want to work yourself – overall, the earning potential is not that great, in my opinion, so you need to do it with the right expectations.
But since it has a decent payment threshold of €10, you can earn a bit of pocket money.
Can you use it on mobile?
ClickWorker is available for mobile use because the mobile app is available for download on both Android and iOS devices.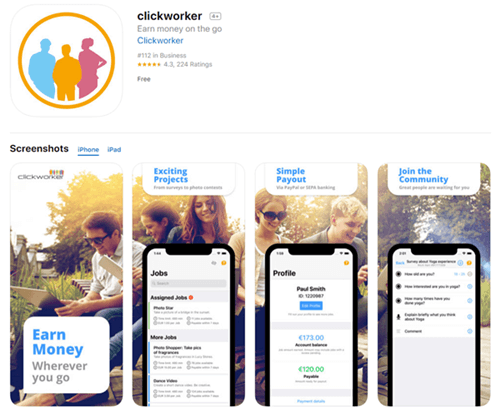 So that's good news for you if you love to work on these things on your mobile device. This also allows you to be an efficient earner on their site once you install the app.
That's because you can work on tasks even when you are not at home. Just log in to the app, and you can start doing the tasks you can do on your mobile device, of course.
One remarkable thing about how their app works is that you can actually work offline. As long as the task allows this, you can start working on it even if you don't have an internet connection on your mobile device.
You can just submit it once you are connected to the internet again. I can think of one good way that this feature can come in handy.
Say, for example, a task involves taking videos. Seeing as videos will really eat up a lot of your data cap if you try to upload it via a data connection on your mobile device, you can just opt to work on it offline and then upload it when you get home, and your mobile device is connected to your wifi network.
That way, you can save your data usage and, in turn, lessen your mobile data bill. It's a pretty cool feature, in my opinion.
Who can join ClickWorker?
Another good thing about ClickWorker is almost anyone can join the website as a worker, and for free, I might add.
You just have to be at least 18 years old in order to sign up. It is also available in a lot of countries, which is good in my opinion. That means they have extensive reach.
You do have to make sure you have a verified PayPal account so you can receive your earnings.

The registration process is also pretty simple. You just need to fill up a few details, and you are good to go. As soon as you click the verification link that you will receive via email, you can then log in to the website.
I have to remind you, though, that you have to complete your profile before you can start receiving job offers. And unlike most survey sites, you will not be rewarded for completing your profile.
But it only takes a few minutes to fill out, so you will quickly be able to see the tasks.
Can you get support?
ClickWorker also ensures you can get support just in case you encounter any issue with your account or your use of their website.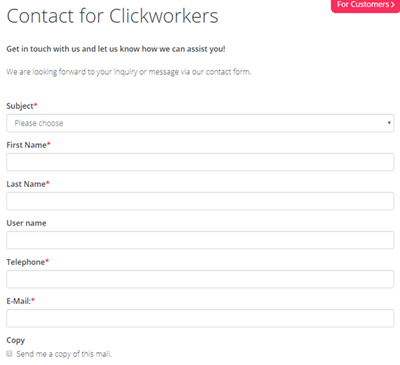 You can use the contact form provided if you have any questions you want to ask. The good thing about their contact form is you can opt to send a copy of the message you will send to them to your own email as well.
That way, you can actually track down your correspondence with them.
But aside from that, they also have their FAQs section, which is pretty extensive. And if you can't find the answers you are looking for, you can also sign up for their forums and see if you can find the answers you are looking for.
Plus, the forums will allow you to interact with other members of the site as well.
I have been in contact with their support a few times myself. I must say that it is not the fastest and the answers could be a lot better, in my opinion.
But I have received answers every time I have been in contact with them. Sometimes it might just take a bit of patience before they get back to you, and their support definitely could be improved, and the way I have experienced their support is a big minus as they have not seemed very helpful.
Final Verdict
ClickWorker is a legit website that pays you for completing the tasks they offer. The tasks involved will vary depending on your profile.
To help you make a decision on whether this site is for you or not, let's finish this review by summing up the pros and cons.

Pros:
Decent payment threshold
Good payout options
A mobile app is available

Cons:
Job offers will be limited depending on your location
Inconsistent reward rate for tasks
A bit hard to qualify for more jobs
Sometimes support can be a bit slow and not very helpful
As you can see, ClickWorker does offer decent earning potential. But it does depend on where your location is.
I like it has a mobile app you can use so you can earn on the go. But if you are somehow located in a region where the job offers aren't really great, the potential income you will earn will be reduced significantly.
This can be a decent secondary site to earn a bit of income, though.
But if you aren't into doing different types of tasks in order to earn an income, I recommend you check out the top survey sites in your country.
You will find plenty of good choices if you just want to answer surveys in order to earn a bit of money.
If you have any comments, questions, or have any experiences with ClickWorker yourself, I would love to hear from you in a comment below.