UHRS or Universal Human Relevance System is a platform that claims you'll be able to find opportunities to earn extra cash on the side.
So, if you are looking to earn a bit of extra cash, you might be considering joining this site.
However, I would advise you to read this UHRS review first so you'll know more about the site. This is the best way to find out if the site is worth it or not because this review will reveal the full truth of what it has to offer.
That way, you can make an informed decision on whether joining this site is really a good idea or not. So, let's go ahead and the ball rolling, shall we?
What is UHRS and what does it offer?
UHRS is a crowdsourcing platform that will allow you to earn extra cash by taking on data entry tasks.
The work you do is mostly used to help train artificial intelligence (AI). And yes, it is indeed a legit site since you will really get paid for completing the tasks.
But is it worth it or not?
Well, the first step to answering this question is to understand how it works. That way, you'll get an understanding of how much time and effort is needed to actually earn from this site. And the best way to do this is to take a look at the earning opportunity it offers.
For that, I have made a video that gives you an inside look and shows exactly how UHRS works. You can also read all the details below the video.
Recommended: Check Out the Top Data Entry Sites
The earning opportunity – Data entry tasks
The only way to earn from UHRS is to take on the data entry tasks it offers. Once you become a member, you will gain access to the tasks you can work on.
However, I do have to tell you that in order to access these tasks, you'll have to go through a test first (I will discuss this later).
Once you can access the tasks, you just have to pick any of the available ones and click them. Usually, the tasks you can expect to do will fall under the categories shown in the photo above. As explained earlier, UHRS's goal is to help improve the AI of its clients.
So, the tasks you will have to do will essentially be doing that. The annotation tasks will help AI systems identify text, videos, and images a lot better. They are relatively very easy to do.
Every task will have a set of instructions you need to follow. It will also tell you how much you will earn for completing it.
Now, while working on the task, you must understand what you need to do, so make sure to read the instructions carefully before you start working.
Once you've completed the task, UHRS will review your work. It typically takes a couple of days before you'll know if your submission is approved or not. Once it is approved, you'll receive the compensation that was promised. In the next section, I will discuss how you can get paid.
Recommended: Check Out the Top Data Entry Sites
How do you get paid?
The first thing you need to be aware of is that UHRS works in conjunction with other platforms like, for example, ClickWorker. So, when you complete a task, you will earn a certain amount of cash. But, what will happen is that UHRS will transfer your earnings to, for example, your ClickWorker account every week.
However, before you can withdraw your earnings, you'll need to wait for at least 28 days. Once this period has passed, you will now be able to withdraw your earnings from ClickWorker.
The payment methods ClickWorker offers are PayPal, Payoneer, or Transferwise, but not all payment options are available in all countries, in my experience.
While the payment system of UHRS is quite confusing, once you get used to how it works, withdrawing your earnings will be relatively easy. The only downside is that it takes a long time before you can withdraw your earnings.
On the other hand, I do like the fact that it offers a convenient payment method like PayPal. If you are interested in more sites that offer a convenient payment method, I would recommend you check out the top sites that pay via PayPal.
How much money can you make?
As with most data entry sites, the amount you can earn will depend on how often you can complete data entry tasks. Unfortunately, you don't have control over how many tasks will be made available to you.
The good thing is that there are usually a decent number of data entry tasks you can do daily. But if you were expecting to earn around $50 per day, that would be quite a stretch, in my opinion.
While I would say this is not impossible, it will be very hard to do even if you spend a lot of time working on the tasks every day. You have to keep in mind that the tasks you will be doing won't be very complicated.
And based on my experience, simple tasks don't pay a huge amount. That being said, I would say the earning potential of UHRS will be pretty decent if you just do it with the right expectations and are willing to put in quite a lot of work.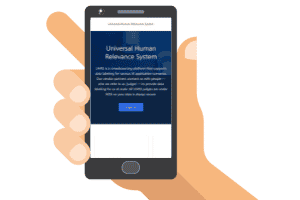 Can you use it on mobile?
UHRS doesn't have a mobile app or its own member's platform. Instead, to access the UHRS tasks, you will need to log in to ClickWorker (or any other platform that works with UHRS). And since ClickWorker has a mobile app you can download, then the answer to the question above is YES.
What you need to do is log in to the ClickWorker app and access the UHRS tasks from the ClickWorker workplace. Then, you'll just have to use the app like you normally would. It's fairly easy to navigate, so you won't have difficulty getting used to how it works.
Who can join UHRS?
UHRS is available more or less worldwide. However, joining this platform is a bit more complicated than filling out a sign-up form. Let me explain how it works because it involves a few steps.
The first thing you need to do is to sign up to, for example, ClickWorker. Once you've logged in to the platform, you need to click the "Qualify for UHRS" link. As I've mentioned earlier, before you can join UHRS, you will need to take a test.
This is how you will be able to take the test. When you click the "Qualify for UHRS" link, you'll need to answer a 25-question test designed to check your English language aptitude. If you speak and write English well, you won't have a hard time passing this test.
When I was doing my test, it took only around five minutes to complete the test, so it shouldn't take you that long to finish it as well (unless your English is not that good). Once you've passed the test, you'll be asked to create your LiveID.
In case you don't know what a LiveID is, it is basically your Windows account. If you don't have one yet, you just have to create one. You can find plenty of tutorials online on how to do this.
After you've created your LiveID, you need to find the task in ClickWorker that says "Go to UHRS and check out available projects". You'll find the link to the UHRS login platform through that task. Simply click the link and you will be taken to a page where you will be asked to sign in using your LiveID.
Once you've provided the login credentials, you can now view all the tasks you can work on and start earning.
Can you get support?
UHRS has its own support department, so if you have any questions, you have to use the Help page found in the UHRS platform and not the one in the ClickWorker dashboard. If you want assistance from their support team, you can use the contact form provided on their platform.
Overall, I would say UHRS has a decent support system for its members since they offer an easy way for you to get assistance.
Final Verdict
UHRS is a legit crowdsourcing platform that will allow you to earn by working on data entry tasks. It has a few advantages, but it also has some disadvantages you need to be aware of.
Let me summarize its pros and cons to end this review so you can get an overview of what the platform offers. Then, you can decide if it is worth it or not.

Pros:
Offers payment via PayPal
Available worldwide

Cons:
Limited earning opportunities offered
Takes a bit of time before you can withdraw your earnings
The registration process is complicated compared to other sites that offer the same kind of earning opportunity
In my opinion, UHRS is not a bad option to earn extra cash. However, it doesn't really offer anything special compared to other sites that offer data entry tasks. What I don't like about this platform is the complicated sign-up process.
You are actually better off just working on the tasks found on ClickWorker rather than taking an extra step to access the opportunities it offers. But if you are already a ClickWorker member and looking to maximize your earnings, then joining UHRS can be an option since you can work on the tasks it offers if you run out of things to do on ClickWorker.
But overall, if you are looking to earn from data entry tasks, I suggest you check out the top data entry sites to earn cash from instead. The sites on this list all have a simpler registration process, and you won't have to wait that long to get paid.
If you have any comments, questions, or have any experiences with UHRS yourself, I would love to hear from you in a comment below.