You can earn quite a decent amount from survey sites. That is, if you join the good survey sites. The problem is, with so many sites available today, it's kind of hard to pick out the best sites to join without doing proper research.
If you've been doing some research and you've encountered a survey site called GooPanel, then you must be wondering, is it legit? Well, let me put you at ease and answer this question first. Yes, GooPoll is a legit survey site that does pay you for answering surveys.
But in order to really tell if a survey site offers a good way for you to earn extra cash, there are a few things you need to consider first.
This GooPoll review will show you what you need to know so you can decide if it is worth joining or not.
What is GooPoll and what does it offer?
As explained, GooPoll is a survey site that will pay you for sharing your opinion. The panel used to be called SurveyGoo, but has since rebranded.
SurveyGoo, the company behind the panel, specializes in exploring the needs, attitudes and behaviors of consumers and businesses. They do that through various market research activities.
One such activity is surveys from their panel GooPoll. Now, to understand the earning potential of this survey site, we have to take a closer look at the earning opportunities it offers.
So, here's how you can earn from GooPoll.
Option 1 – Paid surveys
Since it is a survey site, the main method of earning rewards from GooPoll is through paid surveys. When you become a panelist, all you have to do is log in to the dashboard and view all the available surveys you can answer.
You can also check your email for notifications since they will email you if there are surveys available for you.
Every survey will tell you the estimated time it takes to complete it as well as the reward you will get for completing it.
So, you should be able to easily prioritize which surveys to take if you are strapped for time.
When you answer a survey, you will actually have to go through a set of pre-screening questions first before you answer the actual survey. You will only get to answer the actual survey if you pass the screening part.
Now, why do they screen participants? Well, this is to make sure the respondent really belongs to the demographic the survey is intended for and so that they will also be able to get accurate results.
If you don't pass the screening, you simply have to move on to the next survey so you won't have to waste your time answering a survey you won't get rewarded with. So, the pre-screening process is really a win-win situation for both you and the site.
And as mentioned, you will receive the reward promised once you complete the actual. As you can see, answering surveys is pretty straightforward.
It can just sometimes take patience to find the surveys you qualify for on GooPoll so you need to be aware of that.
As for the reward you will get, I will talk about that later.
Option 2 – Daily polls
As a member of their panel, you are also entitled to answer one poll every day. When you log in to their dashboard, you will immediately see the daily poll you can answer.

As the name suggests, a poll is basically a very short survey (usually just one short question) that requires a very short answer. Answers will be in the form of multiple choice so it won't really eat up a lot of your time.
Each daily poll is worth 10 points, which, in my opinion, isn't really that much. But then again, considering it only takes a few seconds to do, I would say the compensation for their daily polls is only fair.
Option 3 – Completing your profile
Believe it or not, you can earn additional rewards by simply completing your profile. Your profile consists of 9 categories and completing each category will earn you a certain number of points.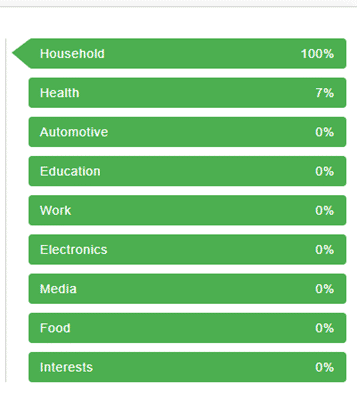 First of all, completing your profile is a necessary procedure. You need to do this to increase your chances of receiving survey invites.
So, when you become a member of their panel, you are actually already entitled to 180 points (since there are 9 categories for your profile and each category is worth 20 points).
So, once you become a member, I would suggest the first thing you do is to complete your profile. It's not very time consuming. Each category is like answering a short survey.
Option 4 – Referral program
As with most online rewards sites, GooPoll also has a referral program in place where it will reward you for inviting people to join their panel. And once they successfully sign up, you will earn 100 points.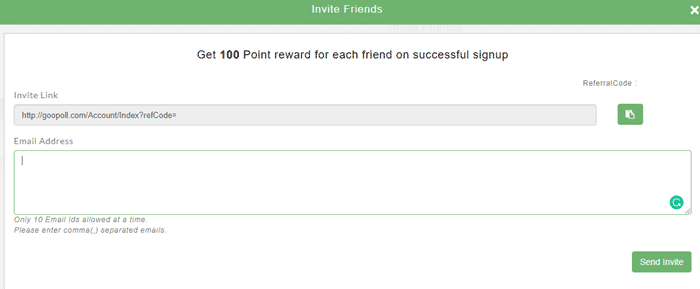 As shown in the photo above, you can invite people to join in three ways. You can either share your invite link with them, give your invite code or provide their email address so GooPoll can generate an invite email.
I like the fact the condition you need to meet to receive the reward is very simple.
Many referral programs usually require your referral to complete a certain number of surveys before you are qualified to receive the reward.
But with GooPoll, all they have to do is complete the sign-up process and you will already be rewarded.
However, as you will see in the next section, the 100 points you get are really not worth a lot so you should not expect to earn a lot like this.
How do you get paid?
GooPoll uses a point-system for their reward structure. So, for every activity you complete on the site will earn you a certain number of points. Once you've earned 10,000 points, you can redeem the reward you want.

You have the choice to convert your points to cash through PayPal or direct bank transfer. For that, you will need at least 10,000 points, which is equivalent to £10. It's moderately high threshold. Plus, they have a maximum withdrawal limit of £20 per redemption.
But I do like the fact that they offer PayPal as a payment option since it is the most convenient payment method, in my opinion. If you are interested in more sites that pay via PayPal, I recommend you check out the top sites that pay via PayPal.
You also have the choice to convert your points to gift cards which cost less points (5,000 points). But this will only be worth £5 since every 1000 points is worth £1. You can redeem, Amazon, iTunes, Netflix and GiftPay gift cards.
How much money can you make?
As with all survey sites, the amount of money you can earn will mostly depend on how many surveys you can complete and how well the site pays for each survey. These are basically the main drivers of a site's earning potential.
There's no guarantee you will receive survey invites on a regular basis. The best thing you can do to maximize your chances of receiving surveys is to complete your profile.
Now, as for how well they pay, they usually pay around 100 to 3000 points. To put it into perspective, that's £0.1 to £3. It's not that bad, in my opinion, considering answering surveys won't really eat up too much of your time.
However, most of the common feedback from this site is about survey availability. You just won't receive a lot of survey invites.
So, it's pretty hard to clear that £10. That's why, overall, I would say this site has a relatively low earning potential. You will need to be extra patient to redeem your rewards.
Can you use it on mobile?
The answer to this question is YES. GooPoll has a mobile app you can download from Google Play.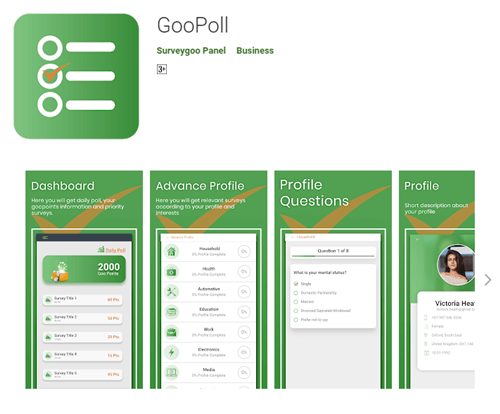 So, you will be able to answer surveys from this panel on a mobile device and you will be able to answer them conveniently, I might add, because their app is very user-friendly. The only downside is, it is only available for Android devices.
If you are using an iOS device, you can still access their website from a mobile web browser. Their site is also mobile-friendly, so you won't have a hard time navigating through it.
Who can join GooPoll?
GooPoll is a UK-exclusive panel. So, you will only be able to sign up if you live in the UK. Plus, you have to be at least 16 years of age to register as a member.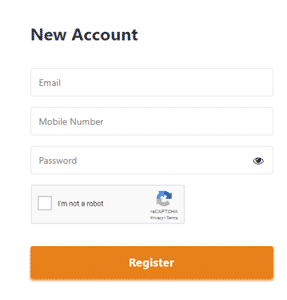 To register as a member, you simply have to fill out their sign-up form and then confirm your registration by clicking on the activation link that will be emailed to you. You will then have to answer a short survey for building your basic profile.
As soon as you've completed that part, you can log in to the site and you will see you've received a 200-point sign-up bonus. The sign-up bonus isn't that much, but at least, it's a good head start to reaching the threshold.
If you are interested in more UK-based sites, I recommend you also check out the top sites in the UK.
Can you get support?
If you encounter any problems with your account or if you just want to ask them something, you can send your inquiry by logging on to their dashboard and going to their Helpdesk. Then, all you have to do is create a new ticket and fill out their form.
This, in my opinion, is a much better way of providing support to members compared to your standard contact form. This is because you can easily track down the status of the inquiry you made. Plus, you can easily review the answers if you encounter the same problem again.
Overall, I would say GooPoll offers decent support to its members.
Final Verdict
GooPoll is a legit survey site that does pay you for answering surveys and polls. It offers a couple of interesting features but it also has certain limitations.
Now, let me end this review with a summary of its pros and cons so you can finally decide if this site is worth joining or not.

Pros:
Offers payment via PayPal
Their app is user-friendly
Has a sign-up bonus
Cons:

Limited earning opportunities
Relatively high payout threshold
Their app is only for Android users
GooPoll, in my opinion, can be a decent secondary site to join since it offers convenient payment methods. Plus, it has an app you can use so you can easily answer surveys even when you are not in front of your computer.
However, you need to set your expectations properly because the availability of surveys on this site is pretty low. So, you will need to be very patient since you won't reach the threshold quickly.
If you are looking for better options, I would suggest you instead check out the top survey sites in your country. The sites on this list have good earning potential. Plus, you will be able to find a site you can join even if you live outside the UK.
If you have any comments, questions, or have any experiences with GooPoll yourself, I would love to hear from you in a comment below.