Being able to earn a few extra bucks online has become popular over the years. There are literally hundreds of sites you can join to earn online. Therein lies the problem.
It is practically impossible to figure out the best sites to join without proper research with so many sites to choose from. This article will take a look at a survey site called Yuno Surveys.
So is Yuno Surveys a scam? Or is it a legit survey site where you can really earn?
The reason why we ask this question is, it is important to verify the legitimacy of a panel because you need to make sure you won't be wasting your time by joining a site that won't pay you. So you want to make sure you join a legit site.
Now, let me answer this question right away so we can proceed with evaluating this survey site. No, Yuno Surveys is not a scam. It does reward you for completing their surveys. But, this doesn't necessarily mean that this site offers good earning potential.
This Yuno Surveys review will examine everything the site has to offer so you can see if it does give you a good reason to be a member or not.
Important update: Yuno Surveys closed
The website Yunosurveys.com closed its panel on the 15th December 2021.
Therefore, you are no longer able to take surveys through the website. You might still come across some Yuno surveys other websites and apps, but you can no longer access them through Yunosurveys.com.
As you can see in my original review of Yuno below, it is not a huge loss, in my opinion, as there are so many better survey sites.
You can check out the top survey sites here instead.
What is Yuno Surveys and what does it offer?
As mentioned above, Yuno Surveys is a survey site that pays you for answering their surveys. It's been around since early 2019, so it's a fairly new survey site.
And in order to fully understand how well you can earn from this panel, we need to take a closer look at the earning opportunities it offers. So, here's how you can earn from Yuno Surveys.
I have made a short video that gives you a full guide tutorial. You can also read all the details below the video:
Recommended: Check Out the Top Survey Sites in Your Country
The earning opportunity – Paid Surveys
There is only one way you can earn from Yuno Surveys and that is by answering their surveys. When you become a member of this panel, you can log in to their member dashboard and see all the available surveys you can take.

As you can see in the photo above, each survey offer will tell you the number of points you can earn when you complete it and the estimated time it takes to complete the survey.
This is valuable information to know beforehand because it will help you prioritize which surveys to take if you are strapped on time. When you click on a survey offer, it will open a new browser tab. So, don't be alarmed if a new tab pops up. You will then have to answer a few profiling questions. This is done to determine if you qualify for their surveys.
If you qualify, you will either be asked to answer a survey from them or from other survey sites. Yes, they do emphasize that sometimes, they will offer you surveys from other sites. So, don't be alarmed if you are taken to a different site.
This just means they have partnered with other survey sites to provide you with more surveys to earn from. Once you've completed the survey, you will then receive the reward promised.
As shown in the photo above, they have three types of surveys available. These are easy surveys, middle surveys, and maximum reward surveys. As you can tell from the names, the maximum reward surveys pay the most.
It also takes up most of your time. So, make sure to consider that before doing any survey.
In general, the rewards for the time it takes to complete surveys on Yuno Surveys are not very high compared to many other survey sites (more about the value of points later).
And the number of points you will get for the surveys will depend on the country you live in.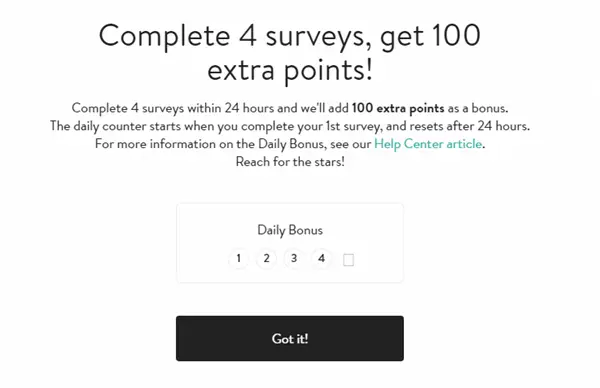 The good thing about Yuno Surveys is, they do give out bonus points if you manage to complete four surveys within 24 hours (refer to the photo above). The 24-hour counter will start the moment you complete your first survey.
If you manage to complete four surveys during that time span, you will receive 100 extra points.
It's a nice addition to what you can earn, in my opinion, because it incentivizes members who are very active on the panel.
How do you get paid?
Every survey you complete will earn you points which will be credited to your account. You can then use the points you've earned to redeem rewards.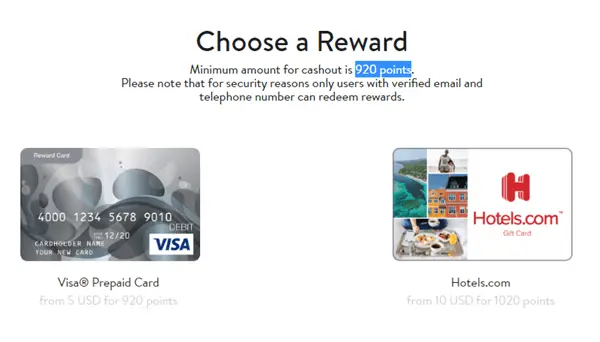 As of the writing of this review, they offer prepaid Visa cards, prepaid MasterCard, or Hotels.com gift cards as rewards. But this can vary depending on the country you live in.
They used to offer more gift card options, but unfortunately, those are the only options available as of this writing.
If you choose to redeem a prepaid Visa card, you will need 920 points to do so. That will be equivalent to a $5 Visa card. If you choose to redeem a Hotels.com gift card, it will cost more points (1020 points), but it is worth more ($10).
I do like the fact that they do have a low cashout threshold ($5). However, the conversion ratio is a bit confusing and as you can see, you need quite a lot more points if you want to get paid in cash compared to a gift card.
Also, it would have been better, in my opinion, if they also offered PayPal as a payment option simply because it is widely considered as the most convenient payment method around.
If you are interested in sites that pay via PayPal, I suggest you check out the top sites that pay via PayPal.
How much money can you make?
With survey sites, the amount of money you can earn will mostly depend on how many actual surveys you complete and how well they pay. Of course, in order to complete a survey, you actually have to qualify for it.
And qualifying for a survey can take a bit of patience. You also have to consider the time you can spend. As explained earlier, some surveys will take longer to complete than others.
The longer it takes to complete a survey, the more you will earn. Those are surveys you should target to maximize your earnings. That is, if you have the time, of course.
When you look at the highest paying surveys on Yuno surveys, they will give you 120 points in some countries (it will be even lower in some countries).
It might sound like a lot but if you want to get paid in cash this is only worth around $0.65 and would take you around 30 minutes.
This is really poor value for your time compared to many other survey sites. However, if you want to get paid in gift cards the value is a bit better.
But, in terms of earning potential, Yuno Surveys is definitely not the best one out there. So, don't expect to earn a lot from this panel even though it gives you access to plenty of surveys.
Can you use it on mobile?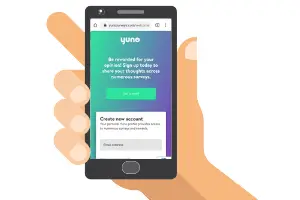 Yuno Surveys doesn't have a standalone mobile app you can download so you can answer surveys on your mobile device. However, you will be able to access their site from your mobile device using a web browser.
Fortunately, their site is optimized for mobile use. That means you won't have to zoom in to read all the content.
During the pre-qualifying stage of each survey, they will also ask you to specify the type of device you are using.
So, it does allow you to answer surveys on your mobile device with relative ease. This is a good thing because you can earn rewards anytime and anywhere.
Who can join Yuno Surveys?
This survey panel is available globally. That means you can register as a member regardless of where you live. This is probably the best feature the panel has to offer.
Some survey panels are limited to a certain region, so it's kind of hard to join. But since Yuno Surveys is available worldwide, registering won't be a problem.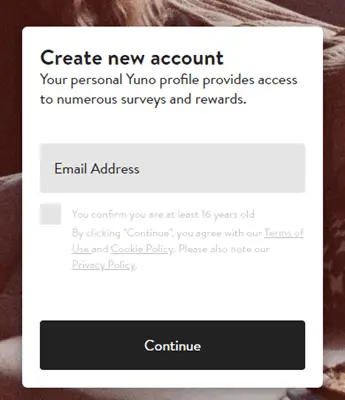 To become a panelist, all you have to do is provide your email address (refer to the photo above). You don't even have to provide a password. Once you've submitted your email address, just check your email and click the verification link they will send you.
You will then be logged in to their dashboard. This is where you can provide your password. Just go to your account settings and set up your password.
You also have to make sure you provide your phone number because they won't let you redeem rewards if you did not provide your phone number.
Can you get support?
If you have a question you want to ask their support team, you can first check out their Help Center and view their FAQ page. You might find the answers on their FAQ page.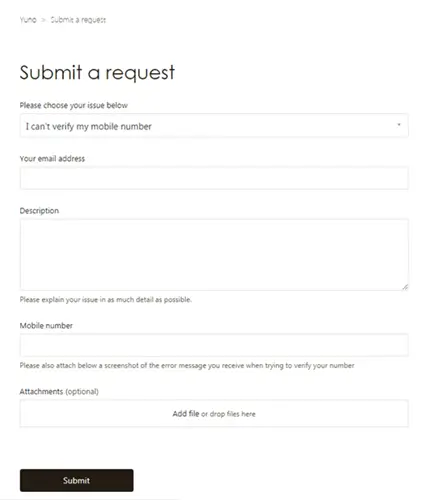 But if you can't find what you are looking for, you can then submit your inquiry by filling out their contact form. When using their contact form, you have to choose the appropriate subject for your inquiry.
Once you've done that, the rest of the form will appear and you can just fill it out the usual way. Overall, I would say that they do provide a decent way for their members to get support.
Final Verdict
Yuno Surveys is a legit survey site that does pay you for completing their survey offers. It has a couple of advantages and a few disadvantages as well.
Let me end this review by summarizing their pros and cons so you can get a clear overview of what the site has to offer. That way, you better decide if this is a site you should join or not.

Pros:
Low payout threshold
Available globally
Has a user-friendly site

Cons:
Limited earning opportunities offered
Low rewards
Limited reward options
Yuno Survey is not a bad survey site, in my opinion. It has a low payout threshold and its site is very user-friendly. However, you can't really expect to earn a lot from it simply because it has limited earning opportunities available and pays very low rewards for the time spent compared to many other sites.
It can serve as a viable secondary site to earn from as long as you are ok with receiving prepaid Visa/MasterCards or Hotels.com gift cards as rewards and if you have a lot of extra time and want to join as many survey sites as possible.
But if you are looking for a site with better earning potential and versatile payment methods, I recommend you check out the top survey sites in your country instead.
The sites on this list all have good earning potential and offer a variety of payment options as well. Plus, you will be able to find a site you can join regardless of where you live just like Yuno Surveys.
If you have any comments, questions, or have any experiences with Yuno Surveys yourself, I would love to hear from you in a comment below.