Shopalong is a mobile app that promises to reward you for doing fun assignments.
It's quite a unique platform simply because it is exclusive to mobile devices. But is Shopalong a scam or really a legit way to earn extra cash?
This is a good question to ask – before you register to become a member, you need to make sure you will be joining a legit platform.
So, let me just answer this question right away. No, Shopalong is not a scam. It is a legit mobile app that does what it claims to do.
This doesn't automatically mean though you should sign up and become a member. You have to evaluate first if the app has good earning potential so you can determine if it is really worth your time to join or not.
This Shopalong review will reveal all the details you need to know so you can decide if it's a good fit for you or not.
What is Shopalong and what does it offer?
As mentioned, Shopalong is a mobile app that will ask you to complete "assignments". In exchange, they will either pay you or reward you with something once you complete the assignment.
It is owned by Purchased, a market research firm that partners with some of the most popular consumer brands today.
The way Shopalong is structured is, it acts like a Get-Paid-To (GPT) site. The difference is, the platform is exclusively for mobile devices. So, you will need one in order to become a member.
To get a clear picture of the earning potential of this GPT mobile app, let's take a closer look at how you will be able to earn from this site.
The earning opportunity – Shopalong assignments
Think of assignments as offers you would receive from GPT sites.
The difference is, you actually have to do it physically, rather than just filling up some online form or just sign up to other websites as you would normally do in other GPT sites.

As you can see in the photo above, the tasks you need to do in an assignment will differ.
Sometimes, it will ask you to take a picture of a product in a physical store or ask you to buy a specific product during special events like Mother's Day or Thanksgiving Day.
Other times, it will ask you to fill up a questionnaire about a certain product. It's like some form of Shopalong survey for a specific product.
Once you complete all the tasks the assignment requires you to do, you will then receive the reward promised.
You do have to take note that some, if not most, of the assignments, usually take more than 1 day to complete.
Sometimes, these assignments can take a week to complete. So, you will need a lot of patience and free time to complete it, which can be problematic for some people.
In my opinion, this type of earning opportunity isn't really a good fit for people who just don't have the time to spare. But you can also at times find assignments that are faster to complete.
How do you get paid?
This information is not clearly stated on their website, which is not a good thing really. But all the information they present on their website alludes to them being able to pay you real money.
Based on feedback from members, Shopalong does pay you real money for completing their assignments. Aside from that, you can also choose to receive prepaid Visa debit cards instead.
There is no mention on their website about a specific threshold you need to reach before you can withdraw your earnings. So, I presume you will be able to withdraw your earnings via PayPal anytime you want.
If you are interested in sites that pay via PayPal, you can check out the top survey sites that pay via PayPal.
How much money can you make?
The answer to this question will depend on how often you receive invites to do assignments, how many assignments you actually complete and the reward you get for each assignment completed.

As you can see in the photo above, an assignment can pay you around $5-$ 50, which, in my opinion, is really quite high. But, you have to keep in mind that some of the assignments will take some time to complete.
So in effect, the amount of money you will earn will really be just fair compensation for the time you will spend completing the assignment.
The downside is, once you start an assignment, you have to make sure you finish it. Otherwise, you won't be able to receive the reward. You can't just stop midway through the assignment and expect to receive part of the reward.
That's not how their system works.
The problem with this type of system is, you will really have to commit quite some time in order to receive the reward promised. This can be a problem especially for people who don't have a flexible schedule.
This will affect the overall earning potential of Shopalong because not a lot of people can afford to commit to the amount of time required to finish assignments.
Can you use it on mobile?
The answer is a resounding YES. As you already know, Shopalong is a mobile app primarily.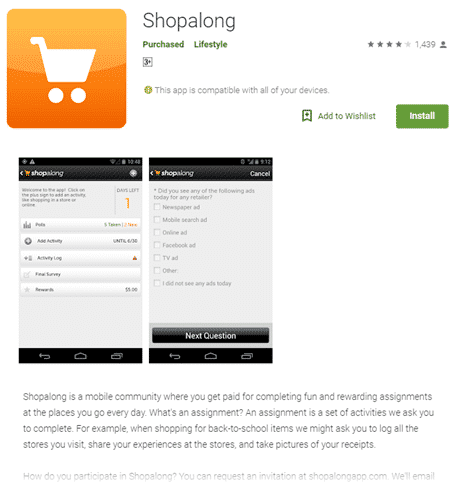 It is available in both the Google Playstore and Apple Appstore. You will actually need your mobile device to sign up for their platform and also do assignments.
But, their mobile app is actually not really needed once you have registered.
That's because you will be receiving assignment invites via email and you can actually log in to their site from a mobile device using a mobile web browser (which is optimized for mobile use).
So, if you are worried about phone storage, you can actually uninstall the app once you are done registering because you can work on assignments using your mobile web browser.
So, in all actuality, the main selling point of their platform really is just useless once you become a member, in my opinion.
It leads me to think that their mobile app is just some form of marketing to entice people who prefer to work on online rewards platforms on mobile devices.
However, you will also be able to access available assignments using their mobile app, which just makes it much more convenient.
Who can join Shopalong?
There is no mention on their website about who is eligible to join their community.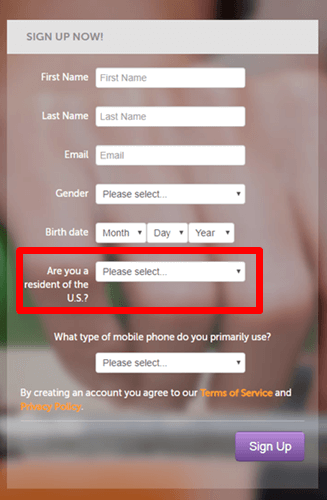 As you can see in the photo above, the registration form asks you if you are a resident of the US.
If you answer yes, it will tell you the registration is complete and you just need to wait for the confirmation email.
The problem is if you answer no, the same thing happens.
So, there isn't really any distinction between the two answers. When you confirm your registration, it will redirect you to a profile questionnaire which will ask you to provide your address.
Again, the problem is, regardless of whether you answered yes or no, it will ask you to provide a US address.
So, I can assume that Shopalong is really just available for residents in the US because you really can't complete the registration process if you don't provide a US address and mobile number.
In my opinion, their site really needs more work to make information about who is eligible to join more transparent or clear.
Presenting this kind of information properly is crucial because it can be the determining factor on whether or not you can join their community or not.
Can you get support?
Being able to receive support is also a crucial factor when deciding if you should become a member of a panel/community or not.
In my opinion, it's very troublesome if a site doesn't provide ample support to their members, especially in their case where some important information is left out.
You, as an interested party, will really have questions that need to be answered. Fortunately, Shopalong does provide decent support for their members and anyone interested in joining their community.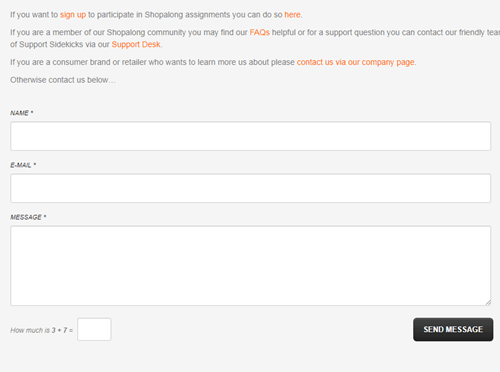 As you can see in the photo above, you can use their contact form to send in your questions.
They also have an FAQ section that covers some of the important topics (although the question about membership eligibility isn't really discussed).
If you were hoping that they have a social media page you can visit and send your inquiries though, you will be disappointed. They don't have one.
Overall, their support system is pretty decent but it isn't as good as some of the other sites/communities out there.
Final Verdict
Shopalong is a mobile app that promises to pay you for completing the assignments they offer. But, it does have some major drawbacks, in my opinion.
So let's finish this review with a summary of Shopalong's pros and cons so you can decide if it is a good fit or not.

Pros:
No payment threshold
You can earn real money

Cons:
Not all relevant information is displayed on their site
Assignments can take up a lot of your time
All in all, even though the way you can earn from Shopalong is pretty convenient since you can do it on your mobile device, it really isn't for everybody.
That's because some of the assignments can take up a lot of your time and these are the assignments that pay quite significantly. Sure you will receive invites for assignments that won't take up much of your time, but these are the ones that don't really pay well.
So, in effect, the overall earning potential will really be quite low unless you really dedicate a lot of time to this mobile app. There are far better opportunities for you, in my opinion.
But if you like doing these long tasks and you have plenty of time to spend, this can be a good supplement to the other sites where you can earn real money.
If you are looking for mobile apps that will allow you to earn without committing a significant amount of time, I suggest you check out the best paid survey apps instead.
The apps on this list will allow you to earn real money during your free time. Plus, you will be able to find an app that you can register to regardless of where you live.
If you have any comments, questions, or have any experiences with Shopalong yourself, I would love to hear from you in a comment below.