PrizesLab is a Get-Paid-To (GPT) website that claims to reward you for completing surveys and taking offers.
But is PrizesLab legit and really a way to earn or a scam to stay away from? That's the first question you need to ask.
Now let me just tell you right away, yes PrizesLab is legit. But that doesn't necessarily mean it is a good site to sign up for.
This PrizesLab review will show you everything PrizesLab has to offer so you know exactly what to expect and can determine if this site is for you or not.
So let's get this review started.
What is PrizesLab and what does it offer?
As mentioned above, PrizesLab is a GPT site that promises to reward you for doing the tasks they provide.
Although it is a bit troubling that I could not find any information about the background of the company (yes, not even on their website), nevertheless, they seem to be a pretty legit outfit. I know that might not be the best reassurance, but stick with me.
To better gauge the legitimacy of this GPT site, let's take a closer look at what they offer. This way, you can decide whether signing up is a good idea or not.
I have created a video that gives you an inside look so you can see for yourself exactly how PrizesLab works. You can also read all the details below the video:
Option 1 – Paid Surveys
Paid surveys are one of the ways you can earn from PrizesLab.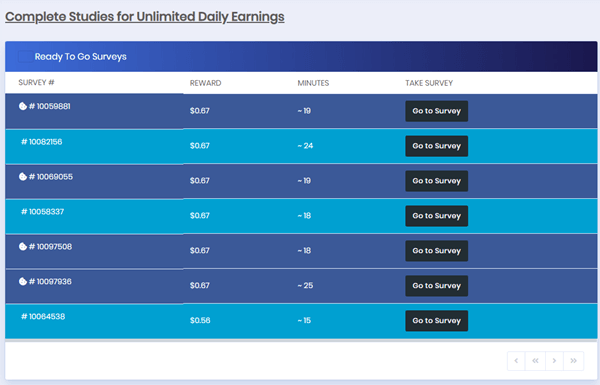 If you've had previous experience with survey sites, you already know how it works. But PrizesLab is quite different.
The paid surveys they offer don't actually come from them. These surveys are actually provided by other sites who have partnered with them
In reality, they act as a survey router. The way they structure their survey offers is pretty similar to SurveysForU. What happens is, when you click a survey offer, you will be redirected to the actual site that offers the survey.
You will then have to answer pre-qualifying questions before you can proceed to the actual survey. They do this to check if you are among the target demographic that they are looking for.
This is actually a good method in my opinion because it saves you time. It's better than having to answer the survey, then find out in the end that you did not qualify. So basically, you just wasted several minutes answering a survey you won't get a reward for.
And as you can see in the photo above, PrizesLab tells you how long the survey is and the reward you will be getting for completing it. Once you have completed the surveys, you will get the reward into your PrizesLab account.
The downside with this system is, the reward you will be getting will usually be a bit lower than what you will get on some other survey sites where you can take the surveys directly.
But the advantage is that you have access to quite a lot of surveys in the same platform. And PrizesLab does offer quite a lot of surveys.
So it can be a way to earn here – just be aware that you will not qualify for all the surveys so sometimes it might take a bit of patience to find the surveys you qualify for. And the rewards on PrizesLab are on the lower side compared to other sites.
Option 2 – Paid Offers
Paid offers is another way for you to earn rewards on PrizesLab.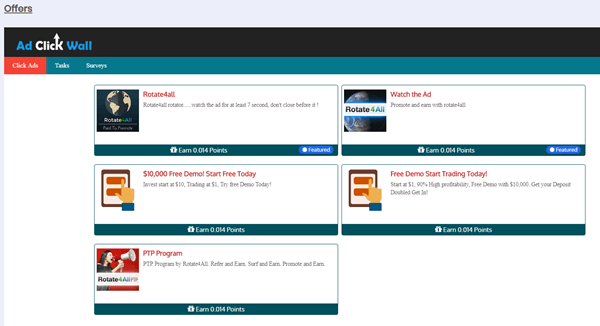 Paid offers is one of the most common earning opportunities on GPT sites. Paid offers will ask you to complete certain tasks like signing up for a website, watching ads, starting a free trial, answering quizzes, play games and download apps.
Most of the tasks are pretty straightforward except for starting a free trial or demo. This one needs a bit of your attention, mainly because most of these free trials will require that you input your credit card information.
What happens is, before you can start the trial, you will need to provide your credit card information. Of course, they won't charge you for doing the trial. But the tricky part is, the free trial has a duration. Usually, it's one month, but some trials are shorter.
After the trial duration is over, the site will automatically charge you for the renewal if you did not cancel your subscription. This is what you need to look out for.
So when you sign up for a free trial, you need to make sure you take note of the duration and then cancel it before it ends to avoid being charged. I just thought it would be something that you need to be on the lookout for in case you do this type of offer.
But if you are aware of this and make sure to read the conditions, you can actually find some pretty good rewards here sometimes.
In my opinion, paid offers can actually be a great way to boost your earnings on GPT sites.
If you combine these offers with the paid surveys, you will overall get good earning opportunities.
Option 3 – Referral Program
PrizesLab also has a referral program in place for you to earn some passive income if you invite other people to join.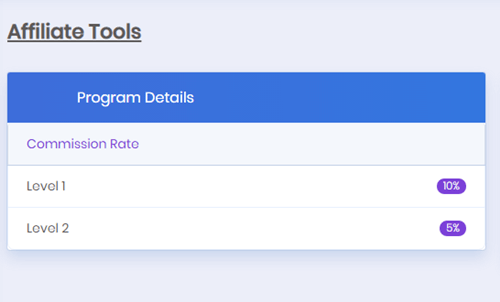 Their referral program, also known as an affiliate program, has a two-tier structure. Not much is explained on their website (which is one of their main problems that I will explain later) about their referral program.
But from what I can surmise, you will be able to earn 10% of your direct referral's income. The direct referral is the individual who used your referral link to sign up to PrizesLab.
You will also be able to earn 5% of the income of your direct referral's referral. This is the second tier of their referral program.
In my opinion, this is one of the better referral program structures being used. Although this will all depend on how active your referrals are on the website, it is still a nice way to earn some money without having to do anything.
It would have been nice, however, if you would have also received some sort of reward for every direct referral you make, seeing as it is actually a bit hard to get one.
It is not quite clear though how they will calculate the percentage of the income since they don't really have that information available on their website.
But usually how it works is that if your friend earns $1, you will then get $0.10.
This will not affect the earning of your friend. He/she will still get the same money, but the percentage is paid by PrizesLab to thank you for inviting someone else.
Option 4 – Regular Contests
There is a section on their homepage saying they hold regular contests, but there isn't really any actual information about what type of contests they do.
Even though there isn't any information on their site about these contests, I just thought of including it here to let you know that they do that sort of thing too. It might pop up from time to time on your dashboard, but I can't guarantee that.
This is really the first issue I've noticed with PrizesLab. The lack of information on their website can be a turn-off. It speaks a lot about the company.
In my opinion, you always have to make sure that you have laid out everything that you, as a member, need to know to guarantee a user-friendly experience when using the site.
The site itself is quite pleasant and nice-looking, but the lack of information is an issue, in my opinion.
There are plenty of GPT sites that do provide enough information so you will be able to properly strategize how to earn on the website. You can find plenty of those sites on the link below.
How do you get paid?
Now that you know the earning opportunities on PrizesLab, let's talk about the next most important aspect, which is how you will get paid.
With PrizesLab, you will only be able to withdraw your earnings via PayPal. They mentioned on their homepage again that they offer crypto-payments and hundreds of virtual gift cards as rewards, but I can't find these options after logging in.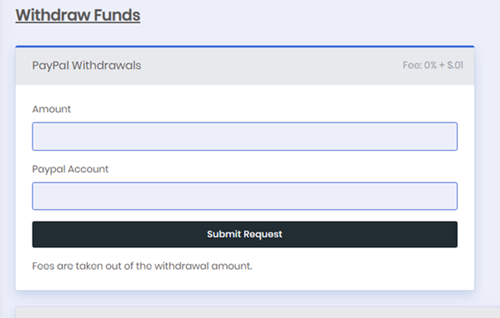 Once you accumulate points by doing paid surveys, offers, and referrals, you can then convert the points you've accumulated (since PrizesLab uses a point system for its rewards) into cash.
The minimum amount of withdrawal for PayPal in their system is $2. That's actually a pretty low payment threshold, which would include them in the quickest paying survey sites.
How much money can you make?
So now you know how you can get paid on PrizesLab, the next thing to consider is how much money can you make?
Let me just say right away, don't expect to earn a lot from PrizesLab. This is because the rewards for each offer you do will not be that much.
Let's paint a picture here.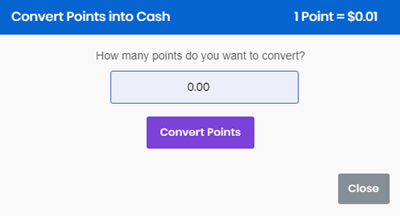 According to the photo shown above, 1 point is equivalent to $0.01. If you take a look at the offers being presented on the dashboard, the range of points rewarded per offer is between 3-18 points.
So that means, with each offer, you only stand to earn $0.03 to $0.18. That will mean, it will really take some time to even reach the minimum of $2 to withdraw your money.
And if you've noticed, in the previous picture, there will be a fee for withdrawing your money via PayPal and the fee will be deducted from the amount you will withdraw. So, the actual amount you will receive will really be less.
If you are looking for GPT sites that will allow you to earn more, I suggest you check out the top paying GPT sites.
Can you use it on mobile?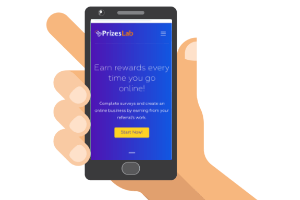 There is no mention on their website about a PrizesLab app you can download to your mobile device so you can work on it even when you're not at home.
But, you will be able to access their website with your mobile device by using a mobile browser. The good news is, their site actually looks like it is optimized for mobile use.
You will be able to view all the content without having to zoom in or out of the page. That at least allows you to work on earning points even when you are on the go.
Plus, there are actually offers that will ask you to do some stuff on your mobile device. So, you will get more opportunities for earning reward points.
And may I add, the mobile version of their site actually looks better than many other GPT sites, in my opinion.
The only real issue with their website is the lack of information, which makes it a less user-friendly site.
Who can join PrizesLab?
During the registration process, it won't ask you for a location of where you live. So that means, you will be able to register regardless of where you live.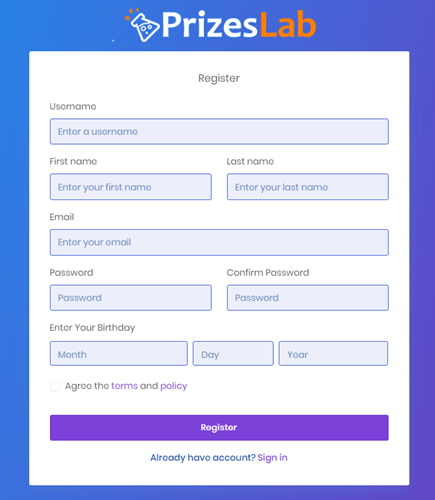 It does ask you to input your date of birth and the last year you can select is 2003, which leads me to believe that the minimum age required in order to register is 16 years old.
Again, I am only working on assumptions here because there is no information on their website about the registration process.
And as you can see in the photo above, there is a link for their terms and privacy policy. But when you click on the link, it will just redirect you back to their homepage. That means the pages don't exist, which in my opinion, is just bad business practice.
Can you get support?
One good thing about their website is their support system.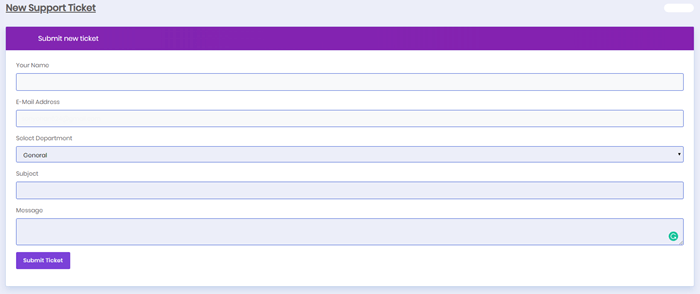 They have a ticketing system in place. If you encounter any problems with your account, you can just create a new ticket and send in your questions.
You will also be able to track the status of the ticket you've submitted. In my opinion, this is one of the better customer support systems that a site can use.
It makes for tracking your queries a whole lot better.
The only problem is, that is the only form of support that they offer. Their website doesn't have a FAQ section. That means if you have any questions (even if they are just basic questions), the only way to get answers is to file a ticket.
I checked their Facebook page and it seems like they haven't been active for a while now. You can message them though if you want to talk to them. I'm just not sure how long it takes for them to respond.
From this, I would suggest that you stick to the support section on their website if you want to contact them.
Final Verdict
Even with all the negative aspects of their website, it does look like PrizesLab is a legit GPT site that really does pay you for completing their offers.
To help you with your decision, let's finish this review with a summary of the pros and cons.

Pros:
Plenty of offers available
Very low payment threshold
Payment via PayPal is available

Cons:
Low rewards offered
Lack of necessary information on their website which makes it a very not user-friendly site
Limited support options available
All in all, even though PrizesLab has a very low payment threshold, the potential income you can earn is very low due to the low rewards offer.
The lack of information on their website is also a deal-breaker in my opinion. When you make a website like this, the first thing you need to make sure is that you have provided all the information needed to attract potential members.
They have neglected to do that. In my opinion, that is just bad business practice.
So I recommend, you check out the top paying GPT sites instead. You will find several sites on that list that will have better rewards and most importantly, complete information on what they offer.
If you have any comments, questions, or have any experiences with PrizesLab yourself, I would love to hear from you in a comment below.