Can you really convert your opinion into cash with Thinkopinion.com as it promises?
The site also promises you it is an easy way to earn in several ways online.
But is ThinkOpinion a scam or is it really a legit and great way to make some extra cash?
There are a lot of things you need to be aware of before answering this question.
In this Think Opinion review, you will get an in-depth inside look of this website from a real user, and see what it really offers so you can easily decide if it will be worth your time or not.
Disclosure: Some articles on this website contain affiliate/sponsored links. Click for more info.
What is ThinkOpinion.com and what does the site offer?
First off, Think Opinion is a website that is fairly new. It was launched in January 2019 so compared to many other sites, it is still quite young.
But one good thing is that it is continuously being developed and the team behind sees to put in a lot of work to improve it.
It claims to give cash rewards and gift certificates through answering surveys and more. Because it has several ways to earn, it is what is called a GPT site (Get-Paid-To).
According to them, they have partnered with some companies and big research networks that need survey data and feedback to base their decisions on. This is how it is possible for you to earn on the site.
As mentioned, it is a fairly new platform but according to the site itself, they have already paid out more than $133,000 and have a total of 50,000+ offers on their site.
So let's go over every option you have to earn on ThinkOpinion one-by-one so you can see how good each of these options are.
I have made a guided video tutorial that shows exactly how to use Think Opinion and what it offers so you can get an inside look. You can also read all the details below the video:
Recommended: Check Out the Top Survey Sites in Your Country
Option 1 – Paid Surveys
ThinkOpinion.com has a section with paid surveys. This is a very used way to earn on GPT sites in general and is one of the ways you should definitely check out if you decide to join.
It's very easy to access. At the right-hand side of the posted surveys, you'll see the reward you can get upon the completion of the said survey. At the bottom of the posted survey, you can see the "requirements" of the posted paid survey.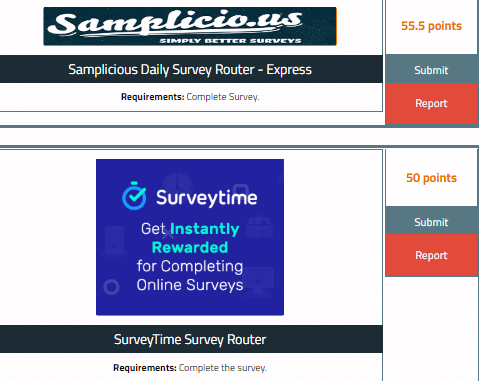 They have both daily surveys and then a section just called surveys-
The daily surveys are a type of surveys you can complete every day.
Just be aware that you will not qualify for all the surveys so sometimes it might take some time to find the surveys you qualify for.
That is, however, very normal on GPT sites so you should not expect to qualify for all the surveys available, in general, no matter the site you join.
But there are also surveys you will be able to qualify for. How many depends on your location and your profile. Overall, ThinkOpinion does, however, give access to quite a lot of paid surveys as it has many partners.
The rewards for them are quite decent compared to other survey sites. Some are higher and some are lower. I, for example, saw you would get $0.50 for taking a survey at Surveytime.
But if you join that site directly you get $1 per survey. But other surveys give slightly higher rewards than I have seen on other GPT sites.
So if you choose the surveys wisely, you can definitely make some nice extra cash by sharing your opinion on Think Opinion.
Option 2 – Offerwalls
On your dashboard, you can access several offer walls. You can also access them by hovering your cursor over the offer wall tab in the top menu.
Think Opinion has many partners such as Enligne Surveys, Revenue Wall, WannAds, OpionionCapital, etc.

Each of them has different offers. You can, for example, find more surveys here but also other paid offers like, for example, to sign up for other websites, playing games, downloading apps, and more.
Again, you will not qualify for all of them.
But if you are patient enough, you can find some great rewards here. Just make sure to always read the conditions for each offer on ThinkOpinion (and for offers on offer walls in general).
Some are really great but others do not have great conditions so make sure you know what you are saying yes to.
And you can find a lot of offerwalls and ThinkOpinion and they have added several since I first reviewed it. Now then are even offering a few offerwalls I have not seen on other GPT sites.
So if you decide to join, this section can definitely be worth checking out.
Option 3 – Offer contests
When you take surveys and offers on ThinkOpinion, you are automatically participating in the monthly offer contest.
Daily surveys and the offers that have a value of 25 points or more count in this contest.
Basically, you just have to accumulate as many points as possible. The 50 people with the most earnings every month will win a prize.
The first place gets a 30% bonus of their earnings and then the bonus decreases and the 50th place gets 1%.
I really like the give an extra reward for 50 people as most other contests like this on other sites only gives rewards to the top 10 or maybe top 20.
Of course, it is not a big bonus if you do not end up in the top 20 but it can still be a great way to boost your earnings.
So overall I think this is really a good incentive to increase your earnings and will be a nice extra reward to get if you finish at the top of the list.
Option 4 – Invite friends to join
Think Opinion boasts greatly about their referral program.
If you invite other people to join, you can earn 15% of your level 1 referral earnings. Your referrals will earn the same and this bonus is paid out of the pockets of ThinkOpinion to thank you for inviting other people.
And you will get a 5% commission from your level 2 referrals.
So if you have a lot of friends that might be interested in joining, then it can be a way to earn a bit extra.
Option 5 – Grab ThinkOpinion promotional codes
ThinkOpinion also hands out promotional codes to active members where you can get some free extra points.
You have to follow their social media networks to get free points through these codes.
They used to share promo codes on several of there social media account and you could just take that promo code and go to Thinkopinion.com to redeem it for some free points.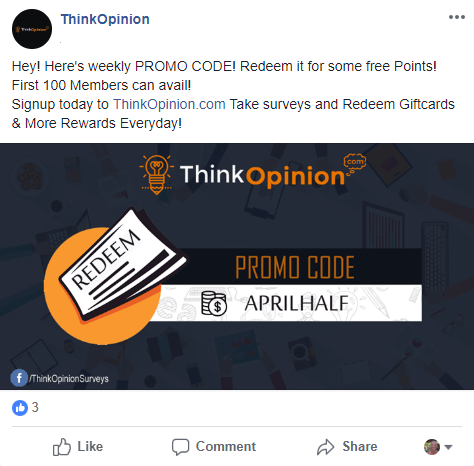 You just have to be fast, and be active because the number of people who can use the codes is limited.
Also, it will not be a lot of free points you will get but even a little free points are also nice, right?
However, at some point they announced they would no longer post these promo codes on all their social media but only on their YouTube channel weekly. At first, they did publish promo codes weekly, but as of updating this review it has been several months since they last posted a code there.
So they are a bit inconsistent but hopefully they will start posting them more often again soon. If you decide to join, it can be worth checking once in a while.
Recommended: Check Out the Top Survey Sites in Your Country
How do you get paid?
Now you know how you can potentially earn on ThinkOpinion. But to find out if it is the right GPT site for you or not, you, of course, also need to know how you will get paid.
You earn points for your activities on ThinkOpinion. 1 point is worth $0.01.
There are then, in general, three ways you can get these earning out on Think Opinion. You can get paid in cash through PayPal, Skrill, or get Amazon gift cards.
In some countries, they do, however, offer additional methods and it looks like they are regularly expanding the options.
They, for example, recently announced that they had introduced Myntra and Flipkart as options in India and here you can also withdraw to your bank account if you are willing to upload your ID to verify your account first.
But in the rest of the world you can as a minimum use PayPal, Skrill, and Amazon – all really great options, even though I personally prefer PayPal as a payout option.
The minimum threshold to get your earnings out is only $5 so that is a nice low threshold.
Usually, you will get the earning within 48 hours after having requested a payout but the wait can be up to 3 business days. So you will get your money fairly quickly.
Just be aware that for your first withdrawal, it might take up to 5 business days before you get your earnings.
However, personally, I have experienced getting paid faster than this and I recorded a small video when i got paid so you can see payment proof and see exactly how to withdraw:
How much money can you make?
It's quite difficult to answer that question. It, of course, really depends on how much time and work you put in. And the country you live as the amount of opportunities depends a lot on this.
However, some of the winners and people listed in their contests leaderboards might give us some idea of how much money you can make on ThinkOpinion.com.
If you are going to look at the list of their offer contests, we can see the highest earner is some of the previous months earned close to $400 dollars.

With that, it looks like it is really possible to earn a decent amount of money as part-timer from this website.
But again, those figures may CHANGE depending on the effort and time you put into it and the country you live in, and it is important to remember that this is NOT the average earnings.
This is an example of what the top earner supposedly earns.
So do not join ThinkOpinion and expect you will necessarily be able to earn this much because that is definitely not necessarily possible.
I have myself been a member for quite a while and the earning potential is not as good as on many other sites, in my experience.
But if you are patient and take the time to learn how to use the site and all its options, it definitely is possible to earn some extra cash on the side.
Can you use it on mobile?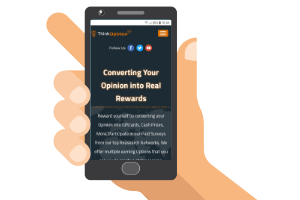 Having the choice to access a GPT site on your phone is quite convenient. And, ThinkOpinion.com is quite well optimized for mobile browsing.
So, yes indeed! You can use your mobile to access this GPT website. The design of the website layout on mobile is great, and it is quite easy to navigate their site through mobile browsing.
This means that you have an option to answer surveys and take offers from different kinds of devices, which is a great thing.
Who can join ThinkOpinion?
A really great thing about ThinkOpinion is that you can join no matter which country you live in.
However, the amount of opportunities will depend on the country you live in.
If you do not get enough options on ThinkOpinion, you can instead check out the best survey and GPT sites in your country here.
Can you get support?
In the help section of ThinkOpinion.com, you can submit tickets to the support if you have any questions or unresolved issues.
There are several departments where you can send your questions or concerns, such as the advertising department, payment department, etc.
You just have to write the subject of your support ticket, the department you're addressing to, and your message. After filling up those spaces, you just need to create a ticket and wait for their response.
They aim to answer within 24 hours. I have been in contact with their support several times myself, can I just say they usually are quick at responding.
And their support actually listens if you have suggestions or tries to help you, in my experience.
I have given feedback about several aspects of ThinkOpinion and they have actually listened and responded which is something certain GPT sites definitely could learn from.
Good customer service is always a big plus, in my opinion.
Final verdict
Now you know all about what ThinkOpinion really has to offer.
But let's finish this review by summing up the pros and cons so you can get a better overview before deciding to join or not.

Pros:
Big amount of survey, tasks, offers
You can get paid in cash
Optimized for mobile
Good support

Cons:
Can take patience to find the surveys you qualify for
Website a bit confusing to navigate on at first
Rewards not always quite as high as on many other sites
If you'd like to earn some extra money by answering surveys and doing other small online micro-tasks, I would say that ThinkOpinion can be a decent option with some patience.
It is not one of the absolute best GPT sites, but it has legit opportunities, many options, and offers great payout methods.
We have to be very clear though, this is not going to earn you a full-time income and it's not going to make you rich.
But it is free to join, so there is no risk in giving it a try.
How to Join ThinkOpinion?
It's quite easy and fast to join ThinkOpinion. Just click the button below, and then you'll be redirected to the registration page.
You just have to fill out the form using your email and other basic information about yourself. It will probably take a minute to finish the process and then you can start earning right away.
Just be aware that as you register, you have to confirm your registration through the code they'll send to you via email.
However, you might wonder why you're not getting their confirmation email in your main inbox – that's just normal. It happened to me, so it might happen to you as well. In that case, you can find it in your spam inbox.
Also, be aware that you can only sign up using a gmail. A bit strange but that is how it is.
If you have any comments, questions, or have any experiences with ThinkOpinion yourself, I would love to hear from you in a comment below.