Connect is a website that claims you can earn money by answering surveys and completing tasks.
I have tested hundreds of sites like this over the years, so I know that not all sites that offer this kind of earning opportunity are worth it, or even legit.
Now the question is, is Connect by CloudResearch legit or is it a scam? And if it is legit, is it really worth it?
If you continue reading this Connect by CloudResearch review, you will find out the answers to the questions above.
This review will tell you all details, so you will know exactly what to expect from it. That way, you can properly evaluate whether you should join this site or not.
What is Connect by CloudResearch, and what does it offer?
Connect is a survey site that will allow you to earn by answering surveys or research tasks. It is indeed a legit site since you will really get paid to answer surveys or complete research tasks. But this fact doesn't automatically mean the site is worth your time.
To figure out if you should join this site, you must first understand how it works. And the best way to do so is to take a closer look at the earning opportunity it offers. Doing so will give you a clear idea of how much time and effort is needed to earn from this site.
So here's how to earn from Connect by CloudResearch.
The earning opportunity – Projects
The only way to earn from this site is to work on projects. When you become a member, you can log in to the member dashboard to view all the projects available.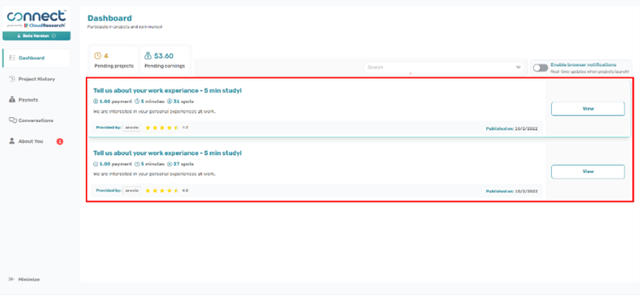 You will also receive an email if there are available projects for you. To start working on a project, just click the one you want to work on, and you will see the full details of the project including the amount you will earn for completing it.
When you are ready, just click the start button.
The projects will involve answering questions, but unlike most other survey sites, you don't have to go through a qualification process.
If a project is offered to you, you are already eligible to participate, so you just have to answer the questions as honestly as possible.
Most of the time, when you complete a project, a completion code will be displayed. You need to copy this code and submit it to complete the process.
However, there are projects that won't require you to submit a completion code, so don't be alarmed when you don't see a completion code when you finish answering all the questions. That just means the project will not require a completion code.
After you've finished the project, the researcher will review all your answers and check if you copied the correct completion code (if there was one).
The researcher has the right to reject your submission if they deem you didn't answer the questions properly. If this happens, you can contest it, but more often than not, the decision will not be overturned unless the researcher makes an error.
When the researcher approves your submission, you will receive the reward promised. In the next section, I will discuss how you can withdraw your earnings.
Recommended: Check Out the Top Survey Sites in Your Country
How do you get paid?
As explained above, you will earn the amount specified in the project description every time you complete a project. This amount will be credited to your Connect account balance.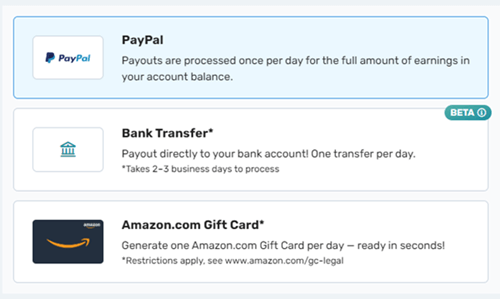 You then have three options to withdraw your earnings. As you can see in the photo above, you can withdraw your earnings via PayPal or direct bank transfer. You also have the option to convert your earnings to an Amazon gift card.
The direct bank transfer method is powered by Stripe, so you will have to go through the Stripe onboarding process when linking your bank account to your Connect account. The good thing about Connect is that the threshold you need to reach to withdraw your earnings is only $1, so you can usually withdraw your earnings when you complete just one project.
Overall, I would say the payment system of Connect is relatively straightforward. I like the fact that it has a very low payout threshold because you will be able to withdraw your earnings quickly. If you are looking for more sites that have a low payout threshold, I recommend you also check out the fastest paying sites.
How much money can you make?
The amount you can earn from Connect will depend on how many projects you can complete.
Unfortunately, you don't really have control over how many projects are offered to you, so it's quite hard to pinpoint an exact amount you can earn from this site.
That being said, Connect does pay a decent amount which will usually be around $1 to $2 per project.
While that may not sound like a lot, most projects will only take around five minutes to complete, so it won't take up a lot of your time.
Of course, the amount you will earn will also increase if the project takes longer to complete. Overall, I would say the site does have a decent earning potential, but you will not be able to earn regularly from it since there aren't a lot of projects available.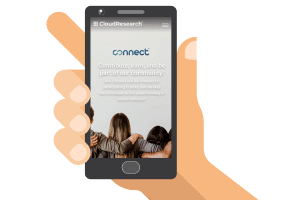 Can you use it on mobile?
Connect doesn't have a mobile app you can download, but you can still access it from a mobile device using a mobile web browser. The site is optimized for mobile use, so you will be able to conveniently work on projects from your mobile device.
The overall user experience this site offers on both the web and mobile versions is quite good. You will not encounter any annoying pop-up ads while you are using it. Being able to access the dashboard using a mobile device can also help increase your earnings since you don't need to sit in front of a computer to earn.
Who can join Connect by CloudResearch?
The site doesn't tell you exactly which countries it is available in. It only says that you will only be eligible to join if you are at least 18 years of age.
To figure out if it is available in your country, you have to attempt to sign up. Simply fill out the registration form, and once you submit it, the site will send a verification email. Just click the verification button in the email to complete your registration.
Then you have to log in to the dashboard to find out if it is available in your country. Once you log in, you will receive a message that says, "Connect is not available in your region" if it is not available in your country. If you don't see this message, then that means you are eligible to join this site.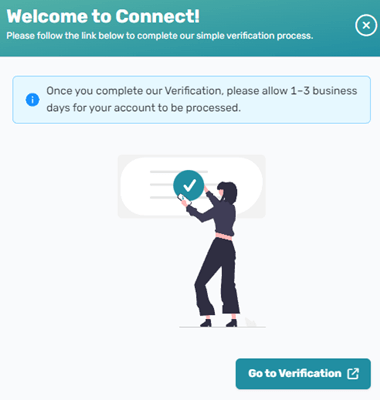 However, as shown in the photo above, you have to go through another round of verification, which will just be another set of questions you need to answer. This verification process is really just a very long captcha you need to answer. You will have to answer several questions which are very simple, so you won't have a hard time completing it.
After you finish the verification process, you will have to wait 1 to 3 business days to see if your registration is accepted. Connect will email you regarding the status of your registration within that time period.
The wait isn't that long, but if you are looking for a site where you can earn immediately, this is not the site for you.
Can you get support?
If you have any questions about the site or your account, you can check out the Help Center page. To do so, you have to log in to the member dashboard and click the profile icon found in the upper right-hand corner of the page. Click the Help Center link, and you will be taken to the FAQ page.
This page discusses some of the basic topics you need to know about the site. If you can't find the answers you are looking for, you can get in touch with their support team in two ways by using the contact form.
Overall, I would say Connect offers decent support to its members since it offers a convenient way for you to get in touch with their support team.
Final Verdict
Connect by CloudResearch is a legit survey site that allows you to earn by completing projects. It has a couple of good features, but it also has a few limitations you need to consider.
Let me wrap up this review by summarizing its pros and cons to give you an overview of what the site has to offer. Then you can decide if it is worth it or not.

Pros:
Offers payment via PayPal
Low payout threshold

Cons:
Limited earning opportunities offered
You can't start earning immediately after sign-up
Connect by CloudResearch is a decent site to earn extra cash from, in my opinion. It offers convenient payment methods, and it has a low payout threshold. However, before you join, make sure to set your expectations properly in terms of how much you can earn so you won't get disappointed.
Just to make it clear, you will not earn a lot from it since there aren't a lot of earning opportunities offered. Plus, there will be a waiting period after sign-up before you can start earning.
If you are looking for primary sites to earn from, I recommend you check out the top survey and GPT sites in your country instead. The sites on this list all have good earning potential, so you will be able to earn a decent amount in no time.
Plus, you will definitely find a site you can join regardless of where you live.
If you have any comments, questions, or have any experiences with the Connect by CloudResearch yourself, I would love to hear from you in a comment below.