Streetbees claims you can earn cash rewards for answering questions about what you are up to. That sounds like a pretty great and easy way to earn, right?
But is Streetbees legit and a really good way to make some extra money, or is it just a waste of time?
Let me just reveal right away that it is legit, BUT this does not necessarily mean it will be worth your time (in some cases, it might not be).
In this Streetbees review, you will find out exactly what the platform has to offer, in what way it is different from many other similar sites, and what you can expect from joining.
After reading the review, you will easily be able to decide whether it is worth it for YOU to join Streetbees or not.
What is Streetbees, and what does the platform offer?
Streetbees is an interesting site – or more correctly, an interesting app. When I first joined, you could sign up on the website, but now you can only join by downloading the Streetbess app, and this is where you can find the earning opportunities I will go over below.
Compared to many other paid survey sites and Get-Paid-To (GPT) sites, the ways you can earn are a bit different. It is not only "normal" surveys you can take. You instead get what is called tasks, and a part of these is sometimes to answer questions/surveys as well.
There are many kinds of tasks, and they are often more or less different from task to task. So it is not possible to describe the exact tasks you will be able to take. But there are some elements that are often a part of the Streetbees tasks, so let's go over these below so you have an idea about what to expect.
Before going over the elements that are often a part of the tasks, it can be helpful to understand that the overall goal of Streetbees is to provide insight to companies about consumers' preferences and behavior.
They do this by getting you to provide information about your habits and then paying you for this information. That is why you can get paid to do some of the below-mentioned tasks.
I have made a video that explains everything you need to know, but you can also read all the details below the video:
Recommended: See the Top Paying GPT Sites
Option 1 – Tasks that include recording small videos:
Some tasks require you to make small video recordings. This is to get information about how you do certain things in your life. It can, for example, be to make a recording while you clean. Or take a short video while you are making tea.
It makes sense that they are interested in these kinds of videos. They can provide a lot of useful information about consumer behavior.
Sometimes probably better information than when people answer surveys. When it is a video, the companies can see what you actually do, and not only what you say, as it is not always the same for many of us:-)
So small video recordings are a part of several of the tasks on Streetbees.
Option 2 – Survey based tasks:
Some tasks are more similar to the regular paid surveys that most survey sites offer. Paid surveys can be great if you join the good survey sites, so I think it is great that Streetbees also have some of these.
It simply means that you will have to answer different questions about a certain topic and, this way, share your opinion and experiences.
The surveys on Streetbees are, however, mostly chat-style and very short, so it is faster than on most regular paid survey sites. But the surveys will also not give you the same earnings as on the top paying sites.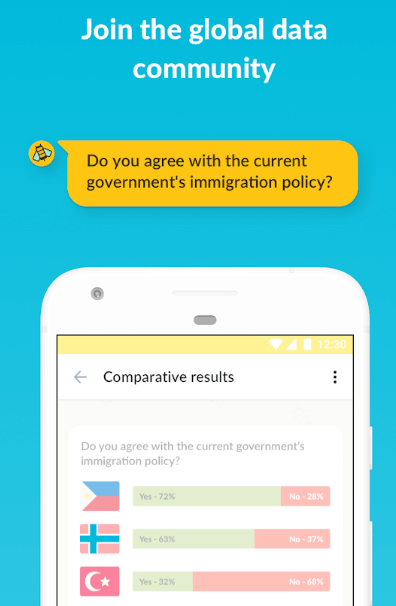 Compared to the video tasks, it is easier to do no matter where you are. Questions are often a part of the other tasks as well, as it is a way to get more information.
Option 3 – Tasks that include taking photos:
Streetbees also has a number of tasks that require you to take a photo or several photos in a specific situation. It can, for example, be taking a photo while you are making coffee, or it can be to take several photos while you are out shopping.
Often you then also have to answer a few questions in relation to the photos.
This is a great way for the companies to get insight into your preferences and how you do things, but it can also be fun for you to participate in, so in my opinion, it is a great option.
Recommended: See the Top Paying GPT Sites
Become a Streetbees ambassador to earn more
As you can see above, there are many different kinds of tasks, and you might even be offered some tasks that are very different from what I have described above.
One thing many of them have in common is that you are doing them while doing something else – maybe even while you are out of your house and on the street (that is why it is called Streetbees, I assume).
There is, however, another way you can earn some extra money, and that is by becoming a Streetbees ambassador.
In short, a Streetbees ambassador is someone that helps the platform to expand in your country. This is not a full-time job or anything like this. It is mostly for students who are used to using social media, who can influence other people, and who have 2-3 hours a week to do this work.
What you need to do is to spread the word about Streetbees by referring friends and family to participate in the tasks. You also have the chance to help with running social media campaigns in your country.
You will get paid every time a person you have invited completes a task. How much you get paid will depend on the country you live in and the task.
On Streetbees' website, it also says that you will get training, and you might also have the opportunity to get an internship at Streetbees New York or London office.
You have to apply on Streetbees' website to become an ambassador. So if you like Streetbees and would like to earn a little extra by promoting it, it can be worth considering applying for this.
I have tried to apply and also got into a conversation about what it would require. But it took a very long time to get answers from Streetbees and the communication from their side was not great, in my opinion.
So personally, I have given up on this opportunity through Streetbees. But if you like the platform and would like to help it expand, then why not try to apply. You might have more luck than me:-)
How do you get paid?
When you take a task on Streetbees, you will get the money into your Streetbees account. From here you can get them out through PayPal.
I personally think it is great when sites offer PayPal as a payment method, as it is a very easy and fast way to get your money.
If you live in a country where PayPal is not available, you can get paid by mobile top-up. These two are the only payout methods that are available.
However, be aware that when you have completed a task, you need to have it approved before you actually get the earnings. In some cases, they will not approve your work.
I have tried this myself, and I did not get any explanation but just some generic explanation about why a task might not be approved.
This is an issue you need to be aware of – it is fair enough not to get your work approved if you have not done it properly. But they should then at least give a good explanation so you can learn from it.
So you can potentially end up not getting paid for the tasks you do without getting an explanation.
How much money can you make?
Streetbees can make you some extra pocket money, but you should not expect to be able to quit your job after you join.
The amount of tasks that are available to you and how much they pay depends a lot on the country you live in. So in some countries, you will not very often have available tasks, and in others, you will have several tasks a week you can do.
But no matter where you live, you should not join if you want to join to make a living. You should join if you would like to make some extra pocket money, if you would like to give feedback to companies, and if you think the tasks are fun to do.
Compared to other sites there are, however, overall not very frequent tasks and ways to earn, in my experience. So you should definitely not join it as the only site.
With the right expectations, it can be decent to join, but if you expect more, you will be disappointed, and the tasks will end up being boring and tedious.
Who can join?
Streetbees is available in 87 countries. They do, however, not mention exactly which countries on their website or in the app. This is a general problem on the site and in the app, in my opinion – there is not a lot of information.
So if you are interested in joining, you just need to check if the Streetbees app is available in your country. You have to be 18 years old to be able to join.
You have to download the app to join. It is available for Android and iOS.
When you sign up, just be aware you have to give your phone number. You will receive a verification code in a text message and you need this to complete your registration.
Often you are not allowed to use survey or GPT sites when you are in another country than where you registered. That is not the case for Streetbees.
You are actually encouraged to check the app when you are traveling. The tasks are determined by your location, so you will just be offered the tasks that are available in the country you are in.
Be aware that the tasks will be in the local language, so if you are in a country, where you do not speak the language, it is not possible for you to participate.
Can you get support?
If you need support, Streetbees has several ways you can contact them. You can send an email (you can find the contact info on the website), or you can contact them through one of the many social media channels where Streetbees has a profile.
I have been in contact with their support several times, and I must say I am not impressed with it as it has been very inconsistent. Sometimes it has taken weeks before I got an answer and only after I contacted them again. Other times it has only taken a few days.
So if you need help from them, it can sometimes take some patience, in my experience. And there is not much help to get from their FAQ section on the website as there is very little information. In the app, you can also not find an FAQ section.
So overall, I definitely think Streetbess could become more consistent with their support and also provide more information in the app and on the website.
Final verdict
One thing that is clear is that Streetbees is not a scam. It is a legit opportunity to make some extra pocket money.
But let's sum up the pros and cons to give you a better overview before deciding whether it is a platform for you or not.

Pros:
Fun and varied tasks
Available in many countries
Pays through PayPal

Cons:
Not as many opportunities as on regular survey sites
Not big earning potential
The support is inconsistent
Your tasks might not get approved (and you will not get an explanation of why)
Whether Streetbees is a platform worth joining really depends on your preferences.
It can be a fun way to earn a bit extra, but personally, I prefer survey sites with daily opportunities, as the earning potential is bigger here.
However, because Streetbees offers different opportunities from many other sites and apps, it can be an interesting extra platform to join – but you should definitely not join it as the only option as the opportunities are too limited for it to become a main earning app.
Now you know what you can expect and then decide based on this.
If you have any comments, questions, or have any experiences with Streetbees yourself, I would love to hear from you in a comment below.