If you've been looking for survey sites to join to earn extra money, chances are, you've come across a site called Hotspex. It's no surprise since Hotspex is one of the most awarded market research firms.
But the question is, should you join their survey panel? This question can't be answered by a simple yes or no.
To be able to determine if you should join their panel or not, you have to examine what the site has to offer. This Hotspex review will do exactly just that.
Hopefully, after reading this article, you will be able to decide if you should join or not. So, let's get started, shall we?
What is Hotspex and what does it offer?
As mentioned above, Hotspex is a survey site that offers surveys as a means to earn rewards. One thing to note about their survey panel though is, you won't be able to find it if you visit their website.
Their survey panel has a different URL. If you want to get to their survey panel, click here.
They call their panel MyHotspex and this is where you need to sign up if you want to become a member.
To be able to gauge the earning potential of this survey site though, we have to take a closer look at how you will be able to earn from this site.
So, here are its earning opportunities.
Option 1 – Paid Surveys
Seeing as it is a survey site, you can expect to earn from their site by completing surveys. Once you become a member of their survey panel, you will start receiving survey invitations.
You will receive the invitation via email. You can also check if there are survey offers available when you log in to their site.
To answer the survey, if you are doing it via your email, all you have to do is click the link in the email. If you are doing it on their website, just click the offer and it will open a new window (the same goes if you click on the link in the email).
You will then have to answer qualifying questions. This is done to check whether you are suitable for the survey or not. If you qualify, you get to answer the actual survey. If you don't, then the survey process stops there.
Once you complete the survey, you will receive the reward promised at the beginning of the offer/email.
One thing different about the paid surveys of Hotspex though is, based on what long-time members say, the survey invitations you receive via email are actually different from the survey offers you will see when you log-in to the site.
The survey offers you receive via email actually often pay more than the offers on their site. So, make sure to check your email regularly and be on the lookout for those survey invitations.
Option 2 – Referral Program
Hotspex also has a referral program for its members. You will be able to earn rewards by inviting people to the site.

For every person you refer and successfully registers as a member of their panel, you will receive 100 BUX (their currency). Take note that they have to complete a survey first before you will receive the reward.
In my opinion, this is a simple referral system that can be beneficial because the condition you need to meet is rather simple. This ensures you will easily get something from referring people to the site.
You need to invite a lot of friends to earn any real money like this but a little extra is also nice if you think the panel is worth recommending.
Option 3 – Monthly Draw
This is also another common earning opportunity you will see on survey sites. Their monthly draw will offer you a chance to win a cash prize. As to the amount of the prize, they do not mention that on their website though.
But in my experience, the prizes for these monthly draws are quite significant. The only problem is, only one winner will be selected each month.
To join their monthly draw, all you have to do is complete a survey within the month. You will then be automatically entered into the draw. Each member will only get one entry. So, the number of surveys you've completed for the month will not matter.
At the end of each month, you will then be contacted by email if you're one of the lucky winners.
It's not really an earning opportunity per se since there is no guarantee you will earn from it. It can be a huge bonus though if you are ever lucky enough to win.
How do you get paid?
For every survey you complete on MyHotspex, you will receive BUX as a reward. This is the currency they use. Think of this as the points you earn from completing a survey.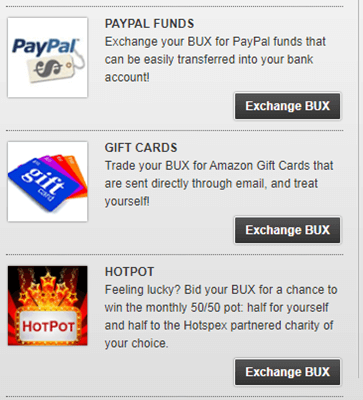 You can then use the BUX you've earned and exchange it for gift cards or withdraw it via PayPal.
If you want to exchange BUX for gift cards, you will need to accumulate 1100 BUX for a $10 gift card (which is the minimum amount required). If you want to withdraw cash, you will need to accumulate 2750 BUX for a $25 withdrawal via PayPal.
So, to sum it up, the site has 2 different payout thresholds. For gift cards, it will be lower, which will be at $10. For PayPal, it will be a bit higher at $25, which, in my opinion, is a pretty high payout threshold to reach.
It will take a lot of patience just to reach that threshold. One thing to note about their payment system is that you are only allowed to withdraw a maximum of $50 worth of rewards whether by cash or by gift cards. It can be a combination of both though.
You can also use the BUX you've earned to join their HotPot draw. In order to join, you have to donate any number of BUX to the pot. At the end of the month, a winner will be drawn from the list of members who donated to the pot.
The winner will win 50% of the total BUX in the pot. The remaining 50% will be donated to the charity of the winner's choice.
Their payment system is fairly simple, in my opinion. It's good that they offer PayPal as an option to claim your earnings.
If you are interested in other survey sites that pay through PayPal though, I suggest you also check out the top survey sites that pay via PayPal.
How much money can you earn?
With survey sites, the amount of money you will earn will depend on the number of surveys you will complete. It is no different on Hotspex.
Keep in mind that you have to qualify for the survey first before you get to answer the actual survey. So, not all survey invites will translate into earnings.
Hotspex does provide a sort of consolation for people who were not able to qualify for the survey they took. Every quarter, they hold a prize draw for the people who failed to qualify for any survey. The prize will be an Apple iPad.
This is their way of showing their appreciation for your efforts and willingness to share your thoughts and ideas.
But overall though, the earning potential of Hotspex is pretty low mainly because based on feedback from long-time members, the number of survey invites you will receive are few and far between.
Can you use it on mobile?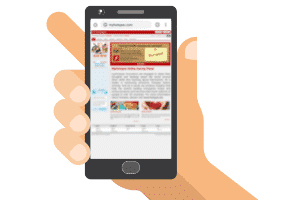 If you were hoping to work on survey offers on your mobile device, you can do so by using a mobile web browser.
They don't have a Hotspex app you can download to get access to the survey offers on your mobile device. The mobile version of their site isn't as mobile-friendly as you would hope for though.
Even though all the content will fit your mobile screen, the links are really quite small and can be hard to click on, especially if you are using a mobile phone.
So, if you want to conveniently navigate through their site on a mobile device, you have to do it on a device with a larger screen, in my opinion.
Who can join Hotspex?
Here's where the main issue of Hotspex comes to light. As of the writing of this article, they are not accepting any new registrations.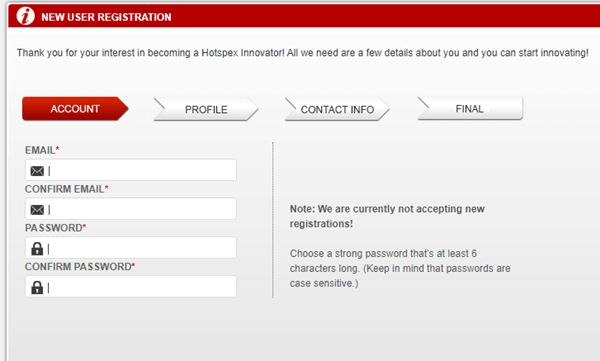 So, if you were interested in joining their panel, unfortunately, you will be disappointed. If for some reason, the status of their availability changes though, keep in mind that you will only be able to register if you live in the US or Canada.
They don't state the age requirement on their site, but from what I can tell, you will have to be at least 18 years of age in order to participate. This is mainly because they use PayPal as a payment option and you have to be at least 18 years old to register as a member of PayPal.
If you are looking for survey sites based in the US that are still accepting members, I recommend you check out the top survey sites in the US. For the list of Canadian survey sites, you can check out the top survey sites in Canada.
Can you get support?
Contacting their support team can be done by using the contact form they've provided in their website.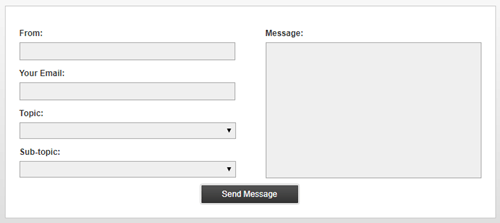 Expect a reply from them within two business days. But before you try and contact the, I would recommend you check out their FAQ section first. You might find the answer to your question on that page.
Final Verdict
Hotspex is a legit survey site that will pay you for answering their surveys. It has some good qualities but also one major flaw, which is a deal-breaker, in my opinion.
To give you an overview of what this site has to offer, I've listed down its pros and cons to help you decide if you should give this site a try or not.

Pros:
Referral program condition is easy to meet
Offers convenient payment methods

Cons:
Not accepting any new members
Low earning potential
As you can see, the major flaw of this site is that it is not accepting any new members as of this writing. If this ever changes though, it still isn't the best choice to join mainly because it has a very low earning potential.
You won't get invitations to answer surveys very often and if you do, you won't always qualify. There are simply a lot of better options than Hotspex in terms of earning potential. There are plenty of other survey sites that have more earning opportunities and overall better earning potential.
For a list of those survey sites, I recommend you check out the top survey sites in your country instead. The survey sites on this list all have better earning potential. Plus, they are all accepting new members as well.
If you have any comments, questions, or have any experiences with Hotspex yourself, I would love to hear from you in a comment below.