Are you looking for a good survey site to earn extra cash from? If so, you might already have encountered a site called Liveminds and are wondering if it is worth it or not. This site claims you can earn a nice amount by simply answering online surveys.
The question is, is the site's claim, true or not? Is Liveminds legit or is it a scam you need to stay away from?
These are questions this Liveminds review will answer.
It will also take an in-depth look at what the site has to offer so you can figure out if it is truly worth joining, or not. So, let's go ahead and take a closer look at Liveminds, shall we?
What is Liveminds and what does it offer?
Liveminds is a market research company that specializes in gathering human behavior data.
They do this in a lot of ways, but in this review, we will only be talking about the online surveys part of the site.
Now, as to the question of whether this site is legit or not, let me address this right away. Yes, Liveminds is indeed a legit site.
But, to truly determine if it is worth your time or not, we need to examine the earning opportunity it offers in detail. So, let's go ahead and take a closer look how you can earn from Liveminds.
The earning opportunity – Paid surveys
The only way you can earn from Liveminds is by participating in one of their paid surveys. However, Liveminds isn't exactly like most survey sites.
Usually, other survey sites have a panel you need to log in to. But Liveminds is a bit different because they don't have a member dashboard. Instead, they find potential participants for their paid surveys using Facebook. So, if you want to earn from this site, you have to like and follow their Facebook page.
When there is a survey opportunity available, they will sometimes post it on their Facebook page. So, if you follow their page, you can see some of the paid surveys available.
However, they do not post on the Facebook page very often but instead, they often run ads to show their survey opportunities to the people they think are the best match.
So overall you have to be a bit lucky to get access to any surveys. But if you see an opportunity, just click on it and you will be redirected to a page that is similar to the photo below.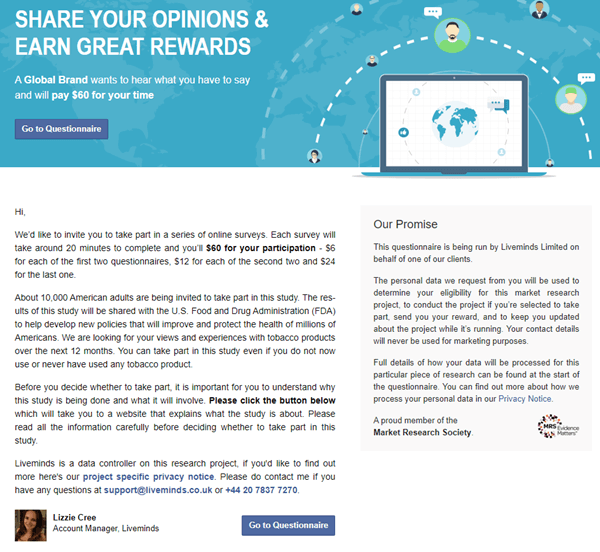 As you can see, the page will tell you what you will earn for completing the survey. It will also tell you what the survey is all about. When you click on the "Go to Questionnaire" button, it will take you to the pre-screening questionnaire.
Simply answer all the questions honestly. At the end of the questionnaire, you will find out if you qualify for the survey or not. If you qualify, you proceed to the next part. If you don't, then you just have to move on to the next survey opportunity.
Once you qualify for the survey, the site will ask you to provide all your account details and it will ask you to download their mobile app (I will discuss more about their app later). You will then have to log in to the app to answer the survey.
When you finish answering the survey, you will then be eligible to receive the reward promised (I will talk about how you will get paid next).
Recommended: Check Out the Top Survey Sites in Your Country
How do you get paid?
With every survey you complete, you will earn a certain amount, which will typically be in US Dollars. But if you live in the UK, the currency used will be in Sterling pounds.

Depending on the country you live in, they may need to ask for additional information like your bank account details or a form of identification, in order to make the payment. But usually, they will only ask for your PayPal account and pay your earnings into that.
They will pay you immediately so you don't have to reach a threshold before you will receive your earning like you normally would on most survey sites. But just be aware that it can take a few days before the amount will be credited to your PayPal account. So, don't expect to receive your reward right away.
In my opinion, their payment method is pretty convenient since they use one of the most convenient payment options available today. If you are interested in more sites that pay via PayPal, I recommend you check out the top sites that pay via PayPal.
How much money can you make?
The amount of money you can earn from Liveminds will mostly depend on how often you are able to complete surveys from them. They pay rather decently (usually around £10 or more) for every survey you manage to complete.
However, in my opinion, the earning potential of this survey site is still quite low since there really aren't a lot of survey opportunities available. You also have to keep in mind that you have to qualify for a survey before you can earn.
And since there aren't a lot of earning opportunities to begin with, there's really a small chance of earning from this site. You can consider yourself lucky if you qualify for one every couple of months.
But because of the fairly high rewards per survey, it can still be a site worth considering as an extra site. You should just not expect too much from it and make sure to also join other sites.
Can you use it on mobile?
As explained earlier, the actual survey you have to answer needs to be completed on a mobile device. Liveminds will have to ask you to download their mobile app to continue answering surveys once you qualify for one.
It's part of their 3-step process for screening panelists. So, you will need to use a mobile device to complete a survey.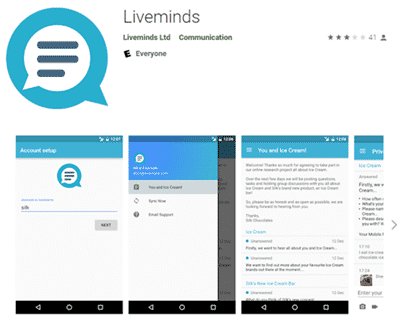 Fortunately, their app is available for both Android and iOS devices. You can download it from Google Play or the Apple app store. However, you can only download this app if you were invited to participate in a survey.
You can't download this app and hope you can find opportunities when you log in. It doesn't work that way. So, don't download this app if you haven't qualified for a survey yet because it will be useless.
Who can join Liveminds?
Their site really doesn't tell you a lot about how their paid surveys work and who can join their panels. If you look at their Terms and Conditions page, you will see there are separate terms and conditions for the UK and the US.
That leads me to believe that Liveminds is really only intended for these two countries. But if you look at their "About US" page they have offices in the Americas, EMEA (Europe, Middle East, Africa), and APAC (Asia-Pacific).
So, technically speaking, anybody can answer the Liveminds surveys, but not everyone will qualify. But you will have a higher chance of qualifying if you live in the US or the UK.
Can you get support?
Unlike most survey sites you will encounter, Liveminds' site really doesn't talk a lot about how their survey panel works. Their website is geared towards getting more clients rather than panelists.
So, if you are looking for information on how their surveys work, you won't really find anything useful on their website. They don't even have an FAQ page.
Everything that I explained to you in this review is based on my actual experience of going through their process of answering a survey. So, I had to piece everything together. I seldom encounter sites that don't really explain how people can earn, which is kind of odd, in my opinion.
However, it seems their recruitment strategy is mostly to use paid ads from Facebook and that is maybe why they do not have too much info on their website as you will get all the info you need if you see and click one of their ads.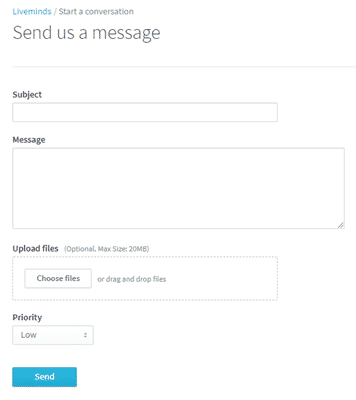 Now, as a potential panelist of Liveminds, if you need assistance or if you have any questions about their surveys or the site, you can send your inquiry through the contact page on their website, or through the help page that is accessible when you decide to participate in their surveys.
You can also access their email support through their app. Plus, you can call the phone numbers for their specific offices. You can find the phone numbers if you go to their About Us page.
Overall, I would say they have a decent support system in place since they offer several ways for you to get assistance. But I do wish they would explain more on their site about how you can earn from their surveys.
Final Verdict
Liveminds is a legit survey site that will pay you for answering their surveys. It has a couple of good features but it has certain limitations you need to know.
So, let me finish this review with a summary of its pros and cons to give you an overview of what the site has to offer so you can decide if it is truly worth joining or not.

Pros:
No payout threshold
Pays via PayPal
They pay quite well for every survey you complete

Cons:
Limited earning opportunities offered
You will have to keep checking your Facebook account or their Facebook page for opportunities
What's good about Liveminds is, you don't have to reach a threshold before you can withdraw your earnings. They will pay you immediately every time you complete a survey. You seldom find survey sites like that.
However, the earning potential of this survey site is really quite low even though they pay well per survey. There simply isn't a lot of opportunities to earn. Consider yourself very lucky if you are able to complete a survey from them once per month. So, you still won't be able to reliably earn from this site.
But because of the high rewards, it can be worth considering as an extra site. But you should make sure to also join other sites to get enough survey opportunities.
You can check out the top survey and GPT sites in your country here. The sites on this list all offer earning opportunities you can do on a consistent basis so you will be able to earn every day.
Plus, you will definitely find a site you can join regardless of where you live.
If you have any comments, questions, or have any experiences with Liveminds yourself, I would love to hear from you in a comment below.