Inspired Opinions is a survey site that promises to reward you for completing their surveys.
It isn't one of the most popular survey sites out there, but that doesn't mean it's not worth considering.
But is Inspired Opinions a scam or really a legit way to get paid for sharing your opinions?
Let me just answer that right off the bat. No, Inspired Opinions is not a scam. It is a legit website that will reward you for each survey you complete.
Now, to fully get a good grip of what this survey site is capable of, we need to take a look at all the details.
This Inspired Opinions review will tell you all you need to know, so you will know exactly what to expect before you even join their panel.
So, without further ado, let's proceed with the review.
What is Inspired Opinions and what does it offer?
As mentioned above, Inspired Opinions is a survey site that will pay you for completing the surveys they offer.
It is owned by the Schlesinger Group, an international market research company that has been around for quite some time now. So sometimes you will also see the site referred to as Inspired Opinions by Schlesinger.
To be able to understand the potential of Inspired Opinions as a site you can earn from, we need to take a closer look at how you will be able to earn from it.
So, here's how you can earn from Inspired Opinions.
Option 1 – Paid Surveys
Since it is a survey site, then you can expect you will be able to earn the bulk of your rewards by answering online surveys.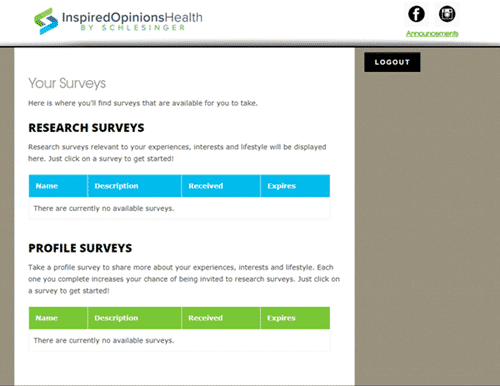 Once you finish the registration process, you will be able to log in to their member dashboard and view all the available surveys you can take.
There are two types of online surveys you can take. As shown in the photo above, there are research surveys and profile surveys.
The research surveys are the ones that will allow you to earn rewards. Once you complete a research survey, you will then receive the reward promised (I will discuss the rewards later).
The process of answering surveys on Inspired Opinions is what you would expect from a typical survey site. You first have to answer pre-qualifying questions. If you qualify, then you can answer the actual survey.
If you don't qualify, you can then just move on to other surveys.
The profile surveys, on the other hand, are also very important surveys. Even though you don't get to earn from answering these surveys, you still have to take them whenever one is available.
That's because these profile surveys will actually increase your chances of receiving more surveys and other earning opportunity invites.
So, if you want to earn more from Inspired Opinions, you can't just ignore these profile surveys.
Also, sometimes you will receive survey invitations via email that will not necessarily be posted inside the member area. So it can be a good idea to keep an eye on your inbox.
In addition to this, you can sometimes find special paid research projects you can participate in on their Facebook page.
Option 2 – Research Activities
Another way for you to earn rewards on Inspired Opinions is to participate in research activities.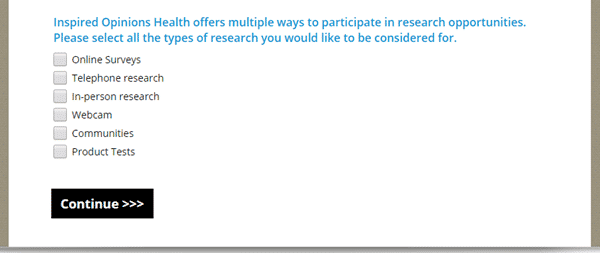 These activities will vary. You will either be asked to participate in over-the-phone research, in-person research, product testing or research via webcam.
Not much information about this type of earning opportunity is displayed on their website. But based on feedback from other members, this type of earning opportunity rewards significantly well.
This type of opportunity though doesn't come too often. So, if you ever receive an invite for it, I suggest you take advantage of it right away.
Option 3 – Referral Program
Inspired Opinions also has a referral program.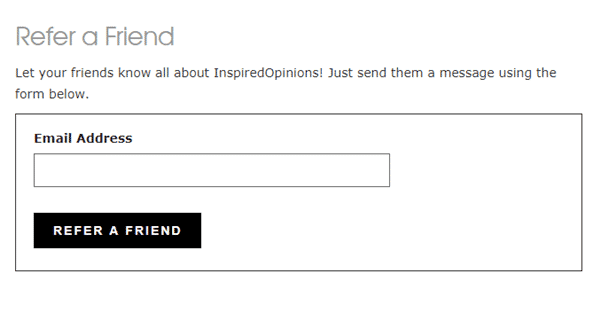 The problem is, they don't really mention on their website what you get out of it.
In my experience, sites that will allow you to refer a friend usually compensate you one way or another. Otherwise, it would be a pretty useless feature because you get nothing out of it.
But InspiredOpinions does not mention anything about a reward, so it seems like you will not get paid to invite friends.
If you want to know more about their referral program, I suggest you contact their support team (I will discuss later how you can do that).
How do you get paid?
What makes Inspired Opinions more unique than many other survey sites is, it doesn't have a payment threshold you need to reach in order to start redeeming the rewards you've earned.

Once you complete a survey, you will then receive a Visa gift card, which will be sent to you via postal mail. The worth of the Visa gift card that will be sent to you will be what was promised in the survey invite.
They mention you have to allow 6-8 weeks for the gift card to arrive. This isn't surprising because it will be sent via postal mail.
This is the only drawback to their reward system. Although you get paid right away, you have to wait a significant amount of time before you receive the payment. There are sites that offer Visa gift cards as rewards that pay a lot faster though as they will give you an electronic Visa card.
In my opinion, it would have been a bit better if they also offered another way for you to receive your rewards, perhaps via PayPal.
Also, I would prefer if it was possible to accumulate more earnings before requesting a payout as it can seem a bit inconvenient to have a lot of Visa gift cards with smaller amounts on them.
But that is, of course, a matter of personal preferences – I just think it would be nice to have the choice.
How much money can you make?
For surveys sites, the amount of money you can earn will usually depend on how frequently you receive an invite.
The more invites you receive, the more chances of being able to complete surveys.
Because keep in mind, you have to qualify for the survey first before you get to complete it. If you get disqualified a lot, you won't actually get to earn a lot too.
To increase your chances of qualifying for the survey, you have to make sure you answer the survey as soon as you receive the invite. That gives you the highest chance of qualifying for.
The reason behind this is, most surveys usually have a set number of respondents allowed. If the maximum number of respondents has been reached, any additional members who answer the survey will be disqualified automatically.
So, if you want to make sure you get the highest chance of qualifying, you better get to answering the survey as soon as you receive the invite.
Another factor that can affect the earning potential of this site is the actual amount you will receive per survey completed.
Based on feedback from longtime members, the rewards for their surveys are actually quite high compared to other survey sites.
In fact, you can receive up to $100 for once survey. The only problem is, you don't receive invites often enough. The same is true for their research activities.
But overall, even though the survey/research invite frequency is quite low, the reward you will receive will more than makeup for it when you get one.
Can you use it on mobile?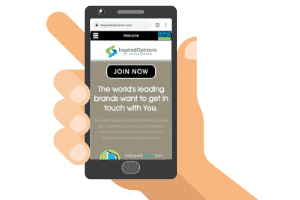 Inspired Opinions doesn't have a dedicated mobile app you can download to your mobile device so you can work on surveys even when you are not in front of your computer.
But, you will be able to access their website from your mobile device using a mobile web browser. The good thing is, their site is optimized for mobile use. So, you won't really have a hard time viewing all the content.
This is quite important because remember, we talked about being able to answer the survey as soon as you receive an invite, is what will increase your chances of qualifying for the survey.
You will be able to do that on your mobile device by logging in to their website using a mobile web browser. At least, you don't have to hurry home and sit in front of the computer.
This also gives you the best chance of qualifying for the survey.
Who can join Inspired Opinions?
On their website, they mention that anyone can join their panel.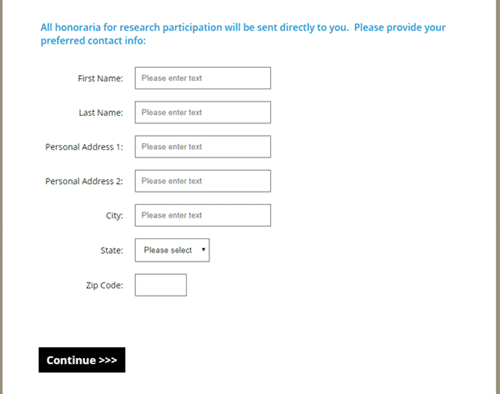 But as you go through the registration process, you will find out that the only country Inspired Opinions is actually available, is in the United States (Here's a list of the top survey sites in the US).
As you can see in the photo above, their registration form will ask for your address. The only address you can input is an address from the US.
This also makes sense because remember, they will have to send the reward via postal mail.
It would be a logistical nightmare if they were to send the Visa gift card overseas. It would be very expensive and would take a very long time.
Another thing to note with their registration process is, you will have to provide a photo of any ID you have in order to validate your membership. You can do this at a later time though.
This is not very common on survey sites. But if you really want to become a member of their panel, you will have to do this at some point.
Can you get support?
Inspired Opinions does provide a decent way for you to get support.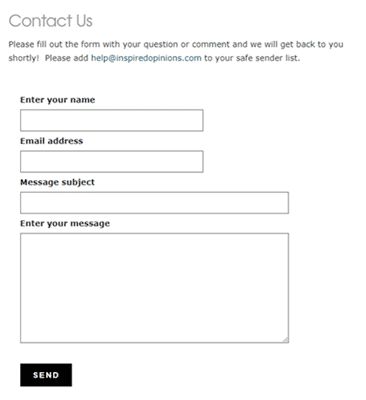 You will be able to send your questions to their support team by using the contact form shown in the photo above.
You can access the contact form by clicking the Contact Us link at the upper right-hand corner of their homepage.
They also have an FAQ section that covers most of the basic questions you will encounter about their site.
The Facebook page linked on their website is not the Facebook page of Inspired Opinions, but for the Schlesinger Group instead. So, I'm not sure you will be able to any support if you contact them through that platform. But on the Facebook page, they do post occasional paid survey opportunities as mentioned earlier.
They do have an Instagram account dedicated to Inspired Opinion. But then again, that is not the best platform to get support, in my opinion.
Final Verdict
Inspired Opinions is a legit survey site that will pay you for completing their surveys and other research activities. But it certainly has its drawbacks.
To help you decide if this survey site is indeed a good fit for you or not, let's finish this review with a summary of its pros and cons so you can get a better overview.

Pros:
No payment threshold
Relatively high reward for each survey completed

Cons:
Payment via PayPal is not available
Low invite frequency
Long waiting period for payment to be received
What I like most about Inspired Opinions is the fact that you will be paid right away upon completing a survey.
The downside is, you'll have to be very patient because it can take several weeks before you receive your payment.
But overall though, Inspired Opinions can be a decent secondary site to earn from even though you don't often receive invites. But mainly because of the high rewards you can get for each survey or research activity it can still be worth considering.
To supplement the income you will earn from Inspired Opinions, I suggest you also check out the top survey sites in your country.
The survey sites on this list all have good earning potential. Plus, you will be able to find a survey site for you regardless of where you live.
If you have any comments, questions, or have any experiences with Inspired Opinions yourself, I would love to hear from you in a comment below.