There are a lot of ways now to earn a bit of extra cash online. However, some options are very boring and just a waste of time.
If you've been looking for fun ways to earn, you might have already encountered Product Tube which claims you can earn just by recording short videos on your phone.
Sounds fun, right?
But is Product Tube legit and really a way to earn or a scam to stay away from?
Well, in order to figure that out, we will have to take a closer look at what the site has to offer. This Product Tube review will do exactly that.
After reading this review, you will know exactly what to expect and can easily decide if you should become a member of this site or not.
What is Product Tube and what does it offer?
ProductTube.com is an online rewards site that will reward you for making videos about the products you buy. Product Tube then uses these videos for market research purposes.
It is a relatively simple online rewards site and the earning opportunity is very straightforward.
But in order to truly gauge the earning potential of this site, we need to examine the earning opportunity it offers.
So, here's how you can earn from Product Tube.
I have created a video tutorial that will give you an inside look and show exactly how it works. You can also read all the details below the video:
Recommended: Check Out the Top Survey Sites in Your Country
Option 1 – Video Projects
There is mainly one way for you to earn on Product Tube, and that is by completing video projects.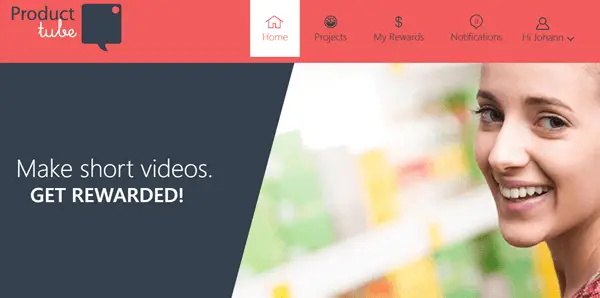 When you become a member of the site, you can log in to their dashboard through a web browser or through their mobile app (I will discuss this later) and view all the video projects you can do.
Each project will contain a set of instructions you need to follow when making the video. When you finish making the video, just upload it to Product Tube using their mobile app or through their website.
Product Tube will then review the video you've submitted. Once they've verified that your video meets all the conditions, they will award you with the reward promised for the video project.
The videos you've made will be used for market research purposes only and will never be shared with other websites or used directly for advertising or marketing. So, you don't have to worry about that.
There are two types of videos you can make, the in-store video and the at-home product review. The type of video you have to make will depend on the project you have taken.
Normally, when you've done an in-store video, you will be contacted at a later date and be asked to make an at-home product review video of the same product you made an in-store video of.
But regardless of the type of video you were asked to do in the project you took, one thing remains constant.
You have to make sure you follow the instructions to the letter. You also have to make sure your video has proper lighting and clear audio to ensure it won't be rejected by Product Tube.
Videos usually only have to be 2-5 minutes and they do not need to be edited – you just need to make sure they live up to the requirements mentioned above.
Option 2 – Refer a friend
When you are inside the member dashboard of ProductTube.com, you can go to your profile and see there is a section where you can invite friends to join.
You can either do that by sending an email to them from inside the platform or by sharing your referral code with them.
On the referral page, it says that you can earn a referral bonus for this. However, it does not say how much you can earn, which is very unusual. Referral programs on Get-Paid-To sites usually always have very clear terms for this.
And if you look in the FAQ section, Product Tube even writes that they do not have a referral program.
This is a bit confusing and a general issue on ProductTube.com, in my opinion, is the lack of some information.
When it comes to earning by inviting friends, you actually cannot see whether you will get paid for it or not because they have contradictory info about this.
And personally, I have not tried inviting friends for the reasons you will see later in this review.
Recommended: Check Out the Top Survey Sites in Your Country
How do you get paid?
Once you complete a video project and it is approved by Product Tube, you will then be awarded a certain amount, which will be credited to your Product Tube account.
You can use the amount you've accumulated and exchange it for Amazon e-gift cards. That is the only type of reward available on Product Tube.
You can start redeeming Amazon e-gift cards once you've accumulated $5 in your account. Take note that you can only redeem your rewards in multiples of five (e.g. $5, $10, $25, $50).
Overall, they have a simple payment system, which works in their favor. But, in my opinion, it would have been better if they offered other rewards like cash (which can be withdrawn via PayPal for example).
How much money can you make?
The amount of money you can earn from Product Tube will mostly depend on how many project invites you receive.

According to their website, you can make $50 to $80 for every 1 hour worth of video footage you make in a month. While that is certainly an attractive claim, it rarely is the case that it will possible to get enough tasks to reach that.
The reason for this is, everything will still depend on whether you receive project invites or not.
And according to feedback from longtime members, you don't always receive project invites. So, you can't really say that you will be able to earn that amount every month.
Plus, you also have to make sure you submit quality videos to make sure you have the best chances of getting your video approved. The best way to do that is to ensure you shoot at a location with proper lighting and little to no background noise.
However, the good thing is, that they do pay you relatively well for each video you complete, especially if the project will require you to make long videos. Most projects will pay you around $15 to $50.
That's definitely a decent amount for tasks like this. But you do have to keep in mind that most of the projects will involve you having to buy a product. So, you definitely will have to shell out your own money first before you can earn.
Overall, its earning potential is decent. It would have been great if they offer a lot of projects on a regular basis.
Can you use it on mobile?
Being able to use it on a mobile device is definitely one of the main selling points of this site. Seeing as you have to do in-store videos at some point, you will really need to use a mobile device.
Also, you will only have to use your computer if you are ever asked to do an at-home product review video. That way, you can just sit in front of your computer, use your webcam and record the video.
But apart from that, most of the videos you will have to make will require the use of a mobile device.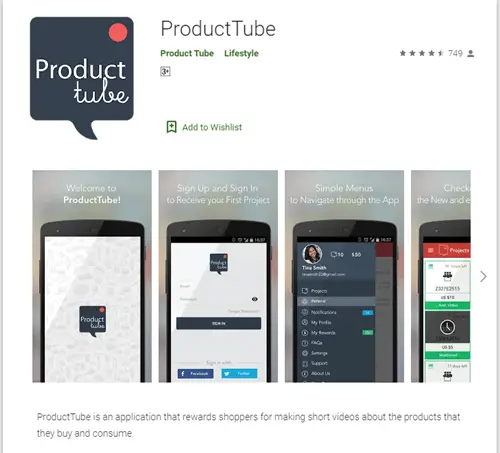 The good thing though is, that their mobile app is available for both Android and iOS devices. So, compatible won't really be an issue.
You also don't have to use any specific mobile device because their app won't really require any high specifications device.
You can use any mobile device as long as it has a decent camera and can connect to the internet.
Who can join Product Tube?
Product Tube is currently only supported in the U.S. So, you won't be able to register as a member if you live outside the US.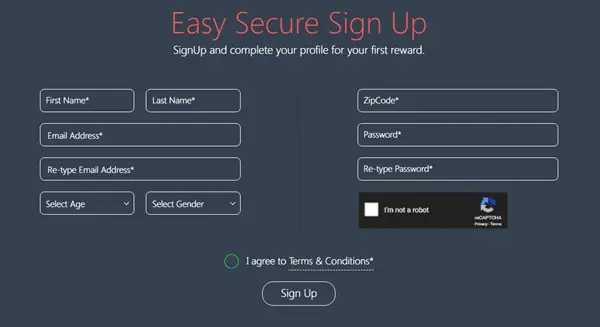 To register as a member, you simply have to fill out their registration form and confirm your membership. To confirm your membership, just check your email and click the verification link in the email they've sent.
Once you've done that, you will be able to log in to their website or their mobile app.
You do have to be at least 18 years of age in order to register as a member. If you are between the age of 13 to 17, you can also register, but you have to get consent from your parents or legal guardian.
Can you get support?
If you need to contact their support team, you can do so by using the contact form provided on their website and mobile app.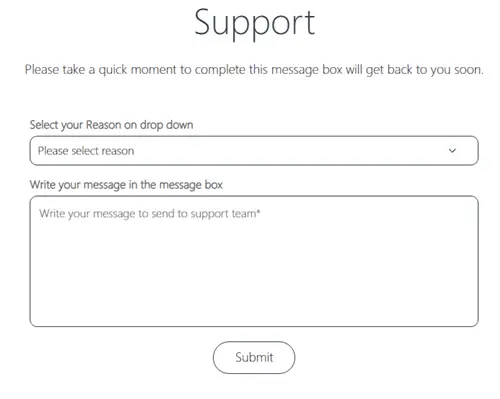 You can access their contact form by clicking on your name and hitting the Support sub-tab. They also have an FAQ section that covers most of the basic topics about the site.
They also have a Facebook page you can visit, but it hasn't been active for quite some time.
That's why I suggest that if you really need to contact them, use the contact form instead. You will have a better chance of receiving a reply from them.
However, I have been in contact with them and the support you can get varies – sometimes I have received a fairly quick reply, and other times I have not heard back at all which is definitely a minus.
Final Verdict
Product Tube is a legit online rewards site that will reward you for making videos of your shopping habits.
It has some good qualities that will make you want to join, but it does also have a couple of drawbacks.
So let's finish this review with a list of its pros and cons to help you decide whether joining the site is a good idea or not.

Pros:
Offers a fun and simple way of earning
Has a mobile app you can use so you won't have to sit in front of a computer to earn
Decent rewards per task

Cons:
Limited earning opportunities
Only rewards you with Amazon e-gift cards
It takes some time as you often have to go to a store
The support does not always reply
What's good about Product Tube is it offers a fun and simple way to earn rewards. If you like making videos, you will like this platform.
However, don't expect to earn cash from this platform because they will only reward you with Amazon e-gift cards.
That can also be considered as good as cash, but it would have been better if they also added an option for you to receive cash instead of gift cards, in my opinion.
All in all, this can be a good secondary site to earn some rewards, if you are eligible to become a member. But if you are looking to earn cash aside from gift cards, I recommend you check out the top survey sites in your country instead.
The sites on this list are all known to provide plenty of earning opportunities that will allow you to earn regularly. Plus, most of the sites have an option to withdraw cash aside from redeeming gift cards.
And best of all, you will be able to find a site you can join regardless of where you live.
If you have any comments, questions, or have any experiences with Product Tube yourself, I would love to hear from you in a comment below.