One way to earn a few extra bucks is to join a Get-Paid-To (GPT) site. This is because, with GPT sites, there will always be plenty of earning opportunities available on a regular basis.
That is the main selling of this type of online rewards sites. One such GPT site is called SuccessBux.
It is a site that promises to reward you for completing the activities on their site, namely viewing ads, watching videos and a lot more.
So, the first thing on your mind right now is probably, is SuccessBux a scam? That's a fair question to ask, so I'll answer it right away.
No, it is not a scam. It is a legit GPT that does reward you for completing its offers.
Now, the question is, is this site worth investing your time into? That's a question that can only be answered if we dive deeper into what the site can offer.
This SuccessBux review will take an in-depth look at everything the site has to offer so you can decide if you should join this site or not.
What is SuccessBux and what does it offer?
SuccessBux, as mentioned above, is a GPT site that promises to pay you for completing the tasks they offer.
It has been around since 2012 and has allowed thousands of its members to earn money on the side.
It offers several earning opportunities, but to truly gauge how well you can earn from this site, we have to take a closer look at each of those earning opportunities. So, here's how you can earn on SuccessBux.
Option 1 – Viewing Ads
This type of opportunity is mostly common on Paid-To-Click (PTC) sites. But from time to time, you can also see this on GPT sites, only with fewer offers.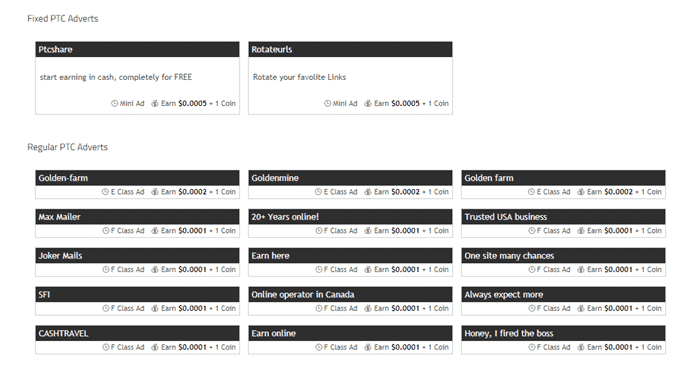 If you've been a member of a PTC site before, this will be very familiar to you. If you haven't joined one yet, then the premise is pretty simple.
To earn rewards, you just have to click on an ad. It will then open a new window displaying an ad you need to view. It usually takes a few seconds to load the ad completely.
You will then have to solve a captcha to complete the viewing.
Usually, the captcha will involve having to click on an image that matches what it asks you to click. For example, if the captcha displays a dollar sign, you simply have to click the dollar sign in the choices.
That will complete the process and earn you the reward promised. Each ad offer will earn you around $0.001 to $0.002 as well as coins (which I will discuss later).
It's not much, but considering it only takes a few seconds to complete, the compensation is pretty decent.
However, this type of earning opportunity won't really allow you to earn a lot. It is just very easy to do and there are plenty of available offers on a regular basis.
Option 2 – Paid Offers
If you want to earn more than what you can from viewing ads, you will be able to do so by completing paid offers.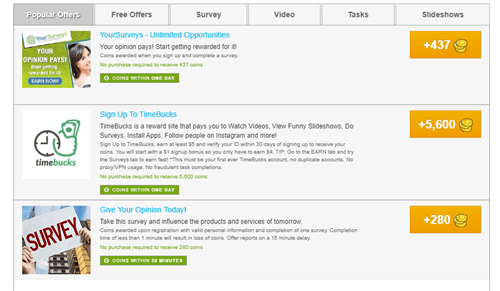 Paid offers are basically small tasks that when completed, will award you with a certain reward. Usually, a paid offer will either ask you to answer a survey, watch a video, sign up to a site, play games and a lot more.
But regardless of what the offer asks you to do, one thing remains constant. That is, you should always follow the set of instructions given by the offer in order to earn the reward promised. If you miss an instruction, the offer won't be completed and you won't get the rewards.
So, make sure to read the instructions carefully when you do the offer. Most of the offers available on SuccessBux will reward you with coins and some will reward you with cash.
As for what you can do with the coins you earn, I will discuss that later.
Option 3 – Paid To Sign Up
Paid To Sign Up or PTSU for short, is exactly what it sounds like. You are paid to sign up for a website.

All of the PTSU offers will ask you to sign up to a website and complete a certain other condition (like answer a survey or play a game for example).
Once all the conditions for the PTSU offer are met, you will then receive the reward promised. However, the rewards for this are usually very small.
Most of the PTSU offers available on SuccessBux will ask you to sign up for other GPT sites, as well as PTC sites.
But from time to time, it will ask you to sign up for a subscription-type website, which will ask for your credit card details.
In my experience, this type of PTSU offer is usually free. But you do have to take note when the free signup offer ends because it will automatically charge your credit card with the renewal fee if you failed to opt-out before the free offer expires.
So, make sure to take note of that before you decide to complete the offer to avoid any unwanted charges to your credit card.
Option 4 – Referral Program
SuccessBux also has a referral program in place where you can earn bonus rewards for inviting people to become a member of the site.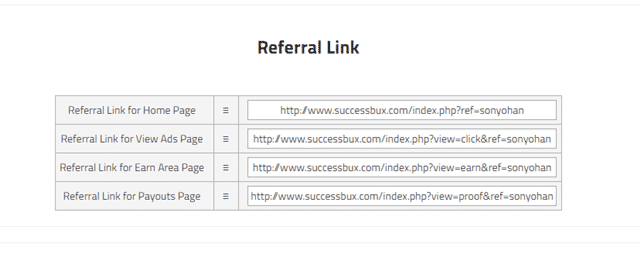 You will be able to invite people by sharing your referral link with them or embedding your referral banner on your website.
Each person who registers to the site using your referral link or banner will become your direct referral.
There is no information on their website about how much you will earn from referring people to the site, but in my experience, you will usually get a commission from your referral's earnings, which will be shouldered by SuccessBux.
Normally, the percentage of the commission will range from 5 to 10% of your referral's earnings.
So, in order to earn from referring people to the site, you have to make sure the person you invite will be active on the site. Otherwise, referring them will be pretty useless.
However, it is quite strange that you cannot find the exact conditions on SucessBux. This kind of info is usually easy to find and it makes the usability of the site a lot lower when they do not display info like this.
Option 5 – Contests
SuccessBux also holds contests on a weekly and monthly basis.

As you can see in the photo above, they hold a monthly referral contest where you can win $30 if you have the most referrals made among members within the month. If you rank second, you will win $15 and if you rank 3rd, you will win $5.
They also hold a monthly contest for members who were the most active on the site. The first place will receive $10, the 2nd place will receive $4 and the 3rd place will receive $2.
This contest is very simple, whoever does the most activities (view ads, complete paid offers, refer a person, complete a purchase), will win the contest. So, in reality, this is a bonus for whoever is the most active on the site.
The other contest they hold is a weekly contest of whoever has the most clicks on the site (pertaining to the ads they clicked).
There will only be one winner of 10000 banner credits. This, in my opinion, is a lot less useful than the other contests because you won't really be earning anything.
You just get credits that will allow you to create your own ads that can be viewed by other members of the site.
It is great the site has contests like this. But just be aware that it takes a lot of activity to get close to the rewards and they are not really that high.
But if you are active anyway, it can be a nice bonus.
How do you get paid?
As you already know, you will earn a certain amount as well as coins for every activity you complete on SuccessBux.

The minimum amount you need to accumulate in order to withdraw your earnings is only $1. You can then request payment in four different ways: PayPal, Payza, Perfect Money, and SolidTrustPay.
The payments can take up to 7 business days from the requested date. But, they are usually sent within 24 hours of payout request, which is good because it allows you to receive your earnings quickly.
As for the coins you have earned, you will be able to convert it to cash or banner credits.
If you choose to convert it to cash, every 1 coin is equivalent to $0.0001. It's not much but it can be a nice supplement to the amount you earn from the offers.
As for the banner credits, as mentioned, you can use it to create your own ads on the site.
Just be aware that there is a processing fee when you want to cash out. For PayPal, it is, for example, 4% which is higher than on many other sites.
So you will not get the full amount and you need to be aware of this.
How much money can you make?
The amount of money you can make from a GPT site like SuccessBux will mostly depend on how active you are on the site. Basically, the more offers you complete, the more money you will earn.
The other factor that affects the money you can earn is how well they pay for each offer you complete.
As you already know, you won't be able to earn a lot for viewing ads but you will be able to earn more for completing paid offers.
The difference though isn't quite significant. So, overall, they don't really pay you that well, in my opinion.
So, even though they do have a low payout threshold, it can take quite some time to reach it and start withdrawing a significant amount of money.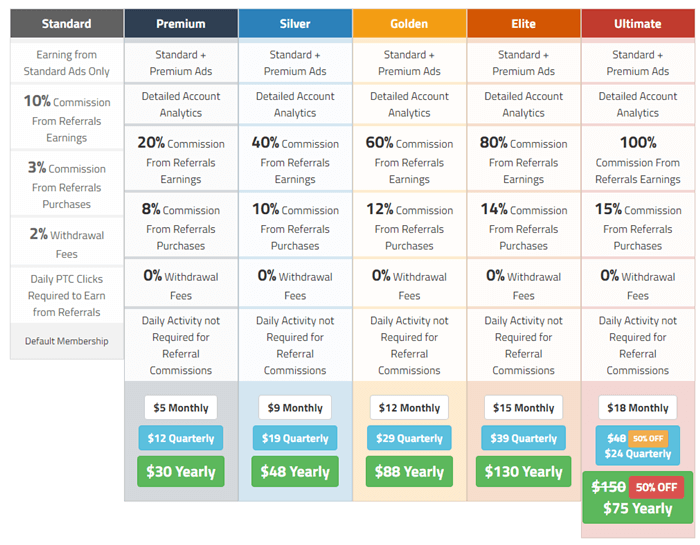 They do offer a way for you to boost your income. You have the choice to upgrade your membership to premium membership (as shown in the photo above).
The logic is, if you upgrade to a premium membership you like (there are 5 options to choose from), you will receive certain benefits that will lead to more income.
So, basically, you are spending more to earn more. That is the gist of their upgrade system. The benefits will vary from you being able to receive more offers, a higher percentage of commissions from referrals and waiving the withdrawal fee.
The upgrade is structured to help you earn more from the site, but before you decide to avail of this upgrade, I recommend you build a solid plan to earn back the money you spent to buy the upgrade. That is the most practical thing you have to do.
All in all, what I can say about the earning potential of this GPT site is that it is quite low due to the fact that they don't really pay you that well.
If you want to earn more, I suggest you check out the top survey and GPT sites in your country instead.
Can you use it on mobile?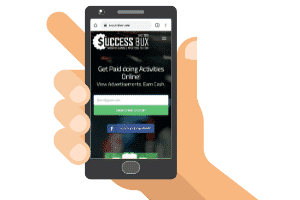 SuccessBux is available on a mobile device if you use a mobile web browser to access it. It doesn't have a standalone app you can download.
The mobile version of their site is optimized for mobile use, so you will be able to view all the content properly without having to zoom in. However, I don't really recommend you work on the site on your mobile device.
This is because of the nature of the earning opportunities they offer. As you know, each offer will basically cause your browser to open a new window.
When you keep doing that on a mobile device, it can be quite inconvenient as the opened windows pile up.
It is much more convenient if you work on it on a computer or laptop, in my opinion. That way, you can quickly switch to different windows with ease.
I'm not saying it is impossible to do on a mobile device. I'm just saying that it will be more convenient when done on a computer.
Who can join SuccessBux?
The one redeeming quality of SuccessBux, in my opinion, is that it is available globally. Anyone can become a member of the site regardless of where they live.
There is no age requirement specified on their website, but since they are using payment gateways like PayPal, you will have to be at least 18 years of age or older to register if you ever hope to withdraw your earnings.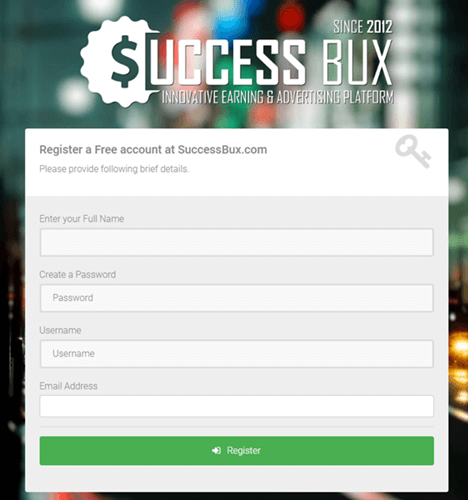 Their registration process is very simple. All you have to do is fill out the registration form (shown in the photo above).
You don't even need to activate your membership. Once you complete the form, you can then log in to the site and start earning.
You can also sign up to the website via your Facebook account if you do not wish to provide your own login details.
Can you get support?
If you need help with your account or if you have any inquiries you need to send in, you can do so by submitting a support ticket.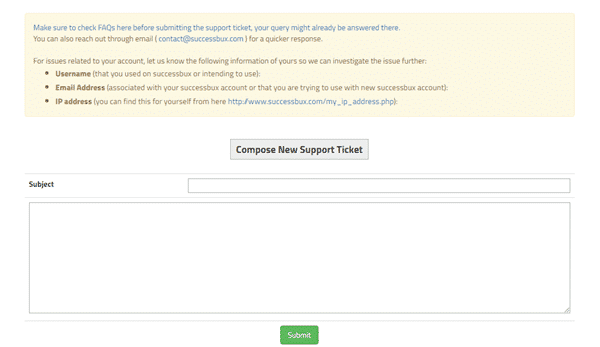 You can access their support platform by clicking the Contact link at the bottom of their website. They do also have an FAQ section you can check out, which covers some of the basic topics about the site.
They also have a Facebook page you can visit, but it hasn't been active for quite some time.
So, if you really need to contact their support team, I recommend you use the contact form instead of contacting them via Facebook.
Final Verdict
SuccessBux is a GPT site that does pay you for completing the activities it offers. It has some nice qualities, but also some major drawbacks.
Here's a list of its pros and cons to guide you on your decision on whether you should join this site or not.

Pros:
Available globally
Payment via PayPal is available
Low payout threshold

Cons:
Low rewards for offers completed
Not suitable for mobile devices
The payout processing fee is a bit high
Although SuccessBux has a low payout threshold, which makes it an ideal choice to earn a few bucks (because you can withdraw your earnings quickly), it doesn't really make that much of a difference because of the low rewards it offers.
You simply won't be able to earn a significant amount of money quickly. You will have to complete a lot of offers before you can withdraw a significant amount. This makes it less than ideal as a primary site to earn from.
However, it can serve as a decent secondary site to earn from to supplement the income you earn from your primary sites.
To see a list of suitable primary sites you can earn from, I recommend you check out the top GPT sites instead.
The sites on this list all have good earning potential. Plus, you will find a site that will allow you to earn conveniently even on a mobile device.
If you have any comments, questions, or have any experiences with SuccessBux yourself, I would love to hear from you in a comment below.