If you are looking for an extra way to earn cash online, there's a site called Answerpoints that claims you can earn points just for answering questions (hence the name of the site).
But is Answerpoints a scam or is it really a legit way to earn?
If you are asking this question, you are on the right track. Before you join any site, you must verify its legitimacy so you won't be wasting time joining scam sites. So, let me address this question immediately so we can discuss other important matters of the site.
No, Answerpoints is not a scam. It is indeed legit since it will really reward you for answering their questions. But is it worth joining? That's a question that this Answerpoints review will help you answer.
This review will reveal all the details of the site so you will know exactly what to expect and can decide if you should become a member or not.
What is Answerpoints and what does it offer?
Answerpoints is a survey site that will reward you for answering their surveys. It's a relatively straightforward survey site and you will understand why when I discuss its earning opportunity.
And speaking of earning opportunities, in order to fully understand how this site works, we have to take a closer look at how you can earn from the site. So, here's the earning opportunity that Answerpoints offers.
The earning opportunity – Paid surveys
As mentioned above, Answerpoints is a very straightforward survey site. The reason why I say this is, it only offers one way for you to earn and that is through their paid surveys.
This can both be a good thing and a bad thing. It's a good thing because earning will really be simple. You just answer any survey and you earn rewards. It's a bad thing because if there aren't any surveys available, you won't earn anything.
So, how do their surveys work? Well, it's pretty much the same as any survey you will encounter on any survey site. You will receive an email inviting you to answer the survey. This email will tell you how many points you will earn for completing the survey as well as the estimated time it will take to complete the survey.
Now, if you've been a member of a survey site before, then you'll know that surveys will have a qualifying process you need to go through. Answerpoints is no different. When you accept a survey invite from this site, you will have to first answer a few questions about yourself. I know this part can be quite boring and repetitive, but the site needs to get this info from you so they can determine if you are the right fit for their survey.
If they deem you are qualified to answer the survey, you will then proceed to the actual survey. When you finish answering the actual survey, you will receive the number of points stated in the survey invite. If you fail to qualify, there's nothing left to do but to move on to the next survey, if there are any, of course.
As for the points you will earn, they will immediately be credited to your Answerpoints account. In the next section, I will discuss what you can do with the points you've earned.
One thing to note with this site is, when I was doing my tests, I noticed that there weren't really a lot of surveys available. So, there's really not much to do on this site, which is both a good thing and a bad thing. Later on, I will explain what this means.
Recommended: Check Out the Top Survey Sites in Your Country
How do you get paid?
Getting paid by Answerpoints is also relatively simple. You can use the points you've earned to redeem a gift card or you can donate your earnings to charity. You can also use your points to join their quarterly prize draw.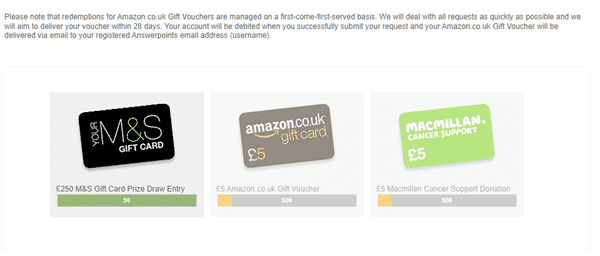 As you can see in the photo above, to redeem an Amazon gift card, you will need to earn at least 500 points. That will be equivalent to a £5 gift card. You can also donate £5 to the Macmillan Cancer Support charity using the same number of points.
The other reward option which is the quarterly prize draw entry will only require 50 points. While you might be tempted to joined their prize draw since it will only require a small number of points, in my opinion, it really isn't worth it since the prize will only be a £250 gift card from Marks & Spencer.
If it was a cash prize of the same amount, then I would say it would have been a worthy prize to gamble your hard-earned points. Their payment system is relatively simple but the one big drawback of this site is it doesn't offer any cash rewards.
If you are looking to earn cash, I would suggest you check out the top sites that pay via direct bank transfer instead.
How much money can you make?
As I've explained earlier, if there aren't any surveys, you won't be earning anything from this site. So, you will really be at the mercy of the availability of their surveys.
But their surveys don't pay that well either. You will typically earn around 50 to 100 points per survey depending on how long the survey is. Sometimes, you will earn more, but these are from surveys that are quite a bit longer than their usual surveys. So, you can't really expect that to be a frequent occurrence.
And as with all survey sites, you don't really have any control over how many survey invites you will receive. And as I've mentioned earlier, they don't really offer a lot of surveys. That's why I would say the earning potential of this survey site is really quite low. It will take a long time before you can earn enough points to redeem a £5 Amazon gift card.
Can you use it on mobile?
Answerpoints doesn't have a mobile app you can download. But, you can still answer their surveys from your mobile device since their site can be accessed using a mobile web browser.
And the good thing is, their site is mobile-friendly. So, you can expect that their surveys are also optimized for mobile use. One unique thing I discovered about their surveys though is, if you somehow weren't able to finish it in one sitting, you can get back to answering the same survey at a different time and you will resume at the exact point where you stopped.
Not a lot of survey sites do that. So, if you are sitting in front of your computer and you suddenly have to go, you can just continue answering their survey from your mobile device when you get the chance. It's quite a nifty feature, in my opinion. Just make sure to finish the survey before it will expire.
Who can join Answerpoints?
As you can probably guess, Answerpoints is only available in the UK. If you live somewhere else, then this site is not for you. But if you are interested in more survey sites that are available in the UK, I would recommend you also check out the top survey sites in the UK.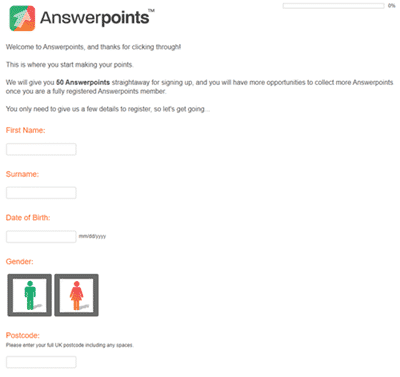 To register as a member, you will have to answer a short survey where you will have to provide your account details and a bit of basic information. Once you've done that, Answerpoints will send you a confirmation email.
Just click the link in the email to complete your registration. When you've completed your registration, you will receive a 50 point bonus as a sort of welcome bonus. It's not much, but at least they give you something for free.
Can you get support?
The site has a comprehensive FAQ page that discusses most of the important topics you need to know about the site. And, in my opinion, they do a good job at explaining the features of the site.
But, if you encounter any issues or you have any questions that weren't answered by their FAQ page, you can use the contact form provided on their website to submit your inquiry.
Overall, I would say the site has a decent support system in place for its members since it ensures you are able to request assistance if ever you encounter any issues or you have any questions for their support team.
Final Verdict
Answerpoints is a legit survey site that will reward you for answering their surveys. It has a couple of good features, but it has some drawbacks you need to consider.
Let me end this review with a summary of its pros and cons to give you an overview of what the site has to offer. Then, you can decide if this site is a good fit for you or not.

Pros:
Offers a simple way to earn rewards
Their site does a good job at explaining how you can earn

Cons:
Limited earning opportunities offered
Doesn't offer cash rewards
In my opinion, Answerpoints isn't really a great survey site to join. The main reason why I say this is, it doesn't offer a lot of ways to earn. Plus, you can't really earn cash from this site. The best thing you can get is an Amazon gift card, which isn't that bad, but it would still have been better if they offered cash rewards as well.
There are simply far better options out there to earn extra cash from. And speaking of better options, I would recommend you check out the top survey and GPT sites in your country. The sites on this list all have good earning potential and most (if not all) of them offer cash rewards as well.
Plus, you will definitely find a site you can join regardless of where you live.
If you have any comments, questions, or have any experiences with Answerpoints yourself, I would love to hear from you in a comment below.