Harris Poll Online is a survey panel that has existed for many years and claims you can earn free rewards from your favorite brands.
But is Harris Poll Online legitimate, or is it a scam and a big waste of time?
Let me just reveal right away that it is a legit survey panel so we can get that out of the way. BUT this does, however, not mean it will necessarily be the right survey site for you.
This Harris Poll Online review will give you all the details about what it offers, so you will know exactly what to expect and if you should join or not.
What Is Harris Poll Online and what does it offer?
Harris Poll Online is one of your many options in the crowded field of paid survey sites.
It has existed for more than 45 years, and it is owned by the Nielsen research company, which is one of the most reputable companies in the market research business.
When Nielsen is behind a survey site, you know it will be safe and legit, and that it will actually pay. This does of course not mean it is necessarily worth the time, and this is what this review will help you find out.
Unlike some of the Get-Paid-To sites where you can earn in many different ways, like for example Swagbucks, HarrisPollOnline.com has mainly two ways to earn, but at times you can also find other earning opportunities here.
I have made a short video that goes over the earning methods Harris Poll Online offers and how it works. You can also read all the details below the video:
Recommended: See the Best Survey Sites in Your Country
Option 1 – Harris Poll Online surveys:
Paid surveys are the main way to earn on Harris Poll Online. It is not the site with the most opportunities, and you should not expect to get surveys every day.
But it still regularly has paid surveys you can complete. Once there is an available survey, you will receive an email invitation. As on all other survey sites, you will not always qualify for the surveys you are offered.
If you do not qualify, you will be offered another survey, if there is one available at that time.
As surveys is the main way to earn, and because you receive an email invitation when a new survey is available, Harris Poll Online is very easy to use.
You should however not expect more than 3-5 surveys per month, so it should not be the only survey site you join if you want to have many earning opportunities.
A great thing about Harris Poll Online surveys is that if you do not qualify, you will still get a small reward of 15 points and entry into the sweepstakes.
However, recently this has changed so they do not reward the disqualification points for all surveys anymore.
Option 2 – Quarterly sweepstakes:
Four times a year, Harris Poll holds a $10,000 drawing, and all participating members will automatically participate.
You will receive sweepstakes entries for all surveys that you accept. This applies even if you are disqualified, and even if you just fail to complete the survey.
The chance of winning is of course not big, but it is still a nice extra chance, and if you are lucky, it can definitely boost your earnings.
Option 3 – Other earning methods:
As mentioned already, Harris Poll Online mainly has two things it offers, and I have mentioned these above.
Occasionally it does however also offer others ways to participate in research and earn if you are a member.
Sometimes you might be offered to take part in focus groups (chat room style, online focus groups, or bulletin board style), telephone or in-person interviews, or direct mail surveys/research projects.
At times you might also be offered the opportunity to participate in research that requires you to download software to your computer or mobile phone.
These extra opportunities are of course completely optional, but if you get them offered, it can be a great way to earn extra rewards and have your opinion heard.
But you should, however, not expect to get invitations for these options very often (if ever).
Recommended: See the Best Survey Sites in Your Country
How do you get paid?
How you get paid and the rewards you can choose from are of course an important aspect of any survey site.
When you take surveys through Harris Poll Online, you earn what is called HIpoints. I'm not really sure where the name comes from, but I will simply refer to them as points for the sake of avoiding confusion.
These points can then be exchanged for a number of Harris Poll rewards.
The biggest drawback in my opinion is that Harris Poll Online does not pay in cash, and your points cannot be exchanged for cash rewards.
Personally, I prefer survey sites that offer PayPal as a reward, as it is a great and easy way to get your rewards in cash. But there are of course also other great rewards, and you would have to go with other options if you join Harris Poll.
You can instead choose between different gift cards. Harris Poll, for example, offers gift cards for Amazon, Walmart, iTunes, some restaurants, and more. You can also buy magazine subscriptions and airline miles with your points.

I will say, the variety of gift cards and rewards that it offers is pretty good, and in some cases they are as good as cash, depending on your preferences and your shopping habits.
You can get a gift card once you have earned 1,250 HIpoints. This is the equivalent to $10. If $10 is equal to 1,250 points, then $1 is equal to 125 points. I am showing this, as it makes it easier for you to calculate how much the surveys you will be offered are worth, so you know before saying yes or no to a particular survey.
This means that the 15 points you will get as a consolation prize, if you do not qualify for a survey will be worth 12 cents. So it will not be the surveys you do not qualify for that will make you money:-) But I still like that they even give you a reward for this, as not many survey site offer this.
You just need to be aware that all your HIpoints will expire if you are not active for 12 months. So that means that you need to complete at least 1 survey or participate in at least one other research project as a member per year.
If not, you will lose the earnings you have in your account.
How much money can you make?
Now you know how you can earn on Harris Poll Online, and how you will get paid. But how much money is it in general possible to make on this platform?
In most cases, you should not expect to receive more than 3-5 surveys per month. This is not a lot compared to some other survey sites.
This means that it will not be possible to earn a huge amount on Harris Poll. However, at times you might get extra offers that can boost your earnings, and if you are lucky and win the sweepstakes, you will get a very nice extra reward.
If you want to have more earning opportunities, it is however a good idea to join some of the top paying survey sites in your country in addition to Harris Poll.
Harris Poll is safe and legit, but in my opinion, it should not be the only site you join, if you want to have a real chance of earning, and it can take some patience to get to the payout threshold.
No matter how many and which survey sites you join, it is however important to remember that it will not make you rich or a full-time income.
It is easy to participate, you can have your opinion heard on important topics, and you can participate when, and where you want to, so it can be a great way to make some nice extra cash. You just need to do it with the right expectations.
Can it be used on mobile?
Being able to use a survey site on mobile can be an easy way to earn whenever it fits you.
Harris Poll makes this very easy, as it has it own app.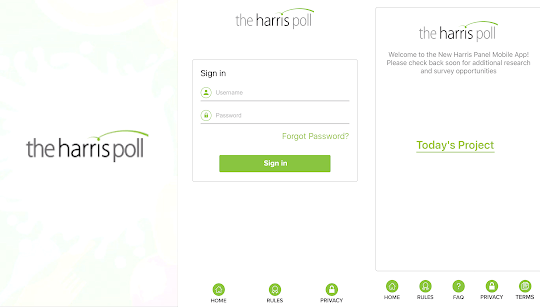 So once you are a member, you can just download the app and get access to the surveys directly from your phone.
The Harris Poll app is available for both Android and iOS.
However, one thing I find a bit confusing is that the link to their app from their own website in their FAQ section did not work when I checked it. And that error has been there for a few years by now.
So if you want to use the app, you need to go to your app store and search for it there. Just be aware that the app is called Harris Panel, so this is what you need to search for.
Who can join Harris Poll Online?
Harris Poll Online does have a few requirements for you to become a member. First of all, you have to be at least 13 years of age.
The platform is only available in the USA and Canada.
So if you do not live in one of these countries, you can instead check out the list of the best survey sites in your country.
Even if you live in the US or Canada, it can, as already mentioned, be a good idea to join other survey sites in addition to Harris Poll Online to increase your chances of earning.
However, you also need to be aware that they do not always accept new members so quite often you will not be able to find a joining option on their website which can be quite confusing.
Can you get support?
Being able to get support is important on a survey site. Hopefully, you will never need it, but it is always good to know the option is there, as it tells a lot about the company behind it.
On Harris Poll Online you have two ways to get support.
The easiest way is to go to their FAQ section as this gives some quite good answers. But it is still very possible that you have more questions or will need further help.
You can then use their contact form on the website – you first need to fill out your name and email. You then choose what your concern is. In most cases, you will then just get links to the FAQ section, and not the option to actually submit a ticket.
However, for some of the topics, you can at the end submit a ticket. So this seems to be the way to go if you need to get in contact with support.
If you for example have Harris Poll Online complaints, there is an option, where you can share your thoughts and submit your ticket. There are also other categories, where you actually get the chance to submit a ticket.
It is not very smooth and easy to figure out, but it is possible to get in contact with support if you should need it at some point.
Final verdict – legit or scam?
So is Harris Poll a scam or legit? It definitely is legit. If it is then worth your time, is another question.
So let's finish this review by summing up the pros and cons, so you can get a better overview and easily see if it is a site you want to join.

Pros:
Easy and free to join
Safe to use
Large variety of gift cards and other rewards

Cons:
No cash payout
Poor support options
Not very many survey offers
Can be difficult to join
Harris Poll Online can be worth it. It depends on your preferences.
Compared to some of the top paying survey sites, it does not give a lot of earning opportunities, so it can take some time to earn any real money here, and you should not join it as the only site.
But it can still be worth considering joining as an extra site, as it offers a large variety of different rewards, so there is a very good chance you can use at least one of them.
However, if you decide to join, make sure to also join other sites to get enough earning opportunities as using Harris Poll as your only method will give quite limited options.
If you have any comments, questions, or have any experiences with Harris Poll yourself you want to share, I would love to hear from you in a comment below.