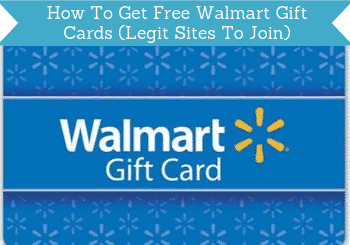 Walmart is one of the most popular retail stores today. So, naturally, shopping there can be advantageous for you.
There a lot of things you can buy from the store, but it, of course, all cost money. But wouldn't it be great if you shop there without spending any money?
A way to do this is by using gift cards. With the help of gift cards, you can save a significant amount of money, especially if you've acquired several gift cards. But how do you get free Walmart gift cards?
This article will show you how and provide you a list of 13 legit sites where you can get these gift cards completely for free.
Disclosure: This article may contain affiliate/sponsored links. Click for more info.
How to get free Walmart gift cards?
There are plenty of sites around that will allow you to earn free Walmart gift cards. Most of these sites are Get-Paid-To (GPT) sites that offer Walmart gift cards as a reward.
If you are not familiar with GPT sites, they are websites where you can complete offers and in return, you will receive points you can use to exchange for gift cards or even cash.
Most of the offers on these GPT sites will ask you to take surveys, watch videos, play games, click ads, join contests, and more. Most, if not all of them, are also free to join.
So, it won't cost you a thing to earn free gift cards and money as long as you join the legit sites.
The GPT sites I will list down are all legit and free to join. Most of the sites have a specific age requirement in order to join. But generally speaking, you will be able to find good opportunities regardless of where you live.
How many can you get?
The number of gift cards you can get from GPT sites will mostly depend on how active you are on these sites.
Basically, the logic is, the more offers you complete, the more reward points you will get. The more reward points you have, the more gift cards you can exchange for.
There won't be any limit as to how many gift cards you can get from these sites. As long as you have the time to invest in these sites, you will be able to get plenty.
This is where the list below comes in. These are the best GPT sites you can join in order to earn Walmart gift cards.
Because there are hundreds of GPT sites available, but many are not worth the time. And not all offer Walmart gift cards as rewards.
The list will show you what each site offers and how quickly you can get Walmart gift cards as well as other payout methods (if there are any).
To get the most chances of earning, it is a good idea to join several sites as they all have different opportunities.
If you are new to GPT sites, joining 5-7 will give you great opportunities without becoming too overwhelming.
13 best sites to get free Walmart gift cards
It is important to note that the list below is not the full list of sites you can get free Walmart gift cards.
These are simply the best sites you can join. The sites on this list will allow you to earn without having to spend a great deal of time in order to earn.
I will keep updating this list if there are any new good sites to join so make sure to bookmark this page. If you want even more chances, I will also give a bonus tip at the end of this article that can help you find even more opportunities.